Honesty, the kitchen can be one of the most challenging spaces to renovate because planning a multi-functional space that encompasses cooking, socialising, and dining is not easy. The kitchen truly is the heart of the home and deserves all the credit and love. But re-designing it can be confusing—where do you even start? How much do you change?
To tackle all these questions we sought the help of interior designers who have envisioned the homes of leading actors, TV stars and more. Rohina Anand Khira is a design influencer and the CEO of AA Living. Priyanka Mehra, the founder of PS Design, is the name behind the (late) Sushant Singh Rajput and Kushal Tandon's home. And finally, Shabnam Gupta, the award-winning interior designer and founder of The Orange Lane, designed the residences of leading Bollywood celebrities like Kangana Ranaut, Rajkummar Rao, and Parineeti Chopra amongst others.  
One way to start the kitchen project is with a wish list. This will help you pinpoint the style, colours, and design preferences you've been hankering after. Don't go overboard with the renovation and redecoration though—always remember that the kitchen needs to be the most practical, usable space and functionality truly needs to be at the forefront. For ideas, you could refer to magazines, online publications, or even design Instagram handles to know what's in trend. If you feel you don't have the time, bandwidth, or even the talent to undertake the renovation, then it's best to hire a professional to do the job.
Here's a breakdown of the different elements of the kitchen and how they can be tackled.
1. Cabinets and hardware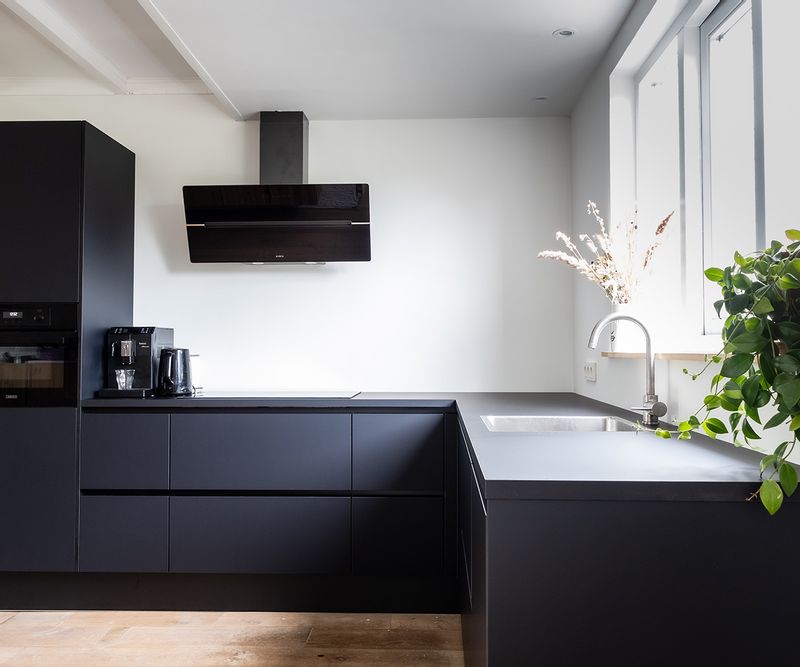 "The first thing people can do to upgrade their kitchen without spending too much would be to simply change the cabinet hardware, handles, and knobs. Think of interesting colours or patterns—even try matte black contrasted with white cabinets. This will give the kitchen a bit of a theme and an expensive touch," says Anand Khira. 
If you're feeling brave, consider repainting the cabinets in pastels or contrasting colours. You could even choose to paint all the upper cabinets in one hue, and the lower cabinets in another. Alternatively, it's amazing what veneer can do to brighten an ageing space. Instead of rehauling the cabinets, you could choose the peel-and-stick veneer to make the task simpler. And finally, there's no way to show off your new cabinets and hardware without proper lighting. Hidden task lighting fixtures can help illuminate your hardware and show them in a new light. 
2. Backsplash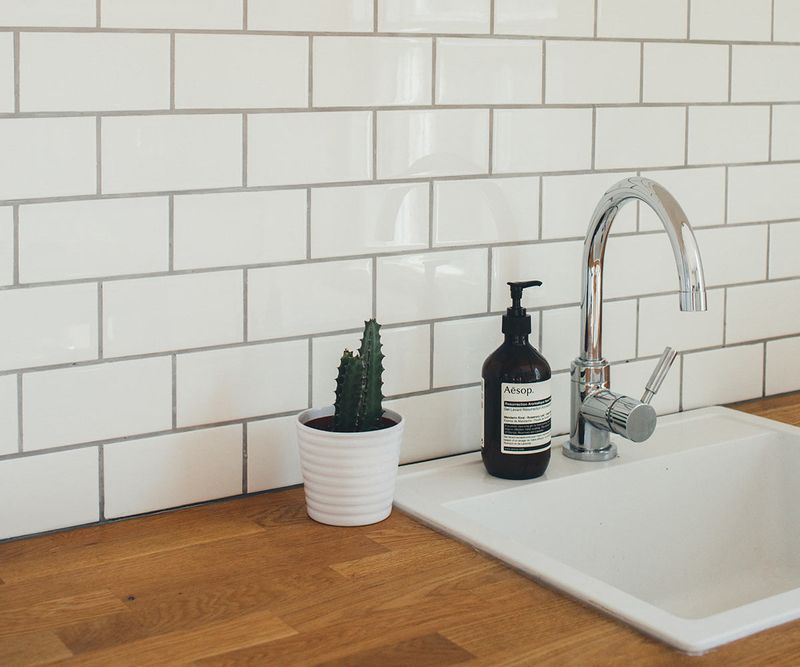 Backsplashes deserve more credit than they get. You see them the minute you wake up for your coffee and all the way through the day. Quite clearly then, your kitchen backsplash needs to look good. It can't be too in-your-face or you'll quickly tire of it; it can't be too bland or it'll bring the vibe of the kitchen down. "I personally love colourful, handmade tiles or colour pigmented IPS with motif embossing on the backsplash," shares Gupta. Before narrowing down on the tiles, however, consider its cost, installation, maintenance, functionality, and style. The backsplash needs to be a hard-wearing material. After all, from kitchen smoke and steam to splattering curries—all end up landing on it.
Here are a few choices for backsplash tile materials:
Ceramic or porcelain tiles: All-porcelain and glazed ceramic tiles are water-resistant and available in several colour options. As for cost, you can scale it up or down to whatever suits your budget.

Glass: These tiles reflect light and brighten up the kitchen. Glass tiles are also hard and strong and their colour never fades. However, the grout between tiles should be sealed for stain-resistance, just as with ceramic or porcelain tiles.

Engineered stone: These add great value to the kitchen, as they tend to be associated with higher-end homes. These tiles are heat and scratch resistant as well as extremely tough.

Granite: Shiny, polished granite is popular for traditional and country-style kitchens. These are easy to clean, hard-wearing, and available in a range of different colours.

Composite: The best thing about these tiles is the design flexibility they offer. They can be seamlessly moulded into angles and curves, so there's no joint between the worktop and backsplash.
3. Flooring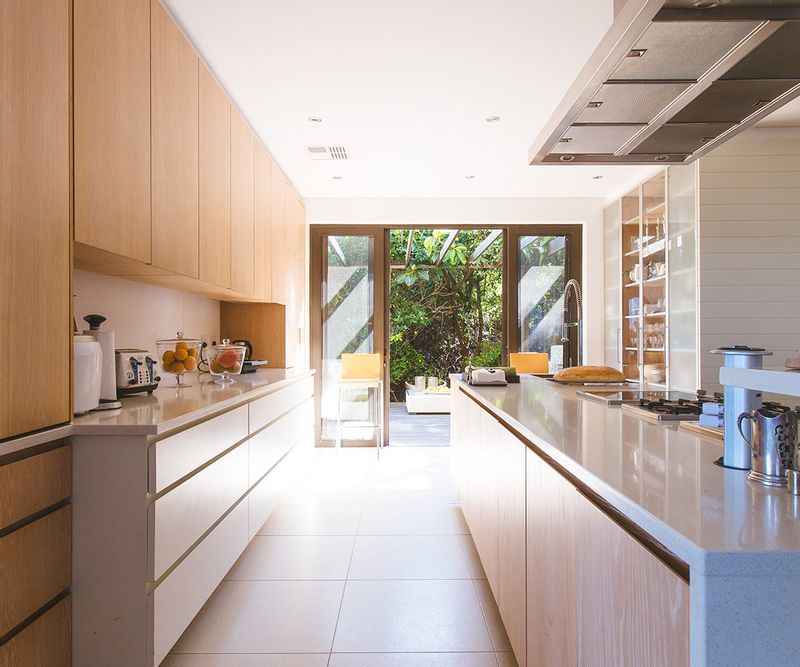 Before choosing tiles that just look pretty, it's important to consider the daily life you lead—and the amount of traffic the area usually gets. Do you entertain a lot? Have a four-legged family member who frequents the kitchen often? Answering these questions will have an impact on your choice.
If it's a quick budget option you're looking for, then an interesting and safe choice would be laminates or vinyl. Laminates give the appearance of real wood and are low in price and maintenance. All they require is a sweep or a light mop once a week. Sheet vinyl is easy to clean and is also water-resistant. If you want to change the look of your kitchen to suit your stylish taste, then colourful ceramic, handmade tiles, terracotta tiles, and mosaics are great options. "I personally love the addition of chunky terrazzo which is really hot for 2021. The large-size ones are available in earthy colours, and can be used in one or two areas of the kitchen; it won't cost you much but will look very designer. Porcelain or ceramic tiles also look good because they have a little bit of sand added to them which makes them stain-resistant and durable. They are easily cleanable. They are hardy and tough, making them a great choice for high traffic areas," advises Khira. 
4. Countertop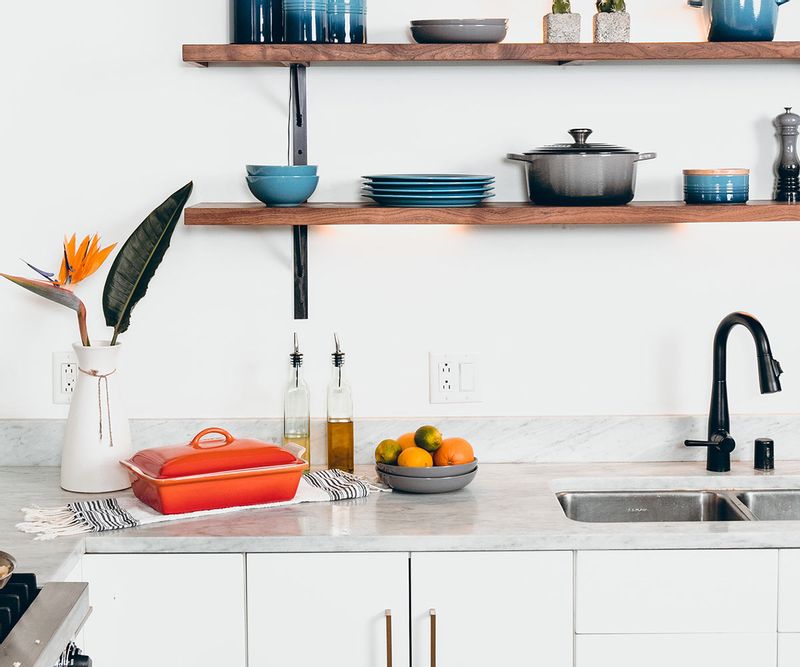 This is a big decision—especially if you cook often. A well-chosen countertop can make your kitchen more useful and easier to maintain. And if you choose wisely, it can even add a design element to the space. "Before choosing a countertop material, the first and foremost thing to consider would be the practicality—what kind of cooking happens in your kitchen? An Indian kitchen requires a far more robust countertop that doesn't stain easily. The second would be the cost—the price range should be such that it gets you value for money. The third would be aesthetics. The countertop should merge well with the overall decor of not just the kitchen but the house as well. Materials like Caesarstone, quartz, and stainless steel have a more modern appeal as opposed to wood countertops which give a certain warmth to the kitchen," offers Mehra. The range of materials that can be used for kitchen countertops is diverse. It's always best to consult an expert or read up about these before making the purchase. "Quartz, granite, Caesarstone, tile, corian are some of the popular materials these days," avers Mehra.
5. Island kitchen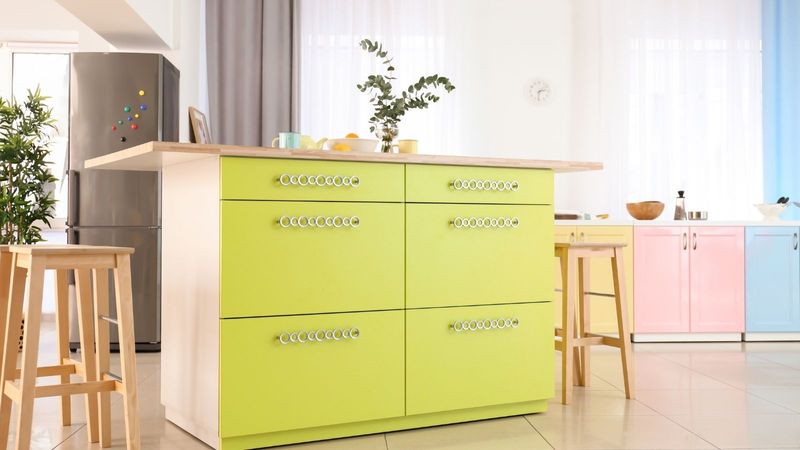 Would you like to take the renovation opportunity to add more functionality to your kitchen? If you have the budget and time to make some structural changes, then adding a kitchen island (if your kitchen is spacious enough) would prove to be useful. "The kitchen has become a more personal space in the pandemic and an island counter that allows the family to sit there while cooking and eating together has become a must," says Gupta. The beauty of an island is that it serves several purposes—cutting, chopping, prepping. You can even use the island as an extra tabletop for dining. If you add a hob, this can become another cooking corner. 
---
Photo: Banner: Canva; Inside: Pexels