Imagine sitting in your elegantly carpeted room while sinking your feet into the plush texture of your rug, that's Tibetan knot rugs for you, and they are a favourite amongst interior designers these days. The unique hand-knotted rugs made by skilled artisans can add a sense of grandeur to any space. An effortless confluence of intricate carpet design, vivid colours, and expert craftsmanship, Tibetan knot rugs are an easy choice if you want to amp up your home decor. What's more, apart from being aesthetically pleasing, these rugs offer unmatched quality and functionality.
What is a Tibetan knot?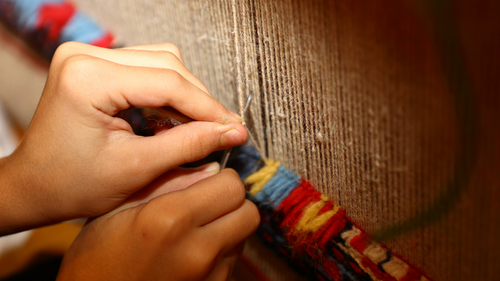 Adored by everyone for their lush and silky appearance, Tibetan knot rugs are woven using centuries-old Tibetan technique passed down by many generations. These rugs were typically made from locally available materials, such as sheep's wool, and were designed to provide warmth and comfort in the cold and harsh climate of the Tibetan plateau. The Tibetan knotting technique used in weaving these rugs was developed over time where each tapestry requires premium-quality yarn knotted and cut to create luscious tufts of wool. While the number of knots is customisable, an average Tibetan knot rug has 80 knots per square inch. The authentic Tibetan rugs have no less than 60 knots per square inch.
Before choosing the right knot rug for your home, it's important to learn everything to know about knot rugs, such as the various types of knots and patterns.
Types of Tibetan knot rugs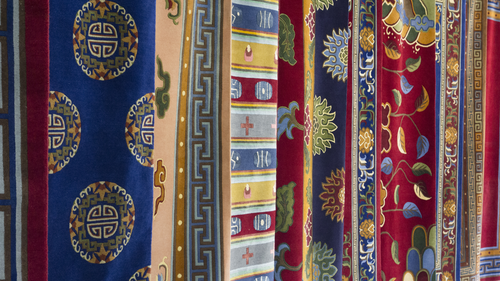 For centuries, Tibetan nomads and villagers have woven rugs as a means of providing warmth as well as decorating their homes. Traditionally, many patterns and designs used in these Tibetan rugs have symbolic meanings. Some designs are believed to bring good luck or ward off evil spirits. The modern artisans of today have learned to incorporate the kind of textual elements that display both contemporary, as well as traditional aesthetics. Each rug possesses the warmth and touch of a human. This makes each rug unique, and there can never be another quite the same. You can customise the density and knot styles of these rugs to match your design preferences and stay up-to-date with the latest rug trends. Two of the significant knot types are symmetrical and asymmetrical knots.
Symmetrical knot rugs, also known as Turkish knots or Ghiordes knots, are a technique of knotting that creates dense and even piles, which makes them ideal for areas with high foot traffic.
Asymmetrical knot rugs, also known as Persian knots or Senneh knots, are characterised by patterns that create asymmetrical knots between two ends of yarn of different lengths. This type of knotting allows for more intricate designs.
Where does the name come from?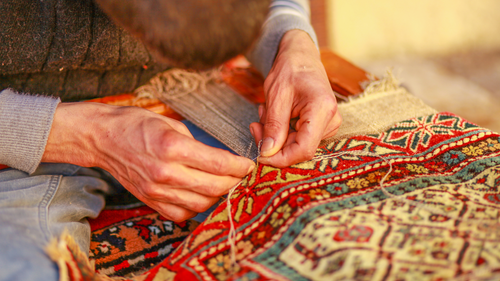 Wildly recognised and prized for their unique carpet design, Tibetan Knot rugs get their name from a traditional weaving technique used in weaving the rugs. The name 'Tibetan Knots' reflects the origin and cultural heritage of the rugs.
Recently, the popularity of these rugs has increased exponentially. Interior designers keep an eye on the latest carpet trends to ensure that they get the maximum out of this highly customizable Tibetan artistry.
Interested? Here's everything to know about knot rugs and their maintenance.
How to maintain the beauty of the rugs?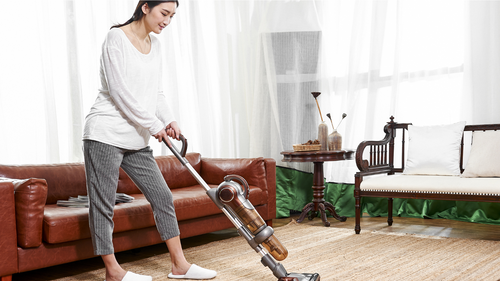 With a bit of regular maintenance and attention to detail, you can keep your rugs looking their best. To prevent dirt from being embedded in the fibres of the rug, vacuuming with a soft brush should suffice. Use a clean cloth to blot the stains in case of spots and stains. Avoid using excess water, as this can cause the colours to bleed. 
To maintain the durability and beauty of the carpet, make sure to place it in an area with limited exposure to the sun. Rotating the carpet every six months will also ensure that the rug is exposed to foot traffic evenly over time. Getting the rug professionally cleaned every few months will ensure that the delicate fibres remain intact. Avoid placing or storing it in damp or humid conditions.
How to use Tibetan knot rugs in your home?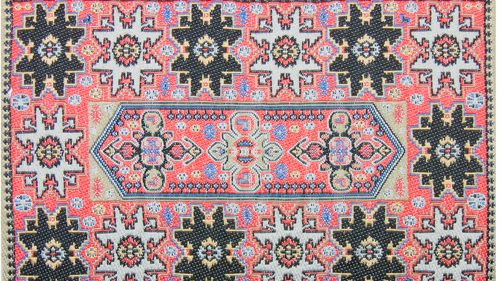 With a Tibetan rug as versatile as this one, you can position it in any way to enhance the look and feel of your home.
You can use it as a floor rug in your living area or your bedroom to enhance the style of your spaces while allowing your feet to sink into its smooth fabric after a tiring day. These knot rugs can also be used as decorative pieces for the walls. Doing so will add colour, texture, and character to your room. The cultural piece can further serve as a great conversation starter for your gatherings. An emerging rug trend is to use smaller knot rugs as a throw for a sofa or chair. This simple tweak can add warmth and texture to your sitting area.
If you are redecorating your home this year, don't forget to check out the latest rugs & carpet trends for inspiration. You can transform your living room space with rugs and throws and adorn it with the right living room decorative items perfect for your space. Check out the brand new H&M HOME launch in India, to give your home an affordable makeover.
---
Photo: Shutterstock