Ishita Yashvi is a woman who dons multiple hats. Apart from being at the helm of Cross Border Kitchens and the India brand head for Inde Wild, lifestyle influencer Diipa Büller-Khosla's skincare brand, Yashvi enjoys popularity for a skill that is seeing an increasing number of takers—repurposing home furnishing and interior decor. Over the past two years, the pandemic saw collective societal trends, among these was refurbishing (or repurposing) our homes.
Creating from the unknown
During the first lockdown, many took to looking for ways to tackle the uncertainty of the unknown future. For most millennials, Gen Z and boomers, the experience of being locked down at home to the threat of a killer virus was unimaginable, only befitting the pages of science fiction.
Once the enthusiasm towards Dalgona coffee, Ludo King and banana bread abated, there arose an interest towards do-it-yourself projects—something Indians have largely avoided—especially home furnishing and repurposing items that were long forgotten. Suddenly, scarves of varying colours, which were not worn in years, teamed up to form cushion covers. Old but eclectic bed sheets became artfully drawn-up wall hangings, too.
Most of us, however, soon became overwhelmed with virtual meetings on Zoom, and as things opened, the strain of everyday schedules came back. Nevertheless, the boost India's modern DIY culture received in the cooped-up months helped those who have been promoting DIY interiors and repurposed home decor well before the pandemic.
The concept or the purpose?
Today, creators and DIYers such as Yashvi, Sonakshi Pawar and Rukmini Ray Kadam are putting in thought behind the carefully curated interiors that they bring to life that works in the Indian context. A key part of this thought process includes deciding whether to first choose a theme and then work on DIY, repurposed interior designing — or collating a bunch of things first, and subsequently creating a theme around them.
"It's a bit like the chicken and egg question," says Sonakshi Pawar, who regularly posts about her work on interior design. Pawar is a professional interior designer who works with numerous clients, and posts about DIY home improvement projects on her Instagram. "It is perhaps the theme that comes first, and when I think about the theme, an idea comes. Usually, I do have a few items in my mind that have been lying around for no reason that can be given a new life," she adds.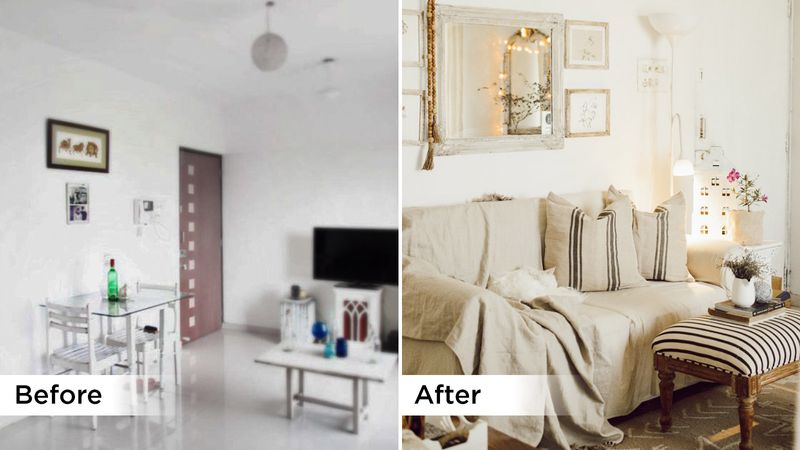 For Ray Kadam, it's more instinctive and not purpose-driven. As she puts it, "Truth be told, it's really about seeing possibility. Sometimes, you'd find an empty wall and weave stories through furnishing. Sometimes, you'd see a piece of great jacquard curtain and you'd think, 'oh, this could be a gorgeous headboard.'"
How to add a DIY touch to your home
Either way, the first step is always the idea behind looking at a corner of your home and thinking about what could be done with it. A key factor is to not splurge and instead create a corner that is instinctive and highly personal. Ray Kadam says that the possibilities are endless: "Cut up old georgette sarees and turn them into sheer curtains. You could also use functional decor pieces–for example, use a trunk as a table, which also doubles as storage. You could put a coat of paint on your wall yourself or use wallpaper." 
The central focus is the ease of creativity—none of these repurposing efforts should take too much time or excess resources. Keeping in line with this, Pawar says, "One of the themes that can be tried out is a 'vintage' look. For example, you can take old newspapers or old photographs (if you have hard copies) and put them on frames in your study. Light up the room with yellow lamps. The lampshade and stand can be done over every now and then, to refresh the look."All of it is easy and accessible too, and as Yashvi puts it, "Re-painting furniture can never go wrong, and neither does reupholster things."
Bringing DIY culture out of a niche 
At the end of the day, very few of us have truly taken to painting our own walls or stitching our own curtains, keeping DIY home furnishing a pretty niche concept. But it is slowly and steadily changing. "We have left that time behind when repurposing was considered a strict no-no and moved on to more DIY culture. I won't say repurposing is a niche concept anymore, not with Pinterest by our side," says Ray Kadam.
In February this year, Ray Kadam started a newsletter, asking potential readers to submit DIY interior initiatives that they took up before. "I got tens of entries, and all were very, very good," she exclaims. This shows a clear trend of a shift – at least among some consumer demographic.
Yashvi agrees that the DIY home decor concept is still a niche one but believes that things are going more mainstream. "Only a select few zealous individuals like to indulge in it. But I do feel that it is catching up fast with brands such as Ikea helping to promote DIY culture in India," she says.
One man's trash, another man's DIY dream
Pawar, too, believes that DIY is not a niche and instead is a different facet of the Indian idea of jugaad. Some ideas include using wax to put colourful inserts on a cardboard box to create a wall-hanging unit, or using cut pieces of old, decommissioned curtains as supporting elements in photo frames.
"It is important to be vigilant of your surroundings as nature offers so much that can be used to accentuate corners of our homes. For instance, using dried flowers and getting them framed or just sprucing up a corner with a mono-colour terracotta at home and adding a touch of green to it with plant cuttings", says Raina who runs a successful home decor page called The Shalom Home.
Such ideas can often strike gold, especially for young professionals living on a shoestring budget in rented studio apartments. Not only do old, discarded items come back to use, but they bring their own charm and personality to your home – something that no store would really be able to sell you.
---
Photo: Ishita Yashvi