Clay in its many domesticated forms has always been part of Indian homes. Whether it is the matka or surahi, earthen diyas or the ubiquitous red flowerpots, earthenware is ingrained in the Indian heritage. But with time, these rustic elements were replaced by aspirational LaOpala dinner sets and Borosil serveware. However, several homegrown artisanal brands who are creating unique and handmade pottery and ceramic have revamped this space. 
"I am not sure we valued ceramics the way it's valued in Japanese or Korean culture. One of the reasons could be that India is also home to exceptional metal ware and metal work, which is a material that doesn't break and makes more practical sense," explains Rohit Kulkarni of Curators of Clay. He adds that the advent of melamine and plastic-based materials further diminished interest in ceramics.
While traditional arts such as Blue Pottery of Jaipur, Khurja pottery and Andretta pottery have gained recognition, a new breed of artisans are making ceramics popular once again. With a growing interest and love for all things vintage in the recent past, ceramic tableware is becoming popular.  
The change, as Bhopal-based Veena Singh points out, is driven by consumerism, "Pottery and ceramics were all about utility and not about beauty, but that's changed now." Kulkarni feels that the interest in "pretty things," is also because of the rise in the standard of living. He says that Indian chefs are the new celebrities and people are noticing the plating, crockery and other such accessories that chefs use so as to emulate them at home. 
If you're looking for pieces that will be the star of your home décor, here are some picks that have us stoked! After all, as Singh says, "Pottery is functional art."
1. Curators of Clay
Bhairavi Naik and Rohit Kulkarni's workshop in Pune is the source of some of Mumbai's top-end restaurants' tableware. Clean and minimalist designs are their forte and if you're looking to own a piece or two from their collection, keep an eye out on their Instagram page. And be quick, their wares sell out as soon as they are out. 
2. Veena Singh
Bhopal-based Veena Singh, an artist and potter, has been creating unique ceramic wares using Japanese Nerikomi technique where coloured clay is stacked together and then sliced and scraped to create distinctive patterns. We're smitten by these platters with baby calves on them. The dishes are also microwave and dishwasher safe.
3. Pinklay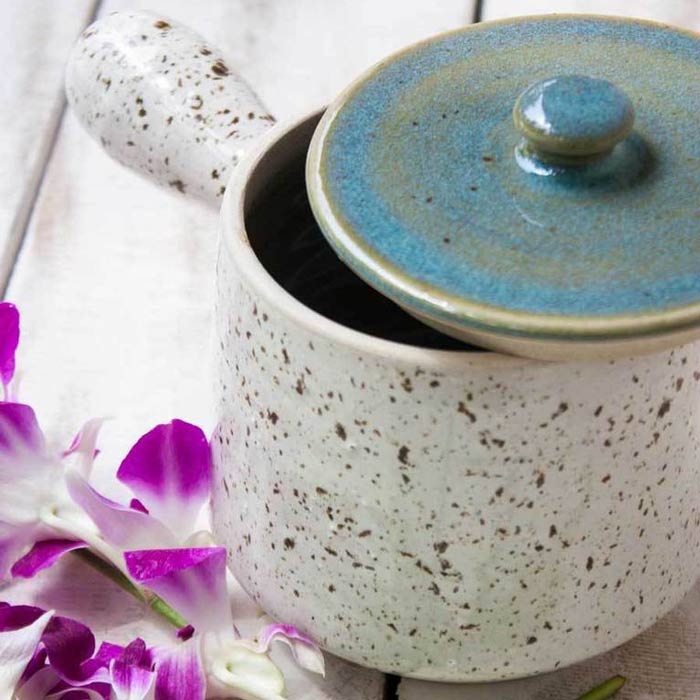 Pinklay is an e-commerce portal that works with Indian handloom and handicraft artisans from small villages and towns with an aim to provide sustainable business. The portal has an extensive tableware section with a special ceramic showcase. This Japanese-style casserole is both chic and rustic. The one-of-a-kind handmade casserole serves two people and can be used in the microwave.  
4. Claymen
Delhi-based Aman Khanna is the brain and heart behind Claymen. He is known for the quirky forms his clay art takes, which are derived from his observation of the common man and his dilemmas. This nine-piece claymen is part of his miniature series and comprises of two chairs, one table, two cups and two plates along with two clayhead. Add a bit of whimsy to your décor.
5. Freedom Tree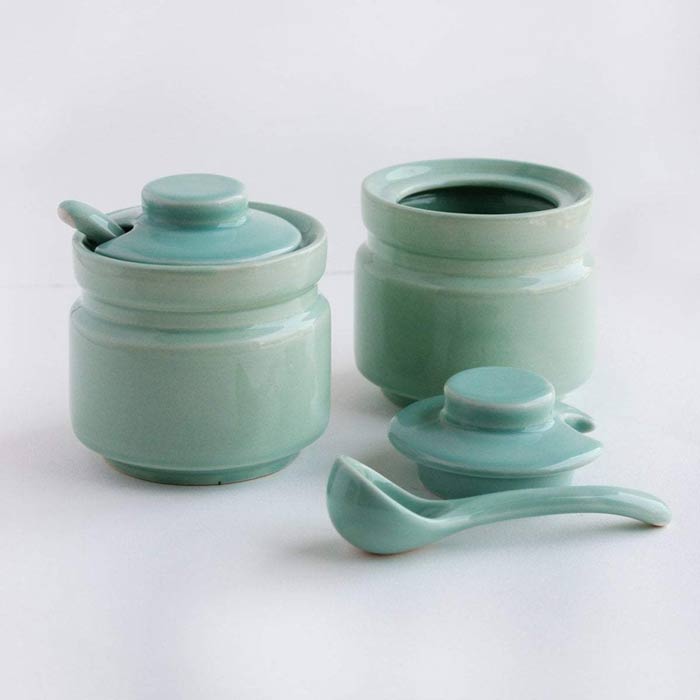 Design-focussed brand Freedom Tree offers a wide array of home décor products and accessories. The mint-coloured pickle jar set has just the right pop of colour without deviating from the minimal styling. Whether it sits on your dining table or a kitchen corner, the set will always be a conversation starter.
6. Lacuna Studio
Why should you have all the fun? Show some love to your fur babies with these ceramic feeding bowls. Made by Tanushree Singh, these bowls are custom-made and can add a touch of creativity to your surroundings. Singh is a one-woman army creating ceramic pieces that are inspired by her personal surroundings and experiences.
7. Mandala Pottery
Auroville-based Mandala Pottery is a people's collective who specialise in functional ceramics and aroma-therapy products as well as architectural installations and murals. These teal pasta bowl is a fine addition to your tableware collection, especially for the days you crave for comforting Aglio e Olio. 
8. Indus People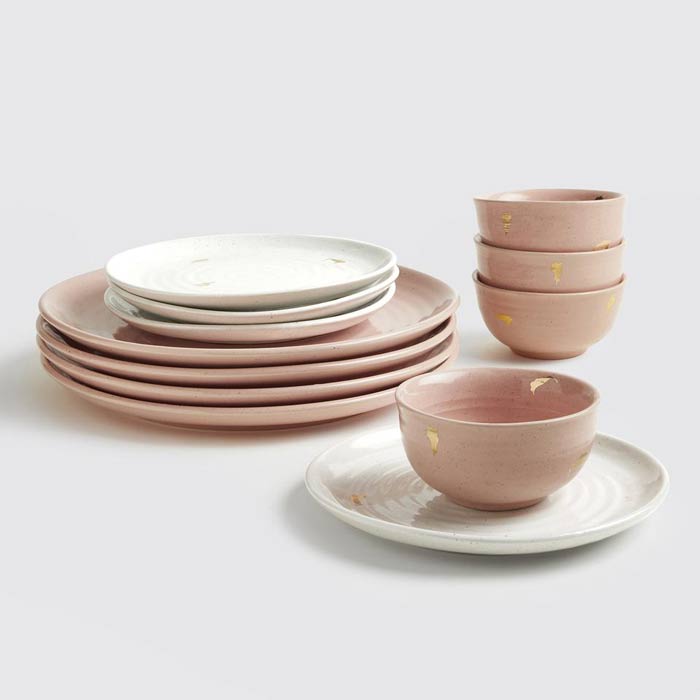 Seeking inspiration from your land and history garners such beautiful results such as this Dip In The Ganga Collection dinner set by Indus People. The pink and ivory ceramic set is calming just as its inspiration – the restoring powers of Varanasi and River Ganga. There are gold speckles resembling the petals of marigold that add drama to the serene set.
9. Good Earth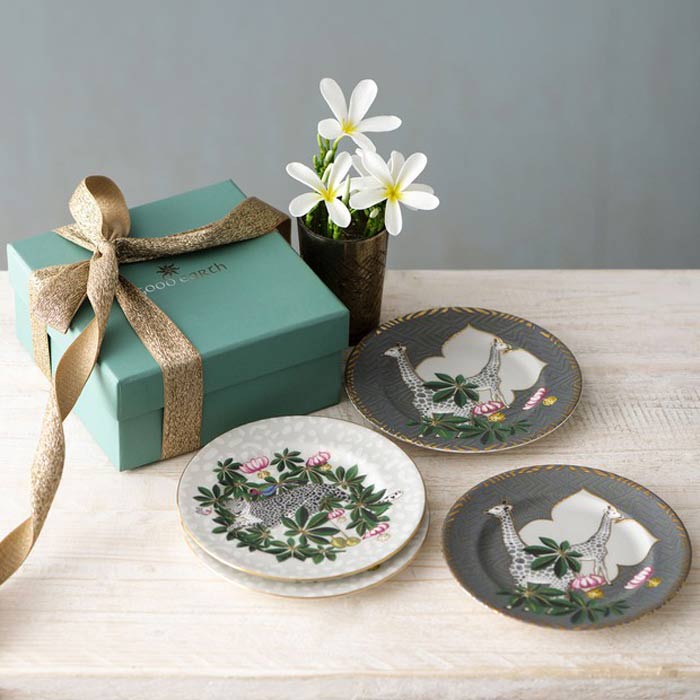 Won't it be a marvelous tea party, when you have such an eye-catching tea plate set to rest your dainty cucumber sandwiches on? This tea plate set of four from Good Earth is inspired by the African grasslands of Savannah and the animals who roam free. Made of fine bone china, the artwork is hand-decorated with gold detailing.
10. The Creative Platter
The Delhi-based design studio mostly creates ceramic serveware and décor pieces on commission, but they have some tableware products that are very popular and which they retail through their website. This simple and minimalist hand-made plate for instance, is a great example why their range would be so popular for novice and experienced chefs alike.
Photo: Shutterstock