A living room is the face of your home. You could call it the frontier of your residence as most people would only see this part of your house. Hence, it must represent the people living in it. This is why decorating a living room can be tricky compared to the other rooms of the house. It has to have character, the right colour palette, the right furniture and the right vibe. 

Whether it's to wow the people you entertain or to return home after a tiring day, your living room is the midpoint of your home. It's where the entire family chills out and watches a movie, where you can cosy up with your book and where you host guests. There's a lot of pressure attached to decorating a living room in a way that makes each person feel comfortable, especially if you have a small living room. You have to be smart with small living room decorating ideas so that it looks more spacious.
We come to your rescue with a detailed guide on small living room ideas that you can use to decorate your living room.
1. Use acrylic furniture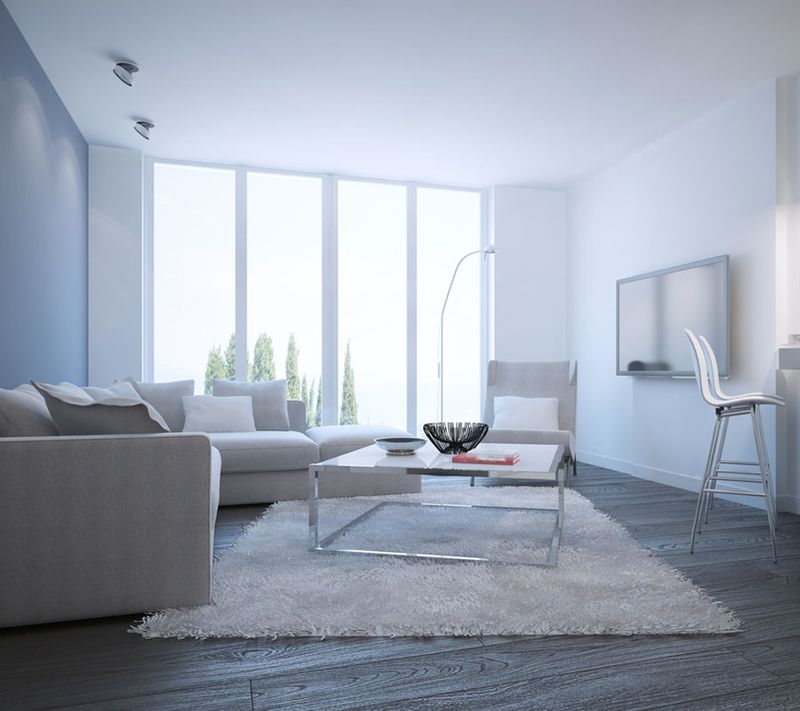 If you use outdated or boxy furniture, your living room is bound to look smaller. The idea of using acrylic or transparent furniture is to create the illusion of a bigger and spacious room. Also, they have a sleek appearance that will make your living room look stylish. You can use ones that are higher up from the ground so that it is easier to clean the room or keep things under it.
2. Use multipurpose furniture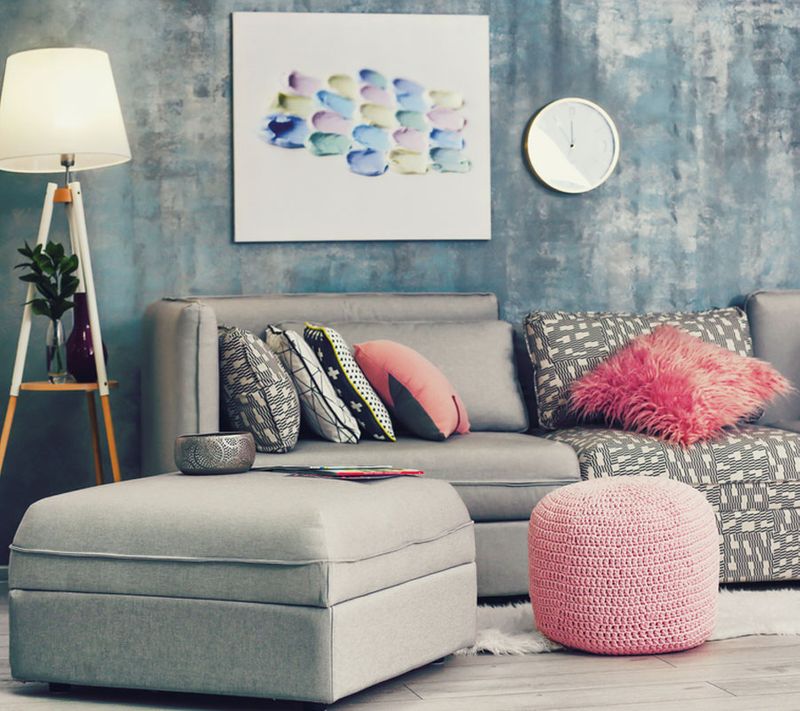 If you want to know how to decorate a living room, big or small, this is a trick that you can try. To maximise the furniture you use to decorate, buy ones that are multi-purpose in nature. Furniture that has storage space or doubles as a hidden bookcase is what you should be looking for. An ottoman or a bookcase that is built in the storage space of your couch or a bench would look chic and space-friendly.
3. Add pretty mirrors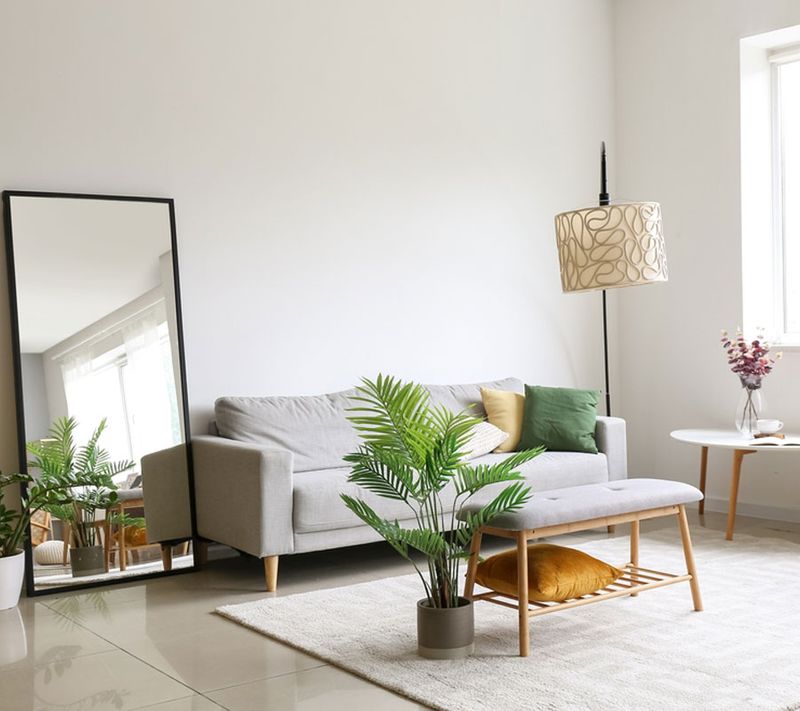 We cannot recommend this trick for a small living room enough. A pretty mirror will bring in character and create an illusion, again, of making the room look bigger. The mirror reflects light to bounce it off the walls, making your small living room look brighter and more positive. You can go with a customised mirror in a colour or design that matches the rest of your living room.
4. Flexible seating arrangements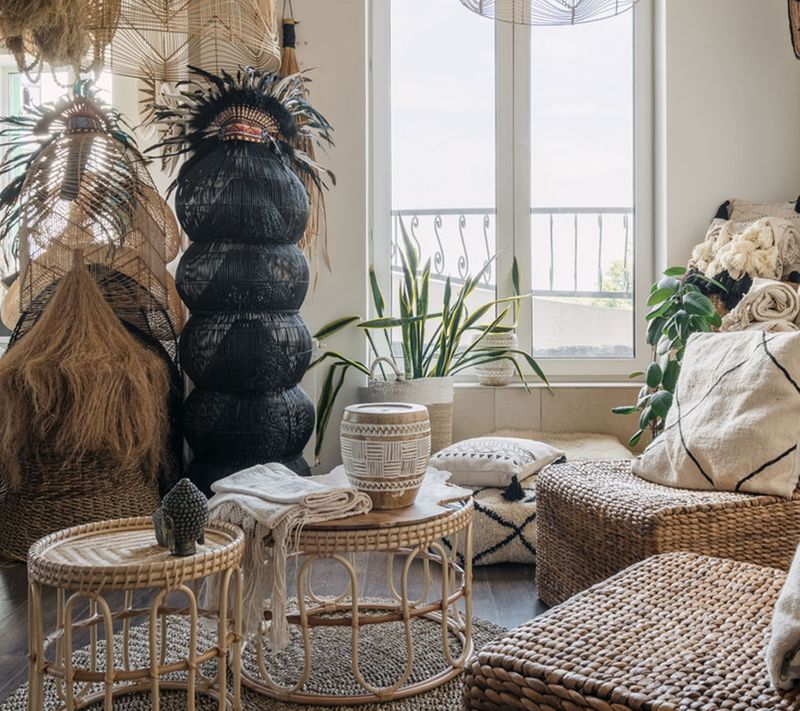 If you want to make your small living room look pretty and create space for entertaining people too, one trick you must keep in mind is to be flexible with the seating arrangement. Instead of buying one sofa set that covers the entire living space, try to get different types of furniture. For example, a comfy couch, a chair, a funky bench and a couple of floor pillows. A mix of these may make your living room look haphazard at first, yet they will give it a quirky structure.
5. Take advantage of high ceilings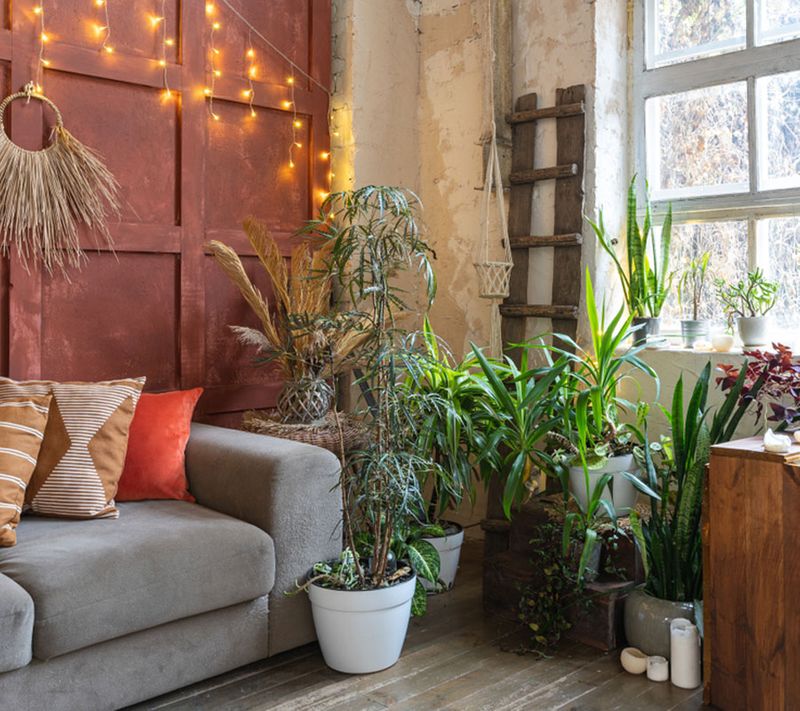 It is rare to find homes with high ceilings these days but if you do find one, you should take complete advantage of it by hanging pretty planters and wall hangings. You can also hang a nice and small chandelier that would not take too much space but can act as a centrepiece of the living room.
6. Hang a small swing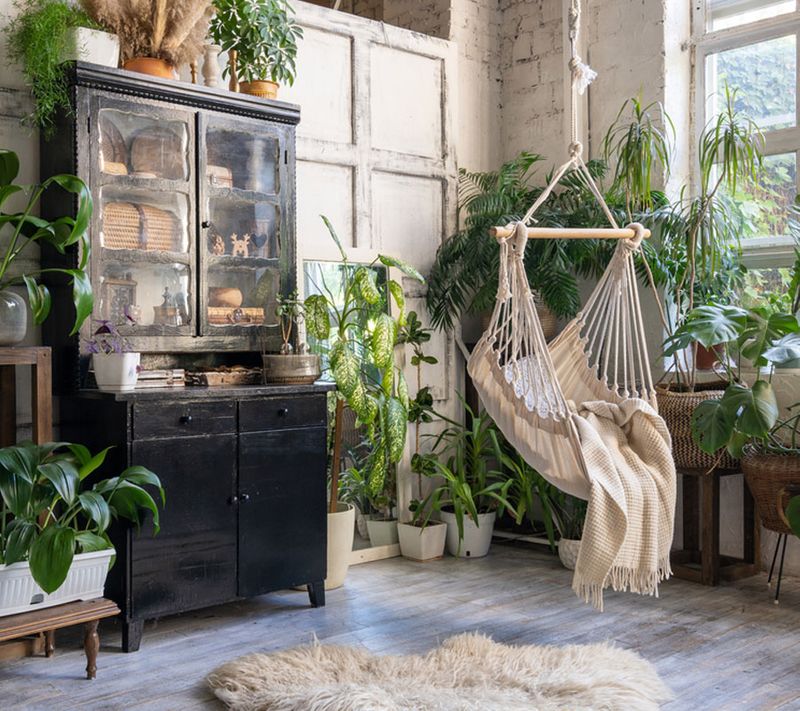 Well, this one is really tricky to accommodate in a small living room but if you can do it, this will be a show stealer and a crowd favourite too. Buy a ceiling jhula or a self-standing jhula and place it in the corner of the room to make a quiet and cosy nook for you to relax. A uniquely designed swing will make you smile each time you look at it. A tire swing or a crocheted swing will look stunning!
7. Create a wall gallery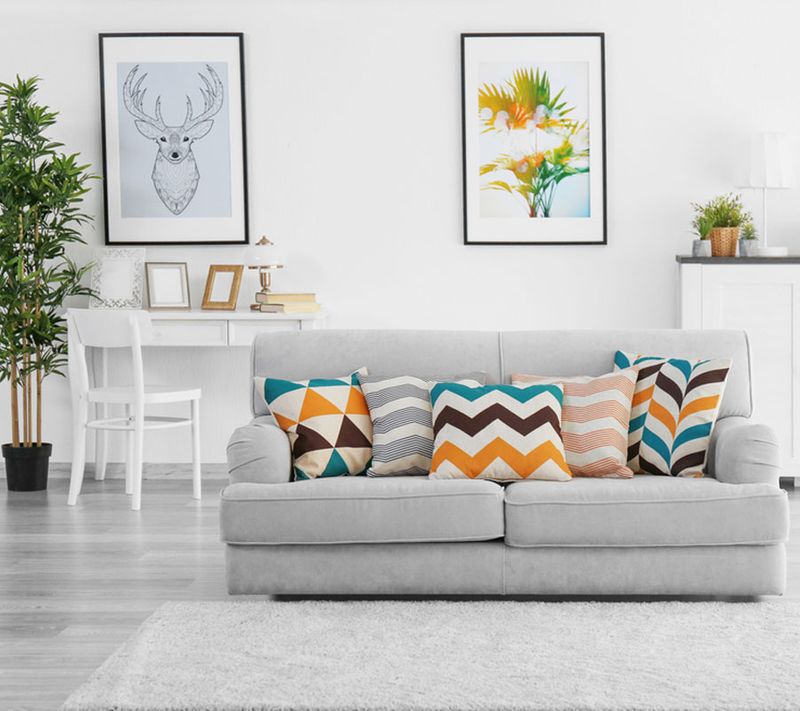 You can create a small gallery of photos, nice frames, crocheted or macrame wall hangings. You can personalise the wall with everything that you like and play around a bit. However, you need to make sure that you don't overcrowd it and work on only one wall so that it does not look too clumsy. When you are hanging posters or paintings, you can hang one that is oversized and captures one's attention more than the rest. This will create a focal point in the living room and will give the room more gravitas.
8. Consider enlarging the flooring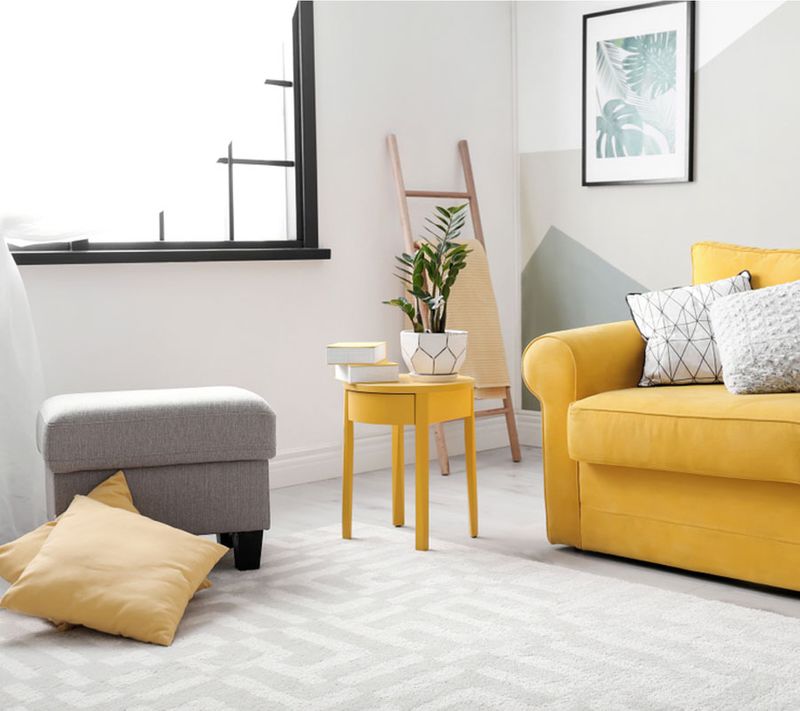 Of course you can't enlarge the flooring technically, but you can again create an illusion by layering the floor with carpets. Layers will make your floor look enlarged, expanding the space of your living room. Use a rectangular rug instead of a round one to make the space look bigger. If you want to enhance it further, buy a rectangular rug with diamond patterns which will broaden the room.
9. Hide the corners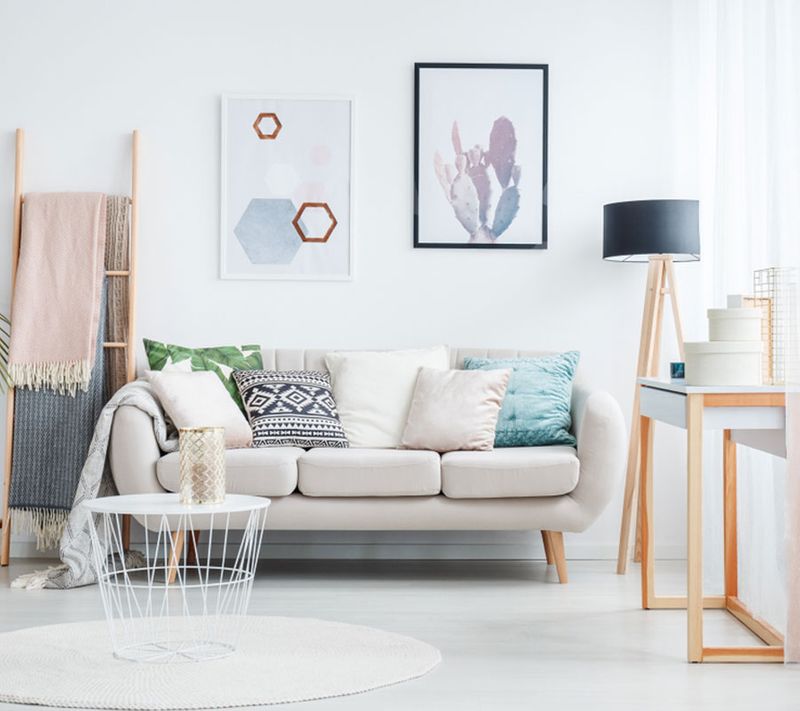 This one is an underrated idea in all the small living room decorating ideas. It is one that is not known by everybody but works wonders. When you decorate your small living room, make sure that you cover the corners of the room with furniture or accessories. This will draw eyes away from the edges and make the room look larger automatically. The simple science is that if your eyes can see the corners, you will know exactly how big the room is. You can disguise the corners with tables, planters or lamps. The idea is to cover the corners!
10. Hang simple and breezy curtains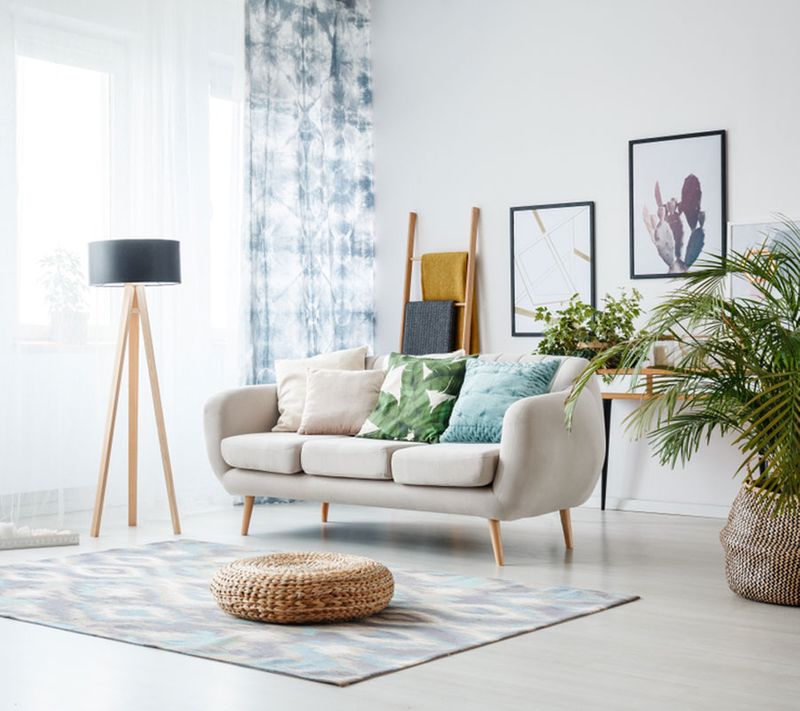 The best way to let air, sunlight and the light breeze in your small living room is to hang light curtains. You can go with light-coloured or patterned curtains that are not completely opaque. Curtains of net material that will let the air in even when they are drawn is what you should be looking for. A small living room needs to be well ventilated so that it does not get stuffy and for that, these curtains will really help. 

You can feel overwhelmed while designing a small living space, hence, we have carefully curated this list to make your life easier. With this guide in hand, you can make a home out of a plain space. These space-savvy solutions will be great for your small living room.
While you are using these ideas, all you need to keep in mind is to make your living space cosy. A person needs to feel comfortable and sense the good vibes the moment they step into this space. The furniture, colour palette and accessories should all make sense together and sing beautifully.
So, what are you waiting for? Head on to the stores and start decorating your small living room today!
---
Photo: Shutterstock