Each year the Hindu deity of prosperity and wisdom, Lord Ganesha is celebrated during the Ganpati festival in India. A 10-day-long ceremonious occasion, Ganpati Utsav is a cultural event full of auspicious prayers, chants, and delicious sweet offerings. Believed to be a true-blue foodie, Lord Ganesha loved devouring delectable delicacies made by his devotees, especially during Ganesh Chaturthi. On the 31st of August, homes and streets will be filled with unwavering zeal while devotees from across the world gear up to welcome the birth of Lord Ganesha once again.
To mark this pious occasion, Lord Ganesha's favourite sweet delights are made and offered to the god. From modaks to patoli there are plenty of traditional dishes to serve Lord Ganesha during the celebrations. One such sweet offering without which the festivities are incomplete is ladoo.
4 Ladoo Recipes For Ganeshotsav
1. Besan Ladoo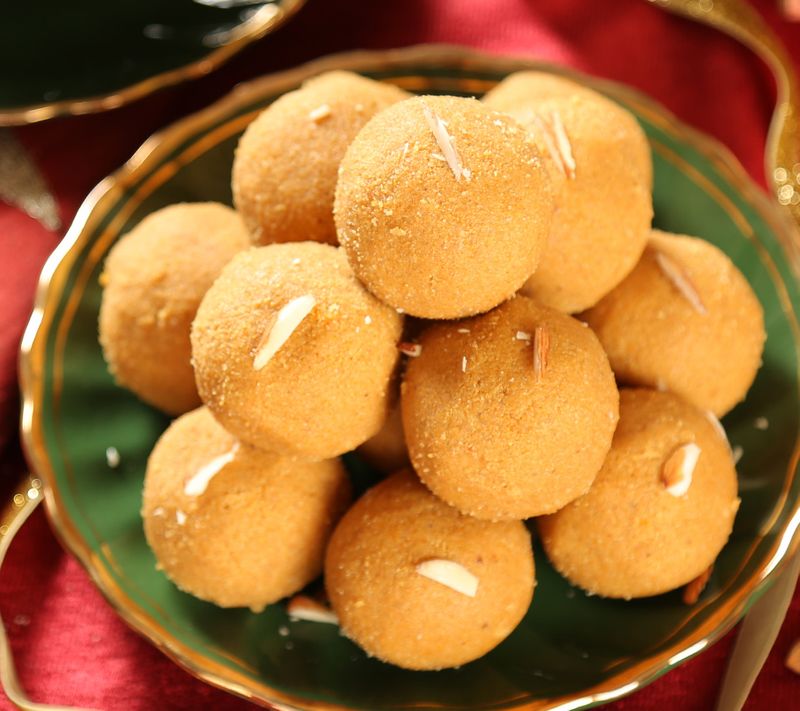 One of the most popular laddoo recipes to make during Ganesh Utsav as a prasad is besan ladoo. Small, soft, and decadent balls of crumbly goodness, besan ladoo has a distinct aroma and gorgeous golden-brown colour. Garnished with slivered dry fruits like almonds and pistachio, and a strand of saffron, besan ladoos are a crowd-pleasing dessert that are made during multiple festivals in India. The true essence of the ladoo lies in the aroma of the nutty mixture of besan and ghee.
Method
In a pan slow roast the besan (gram flour) with ghee and a pinch of turmeric powder. 

Stir occasionally till the mixture changes to a golden colour and you can smell a nutty aroma.

Remove the besan on a large plate and let it cool.

Add jaggery powder, cardamom powder, and finely chopped dry fruits to the besan mixture.

Grease your hands and make medium-sized ladoos.

Garnish with dry fruit slivers and serve.
Full recipe here.
2. Haldi Ke Laddu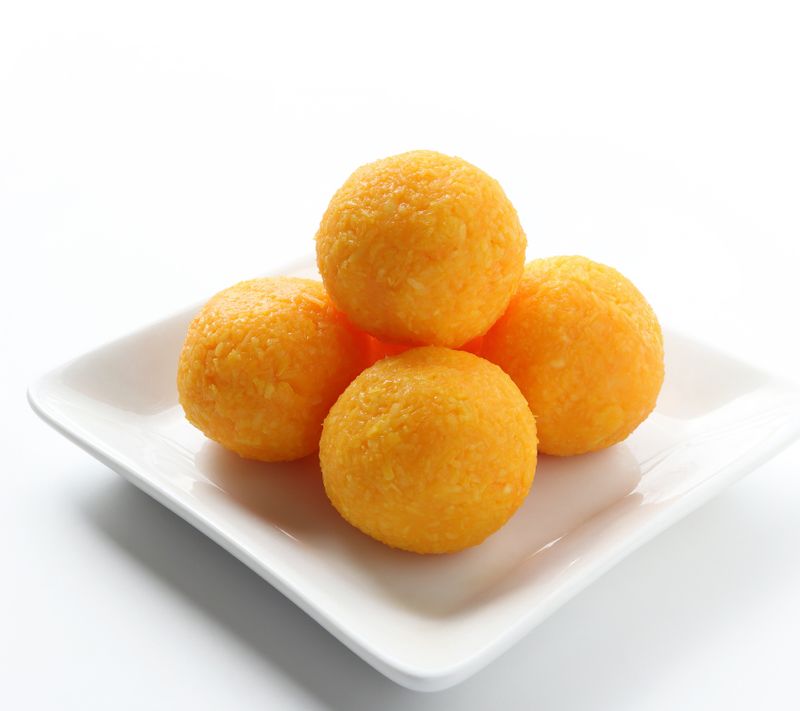 Delicious, healthy, and easy to make, this haldi ke laddu recipe is a perfect offering to Lord Ganesha during Ganpati celebrations. Believed to be an auspicious sweet, laddus have a long shelf life when stored properly. With haldi and jaggery, these delicious bite-sized delights fight common colds and seasonal ailments too.
Method
In a pan, heat ghee and add grated raw turmeric. Cook till it the mixture is reduced and there is no raw turmeric smell.

In a separate pan dry roast melon seeds. Keep aside.

In the same pan, fry almonds, cashews, walnuts, pistachios, and fox nuts in a little ghee, one by one, and grind them to a powder.

Melt jaggery with water to make a syrup. Add the dry fruit powder and raisins to the syrup and mix.

Add the turmeric mixture to the syrup and once cool, add grated coconut, roasted melon seeds, and pepper powder before making laddus.
Full recipe here. Here's why you should be celebrating the first foodie on Ganesh Chaturthi.
3. Ashwagandha Til Ladoo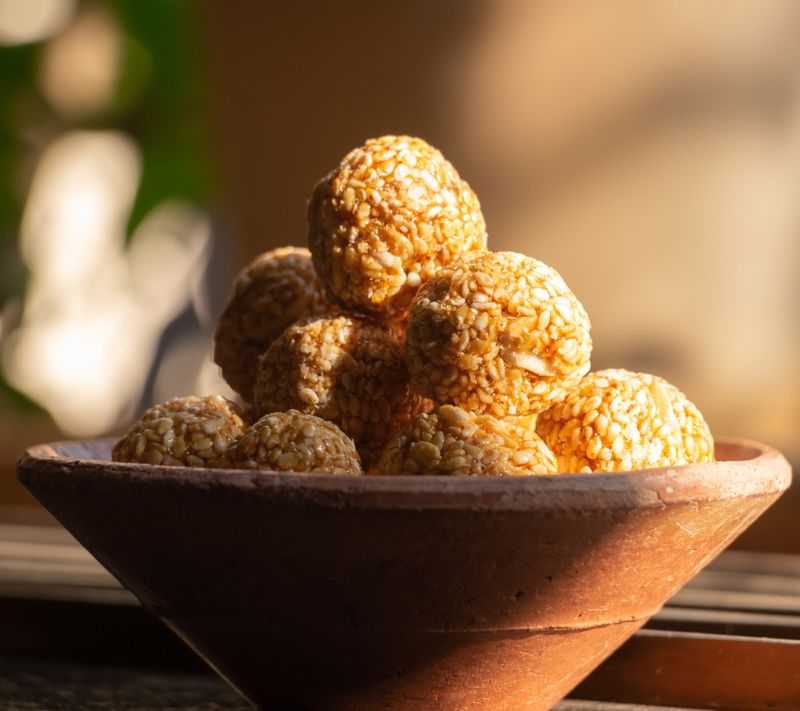 A unique prasad recipe to make during the Ganpati festival, ashwagandha til laddu is a power-packed sweet treat. Made using ashwagandha, a revered Ayurvedic herb, and til (sesame seeds)—this is a delicious combination believed to increase stamina and rejuvenate the body. Sesame seeds are packed with healthy fats while ashwagandha is an adaptogen, used to reduce stress.
Method
In a pan, roast khoya and set aside to cool.

To it add roasted sesame seeds, cardamom powder, chopped nuts, ashwagandha powder, and jaggery powder and mix.

Make laddoos and garnish with dry fruits of your choice.
Full recipe here. Like this offbeat dish, try these 5 Traditional Ganeshotsav Offerings in Maharashtra and Karnataka That Aren't Modak.
4. Gond and Sonth Laddo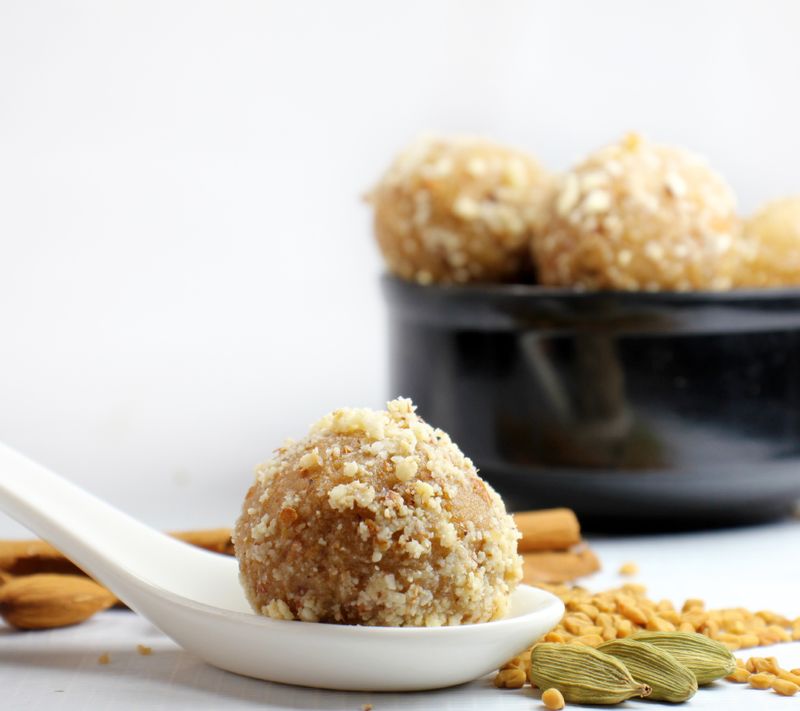 Everyone makes the typical coconut ladoo and mothichur ladoo during the Ganpati festivities. However, this gond and sonth laddo is a healthy and yummy treat to make as prasad for Lord Ganesha. We are sure that youand your family are going to love it and that it might just become a Ganpati staple in the house.
Made using gond, edible gum, and sonth (dry ginger), this delightful delicacy has a long shelf life when stored in airtight containers. Perfect for seasonal changes, sonth keeps the body warm and boosts immunity to fight the common cold and cough. To make the laddu decadent for festivals, you can add dry fruits, fox nuts, coconut, and jaggery.
Method:
In a pan heat ghee and fry gond till it turns a shade of light brown. Remove on a plate.

Next, add makhana till it gets a light crunch and then remove. Crush gond and makhana coarsely.

Separately dry roast grated coconut and some dry fruits of your choice.

Roast sonth in ghee on one side and wheat flour (atta) in another pan till it turns brown and fragrant.

Add roasted sonth and some turmeric powder to the flour and mix. Remove to a large plate.

Mix in gond, makhana, dry fruits, powdered sugar (bura), and grated coconut.

Make small laddus and serve.
Full recipe here.
This Ganpati Utsav put on your cooking hat and try these easy yet delicious laddoo recipes as a prasad for Lord Ganesha. Loaded with the richness of ghee, flavours of dry fruits, and unwavering devotion—these decadent desserts are perfect for all Indian festivals. 
---
Photo: Shutterstock