Stories are an indispensable part of Indian festivals and the 11-day festival of Ganesh Utsav, which starts on Ganesh Chaturthi, is no different. Several mythological tales narrate the life of Ganpati, and many of these describe his love for food, particularly sweets, and are stories that grandmoms shared with us. Of the gods in the Hindu pantheon, there is perhaps no other who loves food as much as the elephant-headed god. Even Krishna's love for butter pales in comparison.
Mythologically, Ganpati's potbelly is believed to encompass all the universes of the past, present and future. But this feature, which earned Ganesha the names Mahodara and Lambodara, which means one who has a great belly, also represents the jovial god's penchant for gastronomic adventures. On the occasion of Ganesh Chaturthi, we put together some of the most popular mythological anecdotes that prove Ganpati was the first foodie.
Ganpati, the dessert lover
If Ganpati were to reappear in the millennial age, he'd probably be the flag-bearer of the saying, "Life is short, eat dessert first". For many, the festival of Ganesh Chaturthi is an opportunity to binge on sweets without any guilt. When the god himself gobbled up countless sweets, why should sugar and calories worry his devotees? Plates full of laddu, or sweet dumplings like modak, karanji, and in south Indian states, kadubu or somasi, are offered to the god during Ganesh Chaturthi. A laddu weighing 580 kg was offered to Ganesha in Hyderabad during the festival in 2018.
It is said the laddu became his favourite sweet dish after he broke one of his tusks. Ekdanta or one-tusked is one of Ganpati's earliest names and there are many versions of how Ganpati broke his tusk. Some stories say it was during a fight with Parashurama, the sixth avatar of Lord Vishnu, whereas some other stories say it was while writing the Mahabharata. When his quill failed him, Ganpati broke his tusk to use as a writing instrument in order to continue inscribing the epic uninterrupted as sage Vyas narrated it to him. The broken tusk posed the foodie with a serious problem, a difficulty in eating. That's when the melt-in-the-mouth laddu was presented to him and it has remained his favourite sweet dish ever since.
Ganpati's modak moment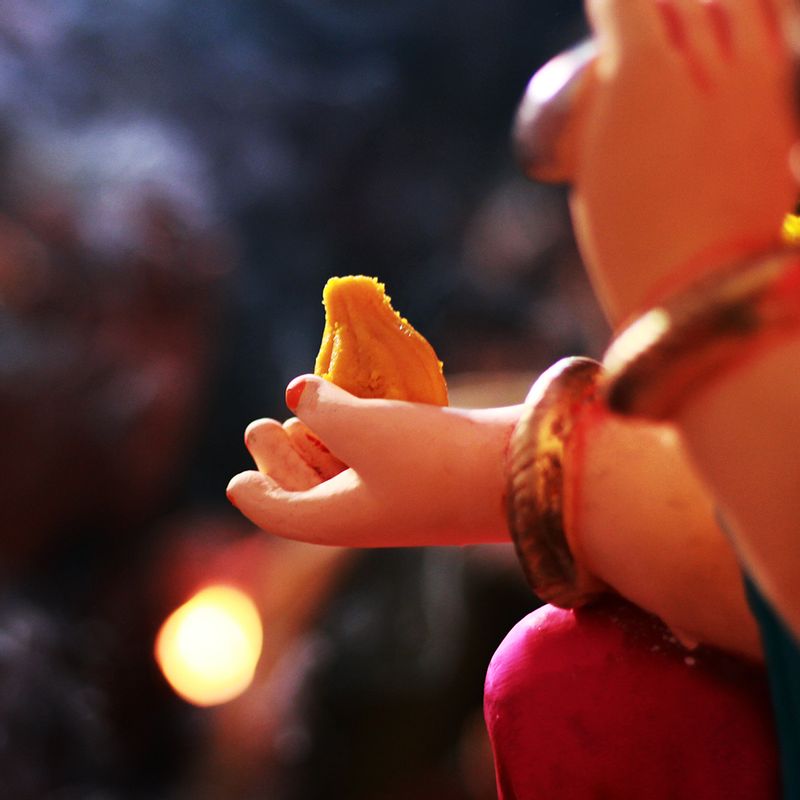 Ganpati's love for the modak is well known and every region in India prepares its own version of modak, a dumpling made of rice or wheat flour stuffed with coconut and jaggery. In fact, the millennial Ganpati would equally relish the reimagined versions of the traditional modak. However, according to mythology, the modak is more than just a delicacy.
It is said that demi-gods visited Ganpati's parents, Shiva and Parvati, with a unique modak that had divine powers. Whoever ate this modak would be bestowed with knowledge of the sciences, scriptures, arts and writing. To decide who should get the modak between their two sons, Shiva and Parvati put them to a test. Karthik and Ganpati were told that the first to take three rounds of the world would win the divine modak. While Karthik set off on his peacock, clever Ganesha encircled his parents thrice and explained that they were his world. Impressed, Parvati handed the modak to Ganpati, who is also known as the god of wisdom.
Unlimited appetite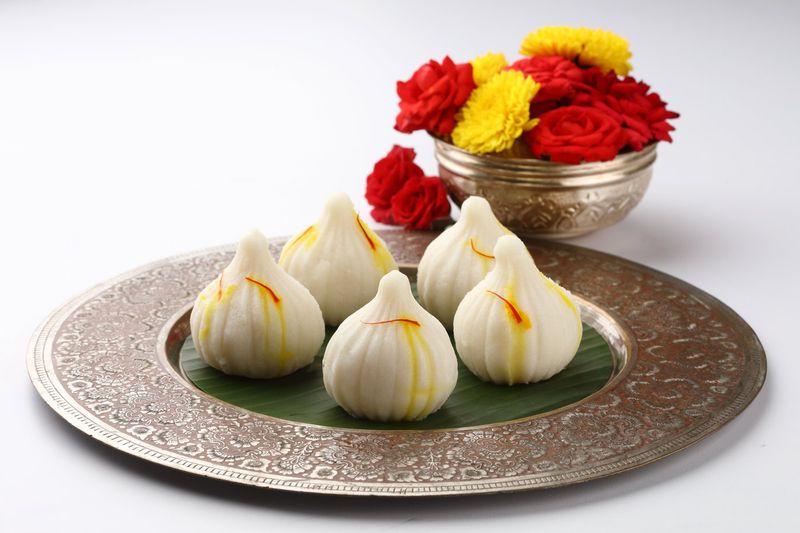 You would be sure to find Ganpati turn into a patron of the best all-you-can-eat buffets in town. Ganesha's love for food and voracious appetite is legendary. One such story talks of the time when Ganpati was in the forest with his parents and they came upon the house of a sage. The wife of the sage, Anusuya, invited the gods over for a meal. Delighted to have the opportunity to serve a meal to Ganpati, she insisted on serving Shiva only after Ganpati's hunger was satiated. Anusuya offered the best preparations from her kitchen to the young Ganesha, who happily devoured them all. After several courses and helpings, Anusuya realised there was no end to Ganpati's hunger and at this rate, she wouldn't be able to serve Shiva. Knowing his son well, Shiva suggested that Anusuya offer Ganpati a modak. As soon as he had relished the modak, Ganpati burped not once but 21 times indicating he was finally full. Today, the legend translates into the ritual of offering 21 modaks to Ganpati during the festival of Ganesh Chaturthi.
Everyone's favourite guest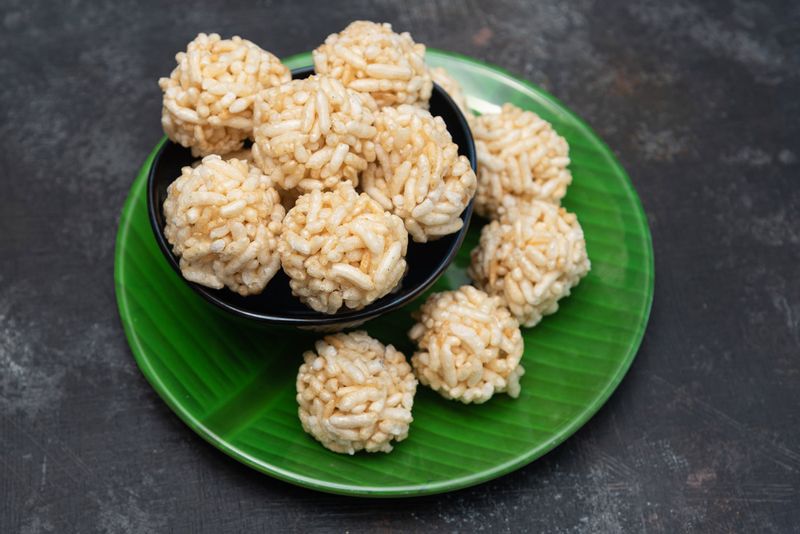 Kings and civilians, alike, enjoyed hosting meals for the Ganesha, who is said to be the remover of obstacles and difficulties. Ganesh Chaturthi is the festival when devotees open up their homes to the god, warmly invite him in amidst celebrations and fanfare, and make several food offerings. Ganesha may enjoy his feasts, but if he were on Instagram, his feed wouldn't be limited to fine dining.
When the Hindu god of wealth, Kuber, invited Ganpati over for a meal, he was confident that his kitchens would not only prepare the best meals for Ganpati, but would also satisfy his hunger. Meal after meal was offered but Ganpati's hunger showed no sign of fulfilment even after the god of wealth's kitchens had run out. Shiva advised a distressed Kuber to offer a helping of puffed rice to Ganpati. Before Kuber could smirk about how such simple food could satiate Ganesha's hunger when the best from his kitchen hadn't, Shiva explained that the meal only required the ingredients of goodwill, humility and devotion.
The story is said to represent Ganpati's benevolent love for the rich and poor alike. Laddus made of puffed rice and jaggery, which are easily available and prepared by the rich and the poor alike, are another significant offering made to the elephant-headed god during the festival.
---
Photo: Shutterstock