This story started in the early 1600s. A general of the Adil Shahi, the sultan of Bijapur, decided to destroy the settlement of Pune to teach Shahji Bhonsle (father of Chhatrapati Shivaji, the founder of the Hindavi Maratha Swarajya), a lesson he would not forget.
"So thorough was this intent to curb Shahji's increasing bids for self-assertion and his subsequent destruction of Pune, that it was the equivalent of destroying the fields with a Gadhvacha nangar or donkey's plough, a literary term that represents complete destruction," explains noted Pune-based historian Professor Ajit Apte.
Pune was a jagir of the Bhonsle family. "It was an open challenge to anyone to dare try and turn things around," says Apte. Shivaji, mentored by his feisty mother Jijabai, rose to the challenge.
Kasba Peth Ganpati: Idol of hope and faith
Slowly and steadily, Pune was rebuilt bringing back settlers from near and far. One of them was Vinayaka Bhatt Thakar and his family. The Thakar family travelled with seven other families from Karnataka to settle along the banks of modern-day River Mutha where Shri Kasba Ganpati Mandir stands today.
Thakar found a naturally-formed (swayambhu) idol of the Lord Ganesha. He also had a dream (drushtant) wherein the Elephant-headed god asked him to duly install the statue. This was reported to Shahji's wife, the freedom-loving Jija Bai, who took it as an auspicious sign and decided to build the temple.
"There are records that state the mandir had been in existence since 1619. However, it was only with Jija Bai's arrival in Pune in 1636 that the present-day sanctum sanctorum was built and the idol of the Jayate Gajanan (victorious Ganpati) was ceremoniously installed," says Apte.
From then on, Kasba Peth Ganpati was deemed Pune's presiding deity. The town became increasingly important and prosperous in the scheme of things and a prominent seat of power. Shivaji, it is said, never went to war without first bowing before Ganpati.
"However, the temple, as it stands today, owes its form and symmetry to the Peshwas who wielded the power in Pune in the years thereafter," adds Apte. The Peshwas were ardent devotees of the Lord.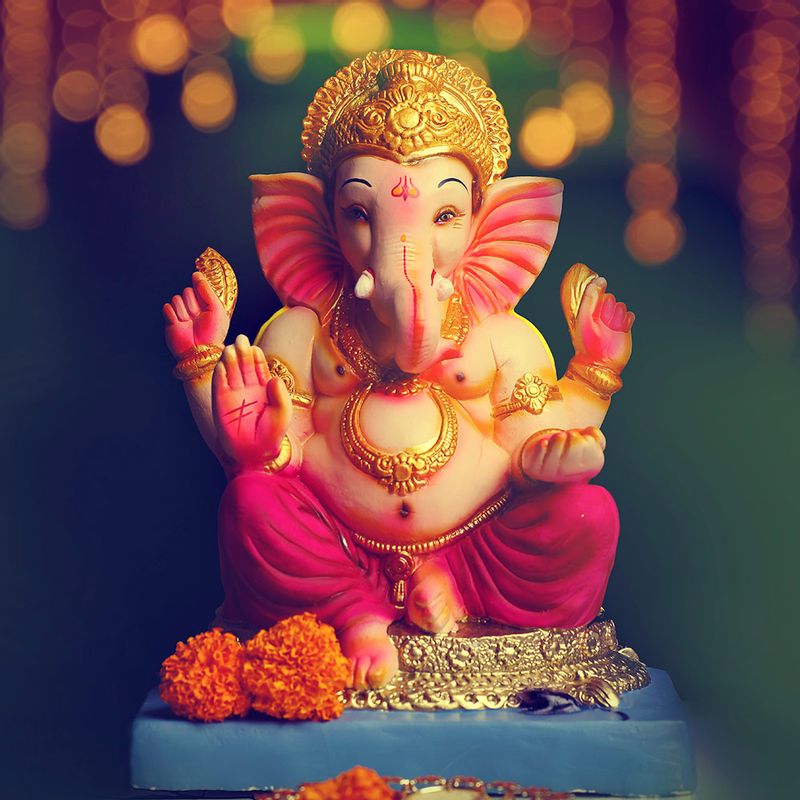 Shri Kasba Ganpati Mandir is still run and managed by the Thakar family via a trust. "It is a holy duty and our greatest honour," says Vinayak Thakar, present-day chief trustee. He further adds that traditional rituals and protocols are diligently followed such as the aartis every Wednesday and Sunday, even the thrice-a-year celebration of Ganesha's birth, as per the Hindu months of Jeshta, Magha and Bhadrapad. 
A modern avatar
Two centuries later, in 1893, Lokmanya Bal Gangadhar Tilak celebrated Ganesh Chaturthi as a public festival or Sarvajanik Ganesh Mahotsav to build cultural affirmation and national pride.
The Ganpati festival became a common ground for people from all strata of society to come together at a time when the British had banned public social and political gatherings. "The community celebration fulfilled several purposes: from whipping up national fervour and pride through plays and tableaus to carrying out undercover spy activities," explains Apte.
"The Kasba Peth Ganpati was duly accorded the status of manacha Ganpati—first in order of precedence-be it in procession or immersion." This further fortified Kasba Peth Ganpati's position as Gramdaivat or town deity.
For all auspicious occasions-be it the birth of an infant or a wedding celebration-the first invitation is given to the Kasba Peth Ganpati. It is a common sight to see a wedding procession duly alight at the temple for the Lord's blessings.
And so, the famous Kasba Peth Ganpati in Pune stands tall, firm and proud-much like the spirit of the city it represents.
---
Photo: Shutterstock