Spring is the most beautiful time of the year in the capital. It is also when the city steps out to enjoy the last leg of pleasant days and dining out is an important part of this outing. This spring Delhi's most premium establishments have brought in exquisite and exclusive limited-edition menus that offer flavours from as far as Andhra Pradesh and Tamil Nadu to Kashmir and Calcutta. Here is a list of all the festivals happening in and around Delhi-NCR that you ought to check out. 
1. The Zodiac Grill, Taj Chambers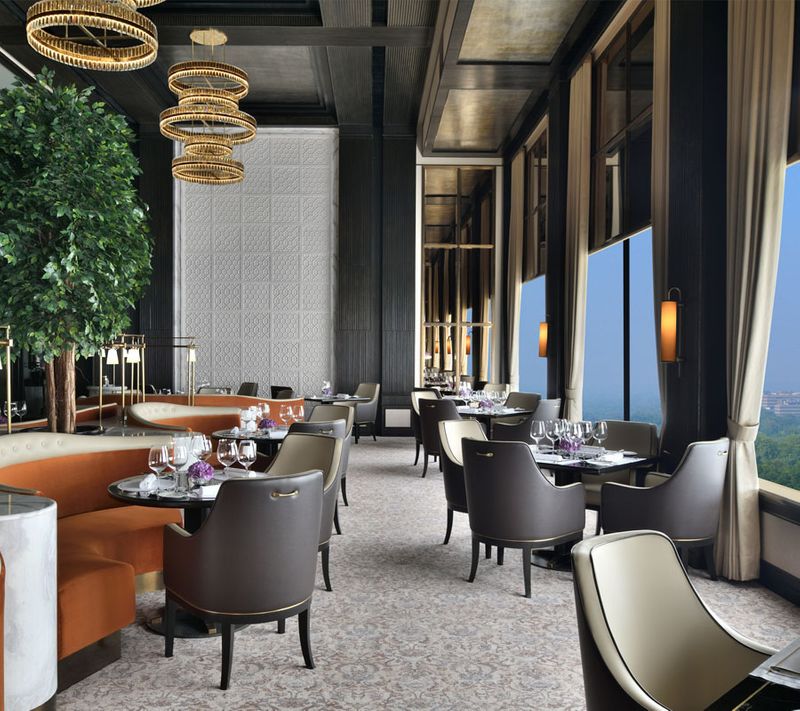 The Zodiac Grill opened its doors to the world in the late '80s, as a one-of-a-kind concept, where patrons were pleasantly surprised by the idea of a menu with no prices and could pay as they liked. The restaurant has a legacy of excellence in cuisine and service. After over 25 magnificent years of serving exemplary European cuisine, The Zodiac Grill had permanently etched a mark in the culinary world. Taj Mahal, New Delhi is welcoming guests to enjoy the charm and culinary art of the iconic restaurant at the re-imagined and re-designed avatar of The Chambers with stunning views of the city's skyline. Their master chefs have designed a special menu of signature dishes such as the Camembert Dariole, Chicken Zodiac, and Kahlua mousse, to ensure a truly memorable experience. Highlighting the glorious journey of The Zodiac Grill and welcoming the legacy at this exclusive culinary celebration, Chef Arun Sundararaj, Director of Culinary Operations at Taj Mahal, New Delhi, said "The Zodiac Grill isn't merely a restaurant. It is a moment. A memory. A milestone. The Zodiac Grill represents the epitome of fine cuisine paired with impeccable service standards. It has gazed at the celebrations of the celebrated and has been a mirror to their memories. My team and I look forward to welcoming guests to this curated experience of culinary craft."
18th February-27th February. Friday-Sunday. 7:00 PM onwards. INR 9000 plus taxes per person
2. Kashmiri Festival, threesixtyone °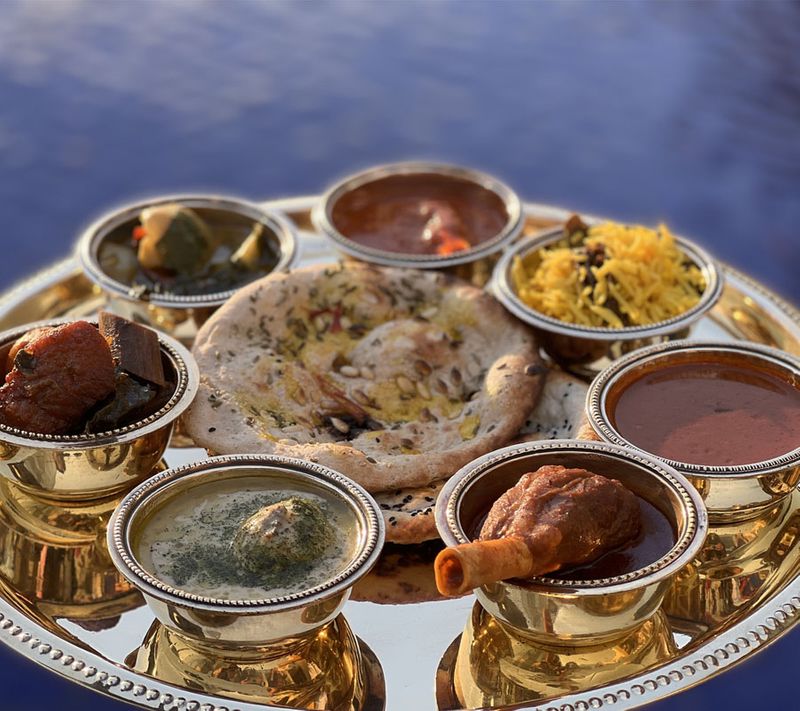 The Kashmiri cuisine has evolved over many centuries and is highly influenced by the food of the Kashmiri Buddhists, Sikhs, and Pandits, the Hindu community of the valley. It is also strongly influenced by the cuisines of Central Asia, Persia, and the North Indian plains. The elaborate Kashmiri Pandit cuisine is usually prepared with lots of yoghurt, oil and spices and is a treat with the use of dry fruits, especially in the preparation of curries. While mutton remains the meat of choice with an array of over 30 preparations, there is also generous use of fish and chicken and features a major section of vegetarian dishes. This includes local seasonal vegetables and greens like naak, nadru, potatoes, etc. threesixtyone° the elegant all-day diner at The Oberoi in Gurgaon, brings to the capital the beautiful Kashmiri cuisine at the ongoing Kashmiri Food Festival. Spearheaded by chef Parvinder Singh Bali, a proud Kashmiri and the Corporate Chef Learning and Development, the festival brings authentic home recipes and flavours from the valley. The menu is a beautiful blend of popular preparations like Gushtaba, Rogan Josh, Dum Oluv, and Tabak Maaz and unique dishes like Ladyar Tsaman, veth tsaman, and shufta. 
Ongoing until 27th February. Lunch and Dinner. 12:30-3:30, 7:30-11:00. INR 2950 plus taxes per person 
3. Signature Oriental Luncheon, Spicy Duck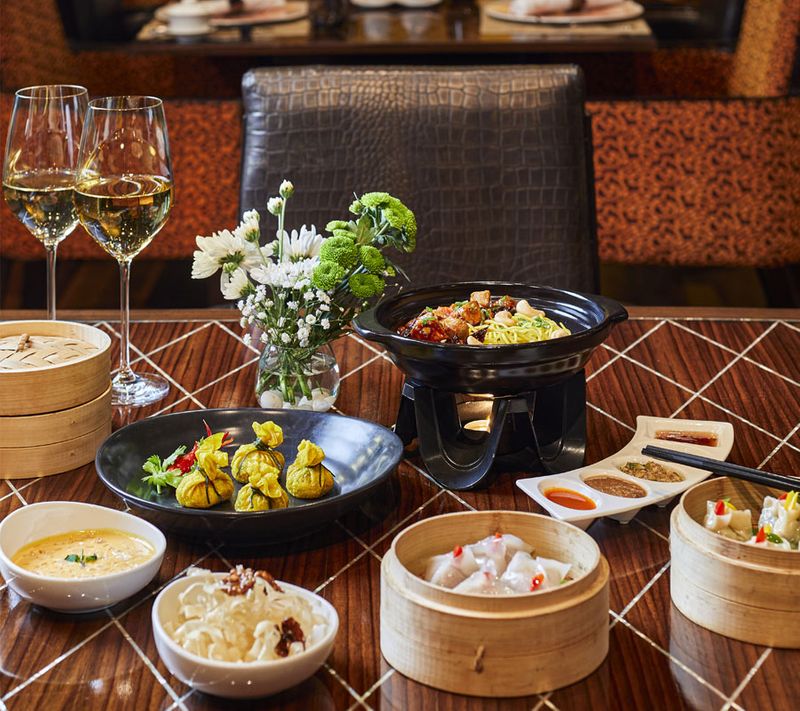 One of the classiest Oriental restaurants in town, Spicy Duck gains inspiration from Duck that signifies freedom, happiness and fidelity in China. The cuisine at Spicy Duck reflects the specialties of the Taishan and Chengdu sub-regions of the Sichuan and Canton provinces. The menu incorporates classics from the Tea House of the August Moon era that invokes an unmatched sense of nostalgia. The kitchen, which is led by Chef Thanglawm Valte, uses homemade concoctions and infused oils for cooking, with minimalistic use of condiments to impart lightness to preparations. Most ingredients and raw materials including spices and vegetables are sourced from the country of origin to keep the offering most authentic in nature.
This spring the legendary restaurant is bringing Signature Luncheons by Spicy Duck at Taj Palace, New Delhi. The lunches feature a curated menu with signature handcrafted dim sums, soup of the day, aromatic claypot meal bowls from Southern China, and an indulgent dessert. The expansive views of Delhi's greenest hotel come as an added bonus. 

Starts 25th February. Monday to Friday. 12:30 to 15:00. NR 1900 plus taxes per person
4. Rajopacharam - The Lost Chola, Dakshin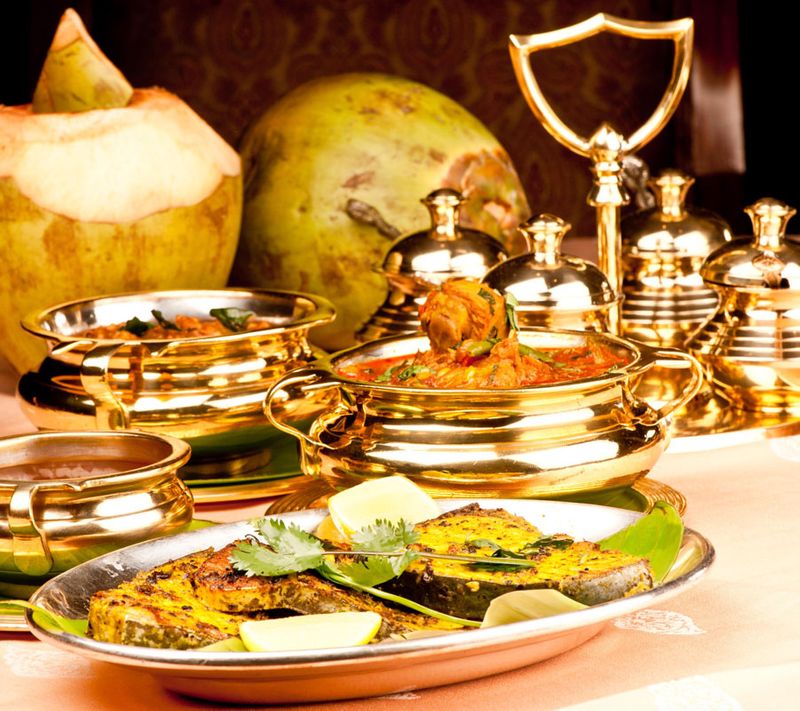 Dakshin recreates the splendour of southern Indian flavours and brings to life the disappearing lifestyle of peninsular India. A place unique for its authentic presentation of the finest creations from Andhra  Pradesh,  Karnataka, Kerala, Pondicherry, Tamil Nadu and Telangana. With the use of traditional methods, recipes, and vessels the establishment has been recreating Southern classics for years. Dakshin etches the ethos of South India, in tradition, service, and fare, where rituals and personalised service will make every meal a truly memorable experience.
You can now experience the culinary glory of the forgotten era of the Cholas, as the legendary team takes you on a culinary journey to explore the cuisine of the golden Tamil dynasty, one of the greatest to have ruled India. The Rajopacharam festival brings traditional heirloom recipes by Master Chef Velu in dishes like Mochai Rasam, Vathal Kari, Eral Vattudal, along with other classics from the era at Sheraton New Delhi. 
Starts 27th Feb - 8th March. Dinner all days, lunch on Saturday and Sunday. INR 1500 plus taxes per person. 
5. Anglo Indian Food Festival, The Tangra Project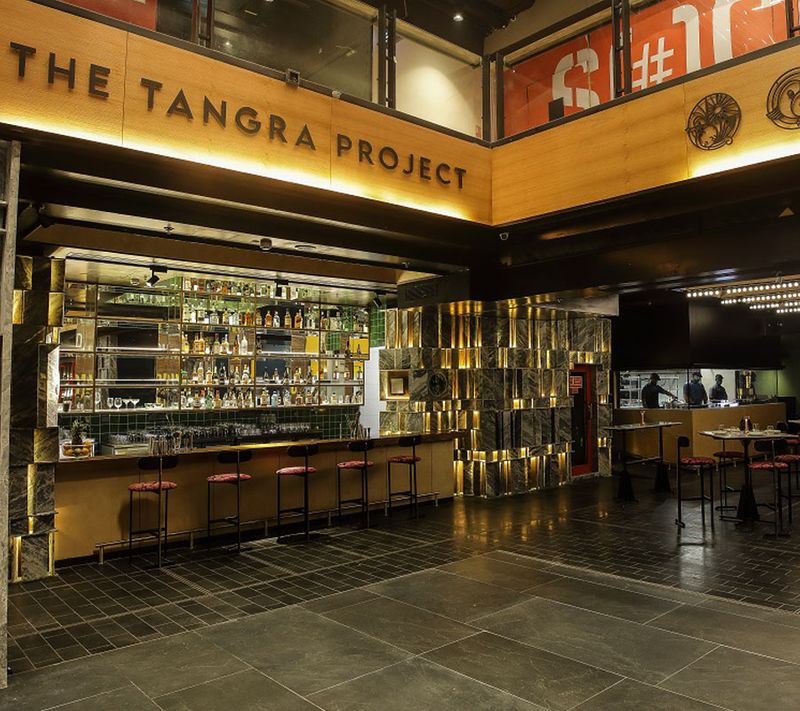 The Tangra Project has become synonymous with authentic Calcuttan flavours. From Mughlai food to Anglo- Indian signatures, from traditional Bengali gems to popular Indian- Chinese inspired by the Hakka community who migrated to India, the unique menu of Tangra Project has something for myriad taste buds. This spring, The Tangra Project allows its patrons to discover the classic and legendary Anglo-Indian cuisine of Calcutta. 
This whole month you can savour some of the most authentic and classical flavours from the Anglo Indian kitchens of the city that is home to the biggest Anglo-Indian community. With dishes such as Anglo Pepper Fry, Turnip Cake Railway Curry, Baked Fish Casserole, Mutton Dak Bungalow, Three Pork Ball Curry, Country Captain Chicken, Mutton Pantheras you will be able to travel to a space in time that transcends physical borders. The festival that will go on till 28th February 2022 is an ode to the Anglo-Indian community of Calcutta which was formed after the arrival of the British in the city.
Ongoing until 28th February. All Days 12:30 - 11:30 PM. INR 1000 plus taxes per person
6. Andhra Festival, Chor Bizarre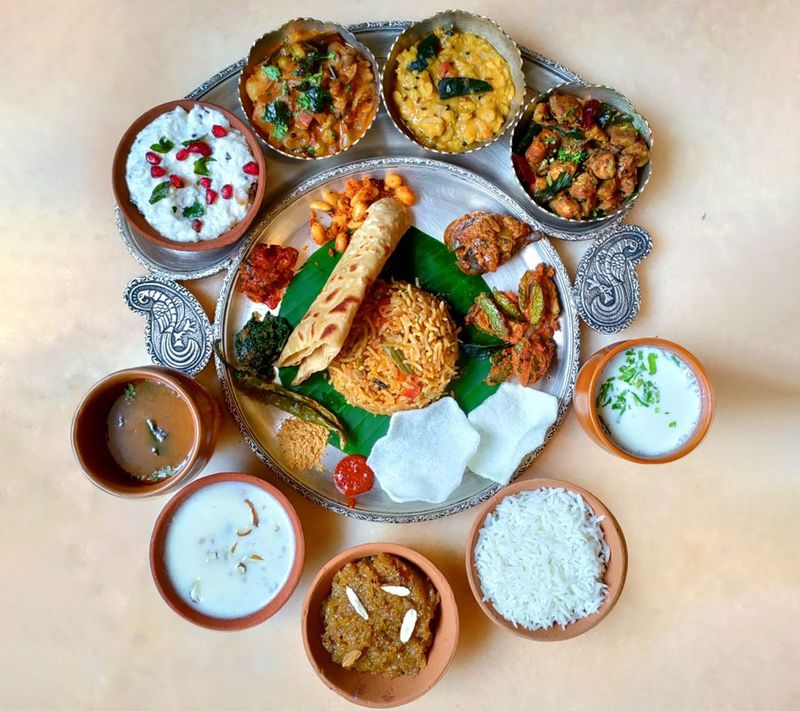 Part art, part kitsch, part imaginative, part contrived, Chor Bizarre has stood out for decades not just for its flavours from across the country but also its decor and ambience. As they popularly say, "in our restaurant, nothing matches yet everything gels." The thought holds true for the cuisines as much as it does for its eclectic decor. A frontrunner in serving authentic regional cuisine for over 3 decades, Chor Bizarre made regional Indian cuisine fashionable long before it was fashionable to do so. In doing so, it has not only won many awards but also the hearts of people from across the globe. The restaurant brings the best of Andhra cuisine right here in Delhi at the Bikaner House outlet. The pre-plated Thali is available in both veg and non-veg versions featuring some of the best of regional favourites like Kodi Pakodi, Chapala Pulusu, Kadapa Mutton Biryani, Raw Banana Vepudu, Kobbari Kova, and more! 
Ongoing until 10th March. All Days 12:00 PM-10:00 PM. INR 1250 plus taxes per person 
7. Crab Festival, The Claridges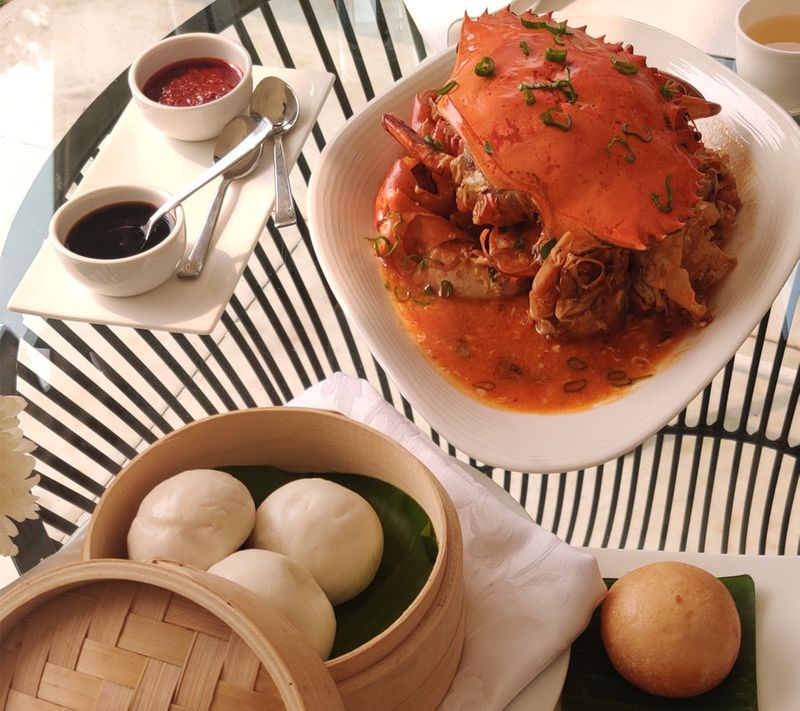 The Claridges, New Delhi is serving a tempting array of sea dishes to celebrate the annual Crab Festival. Chef Vivek Rana at The Claridges Garden has curated a scrumptious range of interesting crab dishes in different styles and flavours. This lavish crab's menu has dishes like Kanyakumari crab meat and Egg drop sweet corn, Thai style crab, Mud crab and prawns too that will be served up in beautiful open-air seating where guests can have their fill of crab while enjoying the scenic view and the warmth and hospitality. The Crab Festival was first started in 1992 by Mr Franck Garain, a historian and coordinator of the Crab Festival. It is a go-to for all seafood lovers in the capital, and the mesmerising crab dishes will make you fall in love with seafood all over again.
Starts 21st Feb- 25th Feb 2022. All days 7:30 - 10:30. INR 4200 plus taxes per person.
8. Truffle Menu, Plate
PLATE, situated in DLF promenade mall is a casual dining space with a bright and vibrant ambience. It has a multi-cuisine menu with an array of dishes to suit every palate. The large space is split into cosy booths and open tables along with well-lit outdoor seating. With an extensive bar menu, you'll surely be spoiled for choice.  It's a simple, casual place to catch up over great food and cocktails. All through February PLATE is celebrating a decadent truffle-infused menu. Serving an array of dishes, all infused with beautiful truffle flavours and complementing ingredients. From Grilled chicken in creamy truffle sauce, Lamb shanks with Truffle Risotto to wild mushroom and truffle risotto, we've got you some lip-smacking dishes, best enjoyed with a glass of white wine. Definitely a menu with big bold flavours. 
 Ongoing until 10th Match. All Days 12:30 - 10:00 PM. INR 900 plus taxes per person
---
Photo: Spicy Duck