Delhi was never known to be a city of al-fresco dining. A city of scorching summer, moody monsoon and bone-chilling winter, Delhi always liked to eat in the comfort of air-conditioned spaces — until now that is. In a post-covid world, Delhi is not just opening up to alfresco dining but embracing it. Restaurants, cafés, even elite fine diners offer open seating options throughout the year and winter continues to be the best time of the year to enjoy this. We bring you some of the finest open-air spaces to dine in this winter. 
1. Olive Bar & Kitchen, Mehrauli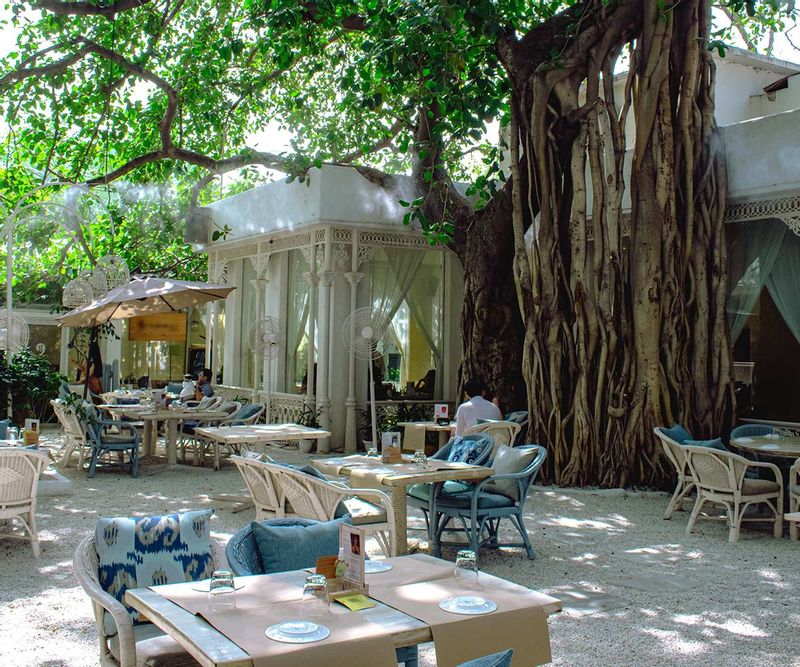 Soft sunlight on large armchairs, a pebbled courtyard punctuated by large shady trees, pristine walls adorned with bright pink bougainvillaeas — the outdoor setting has made Olive Bar & Kitchen a Delhi favourite. While the courtyard was always present, the demand for eating out has increased post-pandemic. A star-lit terrace bar, in the shadow of the Qutub Minar, has also been added to the al-fresco options post-pandemic. One of the most picturesque setups in Delhi, Olive Bar & Kitchen offers the option of basking under the winter sun in the day and cosying up with the stars at night. The menu by chef Dhruv Oberoi celebrates local produce in collaboration with urban and rural farmers and showcases the indigenous seasonal produce in their much-loved Mediterranean- European cuisine. 
2. Ottimo At The West View, ITC Maurya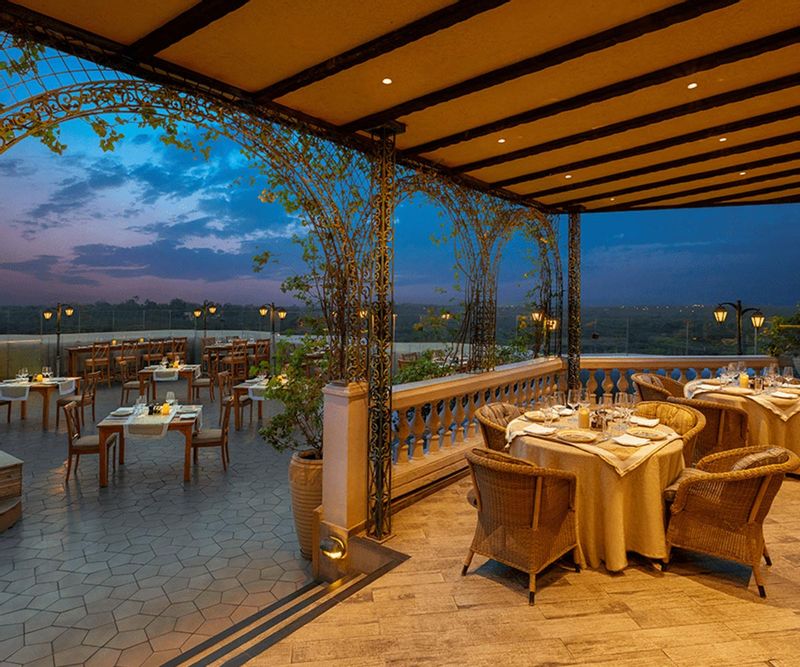 Ottimo At The West View is one of the oldest places in Delhi offering open-air dining experiences. While the alfresco seating was always available, its demand, says general manager, Benita Sharma, has gone up post-pandemic. A need they are happy to cater to with their sprawling terrace and picturesque patio with breathtaking views of the Delhi ridge, a large green belt in the heart of the city, and the city's significant landmarks. The Art Deco-inspired patios and terrace here are done in rustic country style, the floors showcase rich mosaic work, and country decor takes you on a visual journey to the heart of Italy. Ottimo At West View was among the first in the city to grow its herbs in the terrace garden. Today it offers Delhi's finest Italian fare including sundowner brunches with a fine selection of champagnes, cheese, and mains. 
3. Fig and Maple, Greater Kailash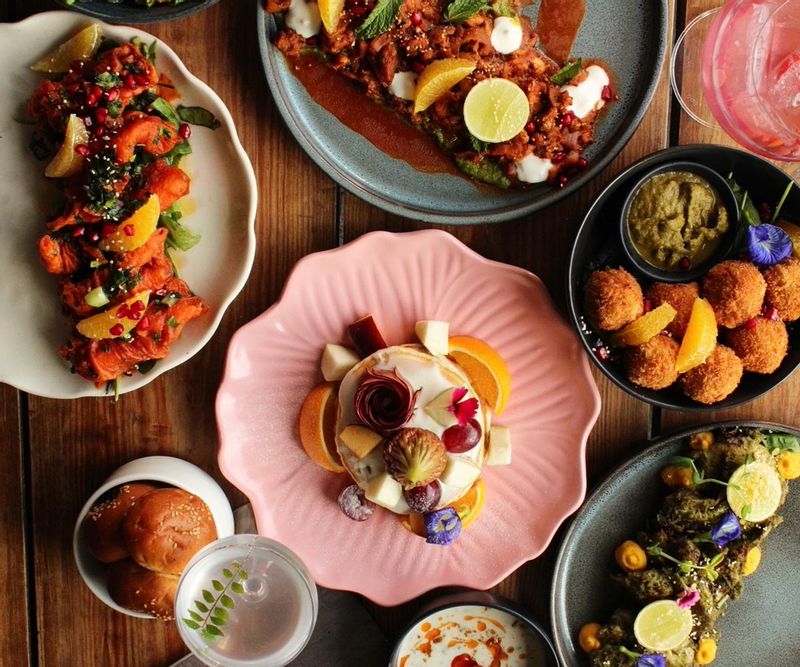 When it opened five years ago, Fig and Maple was one of the few restaurants with an al-fresco set up. Chef-owner Radhika Khandelwal had wanted to create a green, open space with plenty of sunlight and a garden where you can get your hands on a few fresh ingredients. Today Fig and Maple is a place you want to sit down and relax under the warm winter sun or a midsummer cool night. The demand for open seating, says Chef Radhika, has surely shot up post-pandemic and the terrace, with a chic Boho vibe, is overbooked even in summer. Fig & Maple offers all-day brunch with their take on classics done with local and seasonal ingredients. To celebrate seasonal ingredients, we recommend Chef's Fall Menu that has a Creamy Cauliflower and Mustard Soup, Hot Butter Calamari and Fish Croquettes — a perfect treat for winter under the stars.
4. Spice Route, The Imperial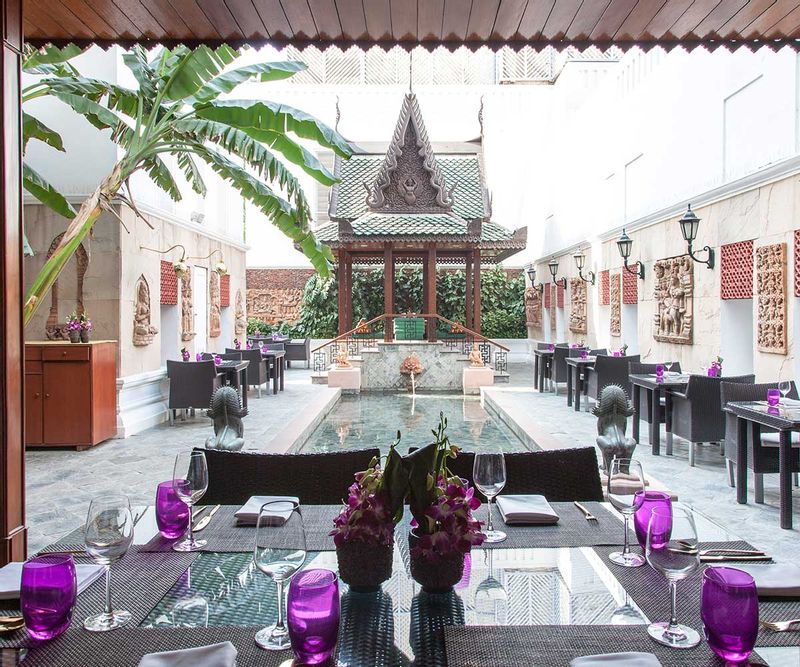 Heralded as one of the top 10 fine-dining restaurants in India and proclaimed to be the only one-of-its-kind, The Spice Route, is poetry in design and reflects the journey of spices from the Malabar Coast in Kerala through Sri Lanka, Malaysia, and Indonesia to Thailand and Vietnam. Designed on the principles of Feng Shui, The Spice Route is a treasure trove of antiques and is divided into nine different sections, each a part of the journey of life. The restaurant's intricate layout flows naturally into a strikingly pleasing courtyard that forms a backdrop for an extraordinary culinary fiesta during star-lit evenings and sunny winter afternoons. Bedecked with traditional Thai sculptures from Chiang Mai and done up with century-old handmade bricks, the space entices guests to a Khantok - style seating and offers the finest cuisine from the spice route.
5. Threesixtyone ̊, The Oberoi, Gurugram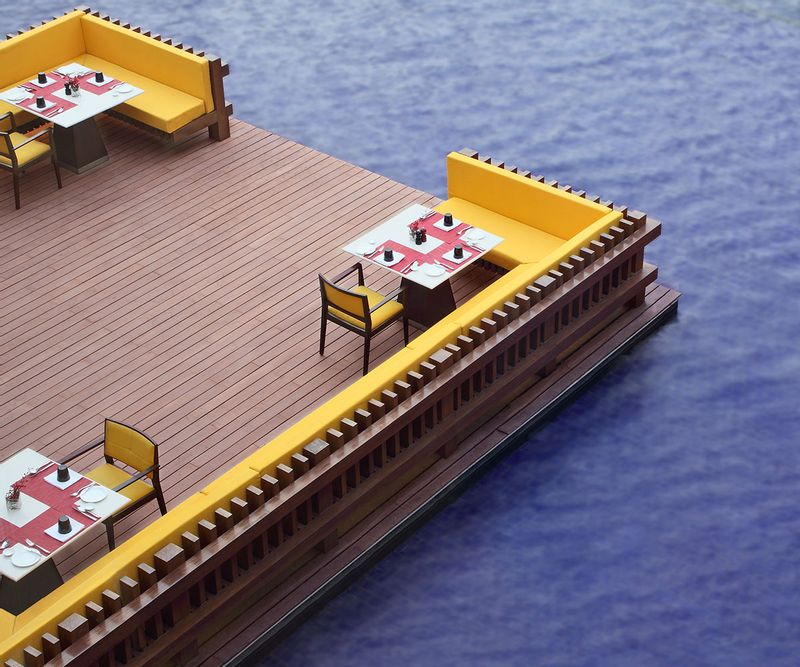 Few things match the pleasure of sitting by a glistening pool. At threesixtyone ̊, the pleasure doubles as you dine under a warm winter sun by an ocean blue pool glimmering under the golden rays. The deck at The Oberoi's legendary all-day diner, threesixtyone ̊ is open to anyone who wants to spend a day at leisure, or a night under the twinkling stars. The alfresco decks, by the lush vertical gardens, also offer an exclusive, one-of-its-kind venue for special occasions should you want to host your friend or family while the kitchen offers an array of cuisines. The Japanese master chef carves platters of sushis and sashimis at the Japanese section, Chinese master chefs present an extensive selection of dim sums from Sichuan and Canton, and Indian chefs deftly show their skills in the Indian show kitchen.
6. Sevilla, The Claridges, Aurangzeb Road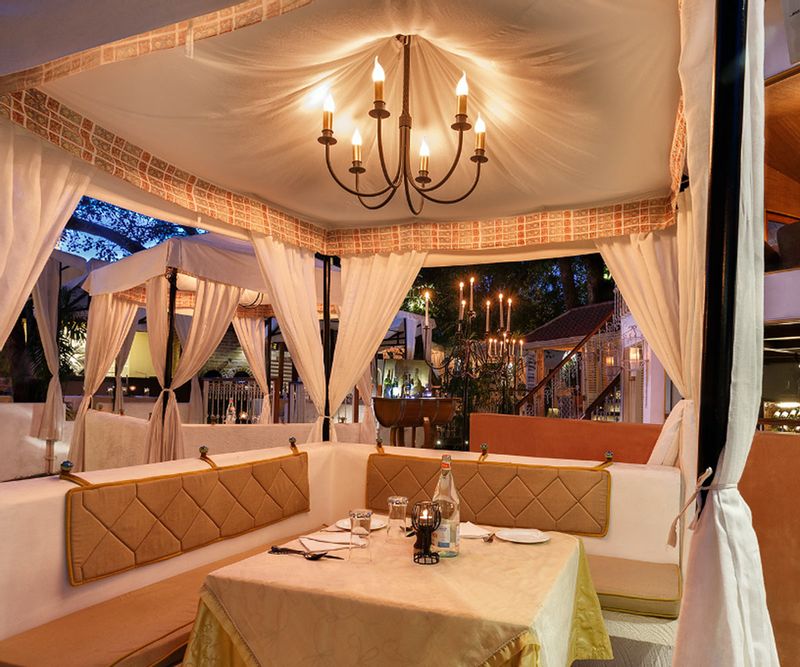 A space that takes you on a journey to the Mediterranean, Sevilla is often touted as the most romantic restaurant in town. Of its many charms, the blue and white canopied cabanas are primary and book out every day. The space is set up like a typical Spanish patio what with footbridges, water bodies, gabled roofs and wrought iron furniture. Sevilla offers a Southern European and Moroccan menu with an amazing indoor and al-fresco seating space spread over different levels and in different formats. Sevilla's menu, informs Executive chef Vivek Rana, is dominated by Spanish cuisine and offers classics like Patas Bravas, Paella, Gambas, Chorizo, Pinchos.
7. Colocal, Dhan Mill Compound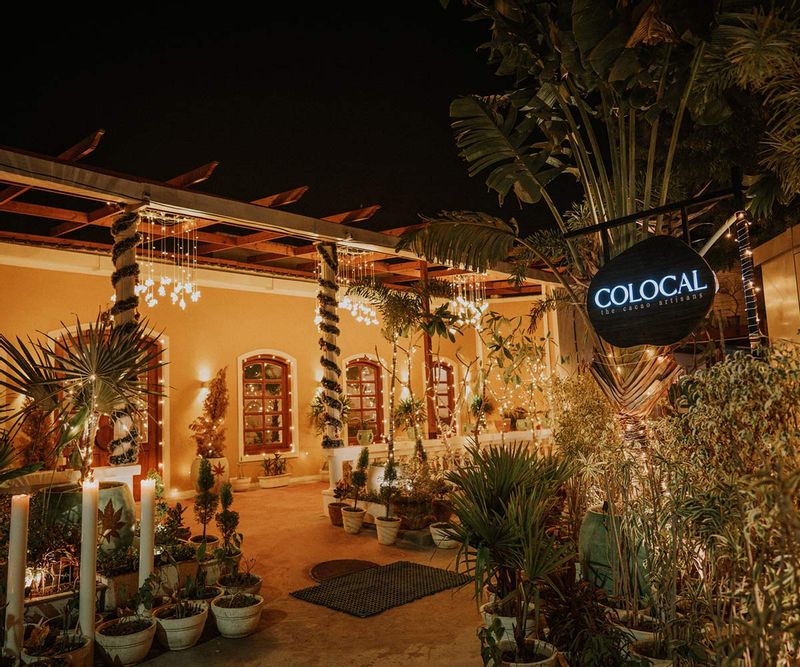 Colocal became the talk of the town when it opened a year ago. With its large open spaces and quint coastal vibe, the space is designed to be a momentary escape to the French streets of Pondicherry, where the founder, Sheetal Saxena found her inspiration. The tropical set-up offers a large courtyard, ample verandahs and cosy patios with Victorian furniture. Abundant greenery and skylights crate a setting of visual escape while assuring the safety of open-air dining. Colocal is known for its breakfast and offers delicious chocolate-based drinks and desserts and a mix of Italian and Continental fare that suits all age groups and palates. An in-house chocolate factory incorporates delectable desserts and baked goods too.
8. Elan, The Lodhi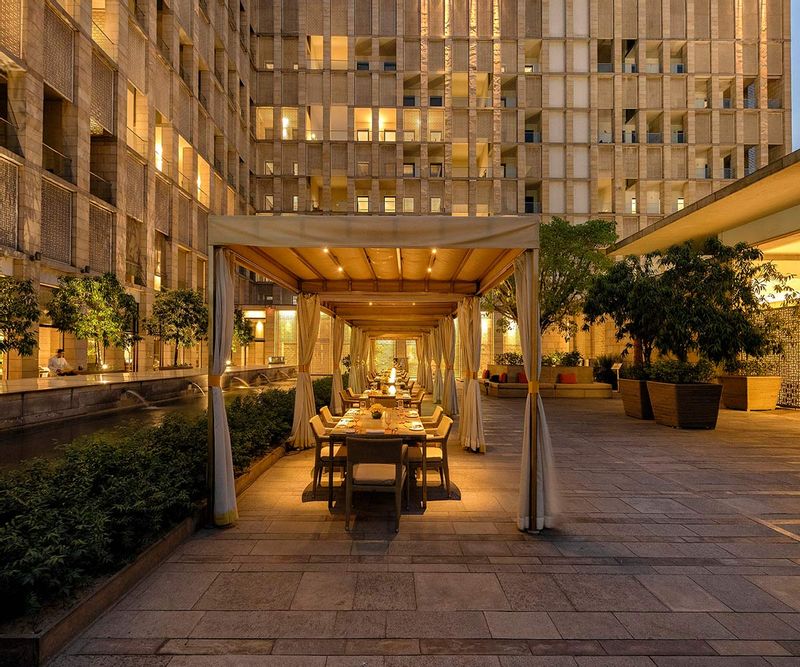 Surrounded by acres of greenery and located in the heart of Delhi, Elan brings the comfort of open dining surrounded by minimalist spaces, soothing fountains, gurgling streams and the most gorgeous lawns. The courtyard at Elan, with charming open skies and views of central Delhi, has always been a popular choice amongst diners and the private cabanas are in demand throughout the year. In the post covid era with outdoor dining becoming more than just a preference, the abundant expansive, open-air spaces here have been utilised for Sunday Brunches, BBQ evenings, and private events. On a regular day, Elan offers informal and comfortable dining and is open for breakfast, lunch and dinner. The menu is centred around fresh and seasonal options emphasising on regional Indian, Mediterranean and South-East Asian cuisines.
9. Saga, Gurugram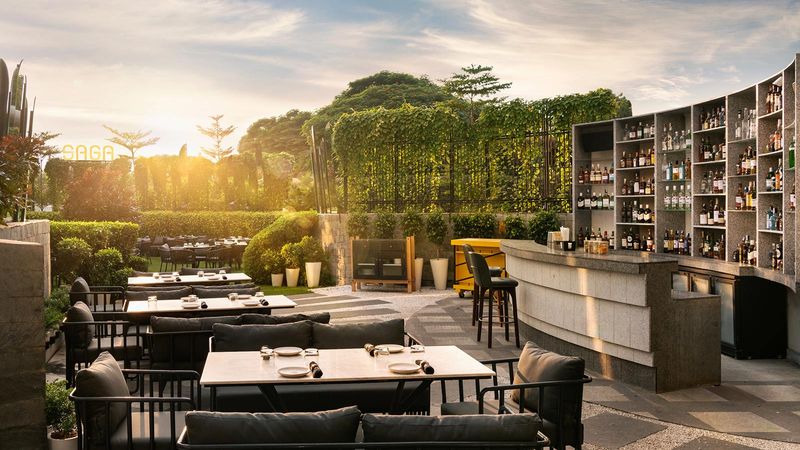 A massive 200-seater restaurant, SAGA is spread over two levels and opens out to an alfresco space. The plush restaurant by the day turns into a high-energy nightclub in the evening and stands out for what is supposed to be Asia's tallest bar. The sprawling alfresco setting, supposed to be the largest in Gurugram, is a comforting patio by the day and works beautifully for brunches and lunches. In the evening, it turns into a chic fine-dine spot. The area comes with its own dedicated bar and lush gardens and the menu designed by Michelin Star Chef Atul Kochhar showcases unique recipes and traditional ingredients and cooking techniques that are inspired from the Indian culinary roots.
10. Sana-di-ge, Chanakyapuri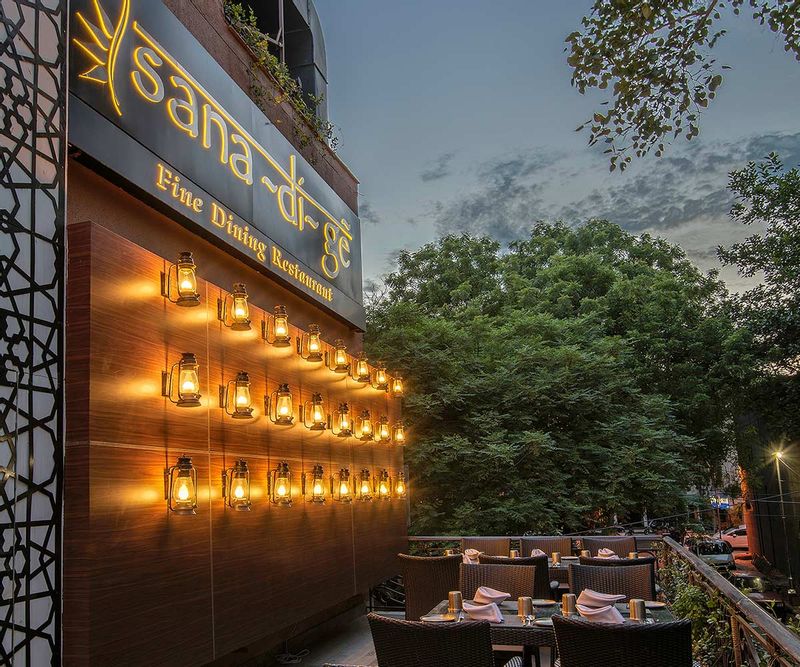 The alfresco dining has always been very popular at Sana-di-ge, Delhi's only coastal and seafood restaurant. The terrace that overlooks the lush greens of Chanakyapuri reminds one of the charms of old-world residential colonies and quaint restaurants of the yore. You can bask in the sun with a glass of mulled wine to enjoy the winter sun while waiting for the choicest of fresh seafood — a rarity in the landlocked capital. Meals at Sana-di-ge are made of heirloom recipes from the West coast of India that have travelled generations and are made using dying techniques and fresh seasonal produce.
---
Photo: Fig and Maple Delhi; featured restaurants