Come winter, one dreams of sarson ka saag and makki ki roti. This duo gives stiff competition to other quintessential Punjabi dishes like rajma-chawal and chola-bhatura. This earthy, hearty combo is abundant in flavour, nutrients, and colour—much like the land and the people it belongs to. No matter where you drive in north India, the highways are flanked with lush fields of these golden-yellow flowers. Of course, many romantic Bollywood songs have been shot in this beautiful landscape.
Historically, sarson ka saag was the rural people's food in Punjab. The robust homemade butter-topped saag fit the hardworking lifestyle of the village people who laboriously worked the agricultural lands of the fertile province.
A mix of spinach, bathua, and mustard greens, slow-cooked with a variety of spices, makes this a healthy winter treat. Sometimes even radish greens and chunks of radish and turnips are added to the dish to mellow the pungency of mustard. Served with a dollop of white butter and jaggery—it is a delicious and indulgent favourite in this region. With all the focus on sustainable cooking, this rustic food has also become quite the trend now. While you are likely to find this seasonal food combo all across Punjab, Haryana, and Delhi—here are a few of our favourites in Delhi and around.
1. The Dhabas at Murthal
Before we get fancy, let's cover the finest basics. There are many families that especially take the long-ish drive to Murthal from their respective cities, especially Delhi, just to eat at the dhabas there. Cold sunny days, where you enjoy an eyeful of the beautiful mustard fields, are ideal for enjoying piping hot, just-out-of-the-tandoor paranthas. The freshest white butter is the best accompaniment for this hearty meal. The other favourite, in season, is makki ki roti and sarson ka saag. Take your pick of dhabas—from Sukhdev and Gulshan to Ahuja, you just can't go wrong with it! Wash it down with a hot cup of adrak chai.
2. Varq, Taj Mahal Hotel New Delhi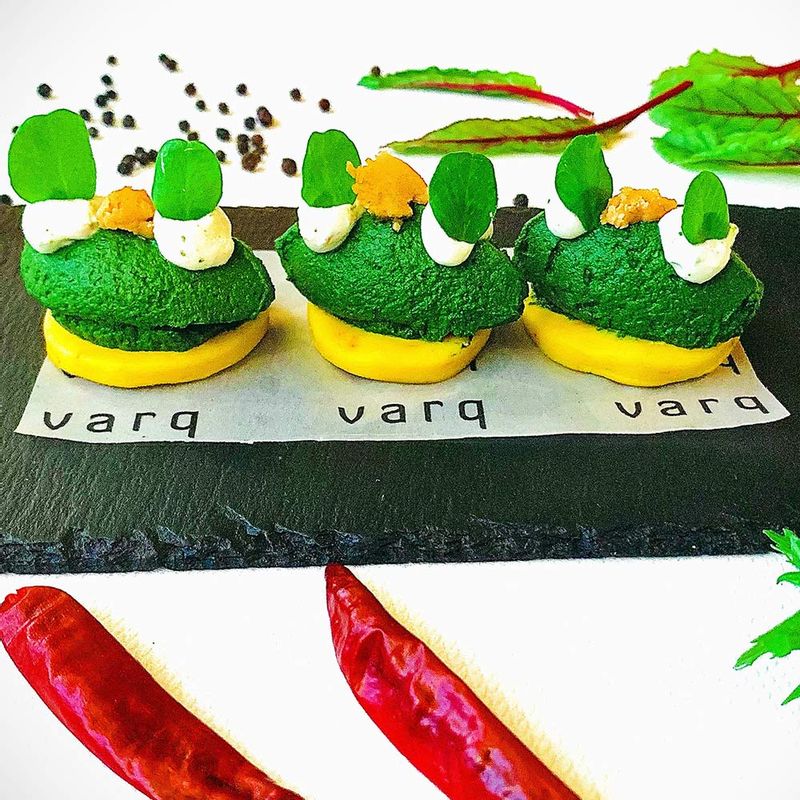 At Varq, where traditional cuisine is served the modern way, this evergreen and classic combination comes alive as a signature seasonal amuse bouche through the winter season. Mustard greens are slow-cooked the traditional way—over hot coal, overnight, keeping the flavour and textures authentic. It is then shaped into quenelles and placed over mini makki ki rotis and aesthetically garnished with dollops of rich white butter and bits of jaggery on the side. "Our version of this classic has been a winter favourite of the Capital city for years," says Executive Chef, Arun Sundararaj.
3. Comorin Gurugram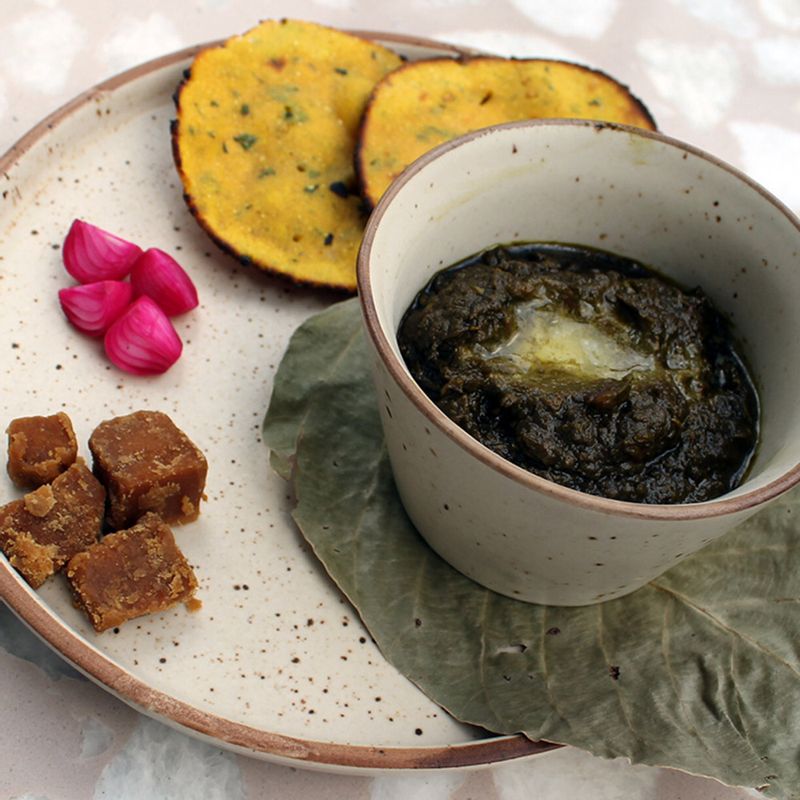 At Comorin, the menu is designed to take you on a journey through India with elements from various states. With every dish that they serve, they have maintained the fine line between homely fare that is fancy enough to eat at an upmarket restaurant.  "At Comorin, we present our version of the dish, where the makki ki roti is mildly spiced," says corporate chef Manish Mehrotra. Besides the white butter and jaggery, it is served here with an additional accompaniment—pickled onion. 
4. Bhawan Delhi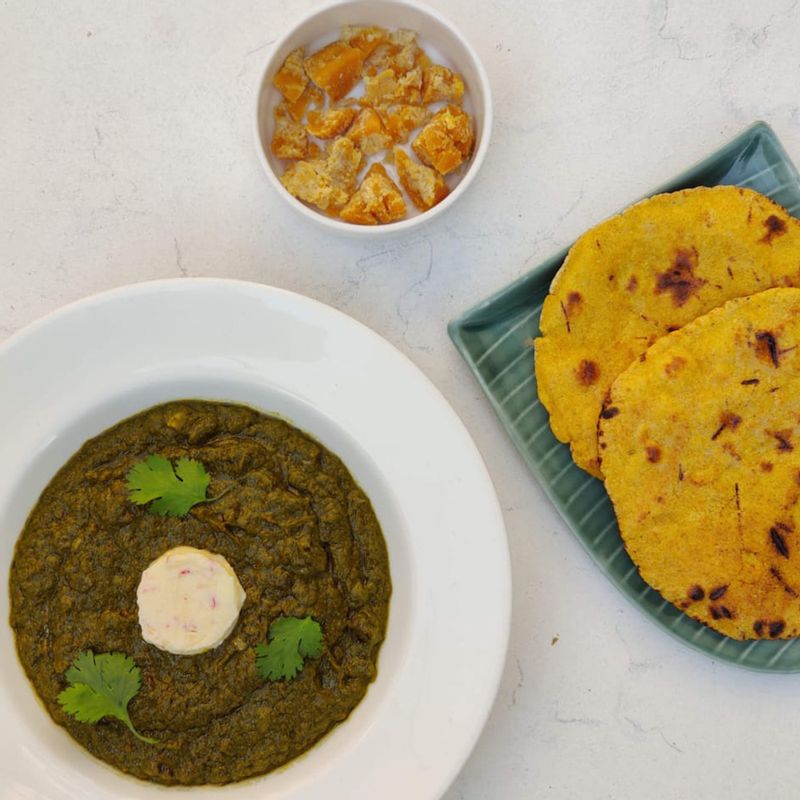 Bhawan is a regional Indian delivery, gifting, and catering brand that pays homage to the much-loved street food culture of India. Seasonal dishes rank high on their agenda and even though they seem to add in a fun element to most of their food, they also like to stick to culinary traditions. "Our recipe has four seasonal greens— sarson, palak, bathua, and mooli leaves—and we don't put a lot of masalas and spices, just a basic tempering to ensure the flavour of the greens is not masked," shares partner chef Rahul Dua. While the makki ki roti is made in a tandoor, the sarson ka saag is served with red radish flavoured white butter and jaggery. "We also do a bite-sized mini makki roti, topped with saag, red radish butter, and gur for catering, which essentially delivers all the flavours in a single bite," he adds.
5. Punjab Grill, across India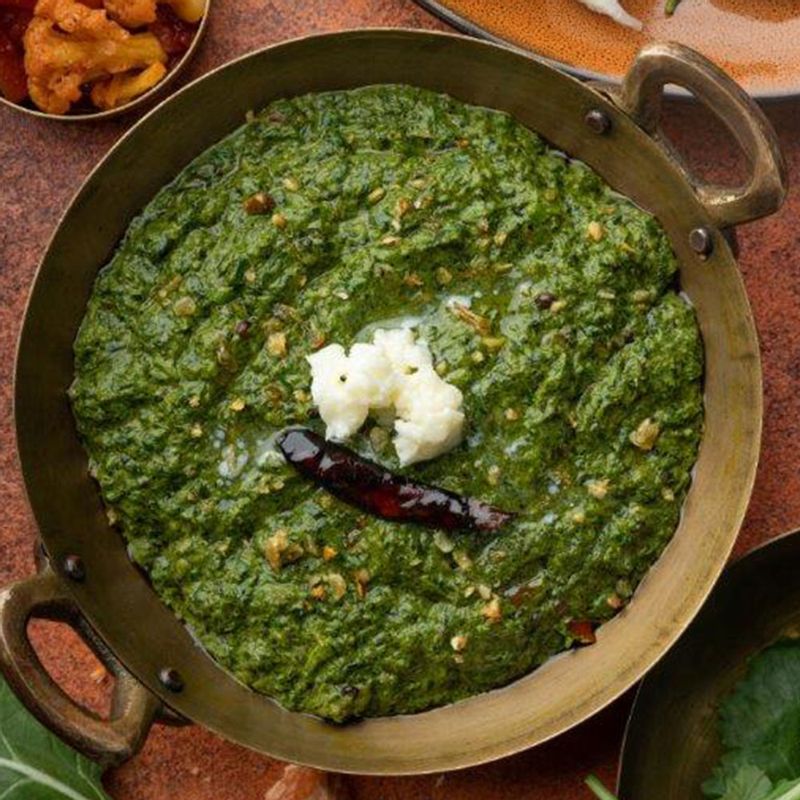 "A simple delight in wintery weather, sarson da saag te makki di roti is not just delicious but also a go-to immunity booster. This delicacy is cherished not only in the small villages or "pind" of Punjab but is also treasured in big cities of north India," says executive chef Sareen Madhiyan. "Green, glorious, and gratifying saag cooked in desi ghee, not only soothes your taste buds but satiates your soul too," he adds poetically.
According to him, the key to the perfect saag lies in balancing the slightly bitter-sharp taste of mustard leaves with spinach or bathua."The recipe is simple but requires patience to get the perfect blend and flavours. Nothing extra is required to make it special as it is special on its own," he explains. At Punjab Grill, they stick to the traditional recipe and focus on authentic flavours and using fresh ingredients. 
6. Jamavar, Leela Palace New Delhi
The fine-dine restaurant at The Leela Palace New Delhi is known for its luxe space and rich Indian food. The silver thalis and style of service is sure to transport you to a regal era. "Besides serving a traditional version of this dish, we also serve sarson ka saag with makki roti tarts for a modern twist," says executive chef Vinod Saini.
7. Dhaba Estd 1986 Delhi, across India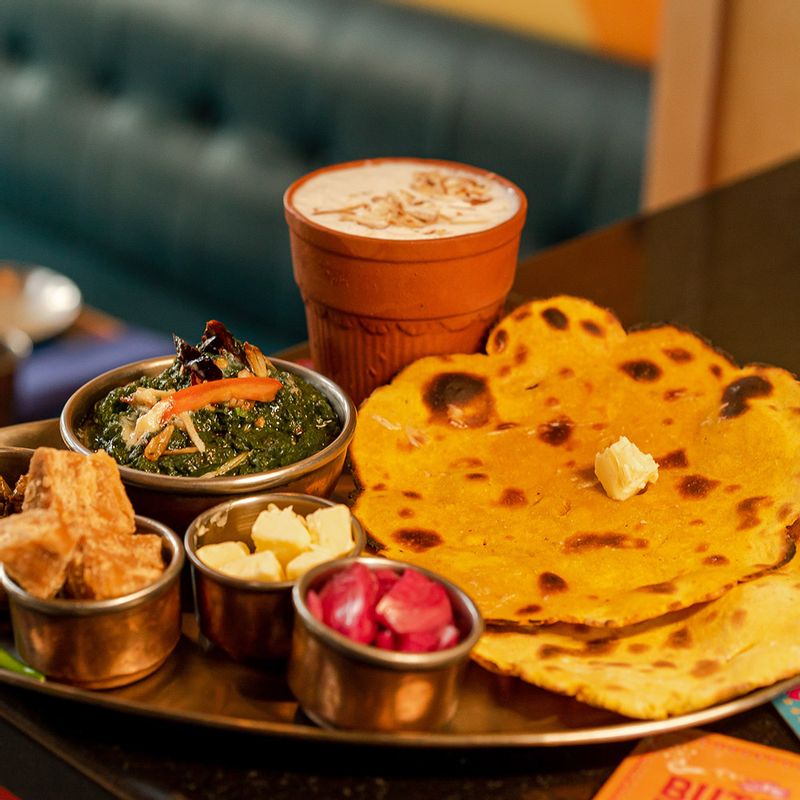 Since we started with dhabas, let's also end with one—albeit a make-believe one. Three decades after establishing the iconic Dhaba inside The Claridges Hotel, New Delhi, the restaurant has now been recreating the same magic across India—but with a twist. This unique dining experience is a getaway to a quintessential dhaba with a lighter and more fun ambiance, filled with Punjabi frills—a kitschy, casual space with wholesome food for friends and family. Come winter season, their hot-sellers like balti meat and butter chicken make way for the all-time winter favourite—slow-cooked, fresh sarson served with white butter and jaggery with makki ki roti.
8. Klap Delhi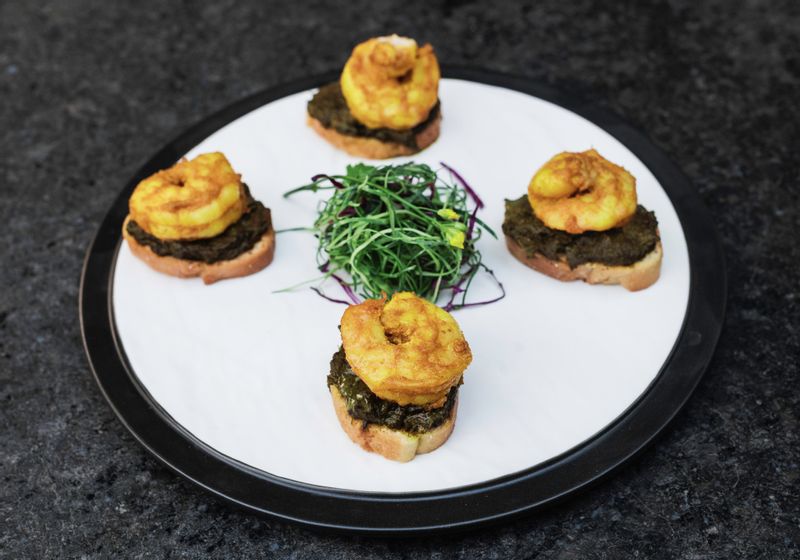 Klap Delhi opened to rave reviews in 2021. Chef Gurmeher Sethi, who was known for his excellence in Thai cuisine, expanded his repertoire to include a variety of regional Indian dishes, with a special twist to each dish. In the winter special menu, he has added turmeric prawn on top of the sarson ka saag, which is served with white butter baguette. Keeping his style in mind, which is "Two fingers, One bite", the dish can be eaten with this baguette which is the crust. 
Bring the recipe alive in your kitchen
If you want to try your hand at making this Punjabi winter staple at home, then we've got the perfect recipe for sarson ka saag and makki ki roti for you—courtesy, executive chef Navneet Singh, Welcomhotel Amritsar.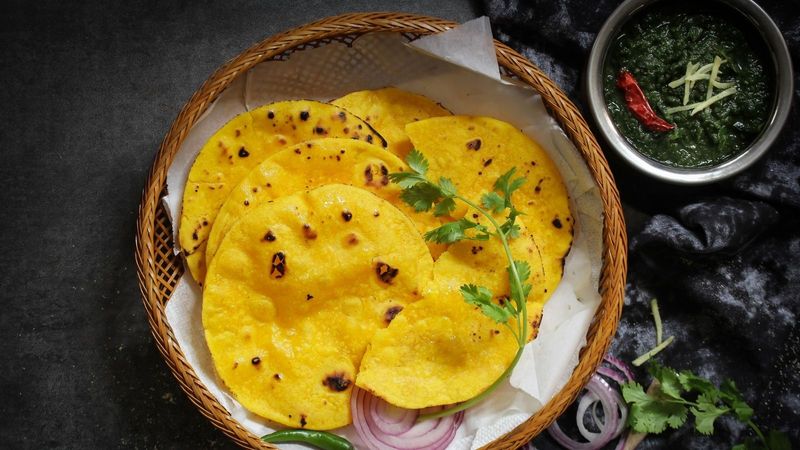 INGREDIENTS 
Saag:
1 kg sarson saag
350 gm palak
250 gm bathua
2 cups water with a teaspoon of salt
1/2 cup makki atta
6 green chillies
25 gm ginger
2 onions
10 garlic cloves
100 gm ghee
1/2 tsp red pepper powder
1/2 tsp coriander powder
100 gm white butter
 Makki ki roti: 
1/2 kg makki atta
Water (for kneading)
100 gm chopped onions
3 green chillies (chopped)
Salt to taste
Ghee (for frying)
Saag preparation:
Add the cleaned and washed sarson, palak, and bathua to a pressure cooker along with the salted water, and cook over low heat for one hour. Take out the saag, drain it, and keep the saag water aside.

Heat ghee in the cooker, mash saag in it until coarsely ground, and add makki atta and stir till the consistency is a bit on the thicker side.

Pour the saag water back, add a little fresh water and boil over a slow flame.

Add green chillies, ginger and dry spices and cook till the saag gets thick.

For the tadka, add chopped onions, ginger, and garlic. Saute until the onions are lightly browned.

Mix into saag and garnish with juliennes of ginger fried in ghee. 

Top it up with a dollop of fresh white butter. Serve hot.
Makki ki roti preparation:
Add water to the makki ka atta and knead until you get an evenly-smooth dough without any lumps. Add the onions, green chilli, and salt and knead.

Heat the tava and add a little ghee so that it does not stick.

Take a small portion of dough, roll it into a ball, and flatten it into a roti shape with your hands. Carefully transfer onto the hot tava.

Cook with ghee till golden brown.

Serve with hot sarson ka saag, gur, and white butter.
---
Photo: Canva and Featured Restaurants