Come winter, the traditional Muslim eateries around the famous Nakhoda Mosque in Central Kolkata swing into gear with the first light of dawn as they prepare to serve the crowds that throng them for cockcrow breakfasts of a piping hot bowl of Nihari.
1. Nihari: Meaty broth for heart-warming winter mornings
The deliciously spiced meat broth synonymous with winter mornings is simmered overnight in giant pots of lightly spiced stock. The marrow and juices from the bones ooze out into the dish giving it its deep, luxuriant notes and warming properties. Garnished with julienned ginger, finely chopped coriander and a squeeze of lime, it is best mopped up with soft naans or Khameeri roti.
When it comes to Nihari, one is almost instinctively transported to the labyrinthine lanes of Purani Delhi where the dish is said to have been developed during the Mughal era, and where it continues to be a favourite winter breakfast. The rich, unctuous dish is also perhaps better suited for Delhi's bitter cold, rather than Kolkata's mild winters.
2. Paaya: Slow-cooked trotters in a soup of warm spices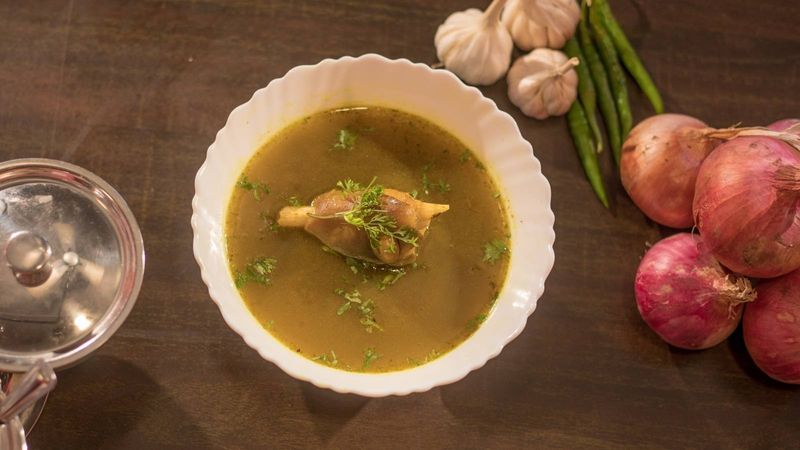 Another star breakfast dish that makes an appearance when the temperature dips is the Paaya or trotters soup (or curry). A rich, gelatinous soup of trotters (also a potent heat-inducer), slow-cooked over several hours with a host of warm spices, is best mopped up with soft naan on chilly mornings.
Parsis make a winter-special kharia ni jelly, a sweet-clear jelly made with goat or lamb trotters and spiked with a splash of sherry or brandy—that is served for breakfast.
3. Harissa: Kashmir's spices come alive in winter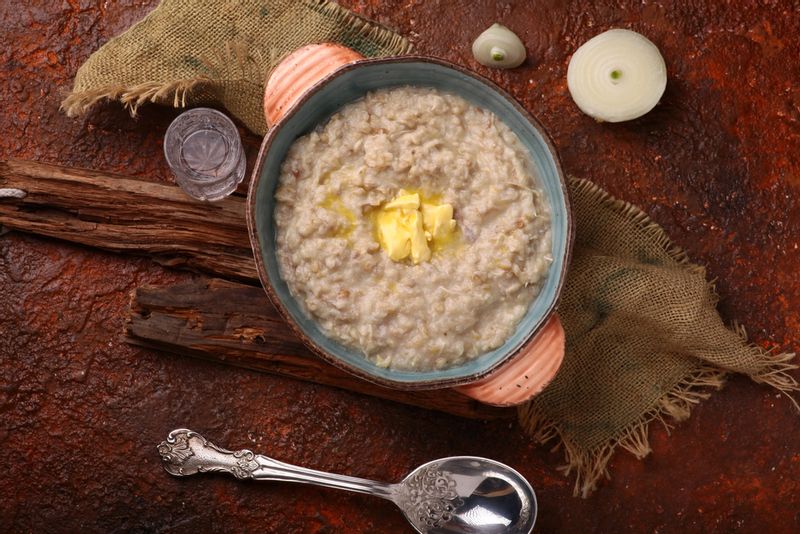 In Kashmir, one way to cope with the oppressive winters is a plateful of Harissa topped with piping hot oil. Harissa, available for a few weeks during the harshest phase of winter, is a culinary wonder painstaking prepared by slow cooking pounded meat (only the best portions, sans bones, usually only of goat), local rice and warm aromatic spices like fennel and cardamom, overnight on a low flame to a delicious mush. The dish is said to have been brought to Kashmir by the Mughals and is a lesson in the virtues of slow-cooking.
Winter mornings for the vegetarian
Warming breakfasts are not necessarily meat-laden. According to Ayurveda, every food item is naturally endowed with cooling or heating properties that escalate or dispel body heat and affect everything from digestion to immunity and metabolism. During the cold season, when the digestive fire is weak, warm foods like ghee, jaggery, warm spices, and even certain millets are recommended in order to strengthen metabolism and boost the digestive fire.
4. Raab: Rajasthan's multi-season treat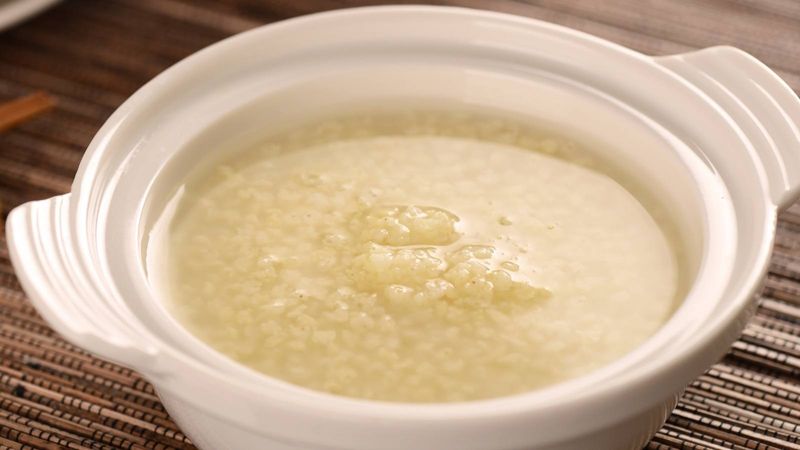 In Rajasthan, for instance, Raab or Rabdi, a fermented gruel made with bajra or jowar flour that is mixed in buttermilk and left in earthen pots for several hours before being simmered and seasoned with salt and sometimes a hint of spices. The curious thing about raab is that while a cup of hot raab warms up the body during winters, served cold it acts as a natural coolant during summers.
5. Dodoh: Millets on the Sindhi platter
Millets also make an appearance on the Sindhi breakfast table. A popular winter breakfast dish is the Juar-jo-dodoh—patted jowar rotis livened up with chopped onions, green chillies, fresh coriander and green garlic. They also, make juar jo bat-uh—a porridge made with jowar for breakfast during winters.
North India's typical winter menu
In some parts of Northern India, ghee-laden laddoos typically made with wheat flour, jaggery, and rich dried fruits and nuts paired with tall glasses of milk make for a warming and fortifying winter breakfast. Take, for instance, wheat or urad dal pinnis that are a winter speciality in Punjab or the gond ke laddoo that packs in gond or edible gum known for its heat-inducing and nourishing properties.
Ghee, on the other hand, is not only warm food but is also an immunity booster and helps digestion. "Hot milk is also served up with roasted sweet potatoes for breakfast," says author and nutritionist Sangeeta Khanna. "In Benaras, a favourite winter breakfast number is jalebi and doodh, while during summers jalebis are usually paired with curd," she adds.
6. Kutti: Winter sweets from Sindh
Again, Sindhis make the delicious Bori—wheat rotis are torn up and crumbled, mixed with sugar and tempered with ghee. "The sugar melts only partly and coats the crumbled rotis," says Keswani.
Another delicious winter morning treat is the Busree or Ghurari. These are parathas stuffed with jaggery. "The jaggery melts and oozes out when the paratha is torn," says Keswani.
Winter's star ingredients in India
In addition to warm foods, seasonal ingredients and treats also dominate the winter breakfast table. Sweet red carrots, crunchy radish, fresh green peas, dark red beetroot—winter vegetables make the breakfast spread all the more exciting.
7. Koraishutir Kochuri: Deep-fried goodness from Bengal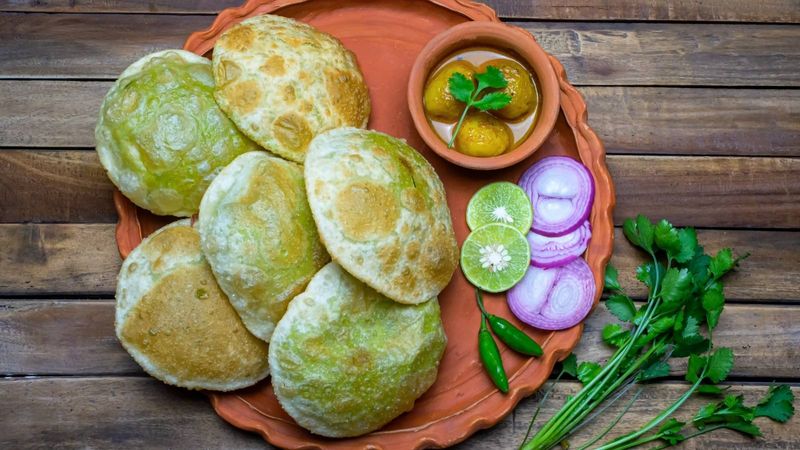 In Bengal, one of the most coveted winter breakfast dish is Koraishutir Kochuri—deep-fried bread stuffed with spicy green pea mash, best paired with aloo'r dom, ideally made with whole new potatoes. Again, the regular potato curry typically served for breakfast, with luchi or porota, would be livened up with cauliflower florets and fresh green peas, and sometimes chunks of bright red and distinctly sweet winter tomatoes.
8. Matar Chura: Bihar celebrates winter with green peas
Sadaf Hussain, chef and author of Daastan-e-Dastarkhan fondly remembers winter breakfasts of matar chura—a light, dry curry made with fresh green peas, onions and a few spices served with roasted flattened rice, at home in Bihar.
"Chura Matar, ghugni (a curry of sorts) made with green peas or green chickpeas are common winter breakfast items in Benaras too," says Khanna. "Sookhi (dry) ghugni made with new potatoes and hare channe ka bhabhra – flat, tikki-shaped pakodas—are also made for breakfast," she adds.
9. Parathe: King of Punjab's breakfast table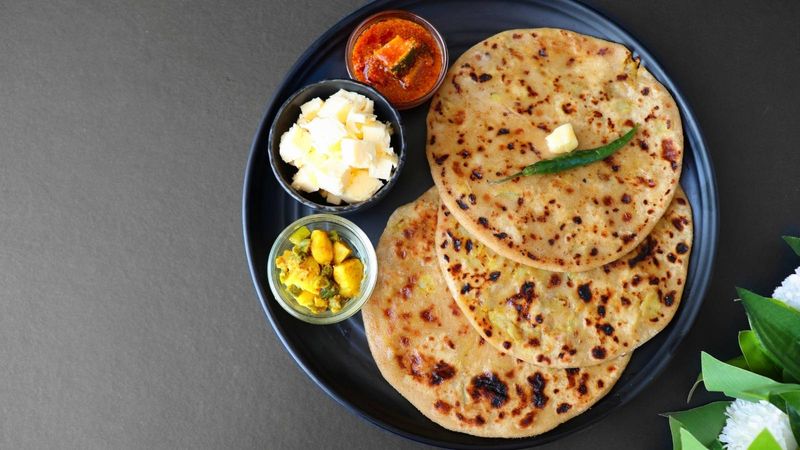 In Punjabi homes, on the other hand, come winters, the aloo or paneer ke parathe make way for the gobi, mooli and methi ke parathe, served perhaps with gajar, gobi and shalgam ke achaar (pickles made with carrots, cauliflower and turnip).
10. Nolen Gur: Paired with rice paper crepes in Bengal
A Bengali winter, however, is all about the delightfully fragrant Nolen gur (new jaggery) made from date palm sap. The nolen gur might be put to its best use in a confectioner's workshop, but it is also a prized addition to the breakfast table. Shoru chakuli, soft, thin rice paper crepes or crisp, layered porota, dipped in liquid nolen gur a dark golden in colour, could make any dull winter morning sublime.
11. Joynagar'er Moa: Bengal's winter sweet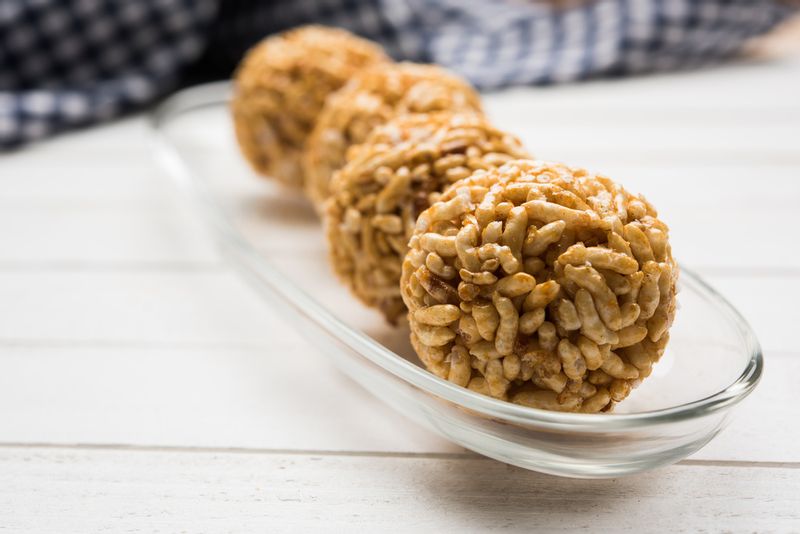 Another seasonal treat synonymous with Bengali winter is the Joynagar'er Moa – a unique sweetmeat made with nolen gur, khoi or popped rice specifically made from Kanakchur rice, khoya, nuts and raisins, delicately flavoured with a hint of cardamom. The moa might not be a breakfast item in strict terms, but it is an almost essential component of breakfast hampers at homely picnics.
12. Pithe-puli: Soul-soothing dumplings from Bengal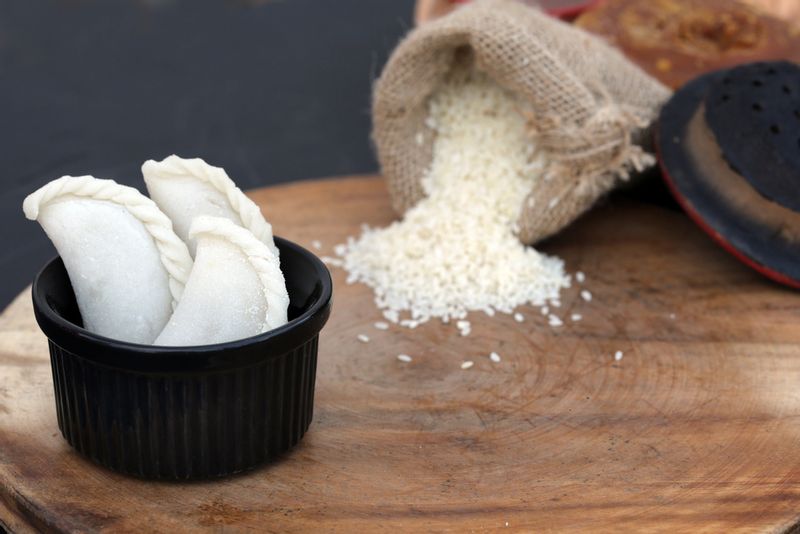 Winter is also the season for pithe-puli - dumplings, steamed or fried, typically made with rice flour, often stuffed with a sweet or savoury filling. The newly harvested rice, sweet potatoes and moong dal, nolen gur, and coconut that grows in abundance in the region all go into making the vast array of Bengal's pithe-puli, usually served up for breakfast, or as a snack.
13. Chitoi Pitta: Idli's cousin in Bengal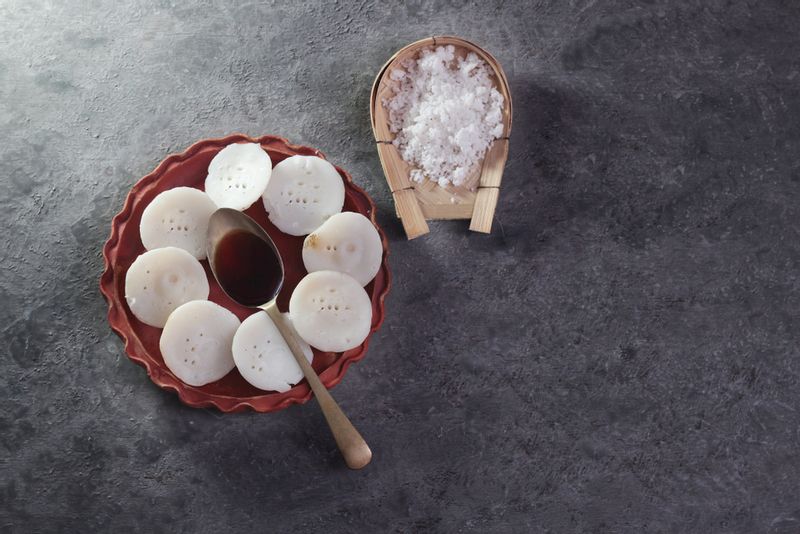 Chitoi pitta are steamed rice flour cakes that look quite like idlis. "In many Bengali Muslim households it is a cherished breakfast dish typically paired with spicy mutton curry," says food blogger Debjani Chatterjee Alam who document traditional Bengali recipes on her blog Debjanir Rannaghar. "Alternatively, the Chitoi could simply be relished with some liquid nolen gur," she adds. My vote goes to the mutton curry.
---
Photo: Shutterstock