Pune's growing food and beverage industry has grabbed a fair amount of attention among food enthusiasts lately, and for all the right reasons. But before we proceed, we would like to ask, would you go to Pune to satiate your cravings for some authentic Chinese food? And by authentic we mean dishes prepared using traditional Cantonese cooking techniques, which doesn't necessarily include a generous amount of 'Ajinomoto' aka MSG and soy sauce - often referred to as 'Chindian', something that most Indian palates are used to. Well, we can now say, why not? Pune's latest offering, Tao-fu that sits in JW Marriott Pune, is reintroducing Chinese cuisine to an audience that is discerning now more than ever.
From bringing a whole duck to your table and carving it in front of you, to ordering drinks based on your zodiac sign and using Sichuan pepper in desserts, there's a lot you will experience for the first time at this Chinese restaurant. They are driven to focus on one cuisine and not go pan Asian, and they are doing a fair job at it with generational recipes that are inspired by age-old stories from various parts of China, such as Canton, Sichuan, Hunan, Guangdong and Shandong, to name a few.
What was the idea behind Tao-fu, we ask Vimal Verma, general manager at JW Marriott Pune., "Chinese cuisine is the second most popular cuisine in India after, of course, Indian food. We realised there was a gap in the market for delicious and authentic Chinese food. Post the pandemic, people in Pune realised they needed more restaurants in their city which are authentic and what better cuisine than Chinese that we think we are familiar with. It is a bit of an unlearning and learning process of what we think we know about Chinese food, but we have kept some familiar dishes like kung pao chicken, hot and sour soup just so we ease people into the menu. But then we have some dishes which people know and love but have been eating an Indian version of, like Peking duck pancakes," he says.
The décor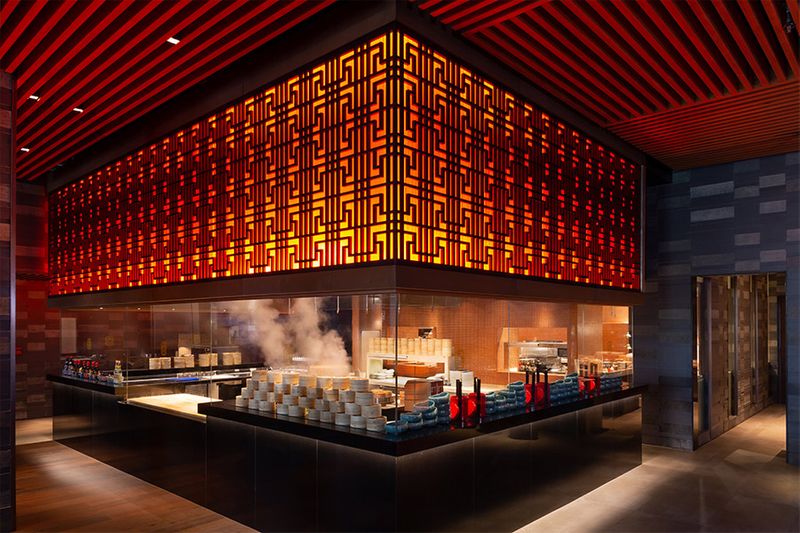 When you step in through the door, you walk into a space that's dressed up in old-world classic Chinese décor with an open kitchen where all the magic unfolds. Adorned with white and blue intricately patterned vases sourced from China, the dimly lit dim-sum basket-shaped lanterns, and the warm blend of orange and grey lights, the space is an expression of traditional Chinese art that feels modern and personalised.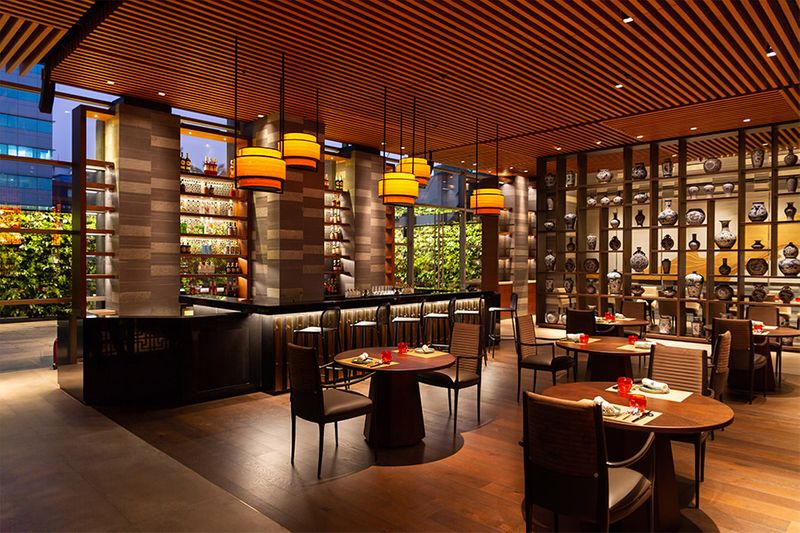 The cocktails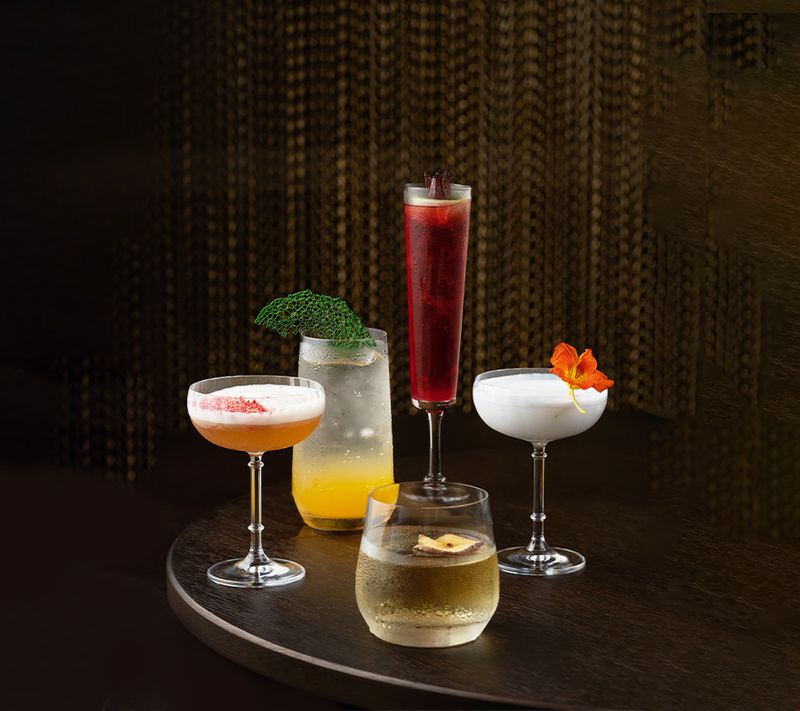 Following the Chinese zodiac ritual, there's an option to choose your drink based on your zodiac sign or your birth year. The cocktail menu features 12 drinks, each based on Chinese astrological signs that reveals which animal you are - a tiger, a snake, a dragon, a rabbit or a dog? A few of our personal favourites are White Tiger - a beautiful concoction of coconut milk, white rum, ylang ylang, and yuzu and the Oolong Tea infused craft cocktail served with sun-dried orange peels. If you wish to try a gin-based cocktail, we recommend you go for their moon rabbit - a beautiful blend of lychee, jasmine infused gin, and champagne rosé. For scotch lovers, there's sleeping dragon - a mix of scotch, martini, orange liqueur, chocolate bitters with a little smoke and fire for that extra drama.
The food
At the helm, you will find head chef Fu Lei who makes sure you are well fed. Our meal started with the black fungus salad, a dish his mother prepared for him every time he returned home. Inspired by his mother's recipe, it is made with red chilli, soy garlic dressing, and marinated chicken with chilli sauce Sichuan style - light and a great way to warm up our tummies for the next dish.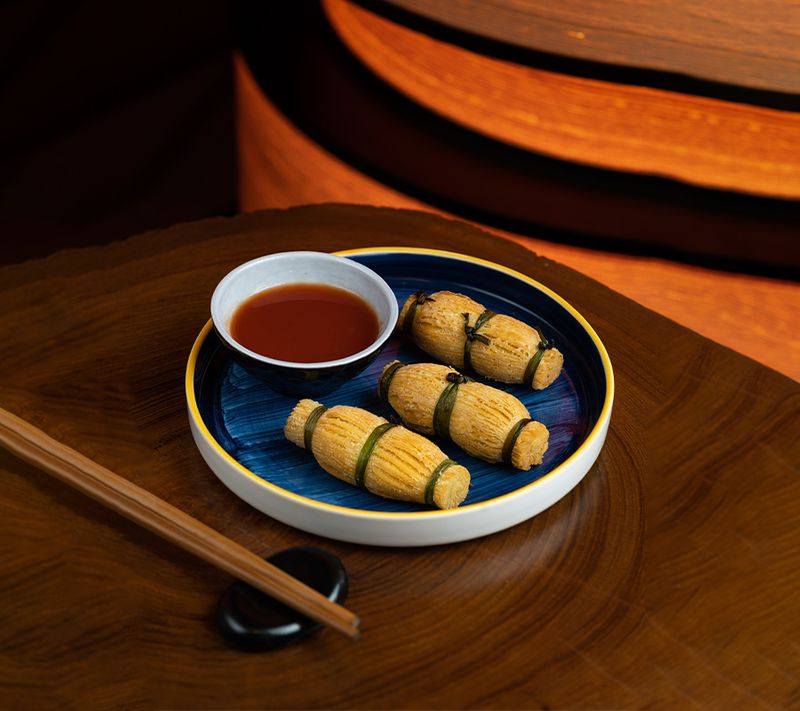 Next, in true Chinese style, we were served lotus root dim sums with mozzarella cheese and five spices. Intrigued by the fine layering of the dim sum, we were keen on the process, Lei explains, "Two types of dough are required to make the puff sheet and roll them together. First is all purpose flour with water, second is all purpose with unsalted butter. You need to knead them separately and keep the dough inside the fridge for four hours minimum. Later, roll them together six times from both sides until it gets soft. Divide them into six-cm thick logs and rest them again for two hours. After two hours it will be ready to use, you can add whatever filling you like and serve." Quite intense! A great serving for vegetarians is their edamame dim sum made with garlic, truffle oil and garnished with shaved black truffle. You may skip the Shanghai chicken soup dumpling and the spicy Sichuan dan dan soupy noodle topped with sesame and peanut.
Now let's talk about the hero of the meal, the traditional Beijing-style duck that has us raving about the crackling skin. The chef explains the trick to getting the perfect texture of the crispy duck skin, "To prepare the dish, wash the duck thrice, once with hot water, once with hot water and honey and then boil the duck for three minutes. Air pump the duck from the neck part to separate the skin from the body so you get the skin crispy."
Our next recommendation is the sweet potato noodle served with minced morel, which tasted otherworldly and is popularly named as 'ants climbing on tree'. Yes, you read that right and like every dish, this too has an interesting story to it, Lei narrates, "In ancient China, there was a poor lady named Dou Yu, who stayed with her mother-in-law. One day Dou Yu went out to buy meat, they didn't have enough money, so she got only a small piece of meat. She minced the meat and added green chilli, garlic, onions, and soy sauce, stir fried for a while to make sautéed noodles with minced pork. When the dish was served, her mother-in-law saw many black spots 'the minced pork' on the noodles and mistook them as ants. Later, after tasting the dish, she could not stop praising the preparation and named it 'Ants climbing a tree."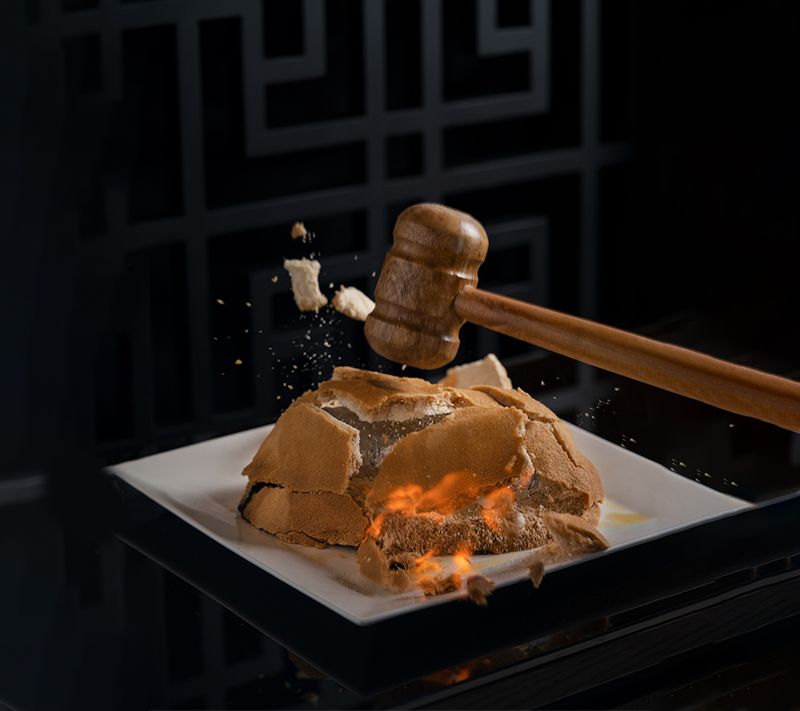 Next up was the tender, melt-in-the-mouth salt baked chicken that dates back to the Jiangsu province, that added the dish to the imperial court menu. Lei elaborates, "To make the dish, the chicken is marinated with sugar, cinnamon, fennel, black cardamom, star anise, cloves, and salt for five hours. Then we place the marinated chicken on a butter paper and aluminium foil, and add Chinese dates, almonds, zhacai - preserved mustard vegetables, fresh shitake mushroom, cepes mushroom, milky mushroom, creamy mushroom and fold them together. Mix four eggs, salt, five spiced powders in 1 kg salt, wrap it with chicken and bake it for two hours at 180-degree Celsius."
The dessert
Using Sichuan pepper in desserts is something unique and unconventional; Tao Fu Dragon Ball is gluten free, and has passionfruit, Sichuan pepper and chocolate ganache. "The dragon is a main symbol of China, so I've decided to create a dessert inspired by it. I've mixed the Sichuan pepper in chocolate ganache and bavaroises. Dragons are big in size, so we've designed a red-coloured couverture chocolate sphere that is then melted with hot chocolate," the chef adds. You may also try their Bohai cherry, the chef's take on the black forest cake with black forest pastry cream, chocolate mousse, cherries and a gold leaf. For the unversed, Bohai cherry is extremely famous in China because of its sweet and juicy texture. "I brought back a mould from China, which looks like a cherry, then we braised the cherries and made a cherry compote to fill in the black forest pastry," Lei concludes.
Address: JW Marriott, Senapati Bapat Rd, Laxmi Society, Model Colony, Shivajinagar, Pune, Maharashtra.
Timing: Lunch: 12.30pm-3pm; Dinner: 6.30pm-midnight
Cost for two: Rs 3,000 without alcohol; Rs 5,500 with alcohol
---
Photo: Tao-fu