In a city that sees a new restaurant launch or a food trend every other day, it's hard to stand out and command a diner's attention. However, if you're banking on having a good time along with some great food and cocktails, investing in yourself at the newly opened restrobar in Mumbai might not be a bad idea. Delhi's popular restobar finally made its way to the city last month and there are quite a few reasons why you might want to go back again.
Co-founded by globetrotters Udita and Utsav Khaitan, Ditas, the multi-cuisine restaurant draws inspiration from their travel tales and offers a great blend of luxury and simplicity. They use some of the most unique cooking techniques such as sous vide, flambé, slow-cooking and roasting, coupled with time fragmented marinades that help retain maximum flavour in the dishes. Now let's talk about…
The decor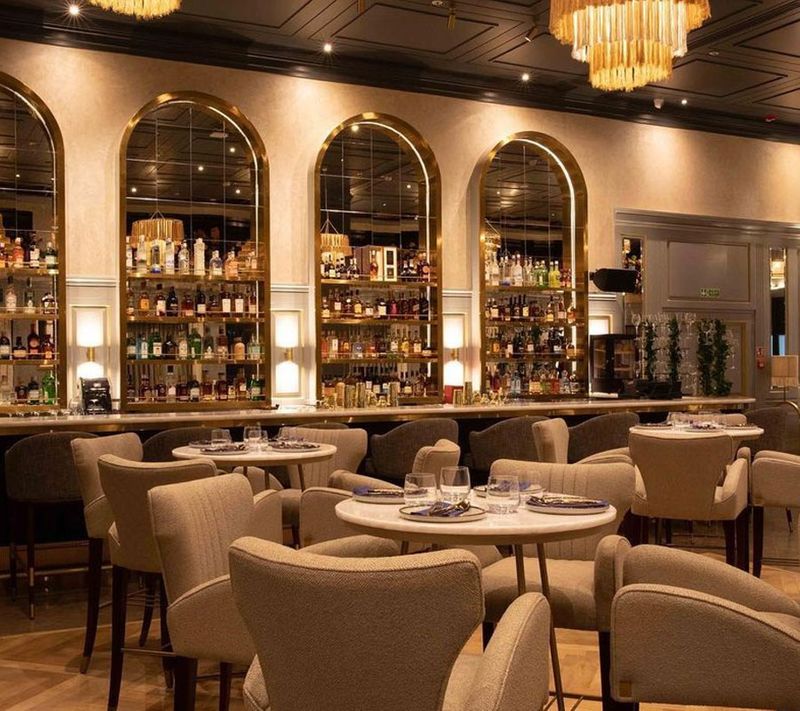 As you walk in, the first thing you notice is the plush seating, decked with minimal European decor. The restaurant has a long-running patio with a luxurious high-end lounge and a high mirrored arch display that adds to the grandiose - a perfect set-up for date nights.
The cocktails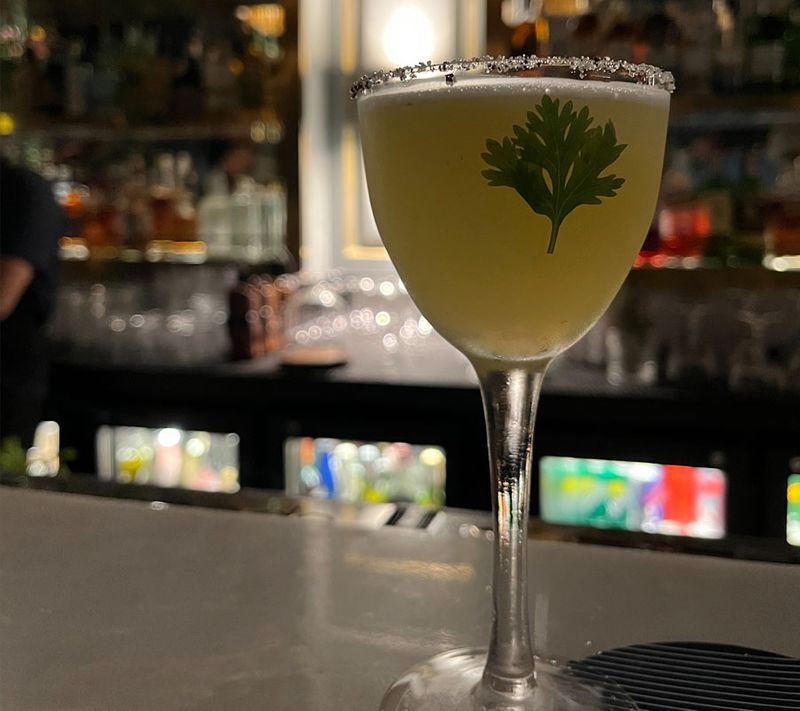 From Spanish to Mediterranean, European and a dash of pan-Asian food, it has dishes to suit every palate. And I was looking forward to really elevating my evening by down a few of their cocktails. I started with a glass of desperado - the great blend of espresso, caramel syrup, maple, cinnamon syrup, fresh orange juice, and tequila garnished with caramelised marshmallow is an absolute hit. However, the star of the night was El Patron - a tequila-based cocktail with coriander stem, fresh pineapple juice, jalapeno, jalapeno brine, lime juice, and sugar syrup, garnished with coriander leaf, salt and sumac rim. This was the first time I was trying a coriander-based drink, and to my surprise, it exceeded my expectations.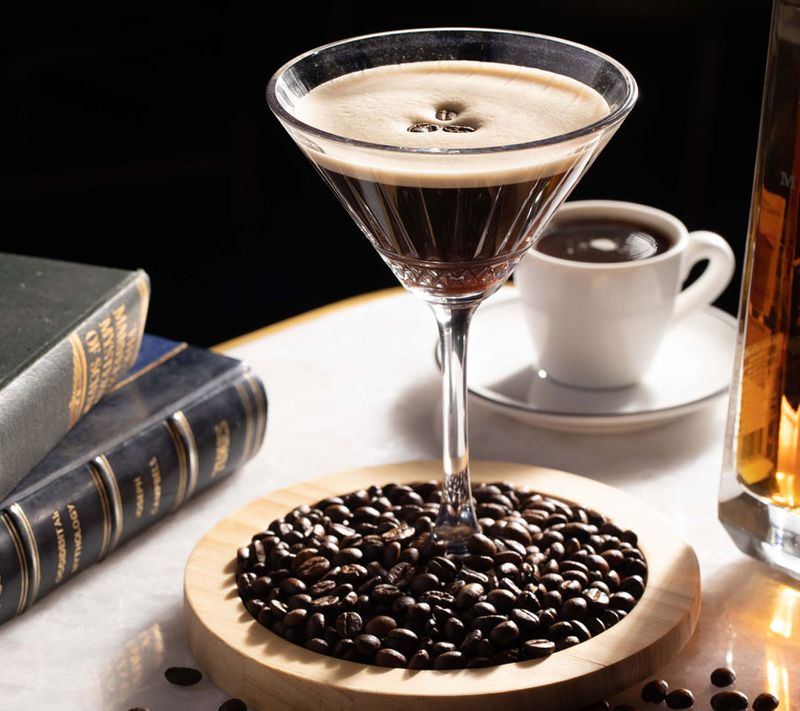 The food - The good part
The meal kicked off with goat cheese and caramelised fig tart with wine poached shallots. The rich flavours come together to create the perfect start to your meal. The sweet caramelisation on the onions, paired with the tart and homemade fig jam with the super creamy goat cheese makes for a perfect appetiser with a perfectly balanced burnt flavour to it.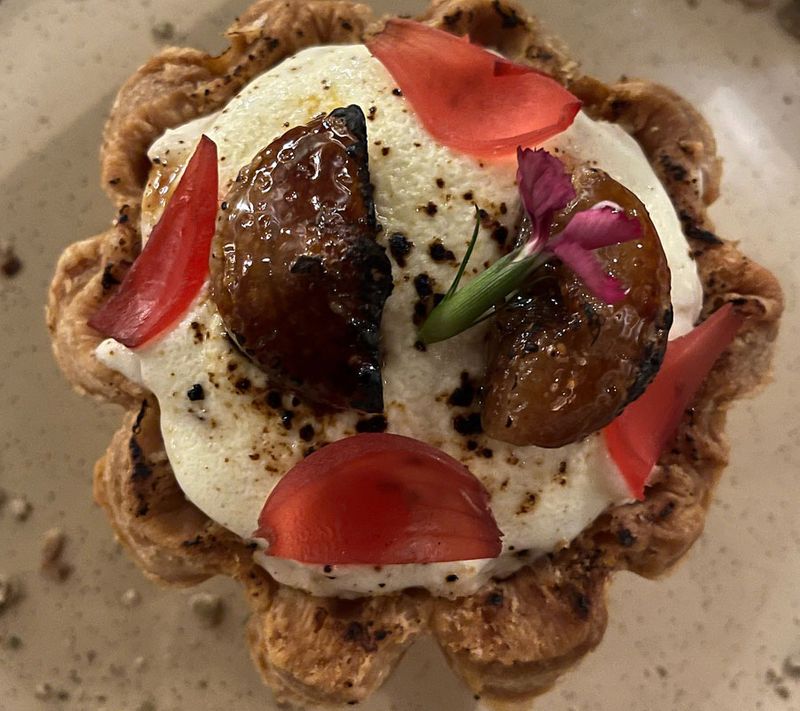 The next dish that followed was the Ditas signature prawn toast with bearnaise sauce dill and parmesan threads, which was a highlight for me. It's basically prawn 'in' toast, which is a dish called coffin bread. Nothing sinister there, it just looks a bit like a coffin, in which you scoop out a hole in a chunk of bread and cut the top off. Rather than putting the lid back on the 'coffin', it's garnished with micro greens and a mountain of grated parmesan cheese.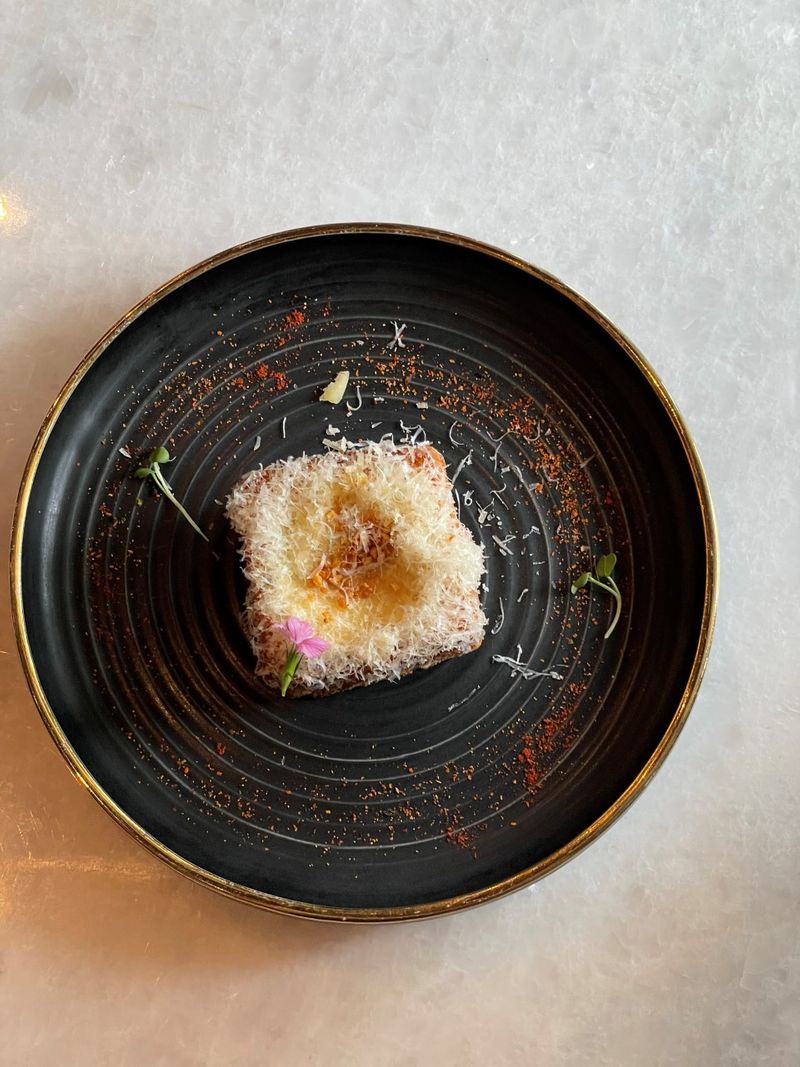 "We wanted to do a cross between coffin bread and prawn toast. We use brioche as the texture is buttery and crunchy. We make a béchamel sauce, which is the body of the dish and infuse milk with a parmesan rind to add flavour, then we use Japanese dashi to season it, instead of salt. And for the filling we use blanched prawns, cut up and added to the béchamel and then fill up the bread," explains corporate chef, Ravi Ranjan.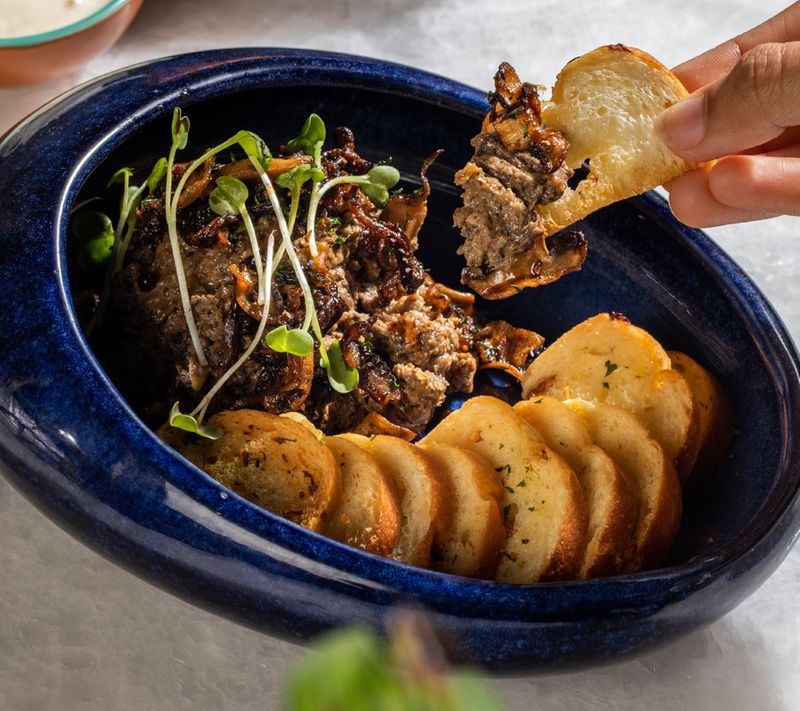 Next up was truffle mushroom pate made with balsamic caviar, microgreens, and garlic butter served with sliced baguette. The creamy texture of the pate had the perfect earthiness of the mushrooms and truffle. For fish lovers, in small plates, their hot oil Hamachi carpaccio in crispy garlic and yuzu dressing is a must try.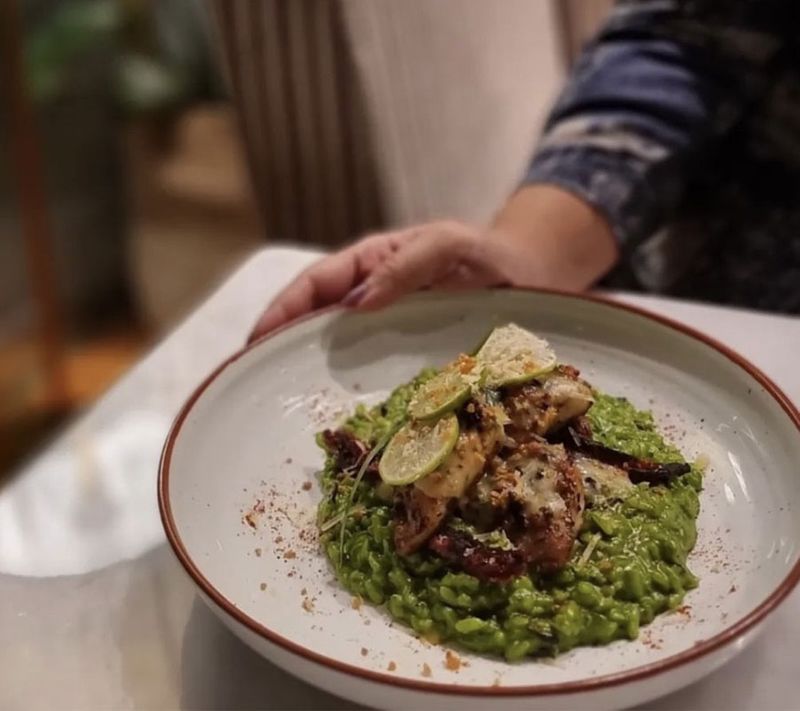 Going ahead with the chef's recommendation, I next ordered for their pistachio crusted John Dory that comes with baby spinach risotto. Although the white, boneless, meaty flesh is firm and flavoursome and can be cooked in a variety of ways, they prefer grilling it with house made crumbles such as pistachio, dry olives, sun dried tomatoes, dill and seasoning that enhances the flavour of fish, adds crunch and makes the dish an absolute signature. We ended the meal on a fiery note with their baked Alaska bomb. The layered vanilla sponge with berry coulis, mango sorbet, lemon curd coconut and strawberry ice-cream was delicious.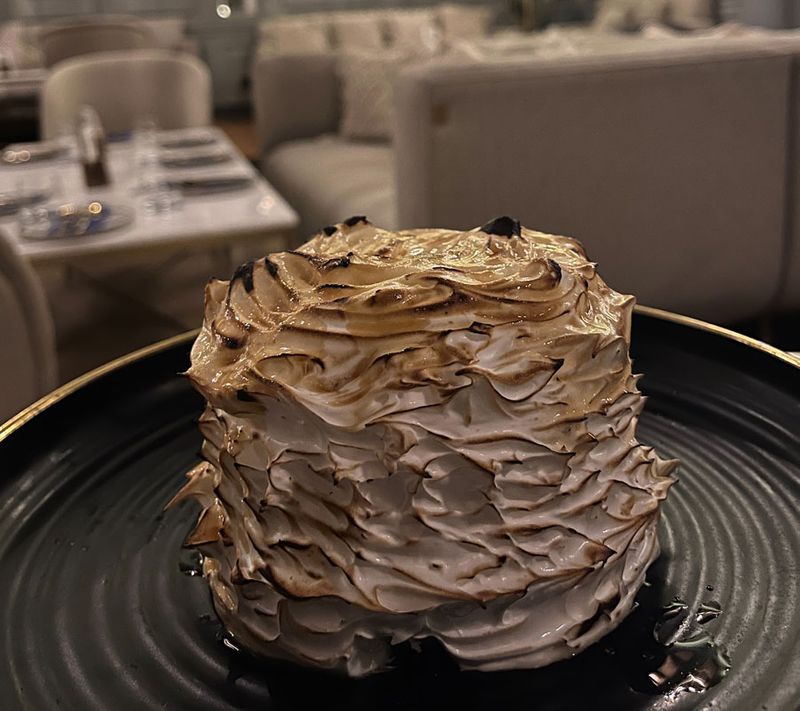 Dishes to skip
However, a dish that didn't really make it to our list of favourites was the seared pork belly pops made with chilli maple soy glaze, toasted sesame seeds, and scallions. The pork chunks were quite hard and chewy. In soups, you may want to skip the grilled prawn bisque topped with cognac cream. While the prawns were cooked well, the cream didn't really work for us, not one of the better tasting ones for sure. In dessert, their crunchy cinnamon churros are touted to be a must-try, and I was really looking forward to it, even though I was full. Here's my verdict - the oil in which the churros were fried seemed a bit rancid.
Will I go back to Ditas and recommend it to people? It's a definite yes! Especially for their cocktails and the truffle mushroom pate.
Address: Ditas, World Crest Ground Floor, Lodha, 402, Senapati Bapat Marg, Mumbai
Timing: 12 PM till 1:30 PM
Cost for two: Rs 4,500++ (including alcohol)