A Bengali baromashi– a genre of folk poetry in the form of the lyrical calendar–from the Buddhist era work Daker Bachan (Dak's Sayings), on seasonal eating, advocates the consumption of curds in the Bengali month of Shravana, khoi (popped rice) in the month of Ashada, and sugar palm fruit or tal during the month of Bhadra (late monsoons) when the fruit ripens. Ask a Bengali what's the best way to eat tal ? Make fritters. 
In most Bengali homes, until a few years ago, sugar palm or tal would be eaten only after it had been offered to Lord Krishna, on Janmashtami, in the form of taler bora (pakoda) or tal phuluri made with fresh palm juice or pulp.  
According to popular lore, when Nanda discovered the newborn Krishna whom his father Vasudev had left in the care of Nanda and his wife Yashoda in Gokul, he danced in joy and celebrated by eating palm fritters. A popular Bengali folk song goes: Ki ananda holo Braj-e, ki ananda holo/Gopal-e payiya Braj e ki ananda holo/Taaler Bora kheye Nanda nachite lagilo. (Such joy in Braj, oh such joy, the arrival of Gopal has brought such joy, After eating tal fritters, Nanda dances with joy) 
A different version of the song, replaces Nanda with Gopal, on grounds that young Krishna had a soft spot for tal himself because the fruit ripens in his birth month.   
The season of sugar palm fritters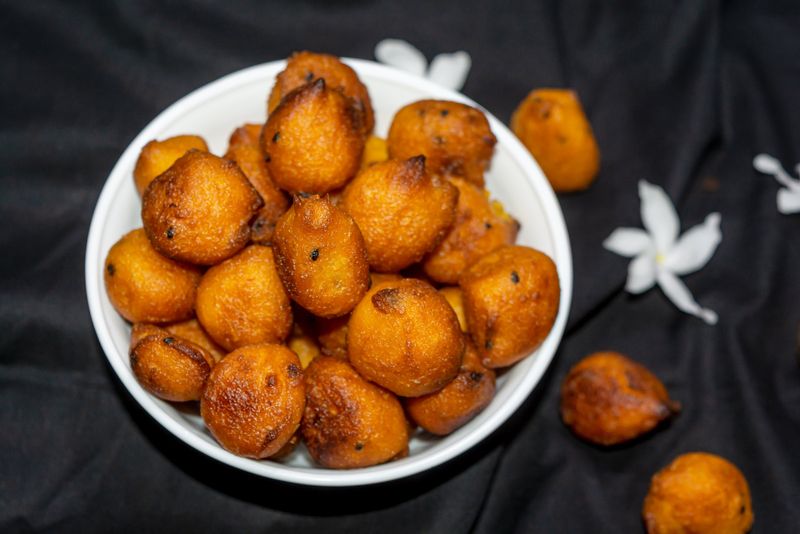 Making taler bora is no mean feat. The thick, dark yellow juice of the palm, traditionally extracted by rubbing the fibrous fruit against an upended wicker basket, is combined with grated coconut, molasses or sugar (or both), wheat flour, etc to form a thick batter. Dollops of this batter are dropped into hot oil and deep-fried until a dark golden brown. Some may add a splash of rice flour or semolina for added crunch, or bananas to the mix to make the fritters supple, some flavour it with cardamom, others sprinkle some nigella seeds into the batter. The result is always addictive.  
"Sugar palm fritters are just as popular during monsoons in Odisha," says home cook Sujata Dehury, a champion of Oriya cuisine. "In Odisha, we also make similar fritters with the extract of ripe jackfruit and rice flour – the panasa bara," she adds. Kolar bora or sweet fritters made with overripe bananas are also a popular monsoon snack across the East. With a cup of chai, these humble fritters are a great way to enjoy the monsoon weather. After all, what's monsoon without some deep-fried indulgence?  
Can bori, beguni and bhajaa be far behind?  
In Bengal, khichuri, a spicy hodgepodge of rice and lentils, is synonymous with rain. To the uninitiated, a hassle-free one-pot meal for lazy, rainy days might seem like a smart choice. Only, a khichuri meal is incomplete without the accompanying range of fries and fritters – assorted deep-fried vegetable, or crisp beguni (brinjal fritters) studded with nigella seeds, muchmuchey bori (sun-dried lentil pellets) and papad bhaja, the good old maamlet (omelette with a Bengali accent) ideally fried in mustard oil or piping hot maach bhaja (fried fish).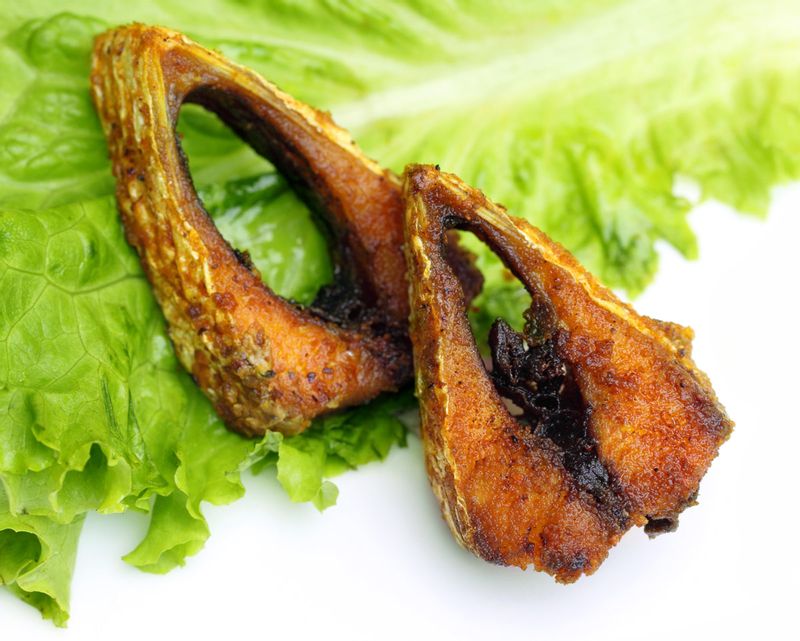 However, during monsoons, the fabled Hilsa season in Bengal, no fish other than the queen would do. Thick slices of unctuous hilsa, simply seasoned with salt and fried in mustard oil, with crisp crackling skin, is what adds the monsoon flavour, and a great deal of oomph to the khichuri platter. 
What's better than fish roe pakodas in the rains? 
Few things can surpass the joy of relishing fried Hilsa on a rainy day. Except perhaps, the ecstasy of biting into Ilish maccher dim bhaja (Hilsa roe) ideally, fried just enough to leave the centre slightly gooey, is unmatched. Paired with hot steamed rice and a few spoonfuls of Ilish maccher tel – a delicious concoction of mustard oil and fish fats - Ilish maacher dim is the stuff of dreams.  
"Fish roe pakoras are also quite popular in Bihar during the rains," says home cook Rachna Prasad. "But if I had to pick one monsoon favourite, it would be the kchari – deep-fried fritters made with chana dal, soaked overnight, ground into a paste, and whipped up with finely chopped onions, chillies, fresh coriander, and other spices," she says. "Besides there are pakoras made with tender pumpkin leaves and seasonal veggies like bottle gourd," adds Prasad.  
Fry them gourds and veggies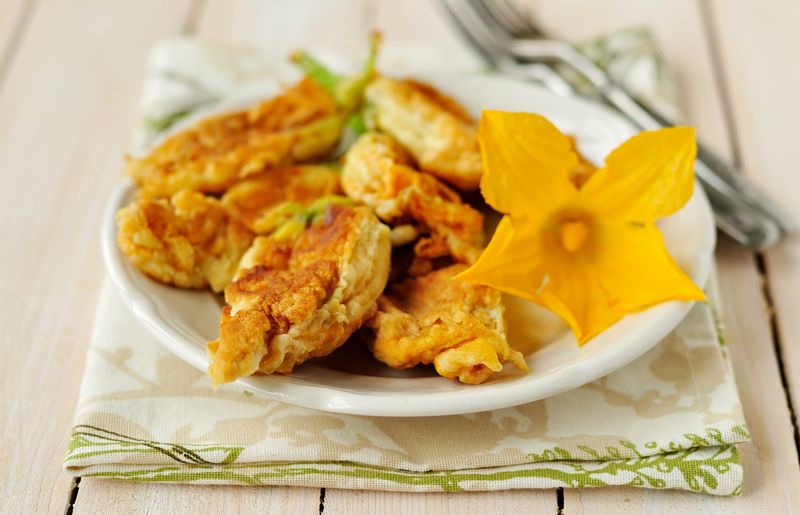 Gourd vegetables of all kinds are grown in abundance during the monsoons. But one gourd that is quintessentially a monsoon vegetable is the spiky teasel gourd also called kakrol. In Bengali kitchens, teasel gourd is used to make stir-fries, cut up in roundels, and deep-fried or cooked into curry, sometimes with small prawns or with other veggies. A particularly special item is the pur bhora kakrol, teasel gourd stuffed with a sweet-spicy coconut filling or spiced minced prawns, dipped in batter and fried. 
 The real monsoon treasures, however, can be found on a rural platter. Monsoons are harsh on food production and supply, especially in rural India. When vegetables are hard to procure, people resort to foraging. The verdant cover of wild foliage nourished by the rains is often a treasure trove of flavours and curative virtues –tender jute leaves, the antioxidant-rich leaves of bhumi amla, leaves of the Indian sorrel, Malabar spinach (pui shaak), Helencha leaves, and numerous other leafy greens that grow wild in the countryside. "These leafy greens are either stir-fried or deep-fried coated with batter or added to ground lentils to make pakoda or bora," says food blogger Sayantani Mahapatra.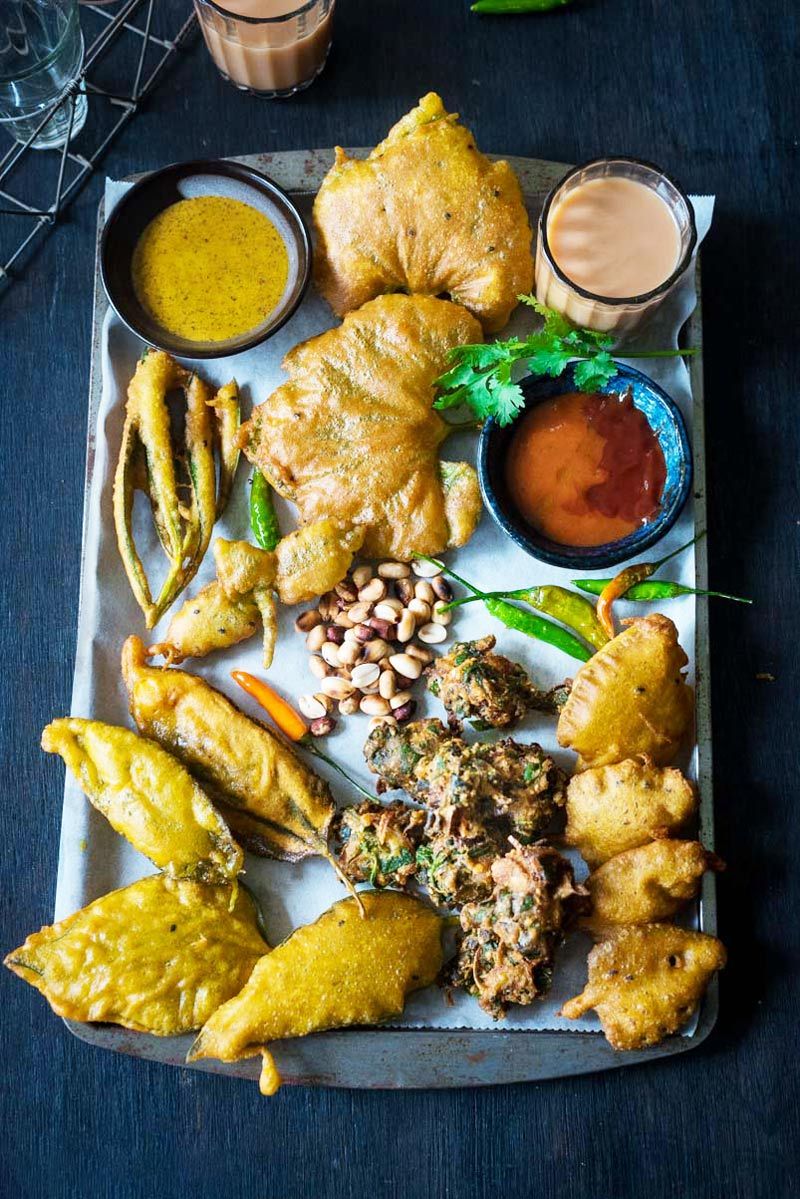 Mahapatra grows quite a few of these wild greens in her home kitchen garden in Kolkata. Monsoon lunches at her home often feature one or more of these. "In the villages of Bengal, during monsoons, small bamboo scaffolds fitted with fishing nets are often erected on the edges of flooded paddy fields swarming with tiny fish. "Tiny prawns are often part of the catch and these are often added to boras," says Mahapatra, recalling her growing up days in rural Midnapore, in South Bengal. 
In Odisha, a range of Pithau Bhaja – assorted seasonal vegetables coated with spiced rice flour and fried – typically served as an accompaniment to rice, perks up the monsoon lunch. "In Western Odisha, chaul bara, made with a spiced batter of parboiled rice and black gram is especially popular," Dehury shares.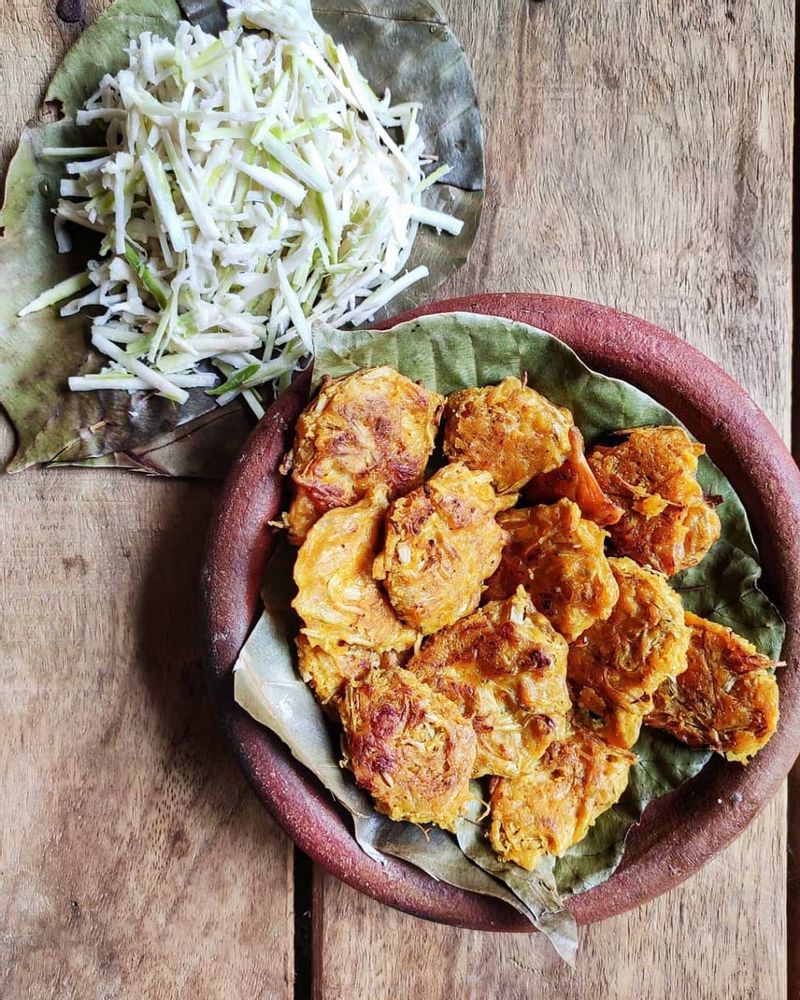 Monsoons bring a variety of wild mushrooms, called chhatu in Odia, that are made into fritters, especially in the forest belts," says Dehury. Tender bamboo shoots, mixed with garlic, chillies and spices, are made into small balls and deep-fried to make Kardi Bara, another monsoon favourite, especially in Western Odisha. This is also a favourite in forest regions of Jharkhand. 
"In Jharkhand, the dhuska, deep-fried bread/snack made with a batter of rice and lentils, a perennial favourite is particularly popular during the monsoon," says chef and author Sadaf Hussain. "Besides, fritters made with sanai ke phool or jute flowers, pumpkin blossom, and seasonal greens like Beng Saag (after byang, frog in Bengali) are also monsoon favourites," Hussain adds. 
---
Photo: Shutterstock