Are you a fan of snacking on something earthy and crunchy? Look no further than the versatile and beloved walnut! This tasty treat enhances the texture and flavour of salads and desserts, and is also packed with essential nutrients like omega-3, iron, and minerals. Studies have shown that regularly incorporating walnuts into your diet can have incredible health benefits. From improving brain function to reducing inflammation and the risk of heart disease, these little nuts pack a powerful punch. Plus, they're a great source of healthy fats, making them a perfect addition to any diet, from vegan to keto. So not only do they taste amazing, but they can also do wonders for your health. With all these benefits, it's no wonder walnuts are a fan favourite.
However, as with any ingredient, it's all about balance - too much walnut can quickly turn a dish sour. But fear not; we've worked hard and found unique ways to incorporate this nut into your daily meals. Not only are these walnut recipes delicious, but they're also easy to make so that you can whip them up quickly. So why not try adding some walnut fruit to your favourite dish today and take your taste buds on a nutty adventure - cooking walnuts has never been easier!
Delicious walnut recipes you must try
In India, walnut fruit is used innovatively to add a nutty twist to traditional dishes. They are often added to sweets like halwa or used to make walnut kebabs that give the walnut fruit a whole new twist. Walnut fruits can also be ground and mixed with spices to create flavourful marinades for meats or added to chutneys and dips for an extra pop of texture.
This summer, there's no better way to add a crunch to your meals than cooking walnuts in different creative ways that will elevate the taste and texture of your dishes. Discover the ultimate walnut-infused dishes with our carefully curated list of the top 5 walnut recipes that make cooking walnuts super fun & easy.
1. Vegetable nut curry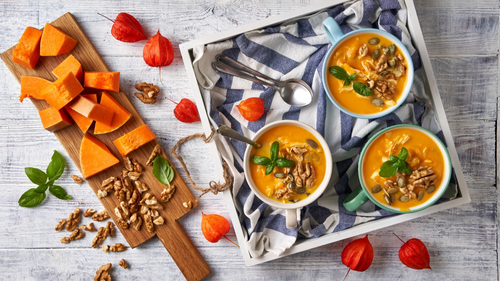 As temperatures rise, staying cool and nourished becomes a top priority. Look no further than this delicious walnut recipe to keep you energised and hydrated all summer long. Not only is it bursting with flavour, but it's also packed with essential minerals that your body craves. Perfect for pairing with your favourite bread or grain, this quick and easy curry will satisfy and refresh you in no time. So why not treat yourself and your loved ones to a healthy, delicious meal that will leave you feeling your best this summer? There indeed isn't a better way of cooking walnuts this summer. Check out the recipe of chef Kunal Kapur's vegetable nut curry.
2. Chocolate walnut cookies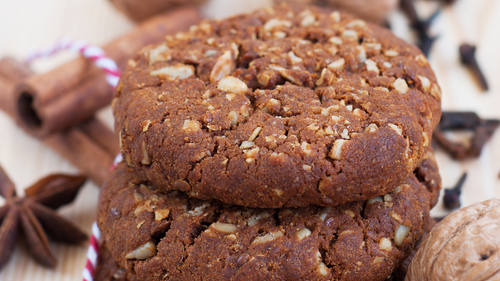 Say goodbye to bland store-bought cookies and hello to these heavenly chocolate walnut desserts that will leave you wanting more! This easy-to-follow recipe lets you whip up a batch of irresistible crunchy cookies that impress even the harshest cookie critics. And, the best part? These cookies are flourless, so they're perfect for anyone watching their weight or living a gluten-free lifestyle. Thanks to chef Shailey Shriya's brilliant walnut dessert recipe, you'll be the talk of the town with these delicious treats. So what are you waiting for? Check out the recipe here and get baking today.
3. Atta honey walnut cake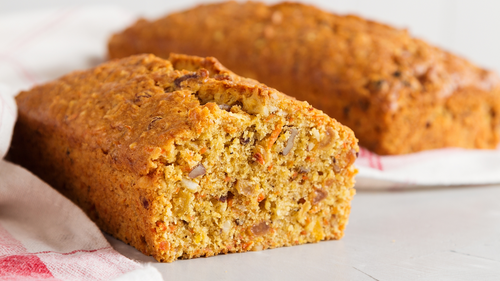 Are you tired of baking the same old cakes since the lockdown days? Why not mix things up and try this special cake recipe that's both delicious and nutritious? Packed with mouth-watering nuts and natural honey, this cake is bursting with flavour and loaded with essential minerals and nutrients. And, the best part? Thanks to its irresistible texture and flavour profile, your guests won't be able to resist indulging in seconds. So go ahead and try it out for yourself - we guarantee it will be a hit! Just be prepared for it to disappear in seconds once it hits the table. Check out the walnut recipe here!
4. Gud gujiya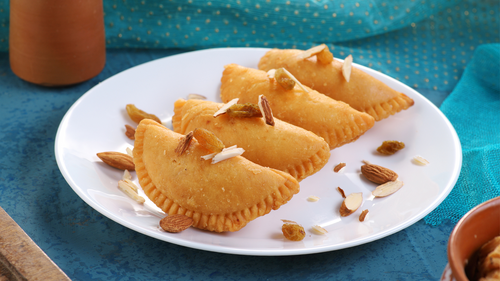 Get ready for the upcoming festivals with a guilt-free and delectable treat that'll leave your taste buds craving more! Say goodbye to the usual sweets and indulge in the delicious gud gujiya, made with a perfect blend of walnuts and dry fruits. This recipe is a powerhouse of nutrients and is made with gud instead of sugar, so even people with diabetes can indulge in more than just one serving. Thanks to chef Harpal Singh Sokhi, this goodness can now be made right in your homes. Don't wait any longer - check out this walnut recipe here now and add a healthy twist to your festive celebrations!
5. Banana walnut bundt cake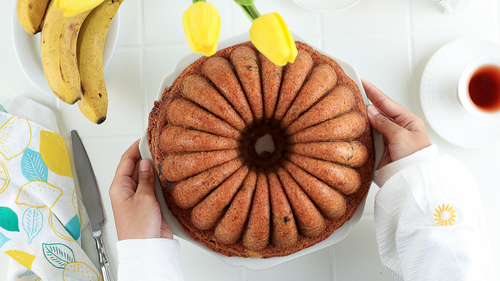 Get ready to be the star of the next potluck with this irresistible banana walnut Bundt cake recipe that's sure to impress your guests. The sweet aroma of fresh bananas and the nutty texture of walnuts will have everyone asking for seconds. This cake is a healthier option packed with nutrition and will satisfy your sweet tooth without the guilt. This walnut recipe is simple and easy to follow, and the result is a beautiful and delicious cake that tastes as if it came from a high-end patisserie. Check out this walnut recipe here, and get ready to impress!
Regarding healthy and nutritious meals, incorporating dry fruits is a great way to boost any dish's flavour profile and nutrient content. And when it comes to dry fruits, the versatile walnut fruit is an excellent choice for adding that extra crunchy and nutty flavour to your meals. From dry fruit salads and walnut kebabs to walnut desserts, plenty of recipes utilise walnuts to add a healthy dose of essential nutrients.
So, if you want to add some nutritious and flavourful recipes to your repertoire, check out these dried fruit recipes that incorporate this superfood into your diet. Trust us; your taste buds and your body will thank you for it!
---
Photo: Shutterstock