Art in India has always been considered elite. Unknowingly, there has been a public disconnect with art. Blame it on the lack of museum/art gallery culture or the fact that we celebrate our artists only after they have been acknowledged by the West, making them instantly inaccessible to most of us—visually and financially. 
FN Souza and Vasudeo Gaitonde had to be recognised beyond Indian borders before their own countrymen could acknowledge their immense talent. It was not until 2015 when Souza's artwork—Birth—was auctioned at Christie's in New York for over $4 million that this powerhouse of talent was given his due. The artist, who has a room dedicated to his works at London's Tate Modern, would draw half-empty exhibitions in India while alive. Gaitonde faced a similar fate. Last year, the Mumbai auction house Pundole sold an untitled 1974 work by the artist for over $4.35 million—something unthinkable in Gaitonde's lifetime. 
Raja Ravi Varma's calendar art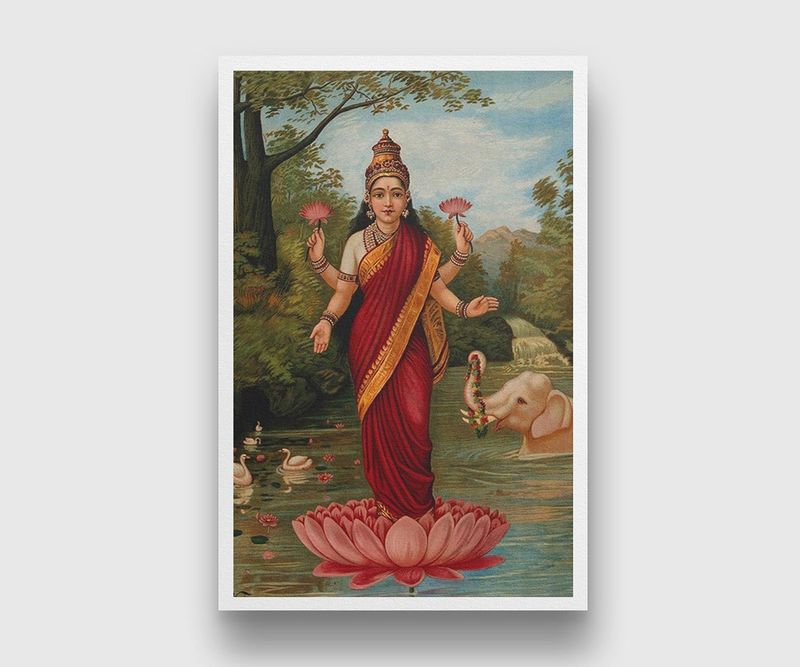 With his genre-defining calendar art, Raja Ravi Varma democratised the art world and made his presence felt within the masses. Kiran Nadar, the founder of the Kiran Nadar Museum of Art (KNMA), says: "Varma was one of the first people to make art accessible to the common man. He often painted Hindu gods and goddesses modelled on beautiful Indian women. When he established the first lithographic press in India, he produced oleographs of his paintings that were often used in calendar art." This helped to make his art affordable and accessible to all. His prints were extremely popular and continued to be printed even after his death, giving his work a far-reaching effect. Perhaps the widespread circulation of these prints made calendar art synonymous with Varma's work, creating the familiar look and feel of gods and goddesses that we are familiar with even today. "He was ahead of his time and his work continues to be iconic and breathtaking," adds Nadar.
Faith gets an image
Primarily self-taught, Varma began painting by observing and taking notes from Dutch portrait painter, Theodore Jensen in the court of Travancore. He was one of the foremost Indian painters to master the technique of painting in oils and he skillfully meshed together Indian traditions, in perfect unison with European techniques, while creating his masterpieces. Yet, his most important contribution to India and art is the fact that he gave an image to faith. With that Varma—'the painter prince'— brought art into the common man's home.
Transcending boundaries
Sunny Chandiramani, vice president - client relations, AstaGuru auction house, says: "Varma's famous oleographs of gods, goddesses and various mythological scenes, inspired by Indian epics, especially the Ramayana and Mahabharata, adorn the temples and walls of many households in the country. His creations reiterate why he is considered to be one of the most important artists. Varma's work style can be defined as nationalist given his impeccable visual rendition of India's culture and traditions. He was a perfectionist considering his mastery of the fundamentals of painting such as light, texture and depth perception. At the same time, he was a path-breaking artist." This genius helped art transcend the boundaries and travel seamlessly from the royal galleries to the commoner's walls. With this, he perhaps became one of the early artists— besides the artists who emerged from the Bengal School of Art and depicted everyday poverty, famine and rural life, subjects a layman could relate to—who truly democratised art.
Relatability to street art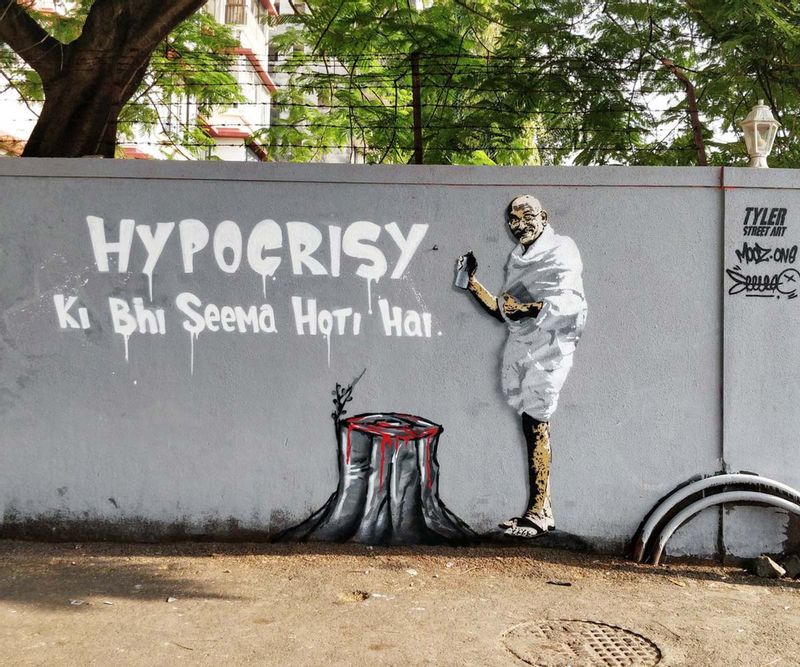 Democratising art and helping it reach the masses—the movement that started with Varma and artists such as Yogendra Bhargava and Hem Chander who carried forward his legacy—has perhaps reached its pinnacle today with street art. 
Boasting the same concept, public awareness is at the very core of the genre. There hasn't been an art movement more democratic and people-based than street art. Tracing its roots to the underprivileged and rising to be a global phenomenon, the genre speaks of the allure and relatability of art. 
Street artist Kiran Mahajan says, "Art has always been an integral part of the subcontinent. But with the introduction of various art forms, it ended up becoming exclusive and elitist. With the emergence of street art, it has taken a full circle of being there for the general public and talking about issues that are relevant for them." Today well-known institutions such as KNMA provide a platform for street art. The recent Art Meets Street series of the institution did just that. Also, projects such as the St+art India foundation aims to make art accessible to a wider audience by taking it out of the conventional gallery space and embedding it within the cities. Visit Lodhi Road, and you would know. Or, take a tour of Mumbai and follow the art of the elusive artist Tyler, famously known as India's Banksy.
Tyler's projects take a crowdsourcing approach to execution. The artist decides who his next subject would be via the comments on his Instagram page. In doing so, he invites conversations around cancel culture. At the same time, Tyler believes that "having people give their votes creates a sense of inclusivity". "Street art is rebellious by its very nature. It is the job of art to show a mirror to society. I believe all artists should rise to it, irrespective of the controversies," he says.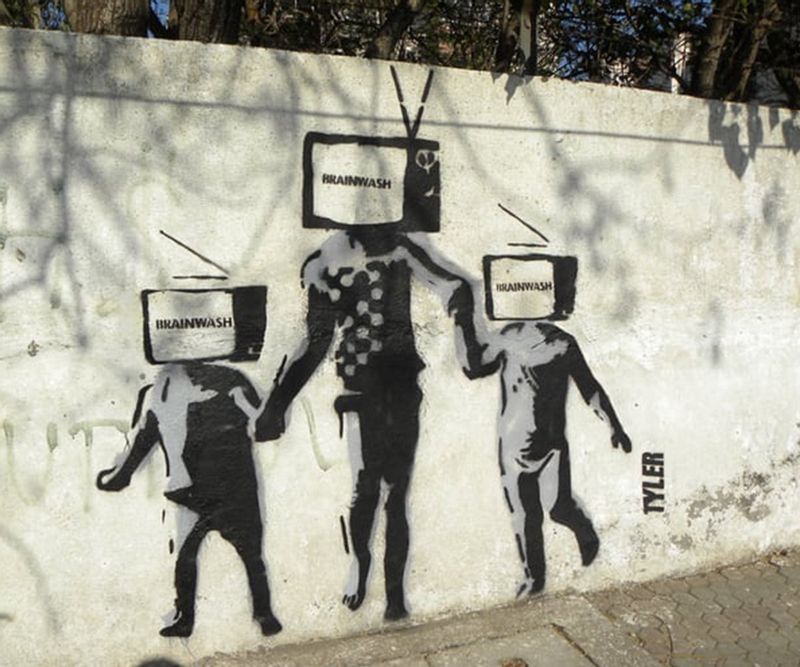 To put it simply, street art is art for the people, inculcating a sense of ownership and pride in one's urban environment. Motivated by the support and appreciation of people, street artists are not shying away from using their brushes and paint cans to revitalise mundane or derelict city spaces. 
Parul Vadehra, director, Vadehra Art Gallery, says: "In the last few years street art has become more and more mainstream and is considered a wonderful way to bring art to general audiences. In fact, in 2008 the iconic Tate Museum in London even had an exhibition of street art, with murals adorning its iconic riverside façade." It's a win-win situation for all. While a boring and dilapidated forlorn space gets a life of its own, issues affecting people are also brought to the forefront. And in doing so, art manages to sneak into our everyday life. Quietly, subtly, but making a statement, nonetheless. Varma would be proud.
---
Photo: Instagram/ St+art India