It's no secret that Kutch, India's wild west, is a paradise for art and craft lovers. Home to tribal groups, its little hamlets produce some of India's finest handicrafts and more than 40 different styles of exquisite embroidery, each unique in pattern, colour combination, history and significance. Karigars from various ethnic communities maintain traditional dressing style and practice crafts like weaving, dyeing, printing, bandhani (tie-dye), leatherwork, pottery, woodwork, metalwork among others. 
The kind of diversity in local craft concentrated in this arid region is what sums up India's art and craft heritage. In fact, one can say that handicrafts are deeply integrated into the heritage and social fabric of Kutch. More importantly, they have been the mode of expression as well as means for survival and sustenance since generations. 
Wish to weave some art, craft and culture in your Kutch itinerary? Here's what you shouldn't miss 
1. Pottery painting in Khavda Village, Bhuj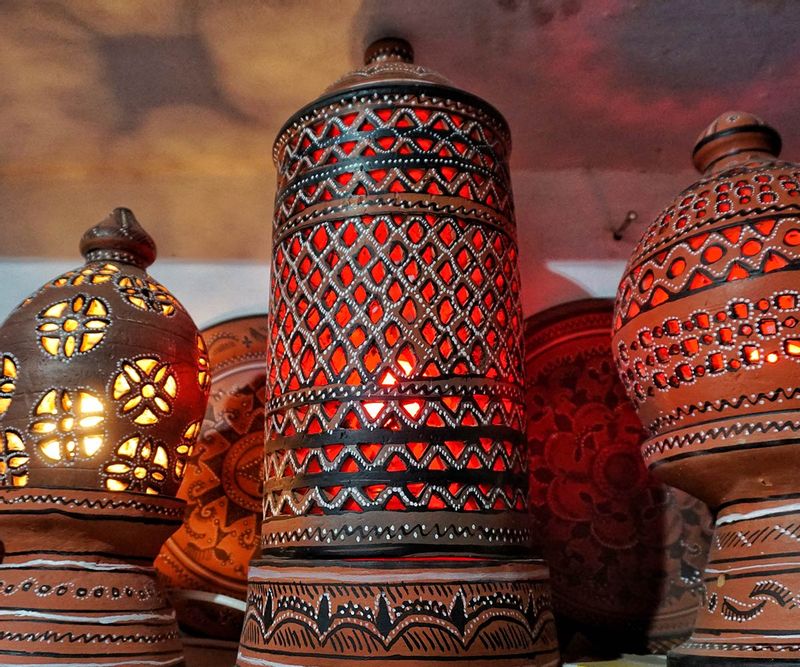 In the small village of Khavda, Bhuj, Kumbhar Abdul Ibrahim and his family members have been making earthen pots with the same process and designs as those found in the Indus Valley excavations. These pots are made from soft clay, often referred to as "rann ki mitti". While men shape clay into pots on a potter's wheel, kumbhar women use red, black, and white clay-based paints to decorate each piece of pottery with distinct, nature-inspired designs. All earthenware is coated with a thin wash of geru (red colour). "We craft a wide variety of vessels, such as matka for water storage, plates, bowls, kulhads, lamps etc. This art is god-gifted and we take a lot of pride in it," says Ibrahim whose forefathers migrated to Kutch from Sindh a few hundred years ago. 
2. Bandhani in Kamdar Colony, Bhuj City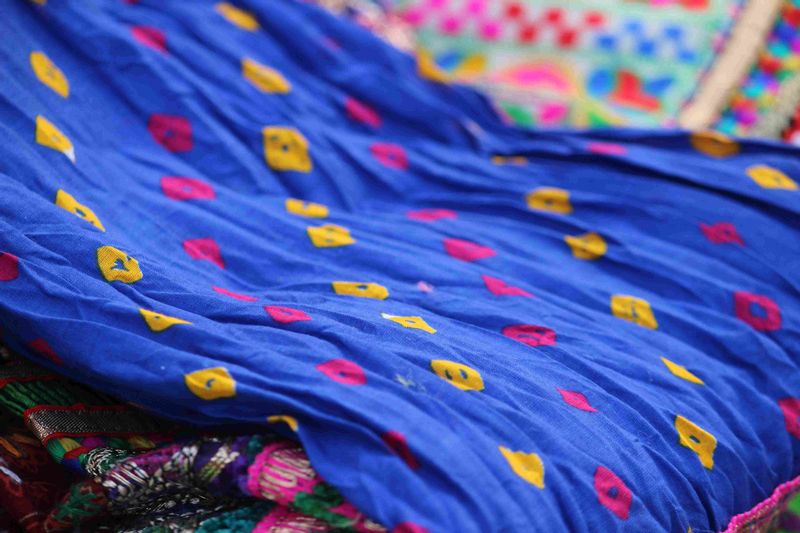 Over 200 independent women artisans from different villages of Kutch are at the heart of Bandhani production by SIDRcraft. They help in tying thousands of tiny knots on the stencilled fabric (pure silk, cotton and cotton-silk blends) to create a single scarf or shawl. Post this, the process of dyeing, often in successive stages for a single piece, takes place at the Bhuj-based SIDRcraft studio founded by Abduljabbar Khatri over 20 years ago in Kutch. "Our aim is to continue the family tradition of bandhani, a centuries-old technique of micro tie-dye that produces an exquisite pattern, design and texture on fabric. Today, our high-quality bandhani is sourced by several ace designers in India and abroad," says Khatri, who also encourages economic independence for village artisans through his enterprise. 
3. Block printing in Ajrakhpur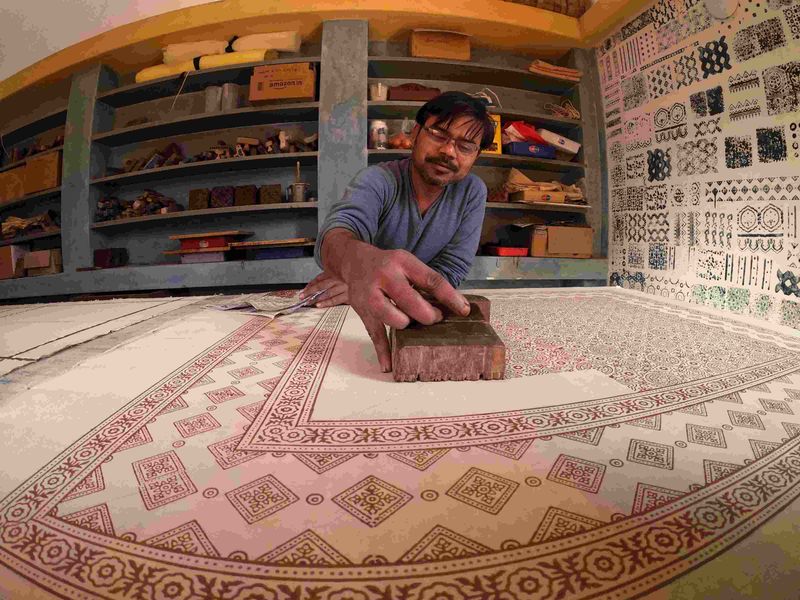 Named after block print or Ajrakh, Ajrakhpur came into existence after the massive destruction caused by the earthquake of 2001. In case you're wondering what's Ajrakhpur all about, it's a town full of block printers, all excelling in the art passed on to them by their forefathers. Block printing dates back to 4,500 years and originated in the region of Sindh. Ajrakh artisans in India came from Sindh and migrated to Kutch. When in Ajrakhpur, visit block printer Dr Ismail Khatri's workshop to understand the history and nuances of Ajrakh. "Blocks carved in traditional designs are coated in dye and pressed onto fabrics such as cotton, linen, wool and different types of silk, like tussar, crepe, georgette and chiffon. Layers of colours and prints are added between stages of rinsing, dyeing and sun drying," explains Khatri who has wooden blocks over 200 years old. The use of natural resources to dye and paint makes it all the more interesting. While blue comes from indigo plants, red is obtained from madder root, alizarin, sappan wood and lac. Yellow is from pomegranate rinds and turmeric, and green is achieved by over-dyeing indigo with turmeric and pomegranate. Apart from its trademark colours, black outlines and white accents, the Kutchi Ajrakh is characterised by symmetric geometrical patterns. 
Celebrity Indian designers like Anita Dongre, well-known for House of Anita Dongre that shelters brands like AND and Global Desi, and Anavila Misra, founder of the brand Anavila, have been working closely with block printers of Ajrakhpur as well as embroidery artists from little hamlets in Kutch. What takes them back to Kutch is the quality, intricacy, and gorgeous karigari offered by artisans here.
4. Applique art in Sumrasar Sheikh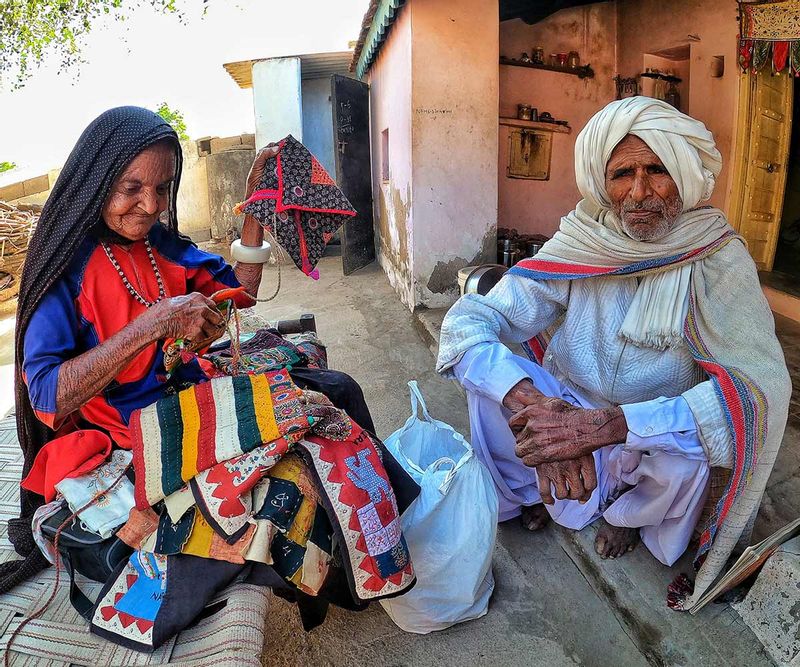 A master at applique art, Meghiben Meriya of Sumrasar Sheikh village narrates beautiful stories through patchwork and embroidery. Applique art is ornamental needlework in which pieces of fabric in different shapes and patterns are sewn together to make a larger piece of art. Have a conversation with Meghiben over a cup of tea and she will tell you all about her journey as an artist and her struggles in life. "I learnt embroidery the traditional way—from my mother," says Meghiben, who quickly became known as an expert artisan, and worked as an embroiderer and patchwork artist for a decade. Whether it's her applique work cushion covers and placemats or snakes and ladders game set with patchwork board, her work is proof of the fact that her hands, though feeble and wrinkles, can craft magic even today. 
5. Rogan art, bell making and lacquer art in Nirona
Located 40 km northwest of Bhuj, Nirona, is a village home to artisan families that practice some of the most extraordinary art forms of Gujarat. Spending a day here can give you some time to interact with the warm and welcoming artisans and learn all about the intricacies of their craft. 
Rogan Art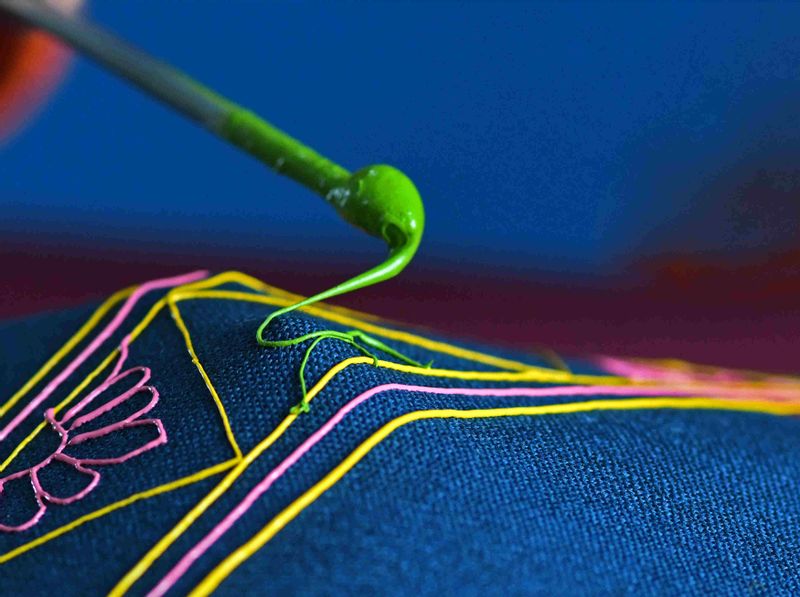 An ancient textile art with its origins in Persia, Rogan came to Nirona village of Kutch around 400 years ago. While it was on the brink of extinction, it was revived by the efforts of Abdul Gafur Khatri and his younger brother Sumar. "In Rogan art, a wooden tool that resembles an earbud, is used to form a strand of colour in the air that helps create intended motifs before the tool hits the fabric. All the colours we use are natural dyes mixed with castor oil and a secret ingredient; the resulting paint is thick and shiny," says Sumar Khatri. In Rogan painting, floral and geometrical designs are produced freehand, with utmost control, and great attention to detail. Majority of the time, half of a design is painted, then the cloth is folded in half, transferring a mirror image to the other half of the fabric. Yellow, white, red, blue and green are widely used colours. 
Bell Making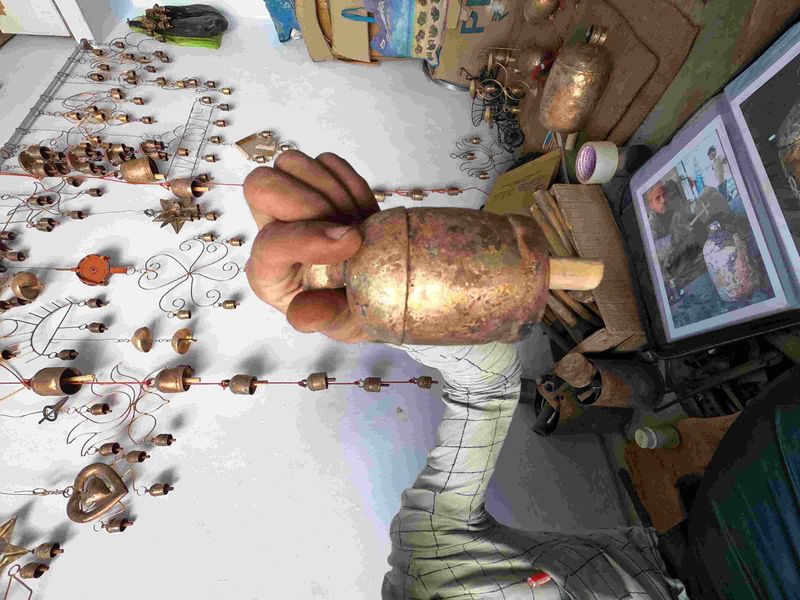 A section of the Lohar community from Nirona and Zura villages are skilled in bell making. In one of the many quiet alleyways ofNirona village, you are likely to find passionate bell-maker Ali Lohar's studio. He is often seen hammering the metal plates to craft dainty bells that create some of the most soothing sounds. These bells are then coated in brass and baked in a coal fire before polishing them to achieve the finished product that is tied to strings, wires or embroidered leather strips to create hangings and other home decor items. "Bells were earlier used by Maldhari bharwads and Rabaris (local cattle-breeding communities) to identify their cattle. In fact, maldharis would sit with us to describe the sound that their cattle recognise, and we would beat the bell till we achieve the desired sound," explains Lohar.  
Lacquer Art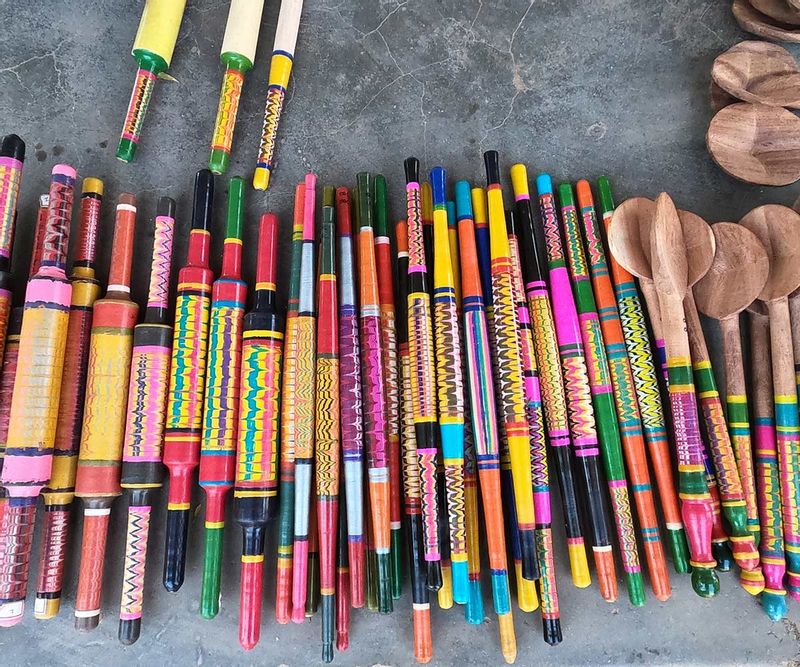 Lacquer work is an uncommon art practiced by the Vadha community in Nirona and Bhirandiayara. A burst of vivid colours and kaleidoscopic designs, lacquer art involves creating zigzag patterns or waves of colours on simple day-to-day products like wooden spoons, rolling pins, containers, toys, and utensils. Traditionally, the Vadhas obtained lac from insect resin, created colourful lacquer art on locally-sourced babool or mango wood and bartered them with the Maldhari community. Today, lac is easily available in the market. "Even today, most of the lacquer process is done on a manual lathe. Once the wood is shaped into desired forms, each piece is individually put on the lathe and smoothened using wooden tools. Simultaneously, coloured lacquer is applied to wood to create psychedelic designs by hand," says Bhachaya Bhai Vadha who uses ancient techniques and tools to create beautiful kitchenware. 
6. Leather art and Kutchi embroidery in Hodka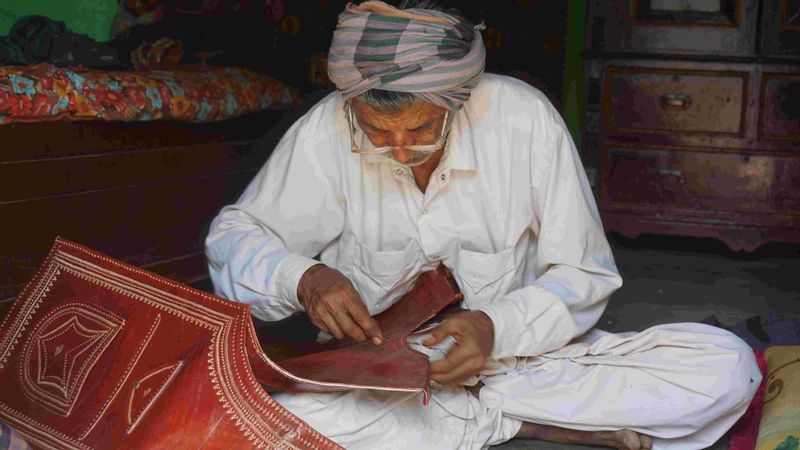 Hodka village on the far Western edge of Gujarat, near the border with Pakistan, is home to many leather artisans as well as women who are masters in Kutchi embroidery. When here, make sure to interact with Umrabhai Kana and his wife Bayabai. While Umbrabhai's family hails from Pakistan, they moved to Marwad, Rajasthan long ago and later moved to Kutch. A leather artisan par excellence, Umrabhai makes beautiful mugs, jackets, hats, footwear etc from naturally-dyed leather. His wife Bayabai Umra is an expert in Kutchi embroidery. Dressed in traditional garb, she has roamed around the shopping malls and exhibits of France, showcasing her work and explaining the intricacies of embroidery. 
7. Mutva art in Sinyaro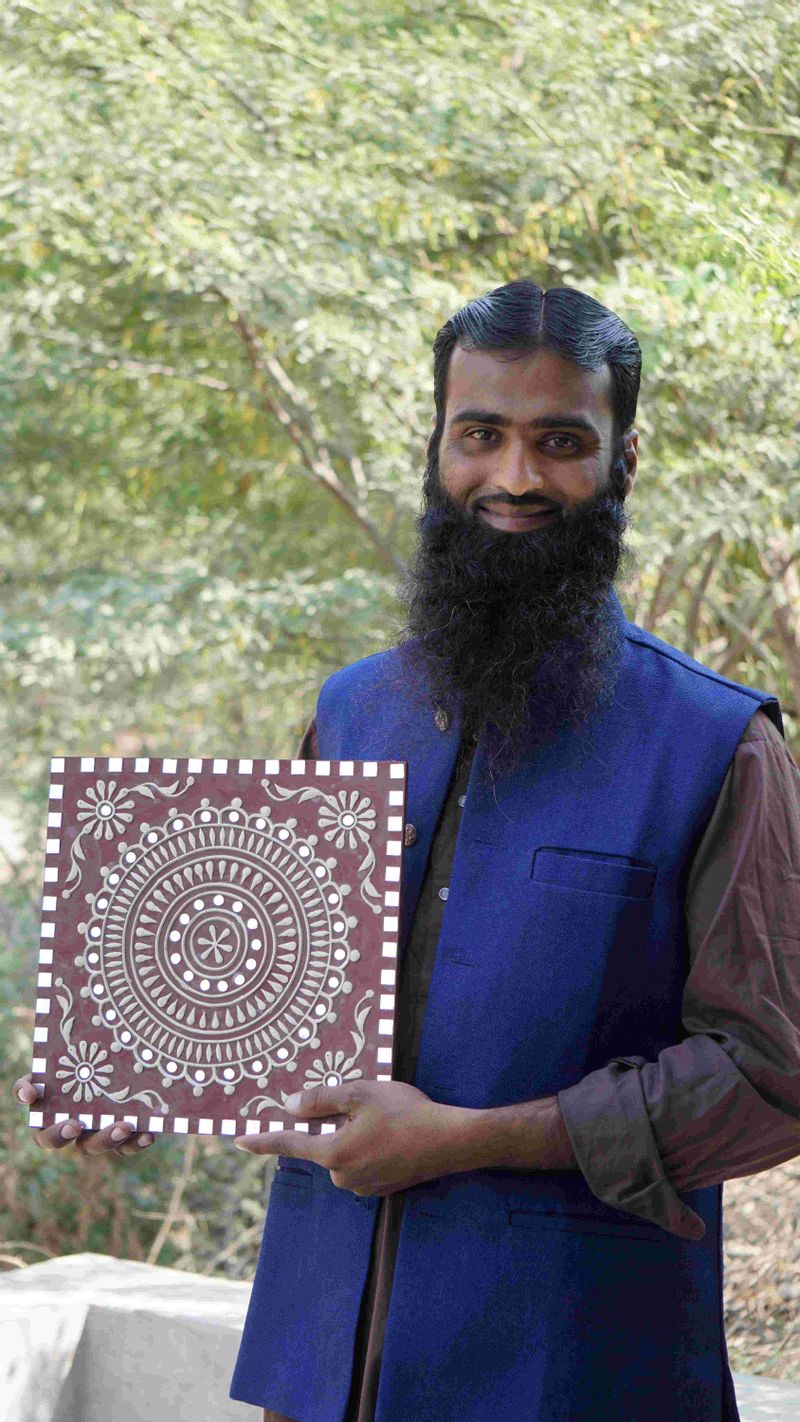 A mud work artist from Sinyaro village, Majikhan Mutva aces the 300-year-old craft which is often known as 'lippan' artwork. It was earlier done directly on the walls. Today, it's done on small mud bases and wooden canvas. The art involves rolling mud (mixed with horse dung) into thin strips that are later moulded into fine designs. These formed designs are then decorated using mirrors of different sizes and shapes. "I have learnt the craft from my ancestors, and I dream of taking it to the world. Hence, I approached a leading shopping portal as a seller a few years ago. However, all my appeals were rejected before I finally managed to build their confidence in me, and have a registered seller account. Today, I am proud to say that my art pieces are dispatched across the world," says Khan, who is also an avid reader and believes in keeping up with technology. Coming from a little village that's hidden in a corner of Kutch, Khan has managed to achieve a big feat. 
8. Hari zari in Bhadroi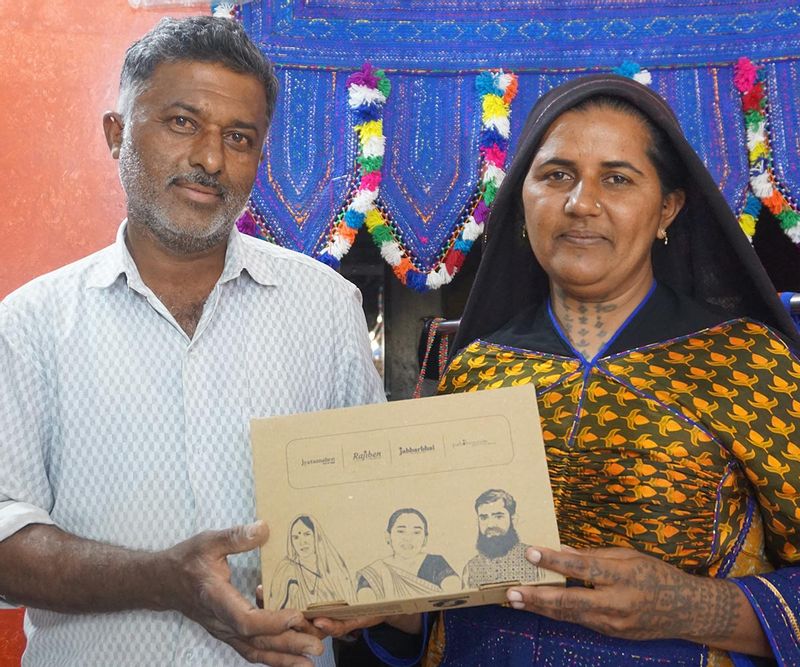 Pabiben Rabari from Bhadroi Village in Kutch went on from being a daily wager to an entrepreneur who invented Hari Jari, an embroidery technique that requires sewing of ready-made designs, ribbons and patterns on cloth, using a tailoring machine. If you find her face familiar, it is likely you have seen her sitting on the hot seat of Amitabh Bachchan's Kaun Banega Crorepati. While she is a popular face in Kutch today, her journey is truly an inspiring one. There was a time when she was paid only a rupee to do odd jobs like fetching water from a well. Today, she has more than 160 women and several men working in her enterprise. With the aim to preserve and promote age-old crafts, she has been bringing together different artists from various corners of Kutch. 
For pabiben.com's products, the Maldhari community (herders) provides the wool that is used for making shawls, while weaving is done by the Vankars, dyeing by the Muslim Khatri community and embroidery by the Rabari women. 
---
Gandhi Nu Gaam - a sustainable village
Post the 2001 Gujarat earthquake, Gandhi nu Gam at Ludiya was one of the 16 villages that were rebuilt from scratch, using locally-sourced materials. The project included the construction of 455 traditional bhungas (a circular mud home with a conical thatched roof) together with three schools, a grass bank, community buildings, production centres, religious shrines, the electricity network and a water harvesting system. Art, culture and architecture are symbiotically interwoven in this village that is home to several craftsmen, each specialising in a unique form of art. A visit here can not only give you a lesson in sustainable living but also showcase the local community's determination to preserve the past as well as shape the future. With each and every home richly embellished with clay and mirror relief work, the village is absolutely Insta worthy!
---
Rann Utsav, a winter festival that celebrates the marvels of nature at the White Desert and the rich cultural and artistic heritage of Kutch, will be taking place from Nov 1, 2021 to Feb 20, 2022. However, make sure you go beyond the festival and visit the craft villages that are off the tourist trail.
---
Photo: Shikha D