Aditi Rao Hydari has come a long way from her Bollywood debut in Delhi 6, in 2009, to her latest in Netflix's film, Sardaar Ka Grandson. Her performance as Priya, an upper-caste woman who is sheltered and restricted by social expectations, in Geeli Pucchi, part of the anthology, Ajeeb Dastaans, has been hailed for being nuanced and heartfelt. Aditi, the actor, has straddled her career in films with immeasurable grace and effortless style, right from her debut in 2006 with the Malayalam film, Prajapathi. She credits her success to the storytelling and the emotions it evokes. "Films are stories about people and how they make you feel. Feelings don't have boundaries of region, religion, caste or colour. I love being a Pan-Indian actor. I'm grateful for the acceptance and the fact that I have gotten to work with such incredible directors and actors across industries," she says.
Prior to the short film, Geeli Pucchi, Aditi was seen as Nusrat in Girl On The Train (a Netflix film)—an adaptation of Paula Hawkins' novel. Both were pandemic films, released exclusively on OTT platforms. When quizzed on why audiences are more engaged with content on these streaming platforms, the actor says, "I think as an audience we now have greater value for the immersive magic cinema and the intimacy of content on OTT platforms."
The evolution of the audio-visual medium is mindboggling. But for fictional content, the journey and experience for an actor remains the same. "As actors, it is honestly the same amount of effort and love that goes into creating content. I have realised that ultimately it is about the content and the team making it. I want to spend 50 days on a set that I look forward to being on. I want to respect and learn from the people I work with. I want to trust them and be vulnerable so I can surrender to the process fearlessly knowing that they have my back," Aditi explains. Her characters of Mehrunisa in Padmaavat , Dr Leela Abraham in Kaatru Veliyidai (Tamil) and Sujata in Sufiyum Sujatayum (Malayalam) are some of her most memorable roles that have stayed with audiences.
The performing arts are in her blood. Aditi Rao Hydari's mother, Vidya Rao, is a classical singer who also hails from the royal family of Wanaparthy, and her father, Ehsaan Hydari, was the grandson of Akbar Hydari, former Prime Minister of the erstwhile Hyderabad state. This multicultural royal lineage has also shaped Aditi's passion for heirloom jewellery that is often visible in her sartorial choices, and something she has shared in the recently published trends report by Natural Diamond Council On jewellery: "The beauty of heirlooms is eternal. What's beautiful will be beautiful forever." 
Best known for her old-world glamour-meets-modern day-fashion looks, Aditi has made several show-stopping ethnic and contemporary looks wearing statement jewellery with eternal grace, and has been a muse for many Indian jewellery brands including Sabyasachi Jewellery, Kishandas & Co, GRT Jewellery and more. This stems from her own affinity for gems and gemstones, of which she says, "Diamonds and stones have energies and carry memories. It's important to wear them with love and respect. It's your emotional heritage." 
We picked her brain on her love for jewels, her favourite heirloom jewellery, its role in contemporary fashion era and the Indian cultural tapestry. Here's the result.
1. Why do you think jewellery is an integral part of Indian culture?
Jewellery is weaved in seamlessly with Indian dressing and culture. I am always attracted to South Indian jewellery which has hints of Mughal tradition. I have always appreciated the jewellery and craftsmanship from Hyderabad, the place I belong to. The use of uncut natural diamonds and uncut pearls in a piece of jewellery or even the Meenakari work from Hyderabad is different from what you would see in Rajasthan. There is sophistication and something very understated about it.
2. Which are your favourite heirloom pieces? 
Jewellery from my grandmother's closet is the closest to my heart, especially one pair of earrings with emeralds and natural diamonds set around it. But my love for jewellery comes from my grandfather; he understood the history and value of every single piece. Whenever I purchased jewellery, his approval mattered a lot. He gifted his mother's necklace, made of Basra pearls, uncut rubies and natural diamonds, to me when I turned 13. It is one of my strongest childhood memories. The necklace, itself, is something that I will cherish and pass on to the next generation. It perfectly fits the sentiment of heirlooms that everyone is now catching on to.
3. When you're in a rush to head out, what do find yourself reaching for—ethnic wear or something more modern?
It is important that jewellery is artistic in terms of its design and craftsmanship. Craftsmanship is what makes a piece of jewellery stand out. Be it Indian or western wear, I always pick jewellery that is statement-making. I opt for pieces that I can customise to suit my personality, like wearing a brooch as a neckpiece or statement cuffs that are fierce yet feminine. Minimalism is the way to go and I love layers; be it necklaces or shoulder dusters, they work well for me.
My grandmother owned a choker that had Basra pearls and natural diamonds in between them which I eyed for the longest time; it is a piece I can wear with everything. Hoops and anklets are an evergreen classic that I rely on.
The secret behind Aditi Rao Hyadri's glowing skin
"My skin is very sensitive so I have to maintain it with a lot of care, which I do with mostly natural skincare ingredients found in the kitchen. Good skin is often genetic but it is up to us to maintain it and nourish it with the right nutrients. It's a constant balancing act which I actually enjoy!"
4. Does your classical dance background impact your perception of performing arts in India? 
I have grown up around great artistes, and I have always seen them put their art above them. They are grounded, full of humility, and very disciplined. I am lucky to have been around such incredible artistes and learn by example from them. Any art form is really about love, and passion, with honest intentions.
5.  Does your royal lineage offer a different prism to view India from?
My lineage is something that's been given to me, what I make of it is what counts. I am grateful to have been born into a thinking, loving family with an interesting multicultural history. They have given me the freedom to carve my own path with complete trust. I have to earn my credibility, not with fame and money, but with the way I work and the choices I make as a professional and as a human.
6. If you could preserve one Indian cultural heritage, what would it be?
India has a syncretic culture; it is the most beautiful and powerful thing about our country, and I wish we could celebrate and protect the beauty in our diversity. It is the need of the hour.
Top 5 Ethnic Wear Looks From Aditi Rao Hydari
1. Somewhere over the rainbow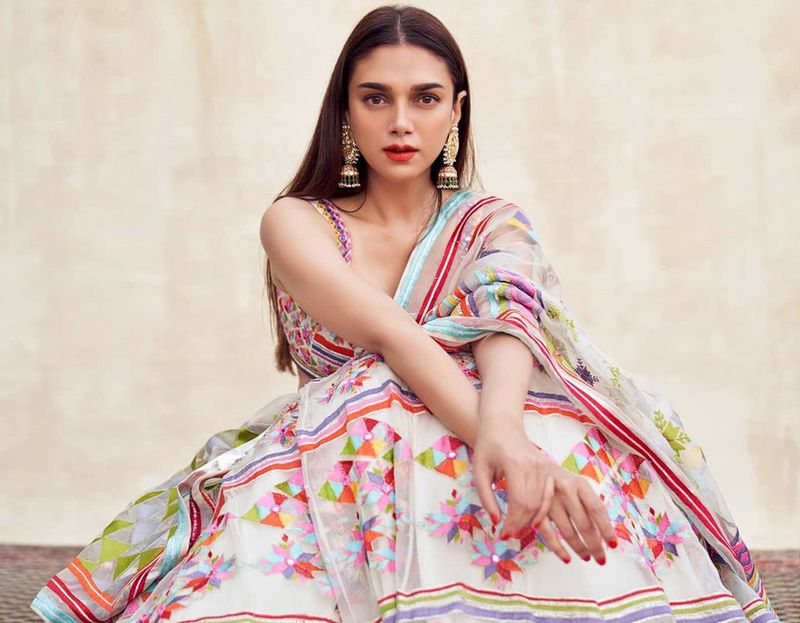 Aditi forms a beautiful relationship with the ensembles she chooses. Take this Sukriti and Aakriti's Neo Phulkari lehenga which adds the right amount of colour without going overboard. Her choice of jewellery is a pair of classic ornate kundan earrings that is understated yet stylish.
2. The royal hue
It is easy to go wrong with his jewel-toned shade of purple, but Aditi makes this royal colour seem tame and majestic at the same time. She wore this Jayanti Reddy Label lehenga with stylish statement dangling earrings.
3. An edgy avatar
At the Sustainable Fashion Day during Lakme Fashion Week Summer Resort 2020, Aditi was the showstopper for Ritu Kumar X Eco Vero showcase. She was wearing an indigo and black asymmetric cutout dress in silk organza. Kumar was inspired by the applique work from Odisha for the dress. The knee-high boots and graphic eye-liner adds oomph to the overall look.
4. Saree not sorry
Draped in a pickle green silk organza saree with gold hand dori work, from Punit Balana's 'Mandana' collection, Aditi exudes royal grace. The matching choker necklace and flowers in her bun complete the look.
5. Ethereal glamour
True to her style, Aditi looks resplendent in this printed fuschia garara with a matching peplum top by Delhi-based fashion designer Ridhi Mehra.
---
Photo: Instagram/ Aditi Rao Hydari