Trust fashion designer and actor Masaba Gupta to whisk you into her realm of kaleidoscopic prints with her bold and avant garde designs. The princess of prints, in collaboration with audio wear brand boAt, presented her latest resort wear collection on Day 3 of Fashion Design Council of India (FDCI) x Lakme Fashion Week (LFW), a joint fashion week which she believes is "the need of the hour" and "will make India stronger as a fashion destination." Aptly titled Masabaland, the spring/summer collection, seeped in nostalgia and comfort, takes cues from the joyful summers of the past – full of priceless conversations with friends and laced with crazy music.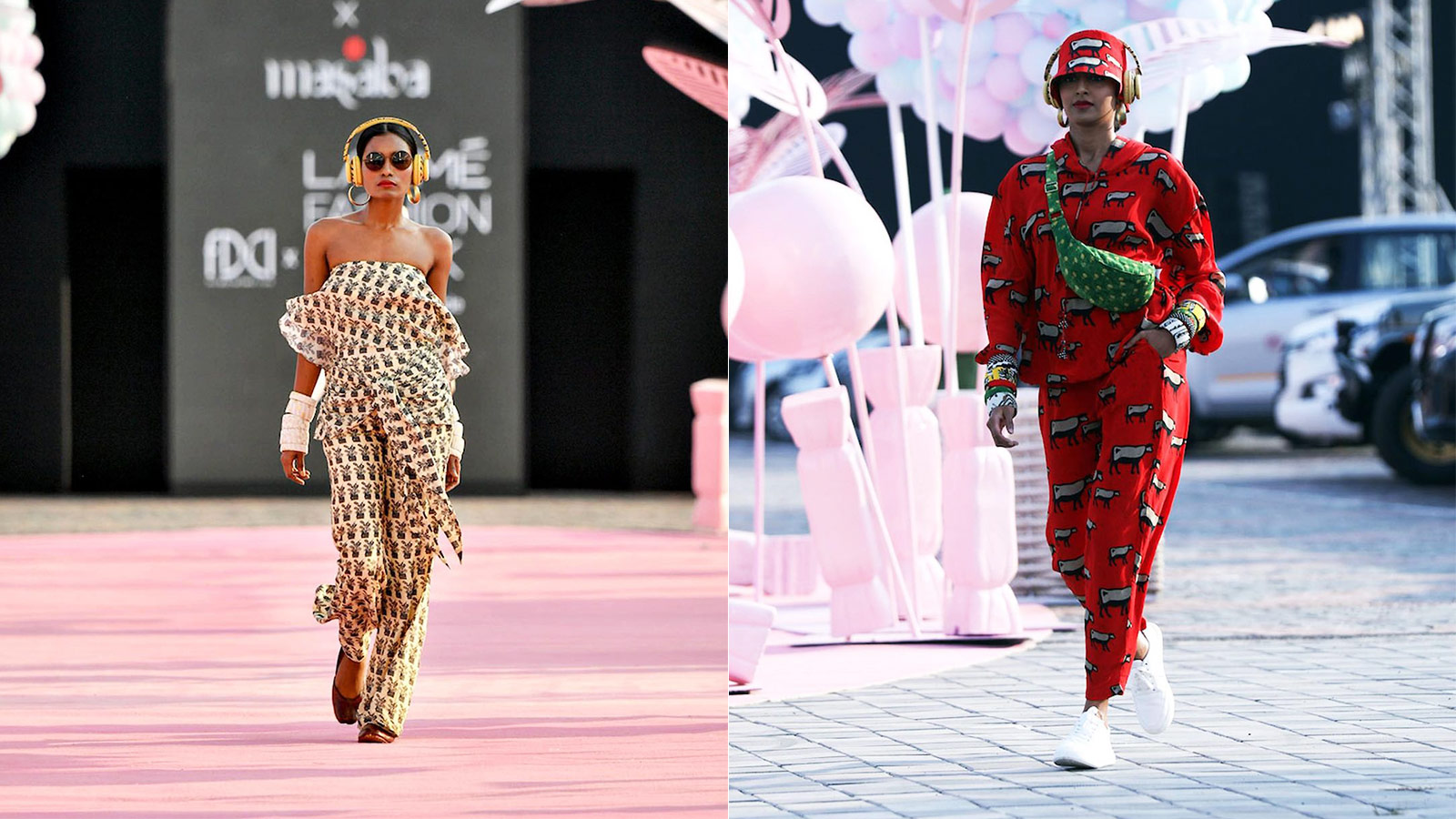 The first drive-in show of the season played the perfect setting to bring alive some of her iconic colours, prints and silhouettes that highlighted the collection. Driven by comfort, easy-breezy kaftans, shirts, cover ups and fusion separates featuring playful florals, exotic animals, and revamped House of Masaba's iconic motifs combined with pop colours is what makes this a season-less collection. An extension of her free-flowing theme, the collection focuses on creating clothing that's comfortable and retail-friendly. "I feel people want to see [full] looks and how to style those. So, we have done just that. You get to see how to dress up in House of Masaba from head to toe," she adds.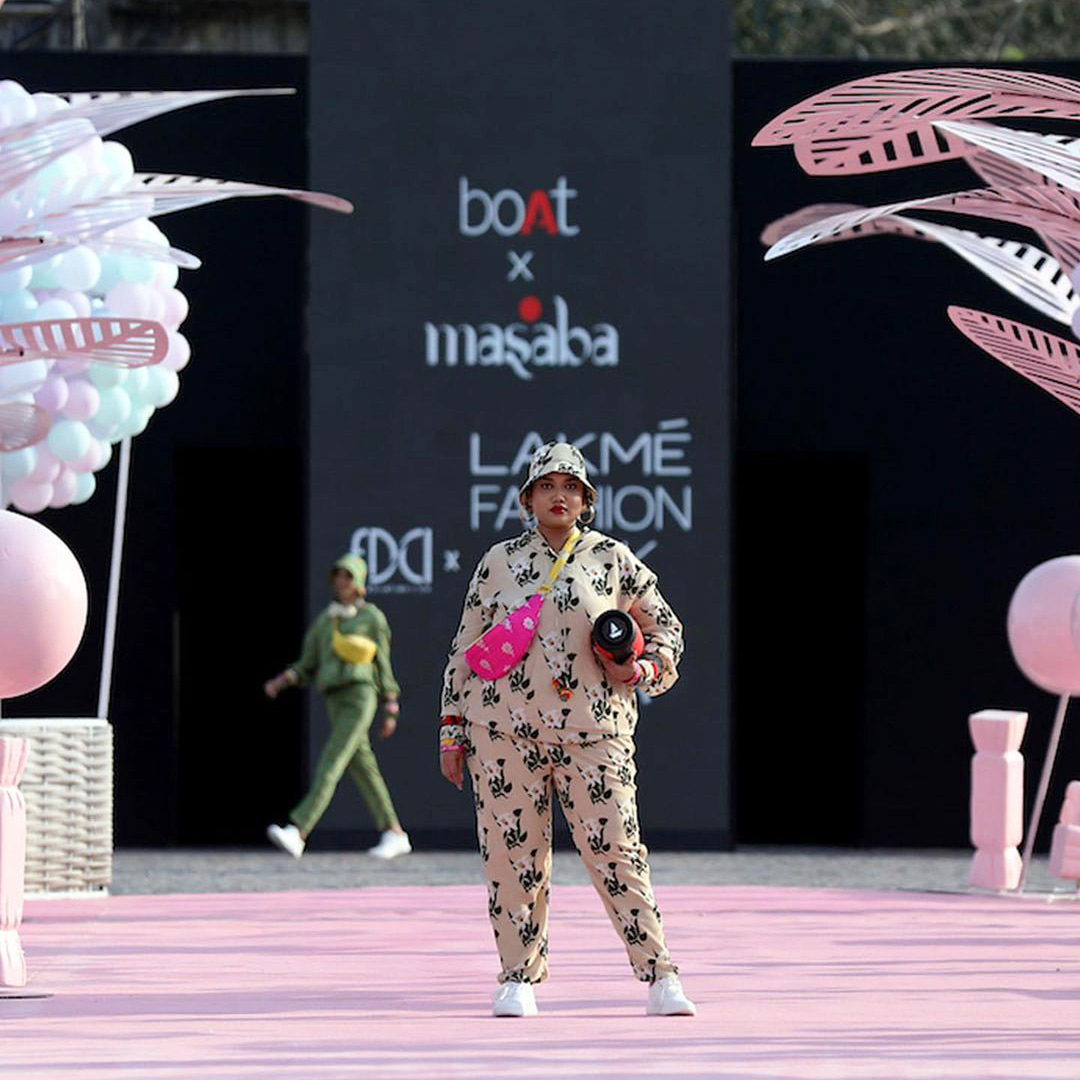 As a woman who has broken several stereotypes, we probe Masaba to share her thoughts about size inclusivity and she says, "I must first explain what this term is, according to me. It means that you are able to service any woman or man of any size." As a brand, House of Masaba, takes pride in making clothing for every size– from XS to XXXL. "Basically, any size that's possible and Masabaland is no different."   
But while being size inclusive, one must not end up making others feel inferior, Masaba rightly points out. "Speaking about inclusivity, while we must include plus size people, we shouldn't make those who are skinny feel inferior either. Inclusivity is about making everyone feel good and feel like an equal. Our brand and its campaigns have always been about that," she explains. 
Speaking about her collaboration with boAt for the second time in a row to unveil a line of uber-cool limited-edition headphones, Masaba says, "I've always believed that music and fashion are two elements that can transport you into the future and give you a chance to reminisce the past. My latest range is inspired by and interprets how music can affect one's mood." She also points out that it has the potential to transport you to an era where nothing is ever boring. Don't believe it? Here is another picture from her latest collection.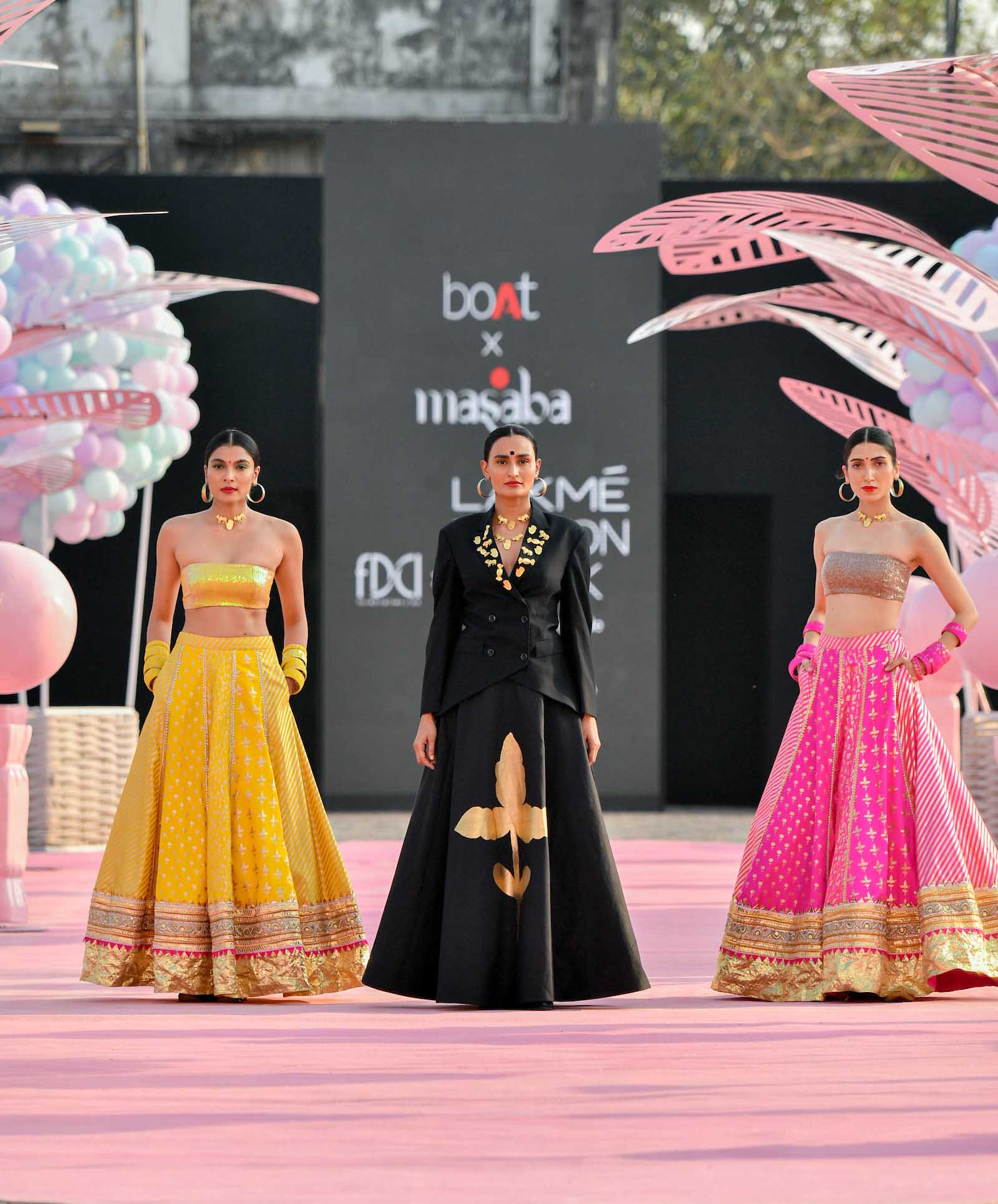 ---
RAPID FIRE
1. An international celebrity you'd love to style? 
Rosamund Pike, Rihanna and Oprah to start with.  
2. If you could invite anybody from across the globe as front row guests to your show, who would it be and why? 
Michelle and Barack Obama because I admire them greatly. Also, because it would be nice to have someone who is not from the fashion industry watching the show and giving their feedback. 
3. One designer you'd love to switch places with and why? 
No one. I quite like the place I am in. 
4. What's a must-have wardrobe staple? 
To be honest, a must-have wardrobe staple varies from person to person. It can be anything that works for you and your body type. However, one thing that is a must-have for me is an oversized cotton white shirt. 
5. Who is your style icon? 
My style icon is my mother (Neena Gupta) and, of course, Beyonce.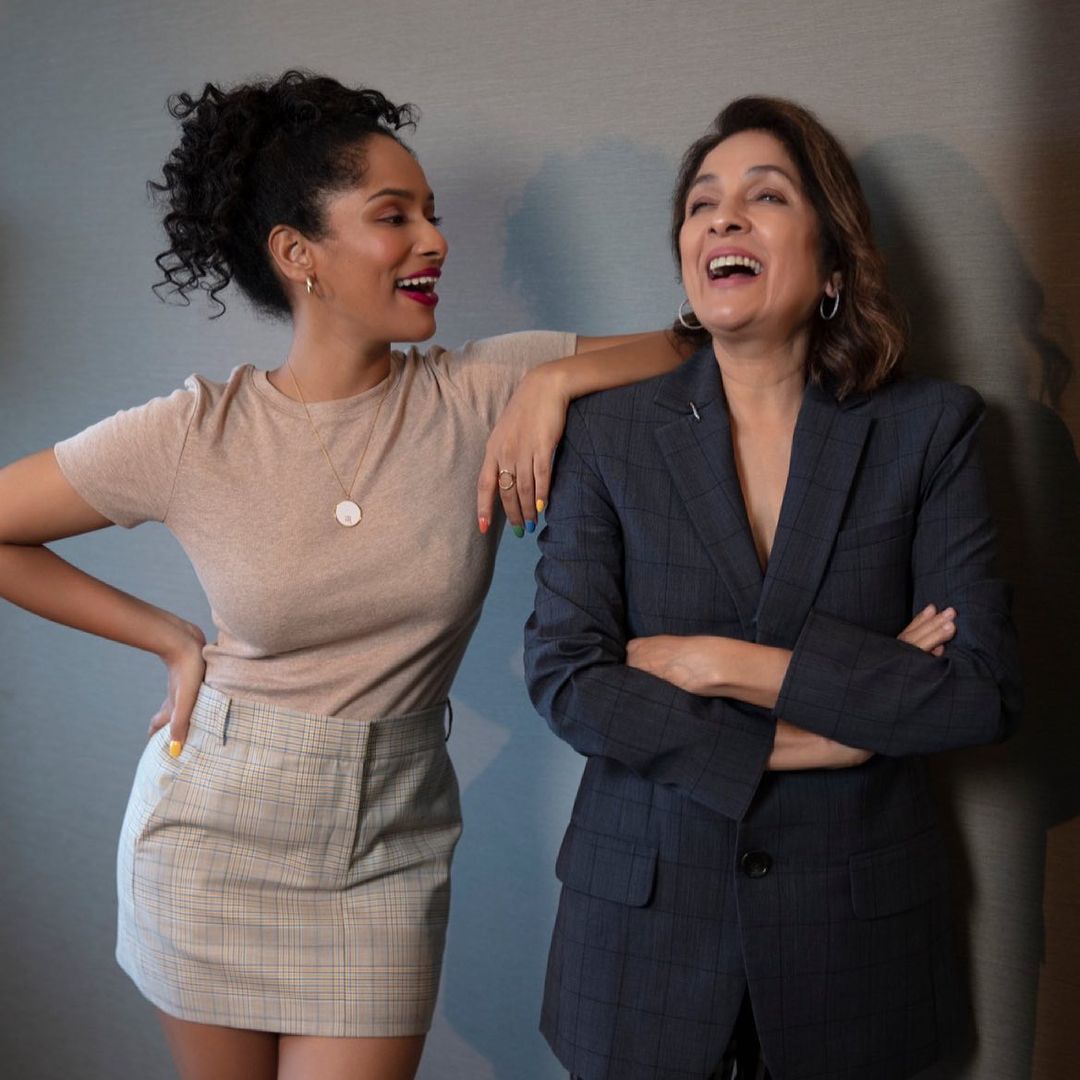 6. You dance, design, act and play tennis. What are you hooked on to the most? 
I am hooked on both, a little bit of designing and a little bit of acting.  
7. One item/trend that will never go out of fashion? 
Comfort will never go out of fashion. Also, a pair of blue jeans!  
8. One positive thing that has happened during the lockdown? 
My focus has increased and there's more clarity in thoughts – these are the two things that have happened over the pandemic, otherwise I am the same person. I've just become calmer than what I used to be.  
9. Fashion trends in 2021?  
I don't believe in trends, so I don't follow them either. I feel that people make trends themselves and then break them. 
10. How does Masaba Gupta unwind? 
By lying in bed for four hours, which is the only time I sleep. Sleeping is the only time I unwind or when I am working out.  
---
Photo: Instagram/Masaba Gupta and Team FDCI x Lakme Fashion Week