India's most-awaited fashion week, organised by Fashion Design Council of India (FDCI) x Lakme Fashion Week (LFW), kicked off on March 16, 2021. Veteran designer Anamika Khanna opened the phygital fashion extravaganza with a dreamy showcase featuring embroidered ensembles for both men and women, from asymmetric kurtas to open-cut sherwanis and fluid pyjamas, inspired by our rich heritage. Embellished tassels and fringes added more drama and made the collection titled 'Timeless World' a perfect fit for the festive season. 
This year's fashion week is different from previous years—for the first time in 15 years, the two organising bodies, FDCI in Delhi and LFW in Mumbai, have joined hands for an exciting new edition of FDCI X Lakmé Fashion Week. Amid COVID-19 precautions, pre-recorded videos and live streams replaced the runway shows but the excitement among the fashion fraternity is palpable. 
On its first day, March 17, 2021, models were seen walking the virtual ramp and posing against thematic backdrops. Tied together by the theme of sustainability, Day 1 saw designers such as Wajahat Rather, Rahul Dasgupta, Akshat Bansal, Arpita Mehta, Paras and Shalini, Pankaj and Nidhi, and Shantanu and Nikhil showcase their collections. 
As we know, with every fashion week comes an array of fashion and beauty trends, and this joint fashion week is proving to be no different. Here are a few trends that caught our eye on Day 1. 
Eco-friendly and sustainable textiles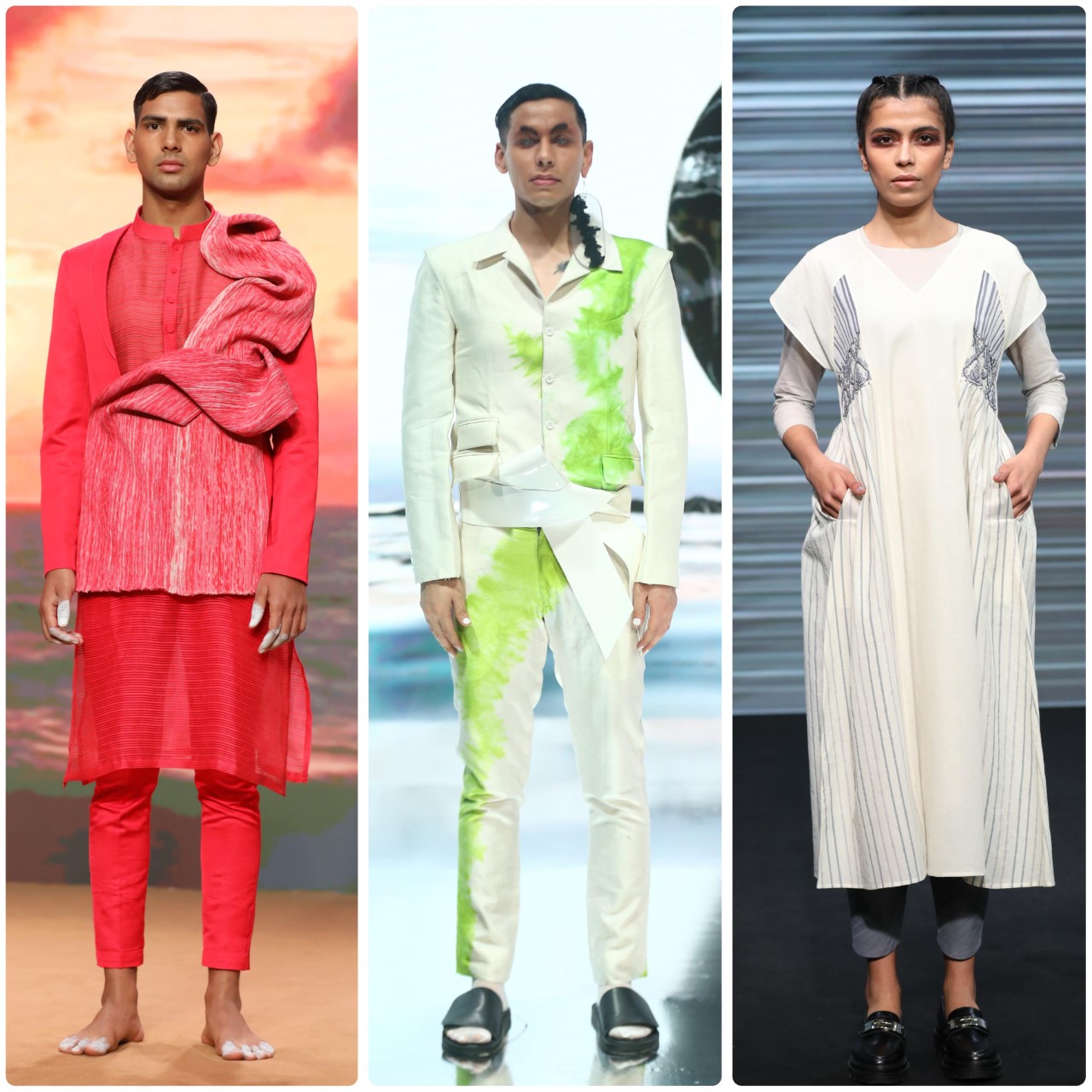 Designers championed sustainability in their collection showcased at the FDCI x LFW event. FDCI Emerging Talent category winner, Bloni by Akshat Bansal, was one of the boldest shows of Day One thanks to it's futuristic representation, clean silhouttes and material innovation. A gender fluid collection titled 'In Between X And Y', this combined traditional artisanal techniques such as tie and dye, hand crochet and knitting with tech-generated fabrics. 
Another example of eco-friendly fashion was seen in the GenNext show by Inter National Institute of Fashion Design (INIFD) featuring designers Wajahat Rather and Rahul Dasgupta. The GenNext program by INIFD celebrates young talent and gives them a platform to showcase their designs. Rather, founder of Raffughar by Wajahat Rather, presented a womenswear line inspired by his hometown Kashmir. Called 'Maazi', the collection made use of handwoven muslin cotton. Meanwhile, Dasgupta, founder of Label Rahul Dasgupta, showcased a menswear line shirts and kurtas made using fabrics such as silk organza and silk chanderi. Dasgupta's line-up drew inspiration from the calmness of the sea and it was represented in his clothes with the help of the Shibori dye technique and colours such as blue, brown, black and bright red. 
Free-flowing silhouettes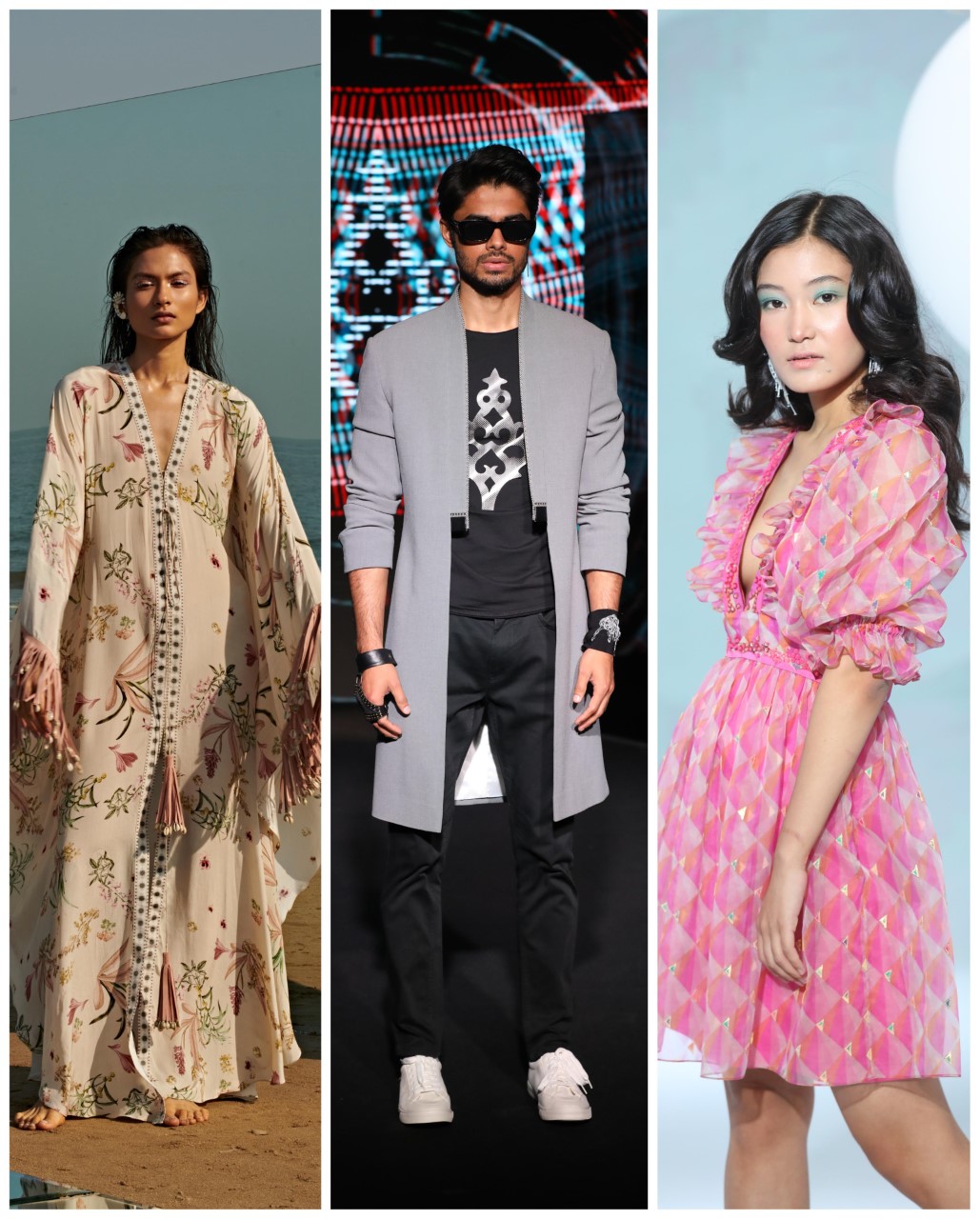 Designers put the spotlight on free-flowing silhouettes that evoke comfort and sensuality. The 'Maazi' collection by Wajahat Rather brought the Pheran silhouettes of Kashmir to the forefront. This womenswear line included kurtas, baggy pants, trousers with Himalayan motifs and calligraphy. Other examples of these silhouettes were spotted in Logitech x Arpita Mehta's resort collection titled 'Reflections' that featured easy breezy and fun kaftaans, strappy maxis and oversized pants with tassels and embellishments, S&N by Shantanu and Nikhil's open-cut sherwanis with Nehruvian details, and Pankaj & Nidhi's sporty-chic flowy maxi and mini dresses in geometric patterns and vibrant hues.   
Coloured prints and patterns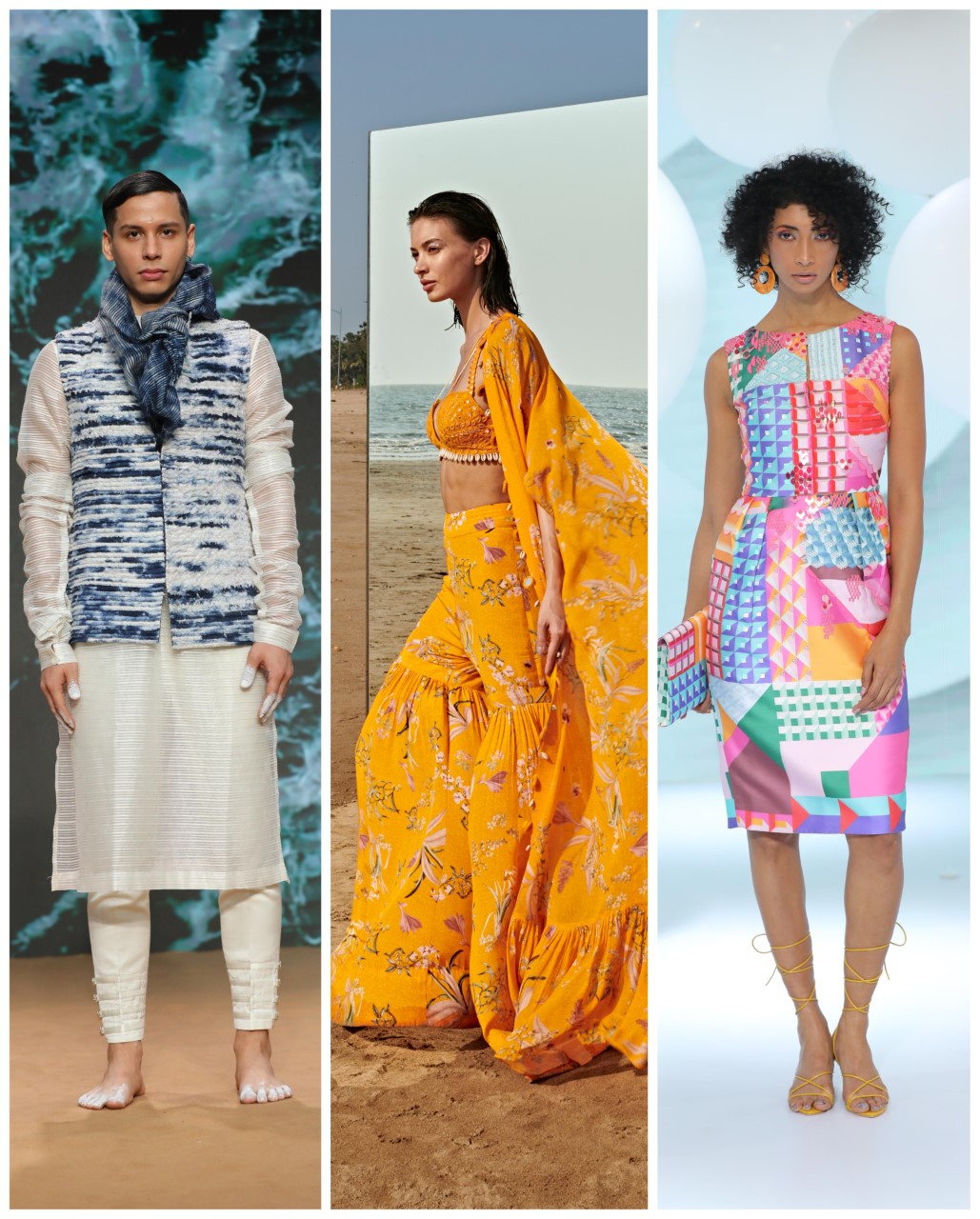 Playful and creative prints and patterns in contemporary styles took centerstage on Day One of FDCI x LFW phygital event. Refreshing floral, abstract to geometric ones in rainbow hues, traditional Indian block prints, shibori dye and tie and dye were the types of prints and patterns featured in collections by Arpita Mehta, Pankaj & Nidhi, Rahul Dasgupta, Wajahat Rather and Akshat Bansal.
Photo: Team FDCI x Lakme Fashion Week