Keeping a six-year-old occupied on long and dull summer vacations at home is a task. Mother took a chance on an activity that she was fond of and proficient in—needlework. Armed with a scrap of cloth, a needle and darning thread she took it upon herself to teach me the most basic of stitches, the running stitch. It was a great way to keep me busy and teach me an important life skill. I took to needlework like a bee to honey. My enthusiasm excited mother and filled her with pride as she went on to teach me how to hem a seam and then onto sewing a button.  
Sewing and needlework, growing up, was an essential part of girls' convent school curriculums. For three years of primary school, we were tasked to master the cross-stitch; each year the canvas of the matty cloth grew as did the expectations to master more difficult patterns. I fumbled, mostly because the way my mother sewed each cross on the perforated fabric was different from what the teacher and my friends were doing. And though school curriculum baffled me, that I was adept at more stitches than the others helped me keep my morale up—satin, herringbone, lazy daisy and the French knot. 
A misguided sense of feminism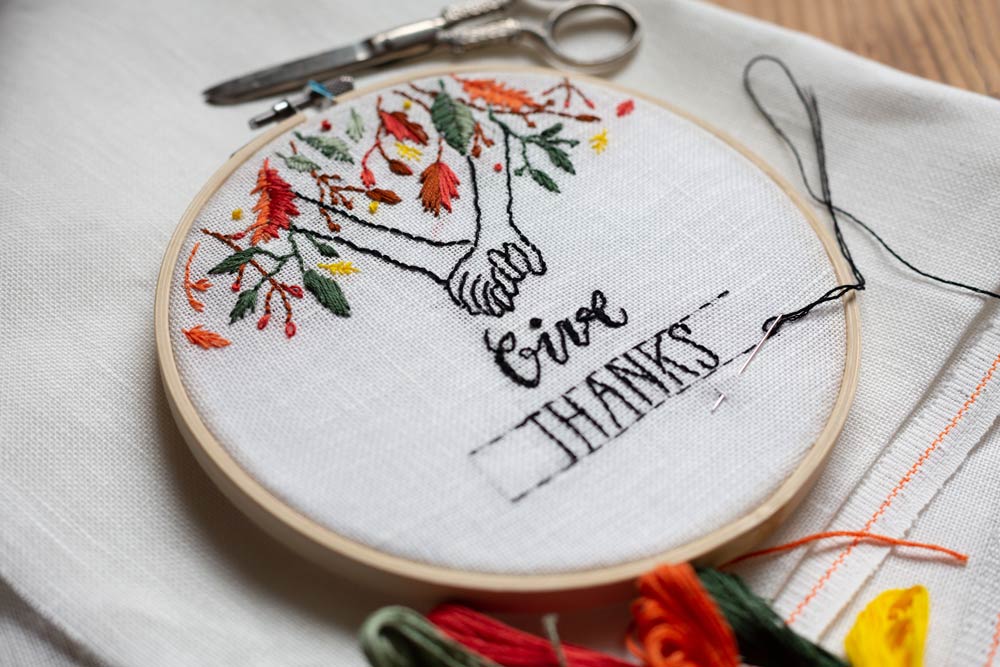 It is a familiar tale for anyone who has memories of needlework. It was always the matriarch who introduced basic 'silai-kadai' to young girls that was to not only help ace the extracurricular activity in school but also learn a skill. As years went by many of us lost touch with what can only be described as an art form. Gunjan Thapar, a student of art history from Visva Bharati University, Santiniketan adds, "I saw it as a 'girly' activity and shunned it." For many, embroidery was a sign of extreme femininity and as teens in a newly liberalised nation it was 'anti-feminist'.  
Eight years ago, I picked up the needle and thread again, to ward off boredom by creating personalised mementoes for friends and family, and to invoke nostalgia for a craft that I used to love. For the last couple of years, more people are finding embroidery as a hobby to take the edge off from the daily hubbub. "Working in Delhi, away from family, I found embroidery cathartic and relaxing, and so much better than binge-watching Netflix!" says Arinita Sandilya, a wildlife conservationist by day and embroidery artist by night. There is a newfound interest in embroidery with more and more people acknowledging it as a bonafide art form. It's a similar tale for Neha Sharma, who is based in the US. "I got back into embroidery while I was studying at university. I found that in my free time outside of studying, I would spend my time watching Netflix and not doing anything productive, so I started cross-stitching again." Alas, for me, the hobby remains a sporadic activity primarily because of lack of discipline and sheer procrastination. 
A revival? 
Cut to 2020, the lockdown and free hands-on time saw many renew their interest in embroidery and acknowledge it as an art form. It's a pity that it has taken so long for it to garner interest and gain popularity. Thapar explains one of the main reasons was that embroidery was not given its due, relegated to only women or artisans. But keeping in mind the amount of time, skill, and attention to detail it requires, it can be a powerful artform, believes Sharma, who uses it as a medium for commentary on socio-political issues. "My series #SouthAsianSunday took off when I started stitching countries that are not normally represented in the South Asian diaspora. 'South Asian' culture is very North Indian-centric in the United States, and I wanted to break that narrative. My most recent #SouthAsianSunday post was a statement to 'end caste supremacy' and to amplify Dalit voices" she says continuing her work despite losing dozens of followers on Instagram. 
Thapar, on the other hand, took it upon herself to bring embroidery to the fore by recreating some of the world's most celebrated art pieces. Her USP is the fact that her embroidered pieces are miniature, made so as to make them available and accessible to more people; these include a version of Vincent Van Gogh's Starry Night and Piet Mondrian De Stijl art. "If my canvas increases so would the price of each piece," she adds. In India, a 'value' driven nation, embroidery still has to deal with biases such as 'anyone can do it', 'why so expensive?' "It's not an artisan who embroiders but an artist. It is time that embroidery is given its due the same way a fine artist or sculptor is given for his/her work," believes Thapar.  
Impact of social media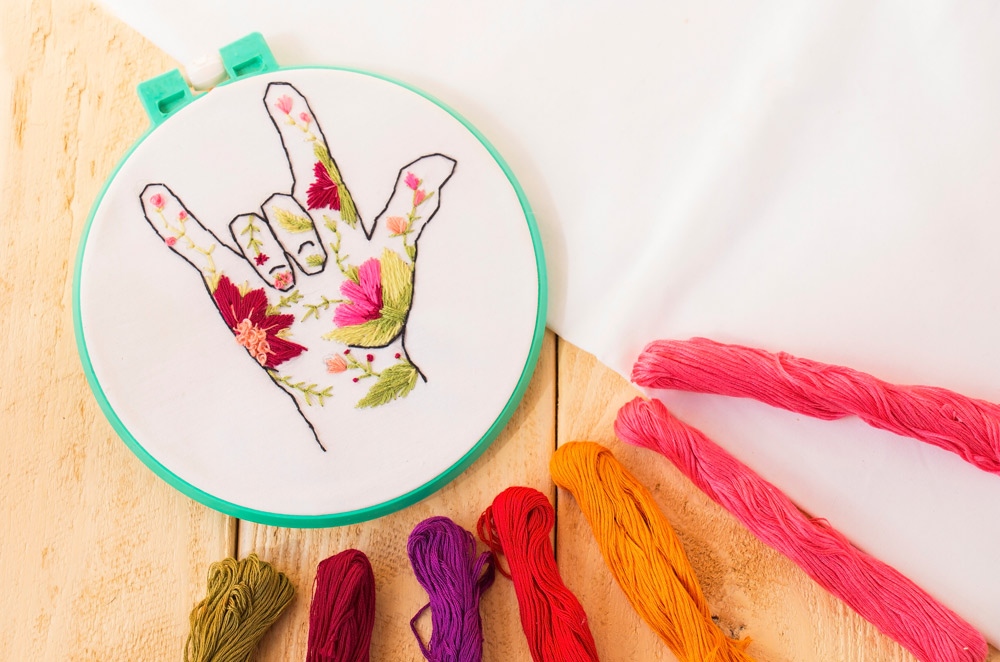 Modern embroidery has a diligent fan-following on social media. Platforms such as Etsy, Instagram and Pinterest have become a haven for embroidery artists to not just showcase and sell their art but also as a source of inspiration. "There is so much happening in this space, there are so many talented embroidery artists. A look through Instagram is enough to overwhelm you. But they are also the best source of inspiration," says Sandilya who sketches out her concept on paper and then takes the old school way of tracing it on fabric by creating a sandwich of carbon and tracing paper. The patterns and messages conveyed in modern embroidery art are not about the delicate and dainty homebody's utilitarian pursuits.  
Mixed medium, for instance, where painting and needlework are combined with ideas such as traditional floral designs with modern elements, social justice or pop culture, have become popular. "The modern embroidery world is full of bold, feminist, and unapologetic patterns where nothing is off-limits and I'm excited to contribute to it. One ground-breaking and the controversial piece I have done is a take on the phrase 'veg biryani is biryani' surrounded by flowers and leaves. Stay tuned for the war that will erupt in my comments section," adds Sharma. 
At the same time, traditional forms of embroidery have their own takers, especially in the home décor enthusiasts. Bengaluru-based Maitrayee Roy Shukla of The Needle Crafter has made a niche for herself, creating vintage-style embroidered table napkins, runners, cushion covers and even Christmas ornaments! She has used the artform as an enabler—she taught her house help to learn a new skill as well as help her with scalability. "During the lockdown, my local tailor was suffering, so he, I and his friends got together to stitch masks," she adds. 
Roy Shukla brings the conversation to a full circle, "There is no formal education for embroidery and needlework. For the majority, it is an art form that is handed down from generation to generation." She herself had lost touch with the little she had learnt in her childhood and had to depend heavily on YouTube. While the younger generation has shown interest as purveyors of embroidery (it is nearly not enough), it is still a dying artform and in need of desperate revival. 
How to get started with embroidery
So, if you want to try your luck at needlework and embroidery, these embroidery artists tell you how to go about it: 
Stitch Kits: Anchor's Stitch Kits are the go-to get you started in your embroiderer's journey; they are available on

Amazon India

 and

Flipkart

.

Raw Material: Any old scrap of cloth is perfect to start. Embroidery hoops (used to hold the fabric taut as you sew), Needles and skeins of threads are easily available on Amazon. You can also check out craft websites such as

Itsy Bitsy

and

The Design Cart

. 




Having said that, your best bet to find the best quality material will be those hole-in-the-wall mom-n-pop shops that sell arts and crafts supply. They are in short supply now.

Patterns and stencils: While computer software may make it easy, nothing beats the trusty carbon paper, tracing paper and a little bit of imagination.
Resources: There are booklets as well as tomes dedicated to embroidery art but start simple with social media platforms such as Pinterest and Instagram. YouTube is a great way to learn new stitches and techniques.
Photo: Shutterstock