Lucknow was founded in the late 18th century when Nawab Asaf-ud-Daula, son of Nawab Shuja-ud-Daula, moved the capital of Avadh, from Faizabad to Lucknow. Under him and the subsequent nawabs, Lucknow rose to prominence as an important centre for culture and continues to be a centre for language, music, arts, and crafts. While Lucknow's street food is legendary, the city is also home to undiscovered monuments, sprawling gardens, art deco buildings, charming markets and makes for a great weekend vacation spot, especially in winter.
Monuments that spell Nawabi splendour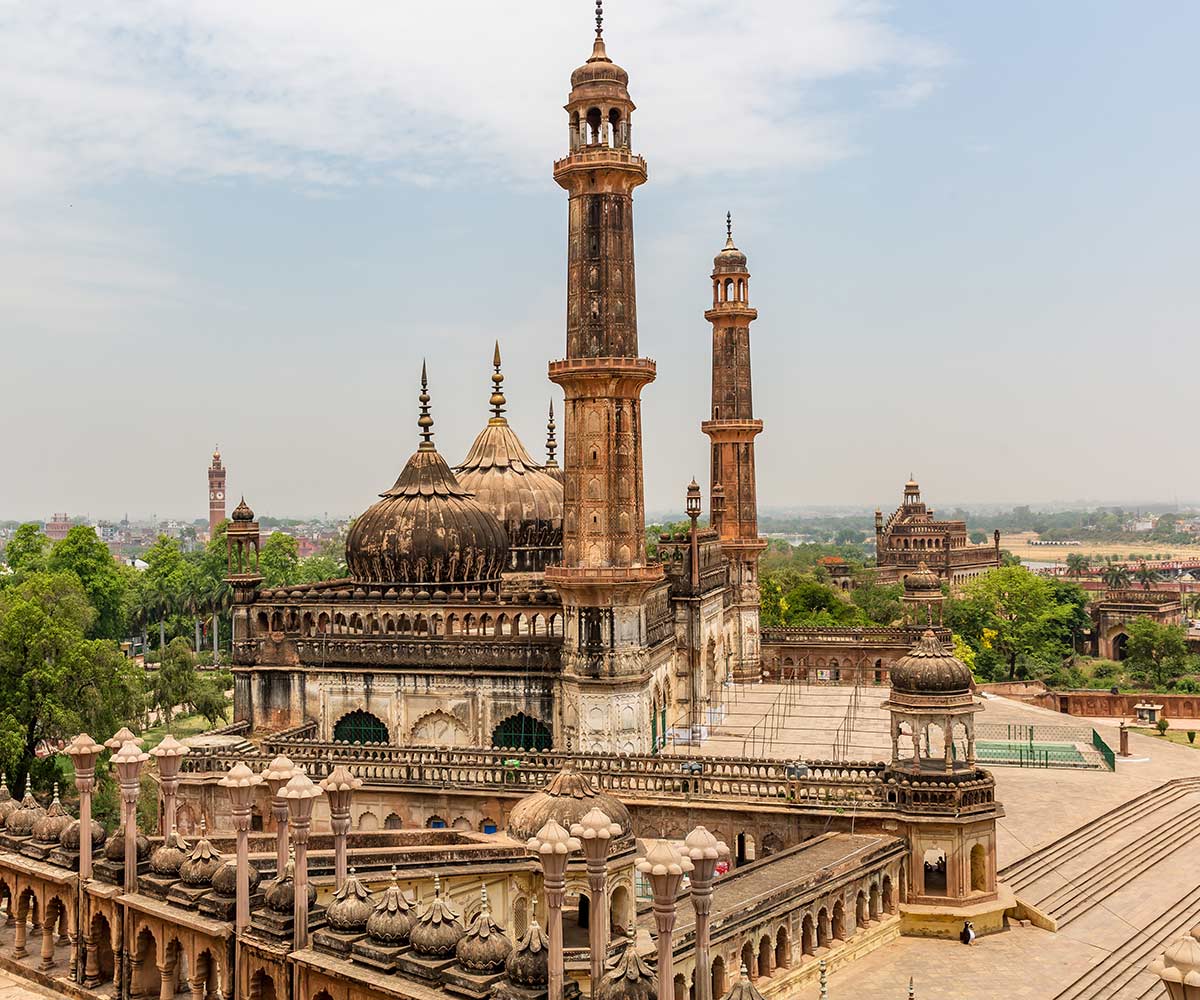 Bara Imambara deserves all the attention it gets. Built by Nawab Asaf-ud-Daula between 1786-91, it remains the grandest monument with an intricate edifice and sprawling compound.
Legends of underground tunnels leading to far off cities like Allahabad and Faizabad, the maze, bhul-bhulaiya, with over 1000 entries and only two exits, and the Shahi Baoli hiding a treasure map makes it attractive to locals and tourists alike.
The Asfi Mosque inside the compound is as grand as it is beautiful but open only for prayers. Climb to the rooftop for sweeping views of the old city, the Gomti River, and the Rumi Darwaza.  
The nawabs of Lucknow were connoisseurs of art and architecture, and nothing showcases that better than Lucknow's iconic gateway, the Rumi Darwaza. This imposing and intricate gate was inspired by the gates in Rome (hence Rumi) and Turkey. Once a gateway to the city, it now stands a testimony to its glorious past.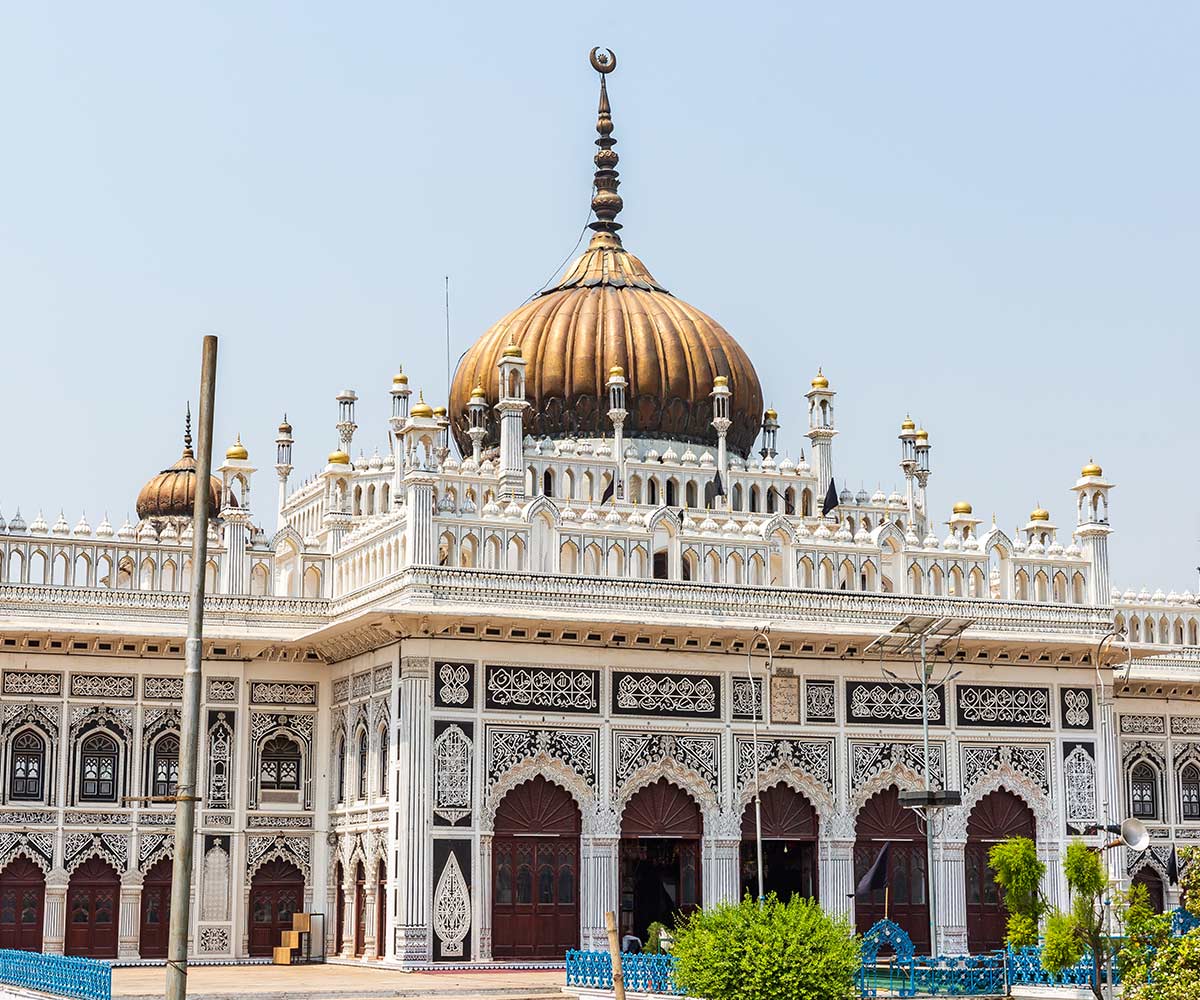 A stark contrast to the simplicity and grandeur of the Bara Imambara, the Chota Imambara is not only smaller but also more ornate. The newer monument stands out with its gilded dome, multiple turrets, exquisite Belgian chandeliers, gold-edged mirrors, and colorful stuccos. The best time to visit all these monuments is early morning when the domes glimmer in morning rays as mist rises from the nearby Gomti.
Lucknow's colonial heritage
Before the British gave it a makeover, Lucknow was a Nawabi bastion. A lot of its facades changed completely when the British took over. They, however, created beautiful colonial buildings in Lucknow which stand to date. Note elements of Art Deco and Gothic styles at Halwasia, Mayfair Cinema, Basant Cinema, Sahu Cinema and the Cathedral Church in Hazratganj, Lucknow's high street.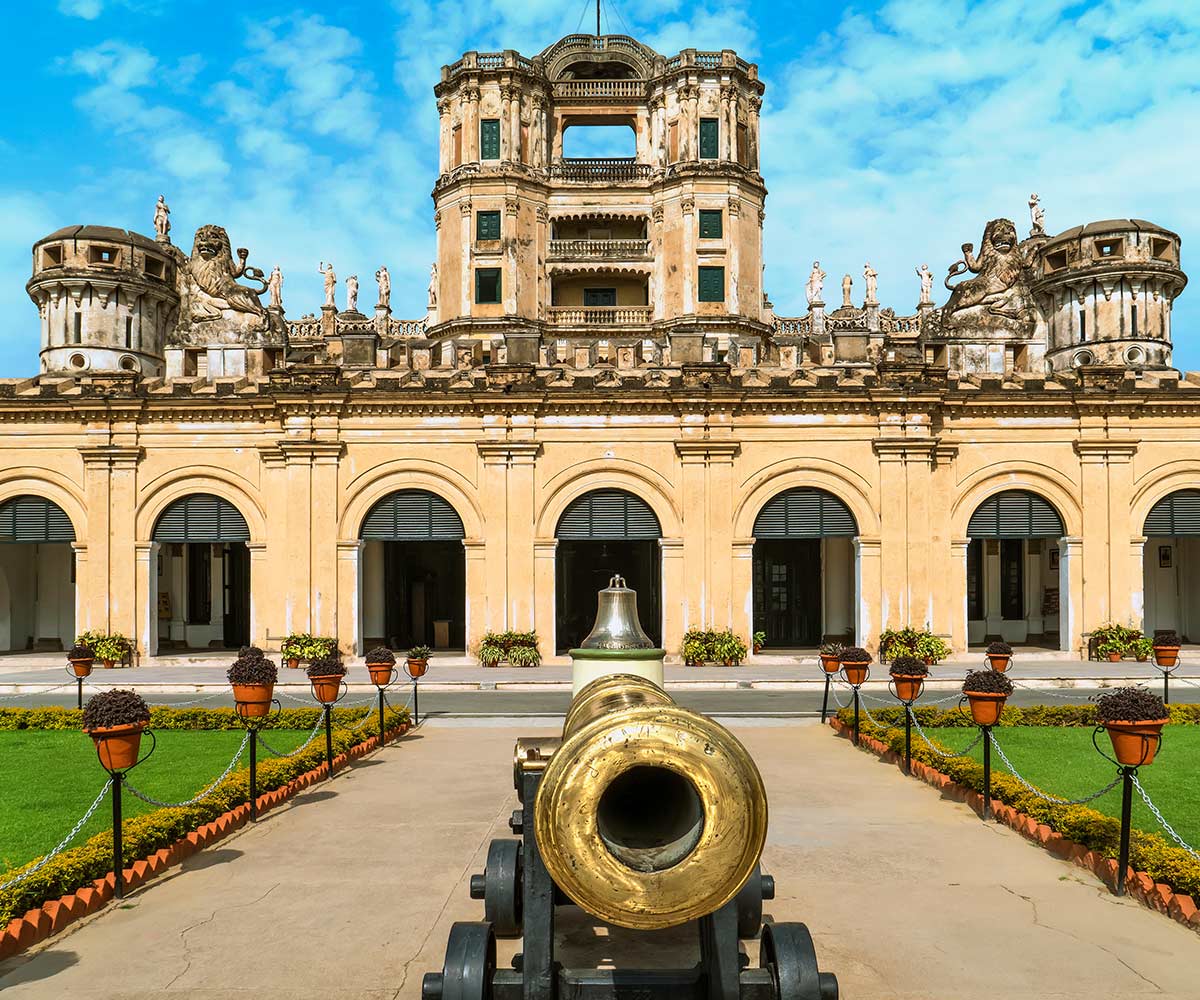 Lalbagh meanwhile boasts of mansions and apartments that may as well be inside the historical quarters of Paris or London. A short distance from Hazratganj, La Martiniere College, is a landmark in Lucknow's history and architecture. The building that now houses a boys school was once the residence of French Major General, Claude Martin, who wanted it to be made into a school after his demise. Built in an unusual mix of styles the Constantia, as the building is called, reflects elements from Persian, Turkish and European architecture. Many a ghostly tale echoes in the corridors here and the place's mysticism draws people from all over.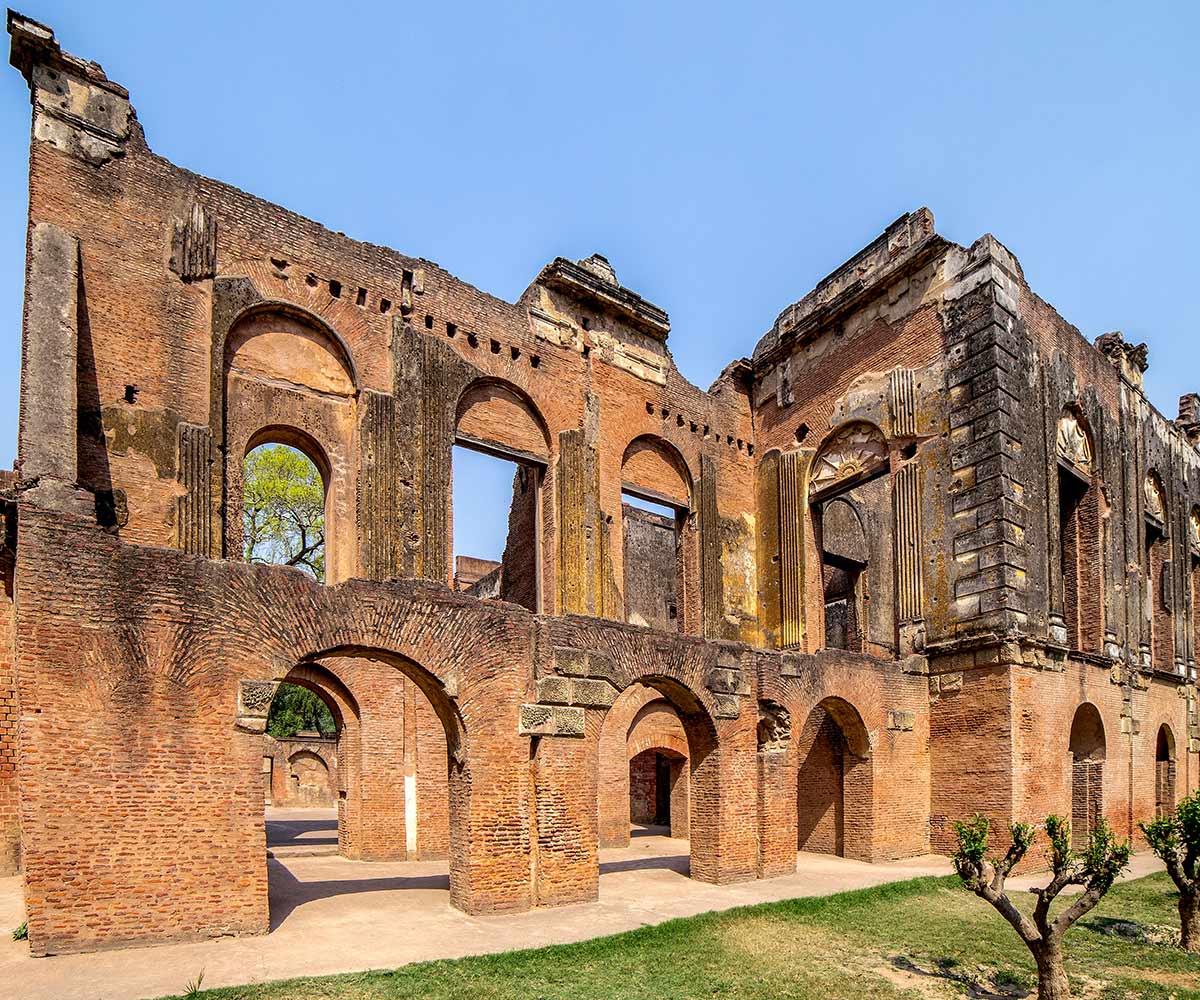 The British Residency is perhaps the finest example of the architectural finesse of Lucknow in the 19th century. The 33-acre area was once a self-sufficient residential colony of British officers, their families, and native servants. The large leafy complex has been left as it was after the deadly mutiny and bears the cannon and bullet holes of the bloody massacre that happened inside. The museum showcases events from the mutiny and reconstructs the events of the mutiny of 1857. 
Want to go shopping in Lucknow?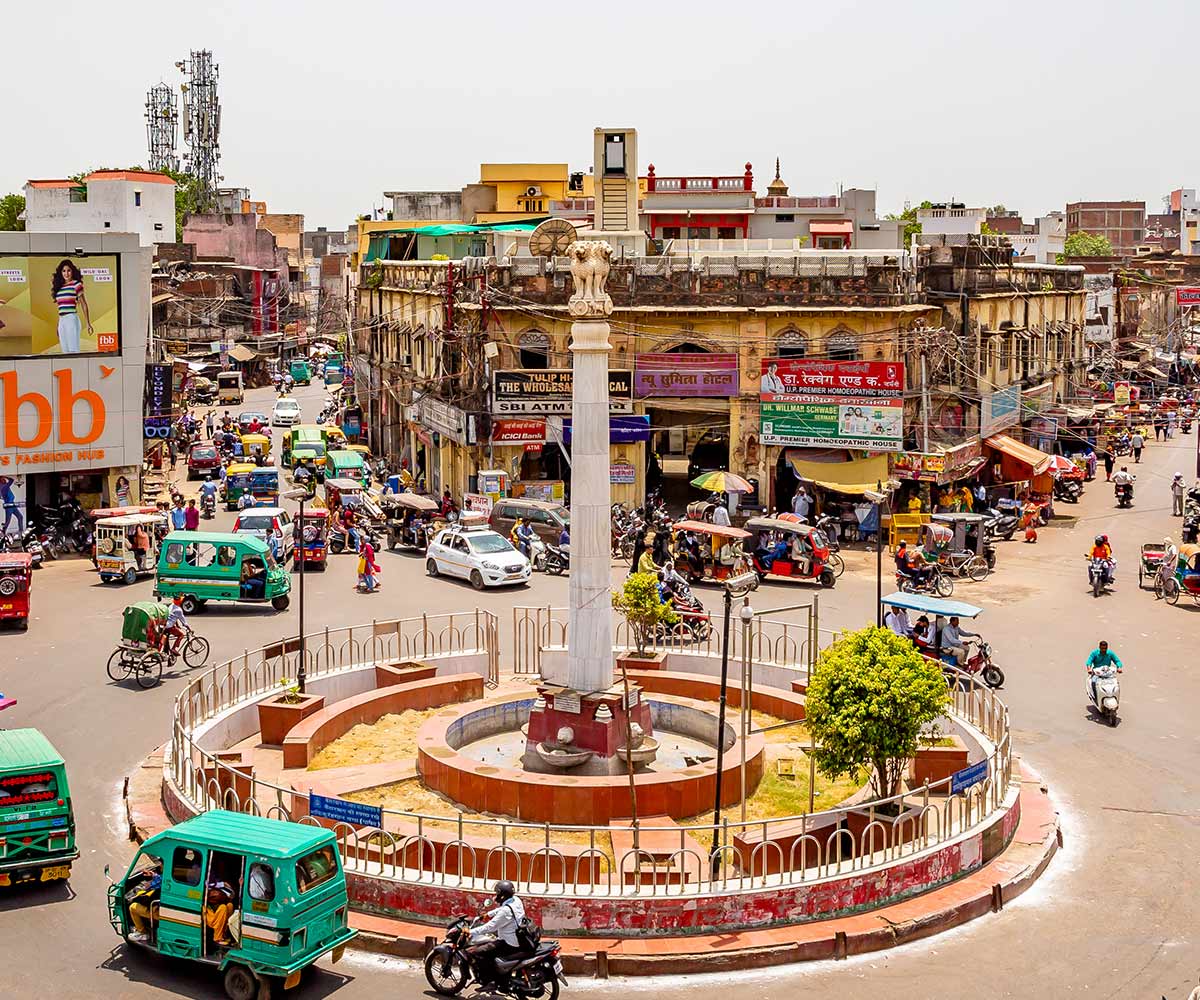 The one place that tops the city's list for shopping is Hazratganj. You can call it the Queen Street of London (after which the British had modelled it), the Champs-Elysees of Paris, or even Gran Via of Madrid, but the city's iconic avenue is much more than just a chic High Street—Hazratgunj is the beating heart of Lucknow.
The real Lucknow shops from the streets of Aminabad where markets are dedicated to everything from guns and rifles to Kolhapur chappals and Kundan jewellery. Here are some places you must visit.The one place that tops the city's list for shopping is Hazratganj. 
1. Sugandhco 
Attar and avadh have long been associated with each other. While you may find many shops stocking perfumes, Sugandhco, a 40-year-old shop in Hazratganj, is the best place to buy local attars. Picking up scents for friends is a must. 
2. Changamal Ram Saran Garg 
No craft signifies Lucknow as much as Chickankari. A 150-year-old enterprise right in the middle of Hazragunj is a great place to pick up good quality chikankari. Home linen, dress materials, readymade garments, saris are a few of the many things you should pick up. 
3. Universal Book Depot
That Lucknow loves its books is evident by the number of bookshops you have in the city. By some accounts, Lucknow is also the best place to buy Urdu and Hindi Literature. Universal Booksellers in Hazratganj is an institution in itself that has the widest collection of Hindi Literature. Stopping by for a long chat with the owner and picking up some Hindi Classics is highly recommended. 
4. Sanatkada Crafts
This boutique brings the varied arts and crafts of Avadh (Lucknow and surrounding areas) under one roof. Contemporary designs of traditional art forms like mukaish, chikankari and zardozi; hand-carved paandaan and khaasdaan, handcrafted wooden combs, notebooks with Lakhnavi pictures, and wall pieces with classic Avadhi motifs can help you carry a piece of the city back with you.
How to reach Lucknow: 
Lucknow is well connected by rail, road, and air from all major Indian and international cities. It is a smooth 6-hr drive from Delhi and a two-hour flight from Mumbai. 
Where to stay: 
Lebua, a boutique heritage stay is great if you want to experience the old-world charm of the city. Hyatt Regency, Fairfield by Marriott Lucknow, and Taj Mahal, meanwhile are newer and more modern options. 
Photo: Shutterstock