A melting pot of literature, culture, architecture, festivals and food—West Bengal has always been a multifaceted state that has a lot to offer beyond the Hooghly river and the typical tea gardens of Darjeeling. What we know today as West Bengal is just a small part of a huge territory known for its fertile lands and trading routes set up as early as the medieval era. Over centuries, changing dynasties left a deep impact on the region's socio-economic background—whether it was the Palas, Mughals, or European colonisers. Today, West Bengal is a harmonious amalgamation of influences from far and beyond that can be witnessed in the social architecture of the state and of the way of life.
But if Bengal for you is all about macher jhol and roshogolla—then it's time to educate yourself and leave the cliches behind. Come experience the real 'Shonar Bengal' that lies beyond what pop culture dictates with Zee Zest and actor-host Sumona Chakravarti, who went on a televised escapade to explore West Bengal and discover its lesser-known stories. Tune into Shonar Bengal —a 10-episode series that will be telecast every Wednesday at 8 pm on Zee Zest. 
Sumona, a multi-faceted actress, is well-known for her comic appearances in The Kapil Sharma Show and her big breakthrough acting in the TV serial Bade Achhe Lagte Hain. However, between all these, her heart was always set on travelling, exploring the unexplored, and has earlier worked on two travel shows, namely Dubai Diaries and Swiss Made Adventures. With her roots in Bengal and her affinity toward the Bengali culture, a fellow Bengali can understand why it's necessary to explore the off-beat and lesser-known cities and experiences while showcasing the state's rich heritage and culture.
Edited excerpts:
1. Why do you think one must watch Shonar Bengal?
First and foremost, because I'm hosting the show (laughs). I think if you like my work, Shonar Bengal is definitely a must-watch. Secondly, I think the state is underrepresented when it comes to tourism. Beyond Kolkata and Darjeeling, I think the rest of the state is not really explored—so this is a great opportunity for the people of West Bengal and the rest of the country to understand the full potential of the state.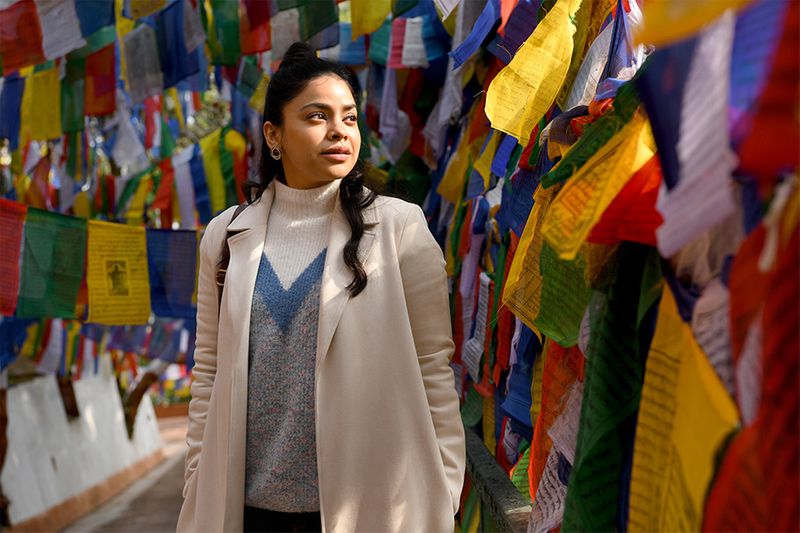 2. Share some of your most unique discoveries in Bengal? What made them special?
I am a probashi Bengali (Bengalis who do not reside in the state). I have never lived in Kolkata or any other part of West Bengal, so for me to explore the entire state across north, south, east, west—and see so many unknown facets—was truly remarkable. I have experienced adventure sports like paragliding, rock climbing, and river rafting here and to find that the state is a haven for adventure sports was really unique. Another instance is that Darjeeling is not just about tea, I tasted one of the best Vietnamese coffee made from local coffee beans here. All of these make Bengal such a unique treasure house, waiting to be discovered.  
3. How do you think the show will help break the stereotypes about the Bengali community and the state?
My personal aim would be to dissolve this whole division between a Bengali residing in West Bengal and one who is not. Because honestly if you're a Bengali, you're brought up in a typical Bengali household—the food, mannerisms, and the various other quirks of Bengali culture are there naturally, irrespective of a geographical location. The other stereotype would be the classical generalisation. People tend to think that Bengal is all about food, sarees, and Rabindra sangeet. But there are people here who are into hip-hop and rap music—art, after all, extends beyond obvious perception. 
4. Can you share one moment of nostalgia while shooting the show and why it meant so much to you?
There are actually two moments. One was in Darjeeling—when I was walking through Mall Road, shooting at Keventers. It brought up memories of my first visit to Darjeeling 10 years ago when I was shooting for the film, Barfi. At that time, I wasn't a popular face. Now, when I was shooting for Shonar Bengal, I was surrounded by fans asking for autographs and selfies. It does make you feel very nostalgic about how time has flown by. From being nothing to being something and to a little more every day—it does make you feel good about your growth and journey! 
Rapidfire with Sumona Chakravarti
Favourite Food: Sushi
Favourite Vacation Destination: Anyplace with mountains or beaches
One beauty product you always carry in your bag: Lip balm
Travel pet peeve: It's definitely a typical Indian woman's problem - finding a clean washroom
Which book you're reading: Ikigai, the second part
---
Photo: Abhik Sarkar for Zee Zest