Gariahat market is one of the most popular shopping destinations in Kolkata. Located in the southern part of the city, the market is a bustling hub of shops and vendors selling a wide range of products, including clothing, accessories, jewellery, handicrafts, and souvenirs. It's a favourite among locals and tourists alike, who flock to the market to experience its vibrant atmosphere and shop for unique yet affordable items.
The market is spread across multiple lanes and alleys, and it can be overwhelming for first-time visitors to decide where to start. However, exploring the market's nooks and crannies is part of the fun, as you never know what treasures you might find. From government-run emporiums that specialise in handloom products and traditional handicrafts to private shopping malls that offer a range of contemporary fashion and lifestyle items, the Gariahat shopping market has something for everyone.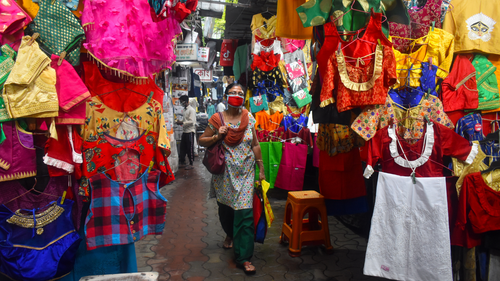 Whether you're looking for traditional sarees, trendy clothing, or unique souvenirs to take home, these shopping destinations offer a variety of options to suit your tastes and budget. So, put on your shopping shoes, grab your roomiest bags, and get ready to explore the colourful and exciting Gariahat Market to experience the joy of shopping in Kolkata.
The must-visit marketplaces worth exploring in Gariahat are of 2 types. 
Stand-alone stores and malls in Gariahat Market
1. Dakshinapan
Located at the southern end of Gariahat Market, Dakshinapan is a government-run emporium that offers a wide range of traditional handicrafts and handloom products. From sarees and salwar kameez to home decor items and souvenirs, Dakshinapan is a one-stop shop for your ethnic shopping needs. The complex also has a food court that serves a variety of cuisines, including North Indian, South Indian, and Chinese.
PS: The emporium has a private shopping mall called Dakshinapan Shopping Complex. The mall is a shopping hub with a plethora of options for clothing, footwear, bags, and accessories.
2. Sriniketan
Sriniketan is another government-run emporium that specialises in handloom products. It is located near the intersection of Gariahat Road and Rashbehari Avenue and offers a vast collection of sarees, dupattas, bedspreads, and other items made from natural fabrics like cotton, silk, and jute. Sriniketan also has a section dedicated to terracotta and wooden handicrafts, celebrating art in its raw form!
3. Gariahat AC Market
Gariahat AC Market is a multi-level shopping complex that houses a wide range of stores, including apparel, footwear, electronics, and groceries. The complex has a central atrium that provides natural light and ventilation, making it a comfortable shopping experience even during the hot summer.
4. M.P. Birla Planetarium Complex
The M.P. Birla Planetarium Complex is a unique shopping destination that combines science and commerce. In addition to the planetarium and science museum, the complex has a shopping centre that offers a variety of products like books, DVDs, toys, and scientific instruments. It's an excellent place to buy educational gifts for children and science enthusiasts, making it a treasured shopping spot in Kolkata.
The local market scene in and around Gariahat
1. Ballygunge New A.C. Market
Located near the Ballygunge Phari crossing, Ballygunge New A.C. Market is a popular destination for shoppers looking for affordable clothing and accessories. The market has several vendors that offer trendy outfits, footwear, bags, and costume jewellery at reasonable prices. You can also find a variety of knick-knacks and trinkets to get your hands on as you stroll through this bustling market.
2. Triangular Park
Triangular Park is a small but vibrant shopping hub located at the intersection of Rashbehari Avenue and Gariahat Road. The park is surrounded by shops that sell apparel, footwear, jewellery, and accessories. You can also find several street vendors selling a variety of items like sunglasses, mobile phone accessories, and decorative items. If you are looking to explore street shopping in Kolkata, Triangular Park is a must-visit.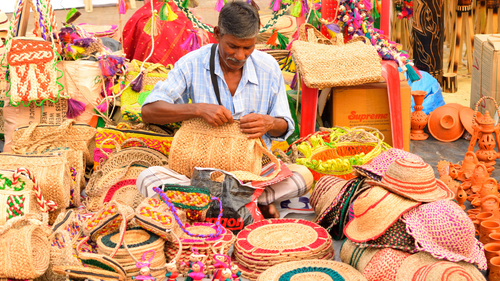 3. Jodhpur Park Market
Jodhpur Park Market is a popular shopping destination located near the Jodhpur Park crossing. The market has several shops that sell trendy clothing, footwear, and accessories. You can also find stores that offer -smacking Bengali sweets, snacks, and street food to feast on as you shop away.
4. Lake Market
One of the busiest shopping areas of Gariahat Market in Kolkata, Lake Market is located near the southern end of the market and is easily accessible from any part of the city. The market is spread across a large area and is divided into several sections, each specialising in different types of products. The market is known for its affordable prices, and shoppers can find a variety of items at reasonable rates. From clothing and accessories to household items and groceries, Lake Market has something for everyone. The market is especially popular among college students and young professionals looking for trendy and affordable fashion.
One of the highlights of Lake Market is its food section, which offers a range of Bengali sweets, street food, and snacks. Visitors can indulge in popular dishes like jhal muri, puchka, and mishti doi, among others. The food section is always crowded, and shoppers often have to jostle for space to get a taste of their favourite delicacies.
Pro tip: Shoppers can haggle with the vendors to get the best prices and deals. Other than Gariahat Market, shopping in Kolkata is stretched far and wide. With a plethora of things to do in Kolkata, this city makes a journey to the West an absolutely enriching experience.
---
Photo: Shutterstock