From the iconic Victoria Memorial to watching a match at Eden Gardens, chowing down West Bengal's famous food, and shopping for cheap knick-knacks in New Market. Whatever kind of holiday you are looking for, there are several things to do in Kolkata. And, a trip there is a lovely glimpse into Shonar Bengal.
In the morning in the city of joy, you can take a tram ride around Kolkata and begin your day with kochuri and aloo. Better yet, hop into a yellow cab and beat the traffic to Park Street to enjoy a European breakfast at Flurys (it opens at 6:00 a.m.). We could not think of a better way to begin a vacation in Kolkata. Locally considered to be the intellectual, cultural, and art capital of West Bengal, Kolkata has many reasons that make it worth visiting.
Walk around Kolkata and you'll notice the many ways in which the city has been influenced. The former capital of the British Empire in India, Kolkata naturally has heritage buildings displaying British architecture at its finest. But in recent years, it's been touted as the street food capital of India. And, rightly so, as the city has given us phuchka, Kathi rolls, jhalmuri, singara, Mughlai paratha, fish fry, and more. While the street food of Kolkata remains unmatched, the city can also be credited to be the birthplace of Chindian, rather Hakka Chinese-Indian cuisine.
We would be happy with the capital of West Bengal simply being a foodie's dream city. But Kolkata is also home to a vibrant theatre scene and a thriving music scene. A holiday here can be one of several combined interests that include history, art and culture, and food. Although, before you begin planning all the things to do in Kolkata and get excited, keep in mind that the city can be very crowded. The busy city has a large population and is a tourist-friendly destination, so you'll almost always be in the midst of a crowd. 
Things to do in Kolkata 
1. Visit Victoria Memorial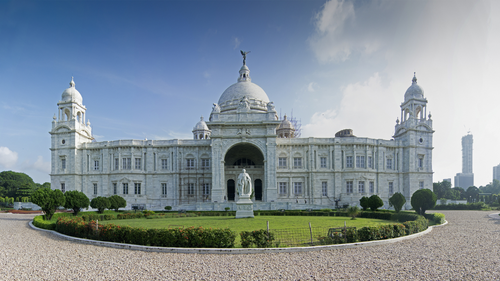 This is a must-do on any travel guide for Kolkata. It may be a cliché, but the Victoria Memorial is a piece from the former British capital's rich past, and gives you a glimpse into the influence the Raj once had. This grand marble building, built in the early 20th century in honour of Queen Victoria, is a must-see for history buffs. Featuring the Indo-Saracenic Revival architectural style, the marble building is worth marvelling at. It's one of the most important places in Kolkata to visit if you are looking for insight into the history of the city. It houses a museum with a collection of artifacts and paintings from the era of the British Raj in India.
Location:  Queens Way, Maidan, Kolkata
Timings: 10:00 a.m. to 5:00 p.m.
2. Admire the Marble Palace
If you are an architecture buff, chances are you already have The Marble Palace on your list of places to visit in Kolkata. If not, you must pen this in! One of Kolkata's most luxurious residences, the Marble Palace was constructed by a Bengali merchant Raja Rajendra Mullick in 1835. You may have already guessed that the residence, from the ceiling to the floors, is entirely made of marble. It is said that 126 different types of marble were used in its construction, but what will further leave you in awe of the material is the intricate patterns carved on the arches that lead to the open courtyard (a classic feature of Bengali homes). Wearing the neoclassical architectural style, this palatial mansion is free to visit, but you need to obtain permission in advance from the West Bengal Tourism Information Bureau. 
There are guides who will take you around the palace for a tour, but large parts of the structure are out of bounds as it is a private residence. You can explore the painting room, the lawns, and even the private Marble Palace Zoo that sits within the premises. 
If you're curious about more palatial homes, you could also plan a getaway to any of the rajbaris in Kolkata. There are so many worth visiting, it's no surprise that the city's moniker is the City of Palaces.
Location: Opp Ram Mandir, Muktaram Babu Street, Jorasanko, Kolkata
Hours: 10:00 a.m. to 4:00 p.m., closed on Mondays
3. Take a boat ride at the Prinsep Ghat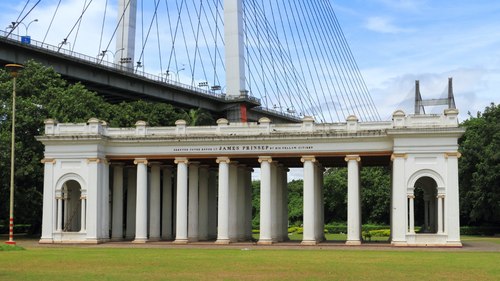 Sitting on the banks of the river Ganga, Prinsep Ghat was built by the British in 1841. Built in honour of an ingenious Anglo-Indian researcher and scholar, James Prinsep; the ghat was used as a jetty by the British for passengers. Today, it's an iconic structure and holds a place of importance in Kolkata's history. That's why it needs to be on your list of things to do in Kolkata. Ample benches are around for you to take time out for a view of the sunset. The architecture is worth gawking at as well. You can admire the Palladian porch, which is significant for its Greek and Gothic inlays. The entire structure is square-shaped and is supported by Ionian columns supporting a forty-foot ceiling.
You can also take a boat ride here for Rs. 500 for an hour and enjoy the serenity and calm along the ghat. It offers great views and lots of peace, making it a perfect add-on for your vacation list.
Location: Fort William, Hastings, Kolkata
Timings: 12:00 a.m. to 12:00 p.m.
4. Photo walk through Mallick Ghat Flower Market
One of India's largest flower markets, the Mallick Ghat Flower Market is worth visiting if you love street photography. Head there in the morning to explore the different florals and photograph wholesale vendors going about their day. While this may be one of the most chaotic experiences, amongst the dizzying crowds you can find a variety you will spot only in West Bengal. The market is about 165-years-old and vendors arrive in the wee hours of the morning to set up shop, so it's best to visit the market early in the morning.
Location: Strand Bank Rd, Fairley Place, B.B.D. Bagh, Kolkata
Timings: 24 hours
5. Stroll across the Howrah Bridge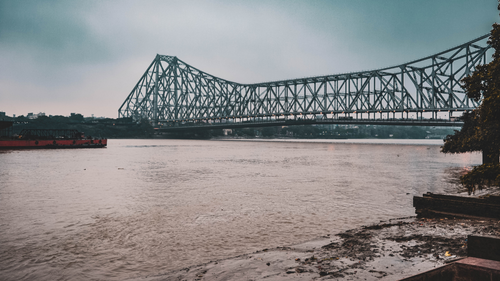 This iconic bridge, which spans the Hooghly River, is symbolic to Kolkata and a popular tourist attraction. You can take a stroll across the bridge and enjoy the views of the river and the city. It is also one of the busiest bridges, connecting Howrah to the main city of Kolkata, so be prepared to witness vehicles whizz past you.
6. Walk around the Maidan
One of the most unique experiences in Kolkata, a visit to the Maidan is a must. One of the oldest urban parks in the city, it spreads across 1,000 acres and is also home to several sports clubs and sporting activities. There are ample football grounds here and you'll feel the presence of Kolkata's football clubs such as Mohun Bagan, East Bengal and Mohammedan. You can catch a beautiful view of the Victoria Memorial from the Maidan.
7. Take a trip to the Indian Museum
One of the oldest and the largest museum in Kolkata, the Indian Museum was built in 1814. So, it should definitely be on your list of things to do in Kolkata. The building alone holds a lot of history, as the Indian Museum is the first to have been established in India and ninth in the world. You can stroll across the galleries here and gaze at a rare collection of fossils, mummies, skeletons, and more. If that doesn't fascinate you, take a look at the Mughal paintings on display. The museum also has galleries dedicated to birds, insects, botany, and other galleries such as coin art gallery, Egypt art gallery, and bronze gallery, among others. 
Location: Jawaharlal Nehru Rd, Fire Brigade Head Quarter, New Market Area, Dharmatala, Taltala
Timings: 10:00 a.m. to 5:00 p.m., Tuesday to Friday
Entry fee: Rs 20 for children, Rs 50 for adults
8. Dine at Kolkata's first hanging restaurant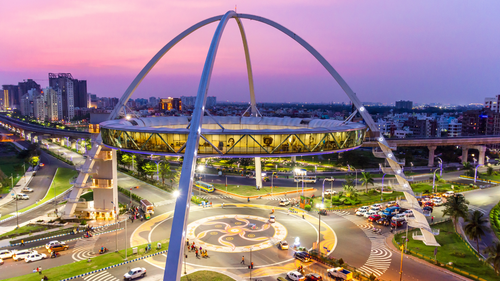 Kolkata got its first hanging restaurant a few years ago at the Biswa Bangla Gate in New Town. The design of the Biswa Bangla Gate pays homage to Rabindranath Tagore and his composition 'where the mind is without fear.' The cultural landmark has an observation deck and a souvenir shop for visitors. The entry fee is Rs. 100. There is also a fine-dine restaurant, Oval Lounge, and the design of the gate has made this a one-of-a-kind hanging restaurant. Complete with glass walls for guests to catch a bird's-eye-view while they eat, this restaurant is worth visiting. You can sample North Indian and Continental food and cocktails here at the Oval Lounge.
Location: Biswa Bangla Sarani, Major Arterial Road(South-East), Action Area I, Narkel Bagan, Newtown
Timings: 12:30 to 3:30 p.m., 7:00 to 9:30 p.m.
Price: Rs 2,500 for 2 people
9. Tour Tagore's home, Jorasanko Thakurbari
If you don't have time for a day trip to Shantiniketan, a place you must visit in Kolkata is the Jorasanko Thakurbari. Located in central Kolkata, this is the ancestral home of the Tagore family and the birthplace of Rabindranath Tagore. Spread across 35,000 sq. mtrs., the palatial mansion originally started as a small house to which wings were added. The Bari adopted the name Jorsanko as there are two Shiva temples nearby. You can stroll along this quiet home admiring the architecture that's typical of such homes in West Bengal. Jorasanko Thakurbari has now also become the campus for the Rabindra Bharati University. 
Location: Ganesh Talkies, 267, Rabindra Sarani, Singhi Bagan, Jorasanko, Raja Katra
Timings: 10:30 a.m. to 5:00 p.m., closed on Mondays
Entry fee: Rs 20 for adults, Rs 10 for students
10. Eat around Teriti Bazaar in Tangra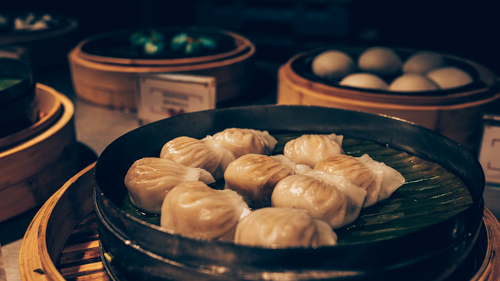 Kolkata's old Chinatown, the Teriti Bazaar in Tangra is where you should go to sample Indo-Chinese cuisine. So, dig into delicious home-made Indo-Chinese food at the stalls and restaurants around here. Dig into sui mai, rice and sesame seed balls, breaded pork chops, chicken pies, and a lot of other items. Located on Sunyet Sen Street, this market comes alive early in the morning and is a great place to grab breakfast.
Location: Sunyet Sen Street
Timings: 5:00 a.m. onwards, closed on Sundays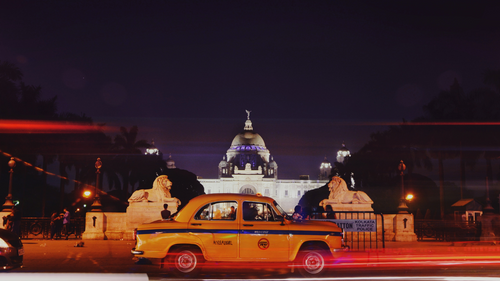 Best time to visit Kolkata 
Ignore the scorching summer months or even monsoons. Plan a trip to Kolkata in the winter because you can enjoy the gleaming Christmas and New Year lights on Park Street. You can also plan your vacation around Durga Pujo and Dussehra, but that is a whole other list of things you can do in Kolkata. So, let's keep that for later!
---
Photo: Shutterstock