Last September, when Chef Vikramjit Roy opened The Tangra Project in Delhi, he wanted to present Kolkata food in a contemporary way to the people of the capital along with a surprise up his sleeve.In Kolkata and its suburbs, jhalmuri or moshla muri is sold in circular tin boxes with separate compartments for the various ingredients. The muri-maker skillfully comes up with the best mix possible from that compartmental box that he carries around his neck. Roy created the same in his TTP including a replica of the newspaper which plays an important part in serving the jhalmuri.
Kolkata is often attributed as the street food capital of India. A few years ago, when an independent travel portal carried out a survey on the most coveted street food destinations in India, Kolkata made it to the top with Amritsar coming second followed by Ahmedabad, Delhi, and Mumbai. Leave aside the debate that ensued the results of the survey and the question still remains: what makes Kolkata street food so cherished and memorable?  
Well, for starters it's the variety of traditional yet influenced food and the pocket-friendliness factor. The top choices here vary from vegetarian to non-vegetarian, from Bengali to Chinese and Awadhi to South Indian.
Since the last century, the need for street food, the point of sale, and what gets sold has been largely influenced by the working population, settling working community, commercial hubs in the city, and adaptation of food. The earliest commercial hub of the city was in the Dalhousie area and when Kolkata Port was a busy place for commercial activities—Dacres Lane catered to many. How can one forget the High Court Para - Kiran Shankar Roy Road? In the same vicinity of Dalhousie, in this area, there are street food stalls on both sides of the lanes and many times a lawyer and his client will be seen visiting the same luchi alur dom shop. Slowly came other places as shopping hubs started opening up like Dakshinapan Market in Gariahat, Vardaan market, Hathi Bagan, and Bidhan Sarani. The IT hub in Salt Lake Sector V attracted the migrant population and soon street food joints popped up to cater quick fare to the white-collar working population there. Over time, the local neighbourhood or 'paras' also started attracting roadside vendors and most of the time, residents will vouch that their neighbourhood has the best phuchka or telebhaja.
Choices are plenty when it comes to street food in Kolkata, yet some dishes remain evergreen. Here are 10 most famous street foods of Kolkata and where you can find them.
1. Jhalmuri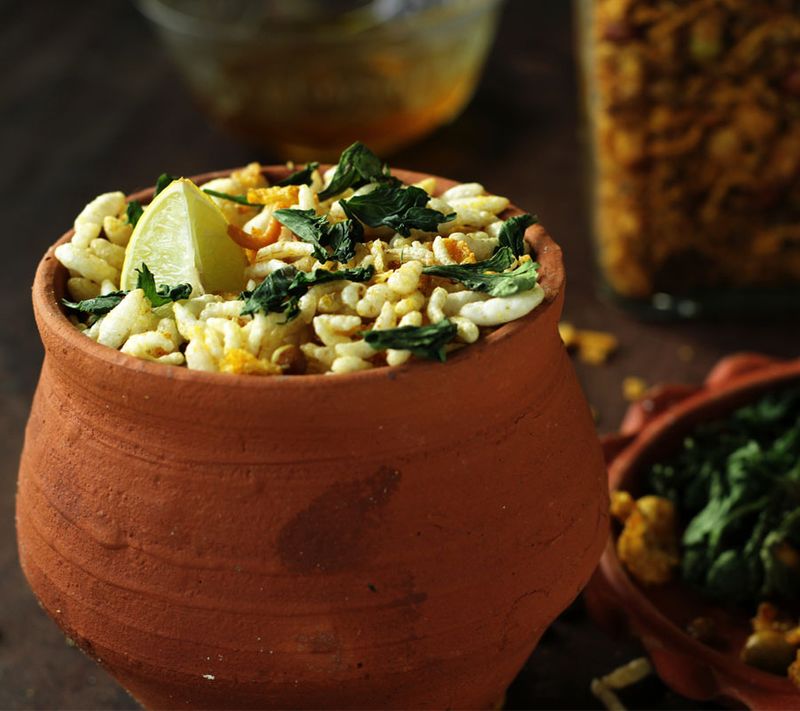 It's not bhelpuri but jhalmuri. Puffed rice mixed with various condiments, a drizzle of mustard oil, a few chopped onions and chillies, shake shake shake or juggle creatively. Add a sliced coconut on top and it's ready. There are many places across the city that serve some mean, slick jhalmuri. Check out Shahid Mondol near BBD Bag bus stand who has been selling here for more than two decades now. The pavement outside Shreeram Arcadeion Esplanade has some great jhalmuriwalas as are the muriwalas in North Kolkata near Bethune College, Scottish Church College in Hedua, and many more. 
2. Chili Chicken and Chow Chow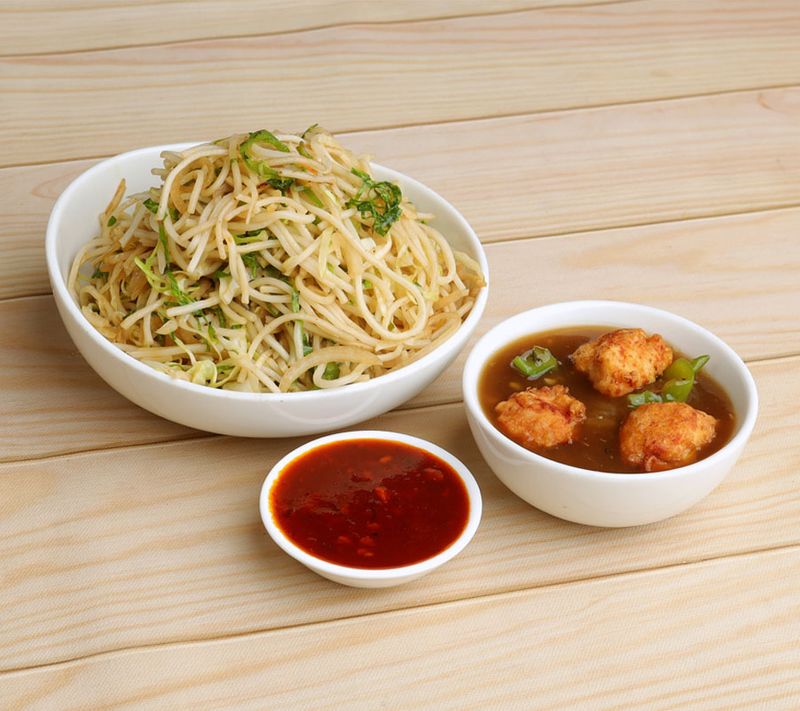 The importance of Chinese food in the Kolkata cuisine spectrum is immense. Kolkata Chinese, especially chilli chicken and chowmein, is sought after across the nation. Interestingly, even in Harrow, UK, Hakkaland by Kolkata Tangra boy Steven Lee (winner of British Chinese Award) is coveted for Kolkata chilli chicken. In Kolkata, each neighbourhood has one person who makes the best chowmein, however, check out the stalls in Dalhousie / BBD Bag area for some great chow chow and chilli chicken.
3. Telebhaja
Batter or no batter, it must be deep-fried in oil. That's telebhaja for you! Come evening, Kolkatans crave telebhaja. The must-have varieties of telebhaja are alur chop, vegetable chop, beguni, and peyaji to name a few. There are seasonal varieties too such as phulkopir chop (cauliflower dipped in Bengal gram flour and deep-fried), capsicum chop, and so on. North Kolkata is the hub for telebhaja and the must-visit places include Kalika and Lakshmi Narayan Shaw for peyaji, alur chop and other seasonal varieties. At Keshab Chandra Sen Street, Sagar Das has been running his telebhaja stall for more than 20 years now. 
4. Cutlets, fish fry, and kobiraji
The colonial influence on the local food of Kolkata is evident. Cutlets and fries are prime examples. Slightly different from the croquette in Europe and schnitzel in Austria—cutlets are minced meat, prawn, or chicken with chopped onion, marinated with lemon, coriander and other herbs, and salt and pepper. The patty is dipped in egg yolk, coated in bread crumbs, and fried. A special mention goes to the kobiraji cutlet. There are different opinions on the origin story but the fluffy egg net covering the protein piece is a sight to behold and a dish to devour. The best places where you can find some cutlets and fries include Mitra Café and Allen's Kitchen in North Kolkata, and Campari and Shankar Fish Fry in the Gariahat area.
5. Mughlai paratha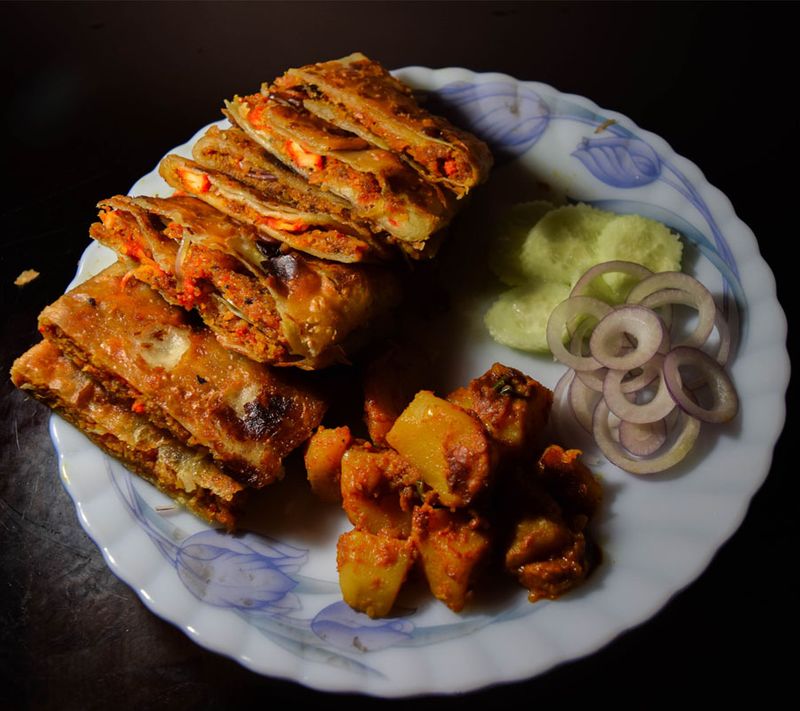 You can find baida roti in Maharashtra but ask any Kolkatan, there is nothing better than Mughlai paratha or 'Moghlai porota', as it is commonly known. Crispy deep-fried 'anda roti', with a filling of chicken or mutton along with a mix of spicy potato is a much loved evening snack. Anadi Cabin was the best place to have Moghlai porota at one point in time, but nowadays, there are several places in Kolkata where you can relish this delicacy, including a place where you can even get duck egg Mughlai porota. Mitra Café in Golpark as well as the original North Kolkata brand does a mean Mughlai porota.
6. Ghugni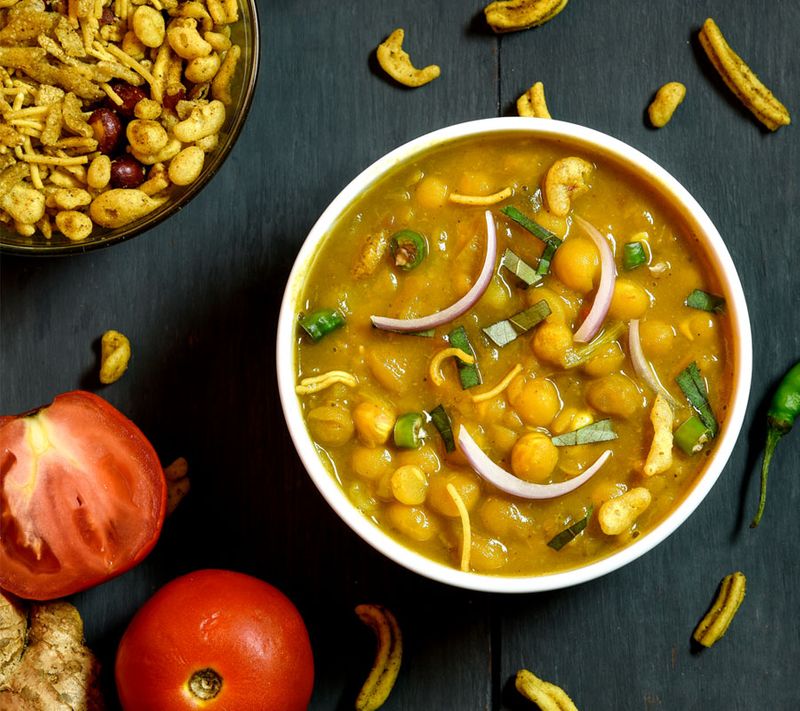 The ghugni we eat at home and the one that sells outside is starkly different. Ghugni sellers are often from Bihar or Jharkhand so the taste is also very 'chatpata' with spicy undertones. Sometimes they add sweet and sour tamarind chutney along with chopped green chillies, onions, and coriander leaves. There are several pockets where you will find aluminium handis covered in a red cloth near a corner, serving ghugni on saal leaf bowls to eager customers. There's a very popular seller near the Gariahat Market, and the New Market area also boasts of a couple of good ghugni stall. However, the one at Dacres Lane is extremely popular with office goers for an evening snack.
7. Kathi rolls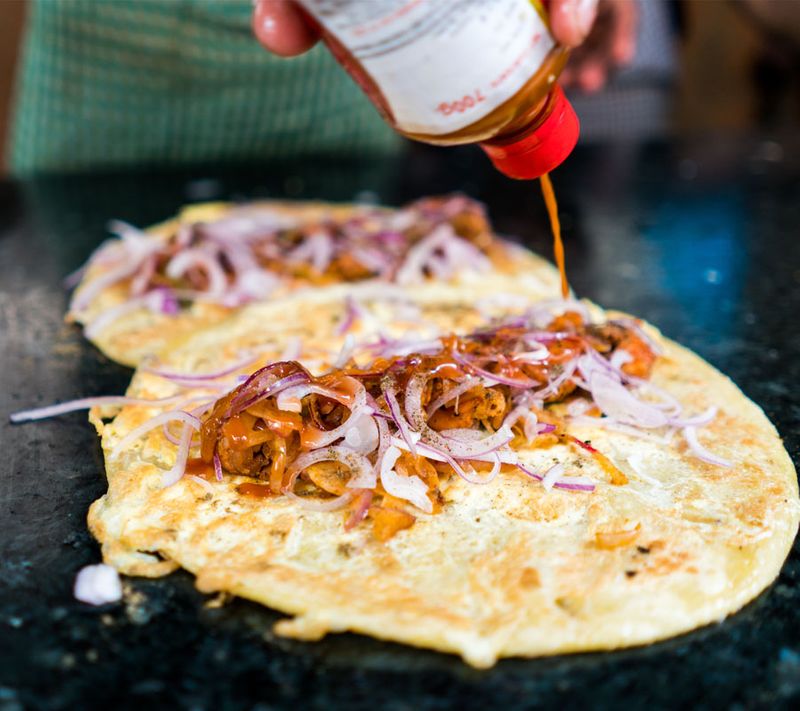 Invented by Nizam's in Kolkata, this dish is a national sensation. Crispy flaky paratha is fried on a large tawa with a beaten egg and then stuffed with chicken or mutton pieces cooked in special spices, onions, green chillies, and a squeeze of lime. Then it is neatly rolled in paper and sold. Everyone has their own combination of ingredients and that's what makes the kathi rolls unique. Kusum Rolls in recent years has gained immense popularity. However, mutton kathi rolls at Nizam and the one at Badshah in New Market (with a thin, flaky paratha)are definitely winners.
8. Kochuri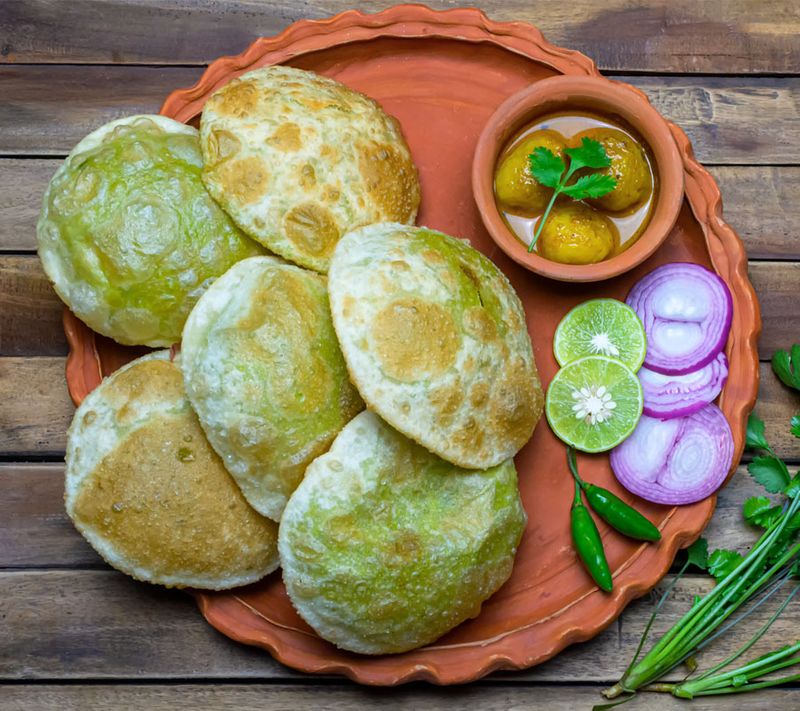 The culture of kochuri or kachori for breakfast, especially on Sundays is prevalent even today. On Sunday mornings, you will find the average Bengali lined up in front of a kochuri shop to carry home some breakfast. While in general, you will simple heeng kachoris with cholar dal (Bengal gram dal) or spicy potato curry in Kolkata, koraishutir kochuri—kachoris stuffed with green peas—are coveted in the winter. Haridas Modak at Shyambazar, the legendary 250-year-old place, has been serving kochuri for generations. Puntiram at College Street is a 150-year-old shop selling the best kochuri in the city with a sweet and spicy cholar dal.
9. Singara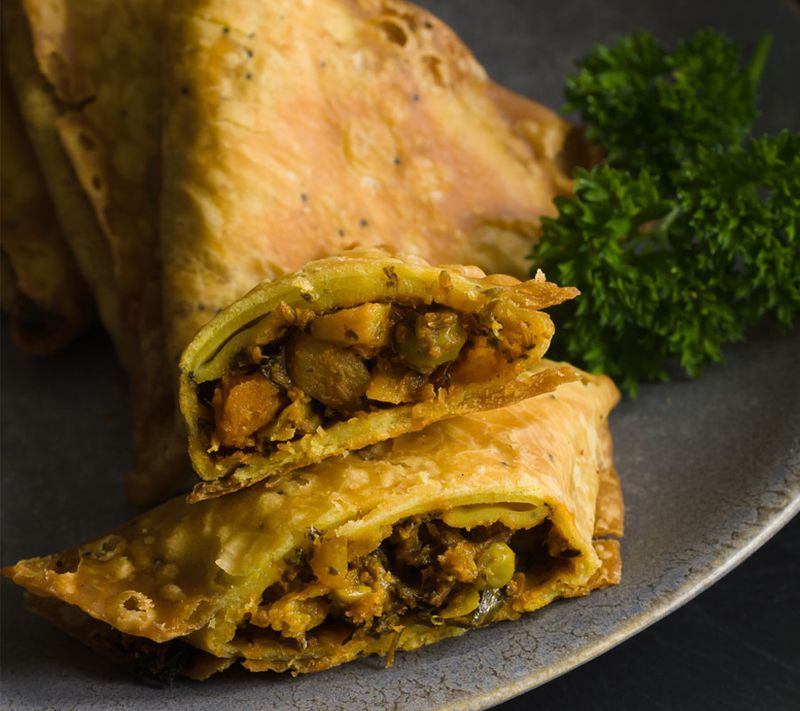 Singara is not samosa, and yet we get the best of both in Kolkata. Samosa, a very popular Indian snack finds its mention in Ain I Akbari as "sanbusha" which means triangular. Thick coating, spicy mix of potatoes, green chillies, and at times raisin—singara is not only a tea-time snack but can literally be had throughout the day if you are visiting Maharaja or Maharani tea stall in Sarat Bose Road or some of the bhajiya shops in Burrabazar Area. Singara is the Bengali version, which happens to flakier. Made out of white flour or maida, it encases small potatoes, peanuts and cauliflower in winters. You can also get mangshor singara or mutton singara at selective telebhaja shops. Vegetarian singara is sold primarily in sweet shops and some notable names include Putiram Sweets on College Street, Mrityunjoy Ghosh and Sons on Sarat Bose Road, VIP Sweets, and Deshbandhu Mistanna Bhandar to name a few.
10. Phuchka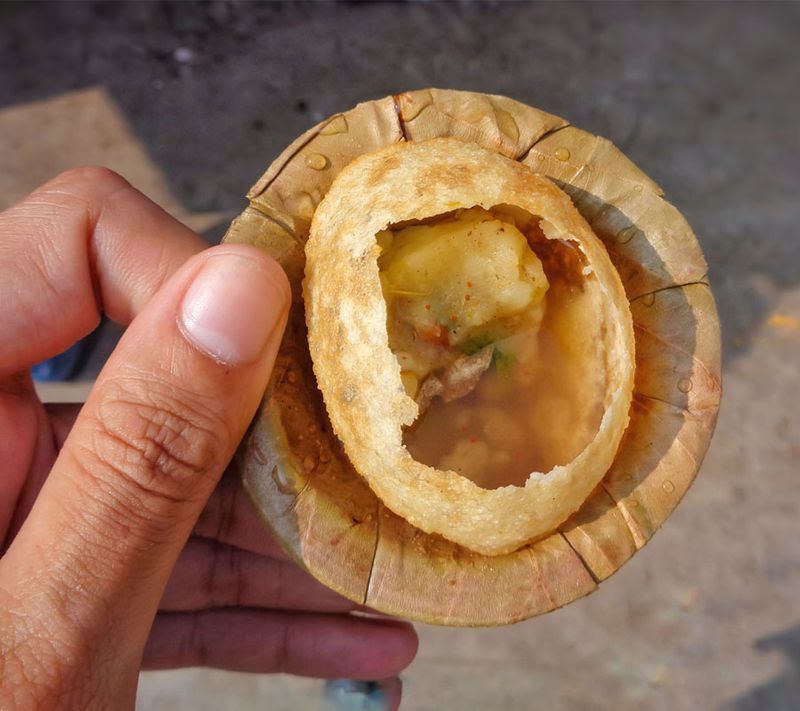 Kolkata always gets divided over phuchka. Everyone has their favourite phuchkawala and you cannot actually compete. Phuchka is the Kolkata version of pani puri and golgappa. However, it is different in everything except for the deep-fried shells and the technique of preparation. Kolkata phuchka has a unique stuffing of spicy mashed potato enhanced with lemon juice and tangy tamarind water. Gondhoraj lemon is often used, making it beautifully fragrant. At the cost of severely divided opinions, Vivekananda Park in Southern Avenue has Dilip Da and Durga Pandit phuchkawala who are very popular. Phuchkas in front of Vardaan Market and Victoria Memorial, and those at Hindustan Sweets at New Alipore are brilliant for their filling and the water.
The list is endless, but these are some of the places where you can try out street foods in Kolkata. This list goes on to prove that Kolkata has been a melting pot of cultures, and food influences cannot be far behind. People of Kolkata, and Bengali folks in particular, embraced various dishes and cuisine to make them a part of their daily dose of street food.
---
Photo: Shutterstock