On a Sunday afternoon in early September, Sudipto Ghosh, a sculpting artist, and painter, joined a busy community of proficient idol makers in Kumortuli—a shadowed potters' quarter nestled along an elevated freeway near northern Kolkata. The seven-kilometre alley (where kumor translates to potter and tuli translates to the colony) was closed for sale due to the rain that day. The only people that came through were artists and visitors, like me, who would only stop by to awe over these marvellous pieces of creation. Hindu priests lounged on the steps of temples dotting the neighbourhood. Children jumped into splashes of water to play before the rain would send them back home again. A photographer chased the daylight to capture an unfinished Durga idol; a painter shooed some dogs away from an imposing effigy that was yet to be taken in for the night.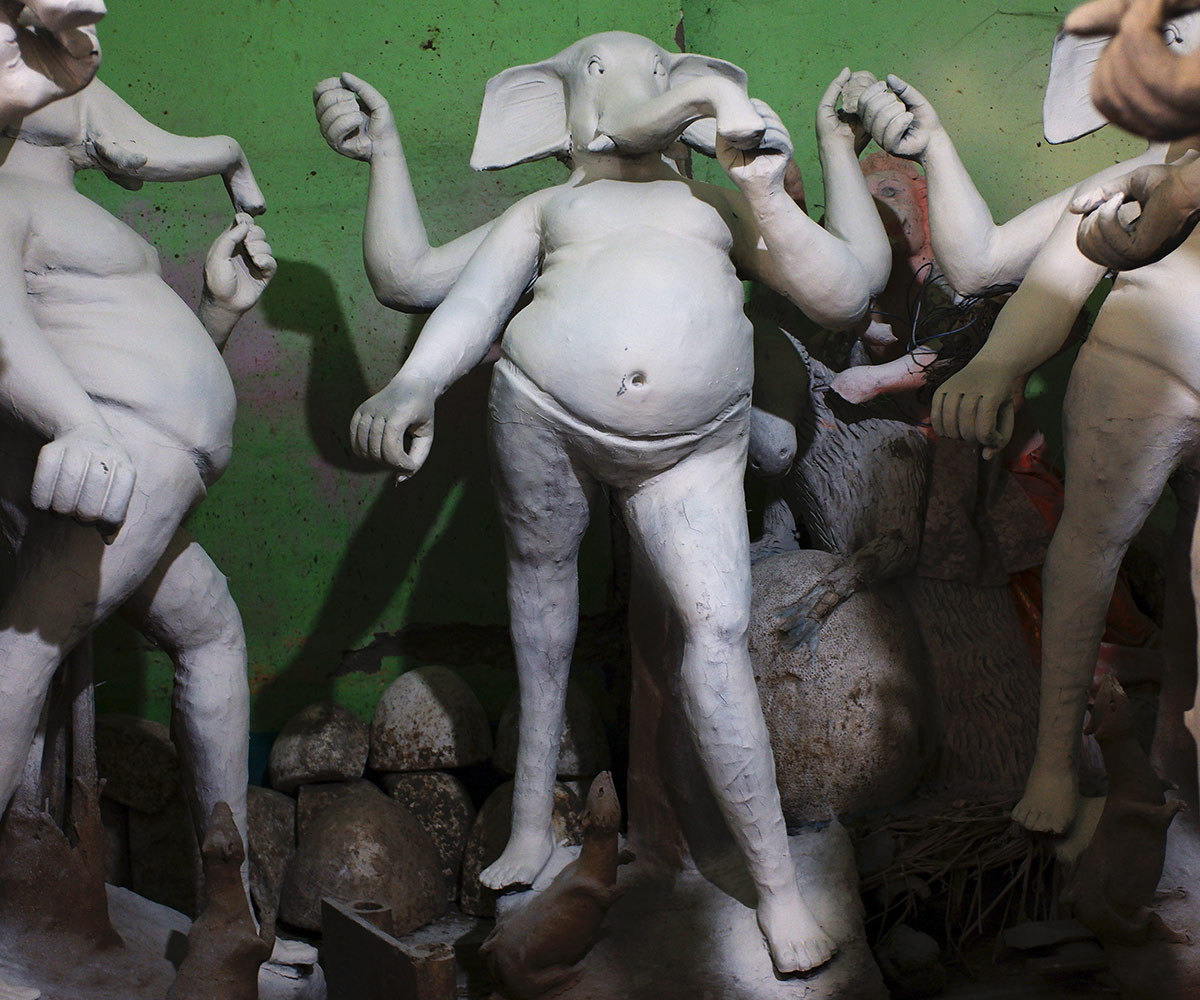 "The best time to observe the chaos is right before sundown," said Sudipto as he ushered me inside his workshop and helped me to the roof for a view of the place.
"Kumortuli is not just a neighbourhood or community, it is where a century-old tradition brought people together who couldn't express their devotion and thoughts through words," he added.  
Kumortuli's colonial beginnings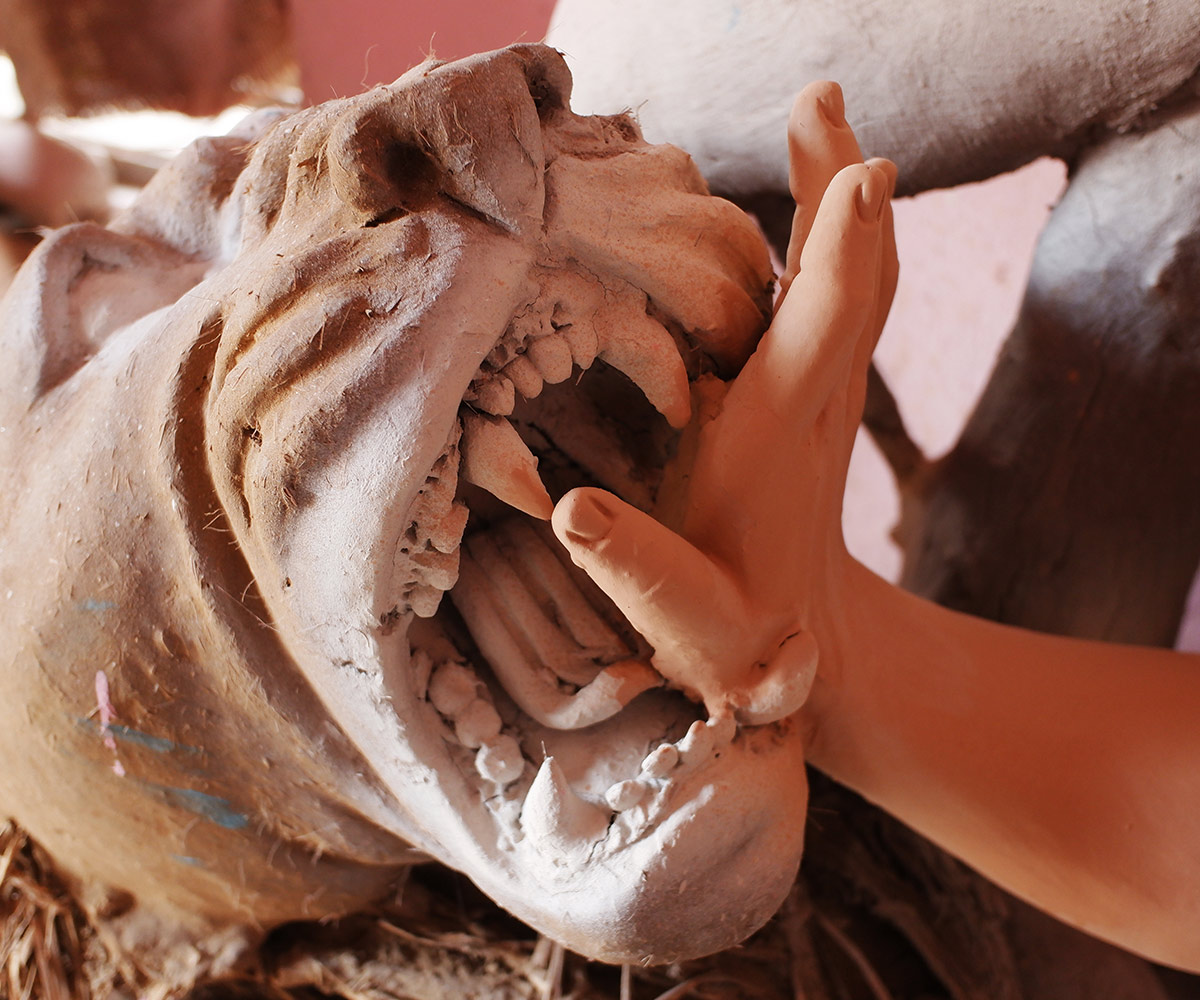 Kumortuli—home of the god makers—is a 300-year-old community of monumental sculpture and effigy makers who craft elaborate depictions of several Hindu gods and goddesses building up to the annual four-day religious festival of Durga Puja—or natively pronounced, Durga Pujo. Head up the main street, named after the colony, and you will find a couple of hundred artists jostling for space in windowless rooms, with a faint fragrance of paint and petrichor wafting around.
The history of this place can be traced back to the British regime when different regions or districts would be allocated for particular crafts and their people. Kumortuli found itself as Coomartolly, an arid neighbourhood near the ghats of the Hooghly, and evolved into a vibrant art enclave isolated from the bustle of Kolkata—a city being rapidly gentrified into modernization.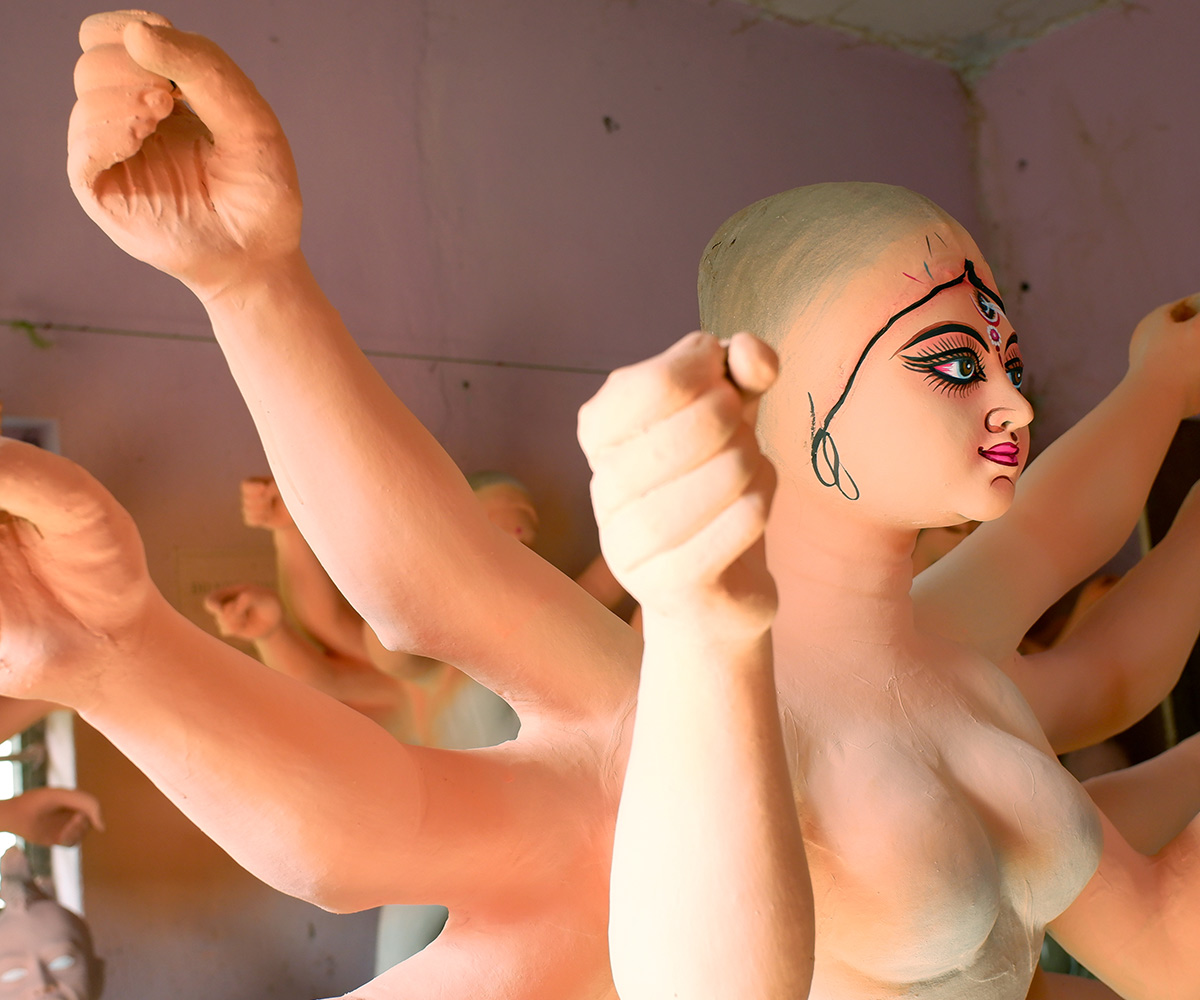 But the becoming of Kumortuli is a tale embedded in history—one of coincidence and British ruling—that plagued the state in the early 17th century. It is believed that when Robert Clive, a military commander, who exercised major political influence in the East was invited by Rajbari's founder, Nabakrishna Deb, to celebrate the win in the battle of Plassey, the first grand celebration of Durga Puja was observed. The news of a grand celebration that saw participation from a general and many other high-ranking officials spread like wildfire—and since then, every year a competition sprouted up in the middle class to put up the grandest display. This was when the potters in the area would receive countless commissions to create life-sized idols that would be decorated gloriously to reflect the enthusiasm.
The season of Durga Pujo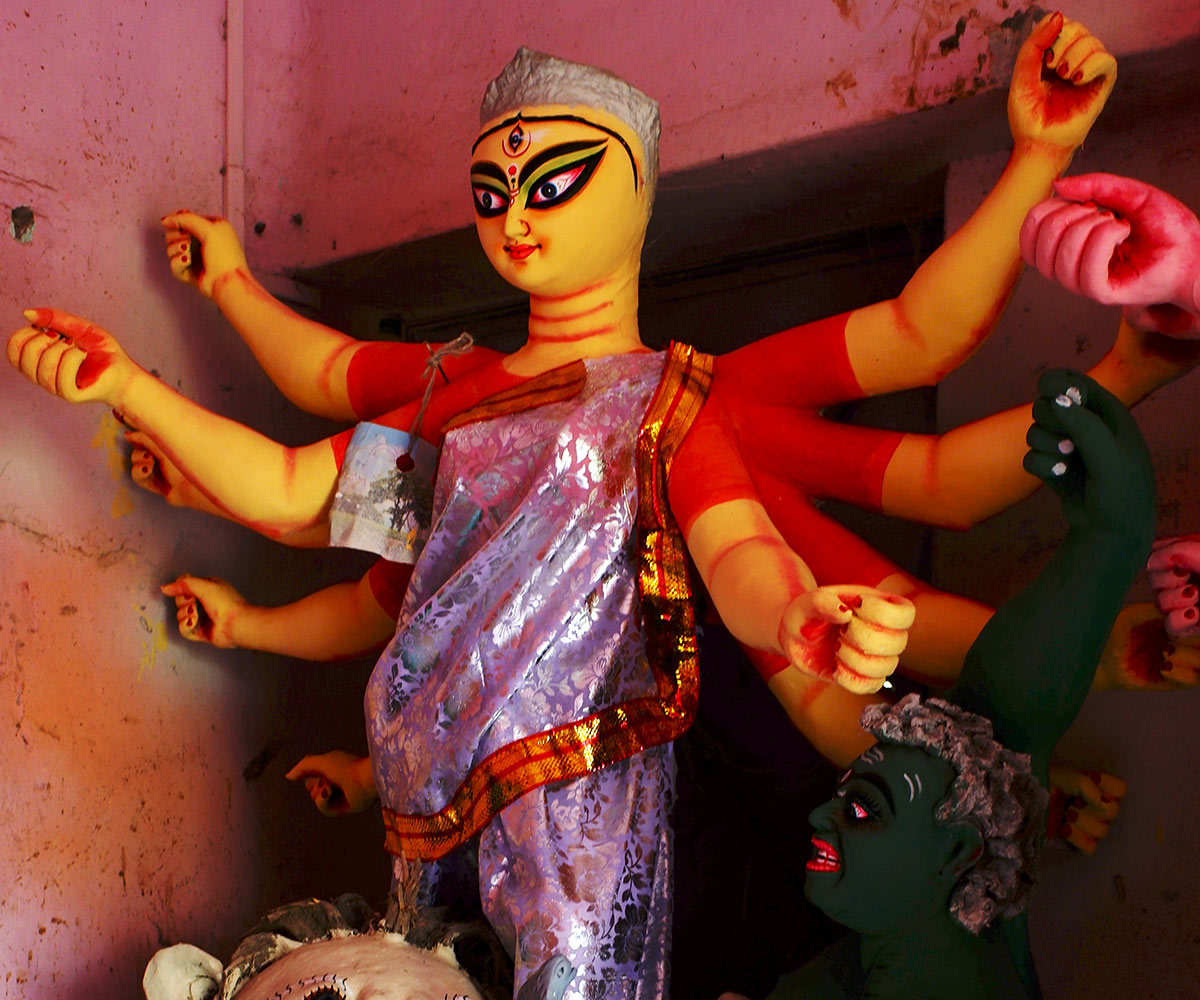 When the summer slows down to make way for the autumn winds, flurry white shrubs of kashphul dance about to mark the beginning of Ashvina (September–October). "This is when Kumortuli changes from a quaint colony to a museum of diverse art forms," says Aarti Bayoni, a native, who grew up among families who devoted their lives to this community. "I always recommend visiting Kumortuli when the Kash arrives, and leave when the idols do. It is the best time of the year to immerse yourself in its true culture, witness the magical skills that these artisans showcase, and most importantly, revel in the raw festive spirit before making your way to the customary celebrations."
I found myself accompanying a group of sculptors as they began the step of sculpting—procuring 'punya mati' or blessed soil from the banks of the river Ganga. This time of the year a small delta near the Hooghly is more populated than the adjacent cityscape, with hundreds of Hindu priests gathering to embark on the forthcoming journey.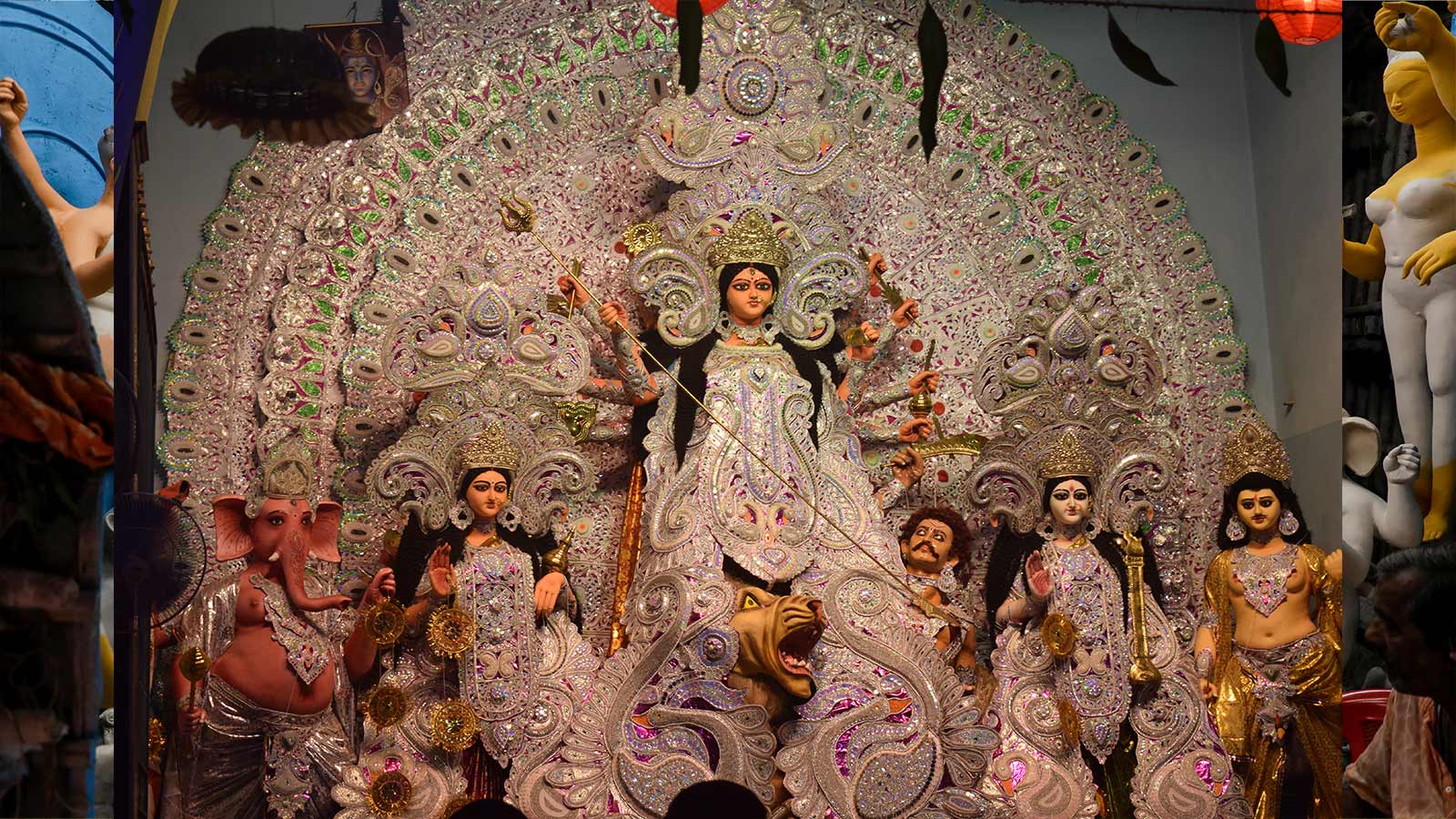 But surprisingly, the mud isn't the foundation of these relics. Instead, the exoskeleton is often cast in iron frames, supported by straws, bamboo husk, and more to bring about the structure. I would stay up late to observe meticulous drawings that would turn into a creative rendition of Goddess Durga as depicted in the mythological script of Veda. Moreover, the posture, expression and facial features are kept aligned with those in the popular media. But the entire festivity also pays an ode to several other deities that together make a chala or idol unit. The central figure is of Durga, accompanied by a lion or tiger; Ganesha with his mouse compatriot; Kartika followed by a peacock; Lakshmi and Saraswati seated on their swan and owl respectively.
I would come by through the window so that I don't accidentally snap a fragment of the still fragile models, and look at them from afar until they would be painted and shipped away. "It is the hardest part of the job. We work on these portraits for months, and they often become a part of our family," says Roshan Chakraborty, a third-generation artist in Kumortuli, who started this work alongside his grandfather and hopes to continue the legacy, passing it down to his family as an heirloom.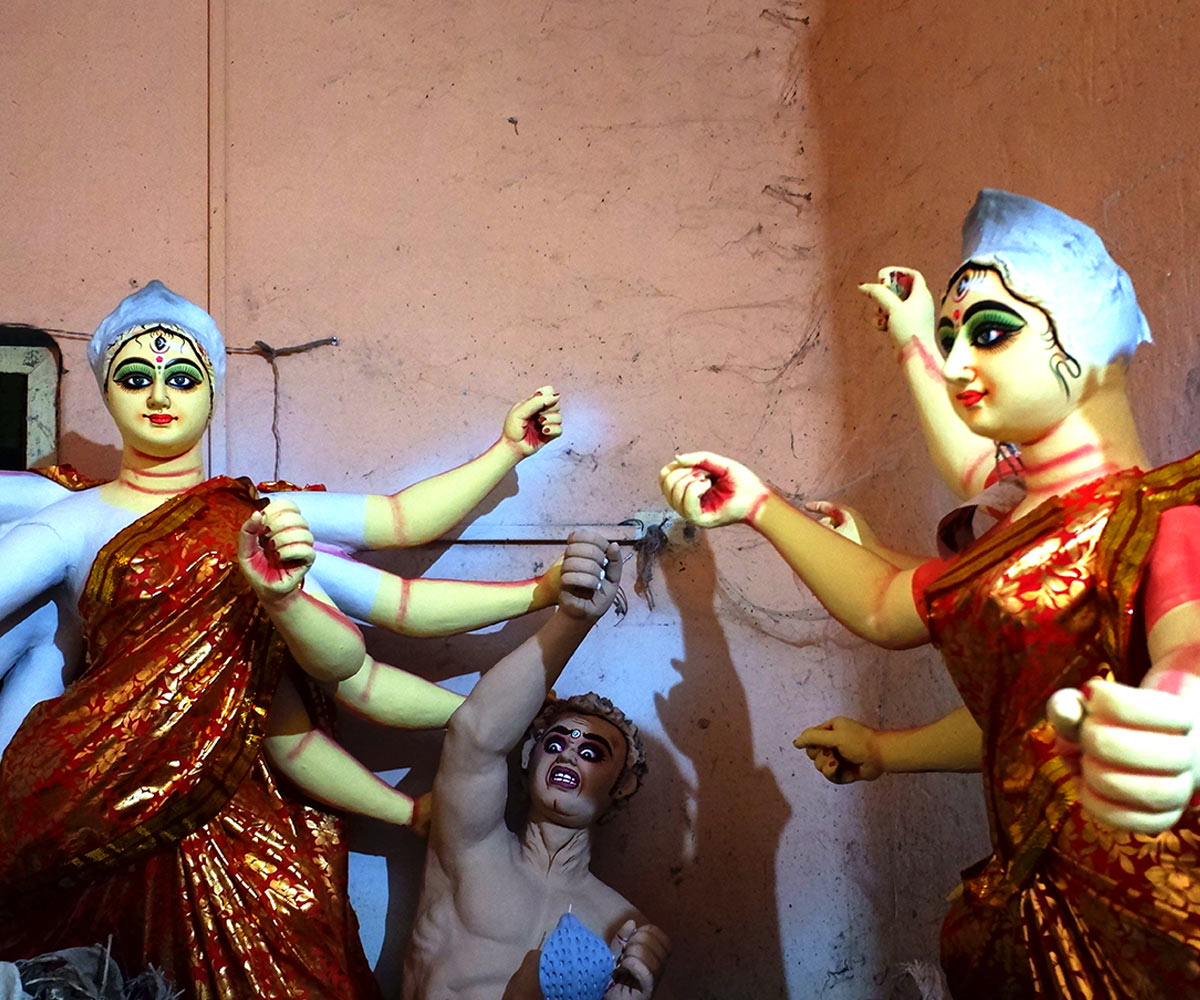 "Kumortuli is art and it is legacy. It is history, and it is family. Most people who travel to this corner do so for vibrantly painted effigies and cultural quirks; but if you want to experience the true essence of this colony, come and stay—for the process, for the season, to see clay transform into art," adds Chakraborty.
Photo: Shutterstock, Sneha Chakraborty