It is the time of the year when the Goddess of Shakti arrives once again. A time to pay obeisance and homage to the ultimate embodiment of strength and power—Goddess Durga.  Well, it is the time for Navratri, arguably one of the biggest and most popular Hindu festivals. 
Celebrated across India, Navratri is commemorated over a period of nine days, starting the day after Mahalaya Amavasya, and is an ode to the all-pervading feminine power.  The festival culminates with grand celebrations on the tenth day which is also called Vijayadashami or Dussehra/Dasara and is marked by rituals galore.
Navratri Golu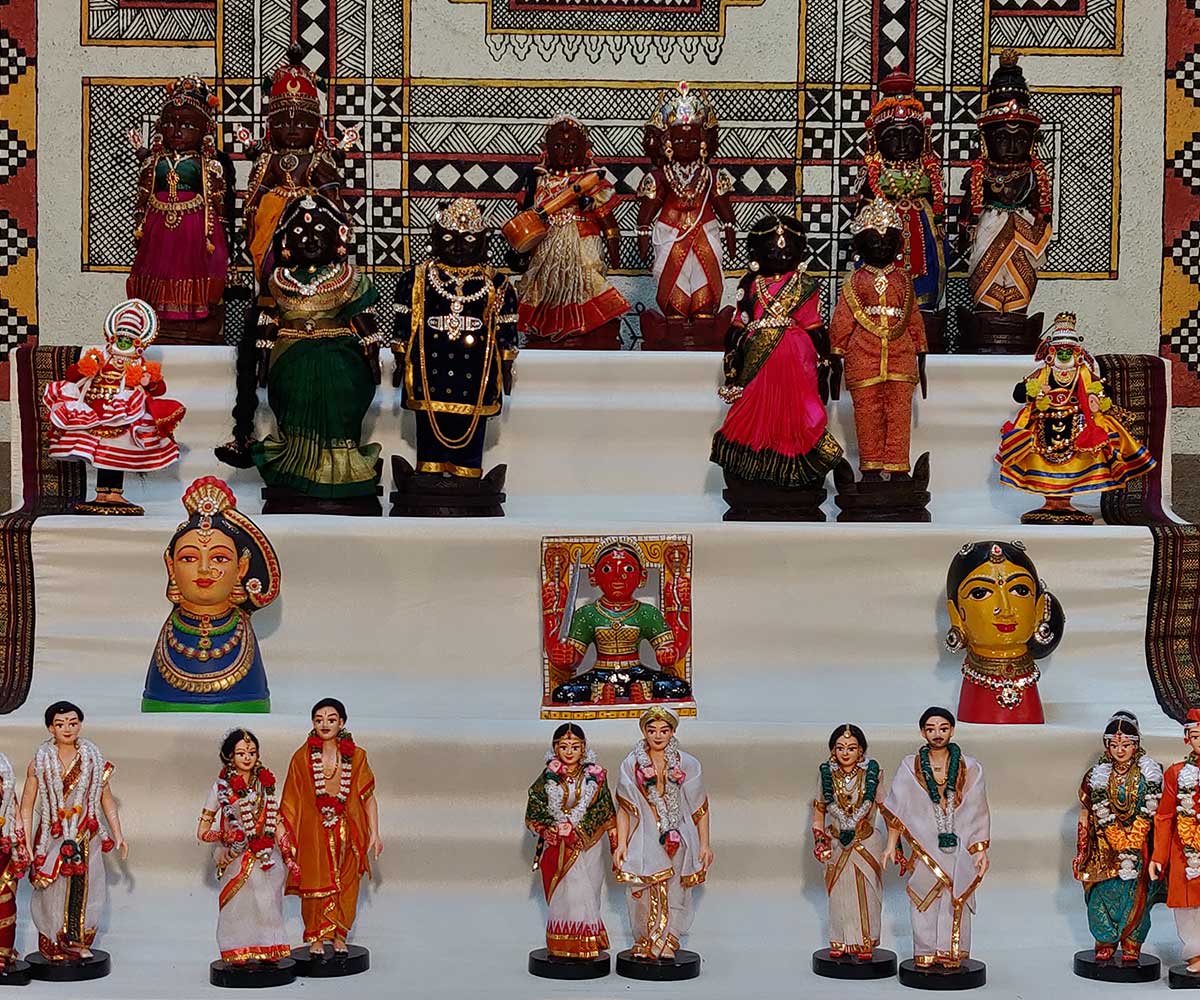 While the worship of the Divine Mother is done in different ways in different regions, the festival in the southern states celebrates the victory of Goddess Durga over the demon Mahishasura. In Karnataka, Tamil Nadu, and Andhra Pradesh, the tradition of setting up an artistic arrangement of dolls called Bommai Golu (sometimes also spelt as Gollu) or Navratri Golu take precedence. A colourful and interesting custom, Bommai Golu or Kolu, as it is called in Tamil, means Divine Presence. In Kannada, it is called Bombe or Gombe Habba which means festival of dolls, and in Telugu it is known as Bommala Koluvu, translating to 'court of toys'.  
The toys or dolls symbolically represent divinity and are believed to be the assembly of the Goddess who is out on a mission to defeat the demon, which happens on the tenth day.  The dolls are placed in a step-like arrangement and the number of steps is usually nine, even though it could be slightly less or more. But the number of steps is always an odd number with idols of Gods and Goddesses placed on the upper steps. Depicted below are mythological scenes from the Ramayana and Mahabharata, as well as scenes showcasing rituals such as weddings, celebrations and even farming, shopping and life in the rural regions. A pair of wooden dolls representing a newlywed couple called Pattada Gombe or Marapachi Bommai is a mandatory feature in the entire arrangement.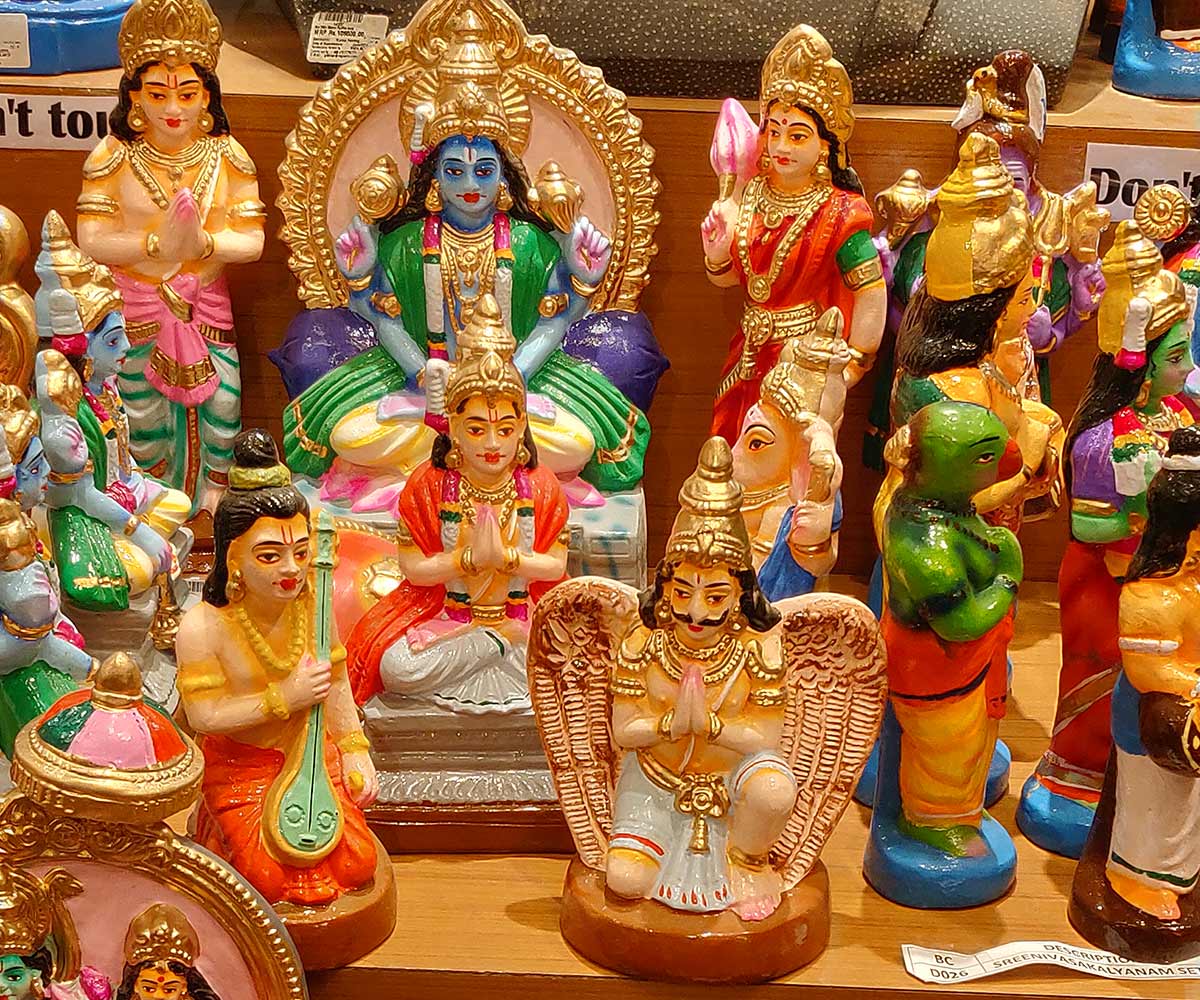 According to tradition, a new doll is added every year to the arrangement, but today the entire exercise of setting up the Golu is not just about customs.  It is a chance for most households to unleash their creativity with innovative themes dominating the display year on year. Toy shopping before the festival is common with people scouting for new dolls each year. 
Ramsons Kala Pratishtana (RKP), a Mysuru-based art foundation organises an exhibition of Dasara dolls annually with innovations and additions each year. Dolls of Lord Manjunatha of Dharmastala and Goddesses Chamundeshwari, Horanadu Annapoorneshwari, Kolluru Mookambika, and Tulaja Bhavani are just a few additions this year apart from peg dolls and figurines depicting the Navarasa and Suryanamaskar.  
And if you are looking for hubs from where you can pick up toys for the festival, below is a quick low-down on the places where you can shop to make your Golu more exciting.
1. Shopping at Channapatna for Golu
Known as Gombegla ooru, which translates to toy town, Channapatna is located about 60 km from Bengaluru. It is famous for its toys made from the wood of a locally-grown tree called Wrightia tinctoria tree, which is also colloquially known as aale marra or ivory wood. The toys are made using a special technique of lacquering the wood using a lathe machine. The craft, which has been accorded with a Geographical Indication (GI) tag, has been patronised from the days of the region's famous ruler Tipu Sultan who is said to have invited artisans from Persia to train the locals in this art. Known for their impeccable finish and fine colours, these toys are famous not only in Karnataka but the world over and were once famously gifted to President Barack Obama during his visit to India.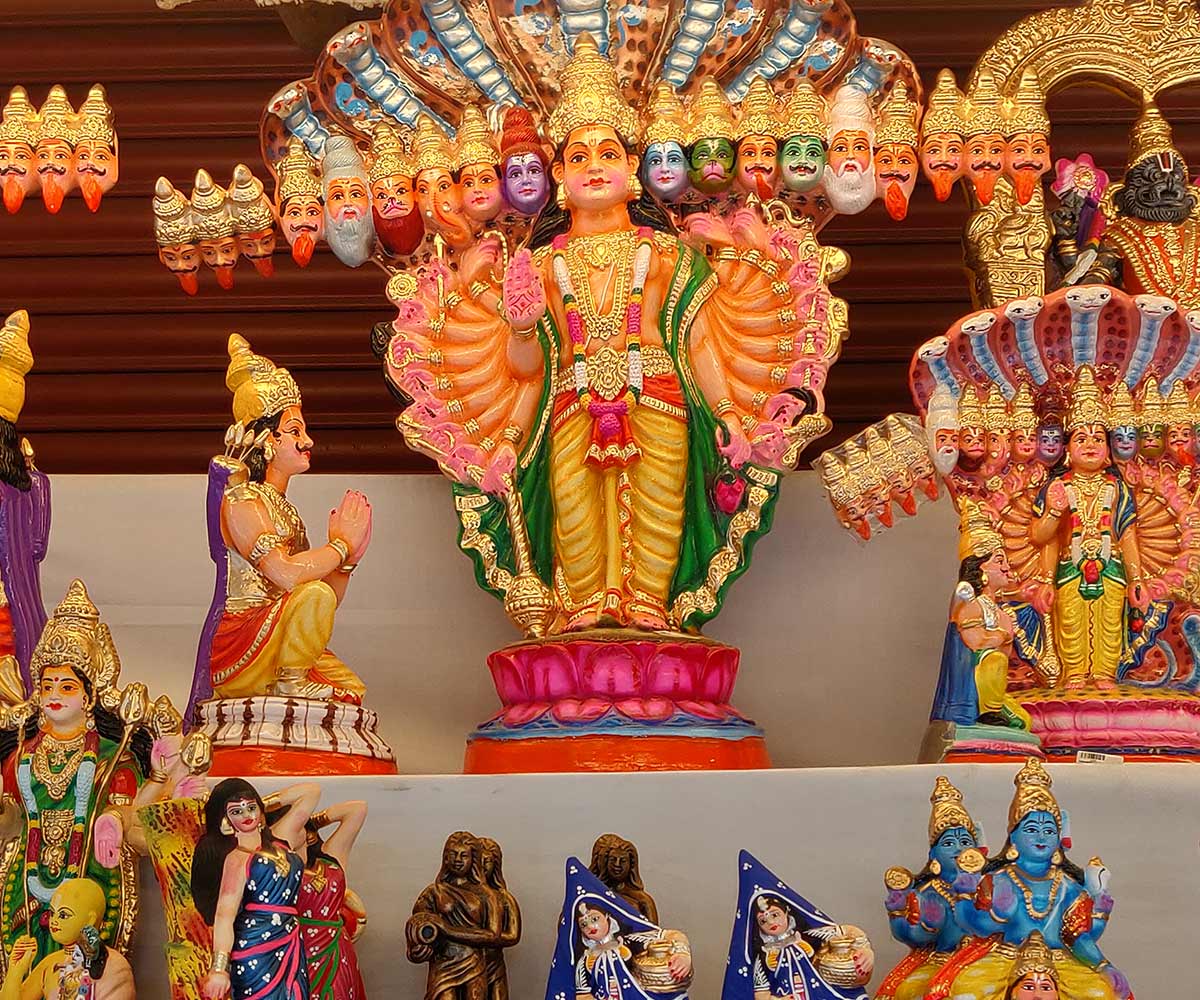 With several toy emporiums and factories in Channapatna, it is a great idea to shop here for your Dasara Golu. Right from idols of Gods like Ganesha and Hanuman to Dasha Avatara sets and displays of  Lord Rama and Goddess Sita aboard a boat or King Vasudeva carrying Lord Krishna—one is truly spoilt for choice. "We have some new additions like the Mysore Palace, Vidhan Soudha, and several traditional toys like family sets and royal elephant processions that are apt for Dasara," says K. Abdul Kareemson, a toy merchant from the town whose store dates back to 1909.  
2. Shopping at Kondapalli, Andhra Pradesh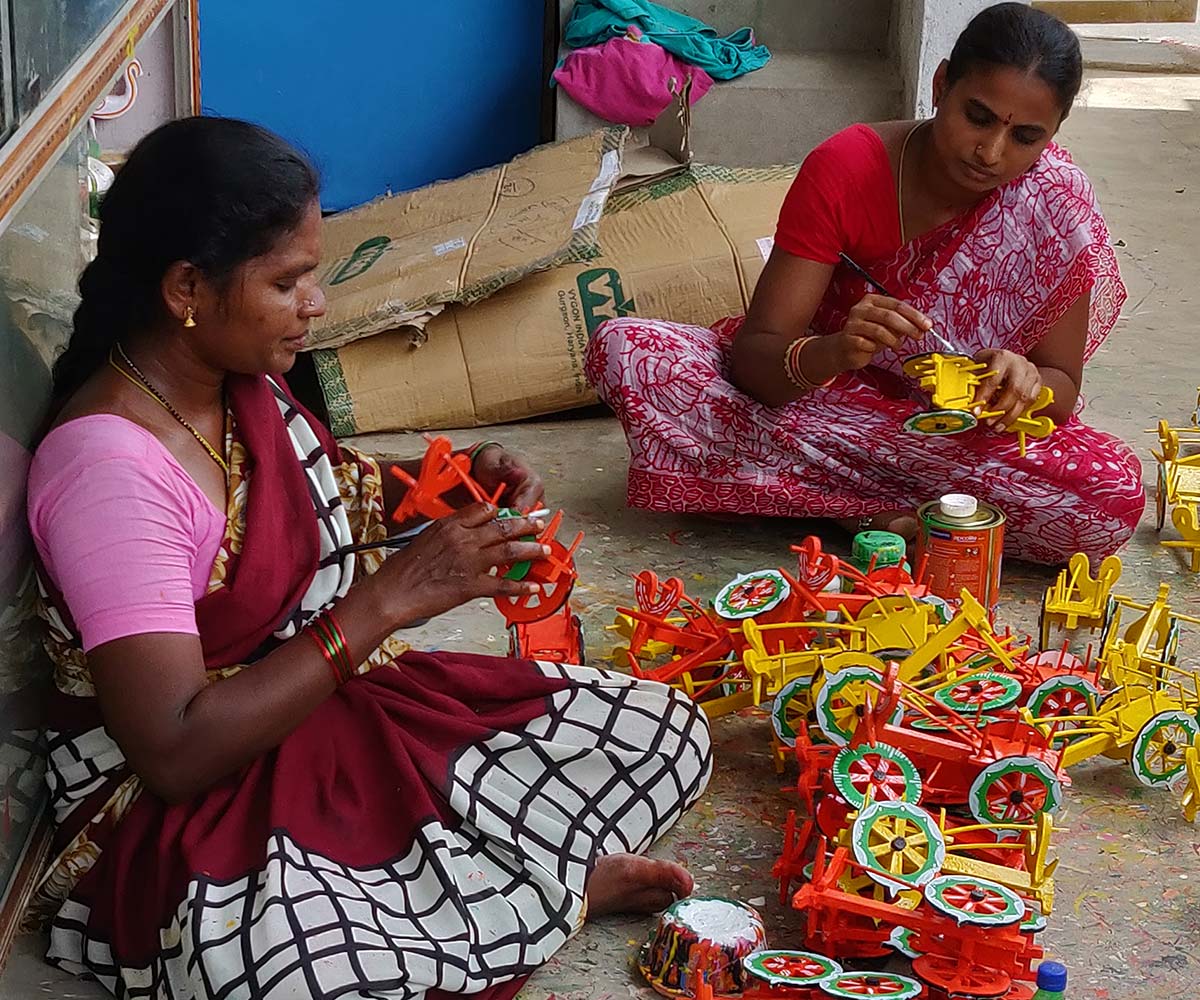 A quaint village just about 25 km from Vijayawada in Andhra Pradesh, Kondapalli is known for its rustic, wooden toys made from the white sander wood that grows locally in the region.  This softwood is botanically known as Jiuotia Rotteri From is and as "Tella Poniki" locally. It is creamish-white in colour, soft in texture, and light in weight.  It is important to note that the wood becomes lighter with time, making it amenable for cutting, shaping, and chiselling.  
Blocks of wood, cut and left in the open to dry are a common sight on Kondapalli streets. A vibrant cottage industry, Kondapalli toys are known for their bright colours, lightweight, and endearing designs. Common themes of this GI-accorded craft include their signature couple dolls, village markets, bullock cart ploughs, harvesting scenes, rural life, and the likes. Birds and animals, including decorated elephants, are famous and are a perfect addition to your Golu.
3. Shopping at Kinnal, Karnataka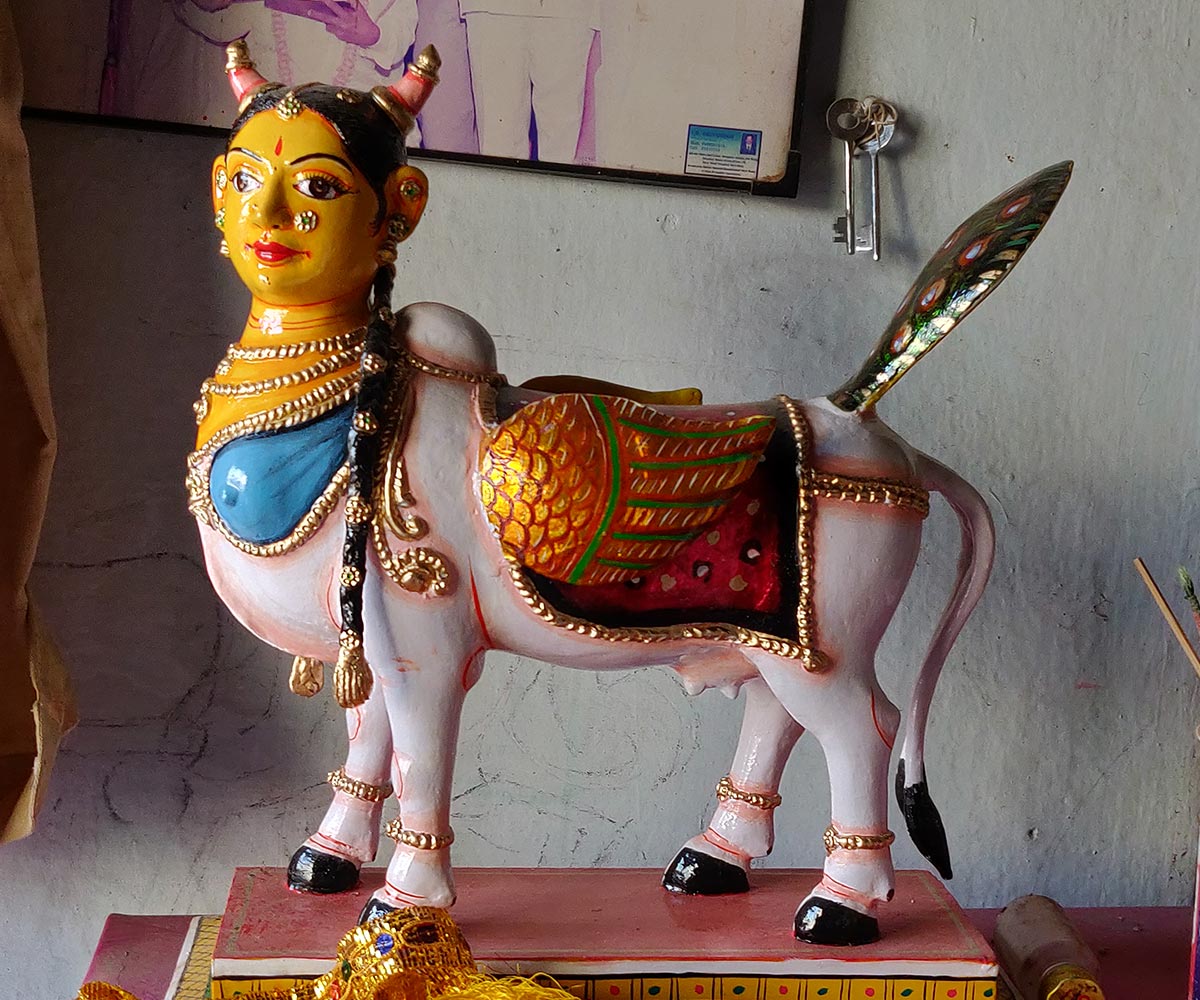 Located in Karnataka's Koppal district, Kinnal (also spelt Kinhal) is home to an artistic tradition whose heritage dates back to the 15th or 16th century. The craft, which was accorded a GI in 2012, was patronised by the rulers of the Vijayanagar empire including Krishnadeva Raya, and also by the nawab of Koppal.  
The craft is practised by traditional artists called Chitragars, who handcraft religious idols from a locally available wood called Polki Marra.  The village is home to about 25 families who are engaged in the craft and originally made large idols for temple and village festivals. Currently, the artisans are involved in making a wide variety of dolls including trademark creations like Gowri heads, Garuda, and Hanuman. The entire process is indigenous and involves the use of materials like jute, tamarind paste, and pebble powder. Some idols have a stunning gold finish, which again is a characteristic feature of Kinnal toys. "We have a range of smaller toys for Navratri including village folk, fruit and vegetable sets, idols of Goddess Durga and Kamadhenu," says Santosh Kumar Chitragar, an artist from Kinnal.
4. Shopping at Varanasi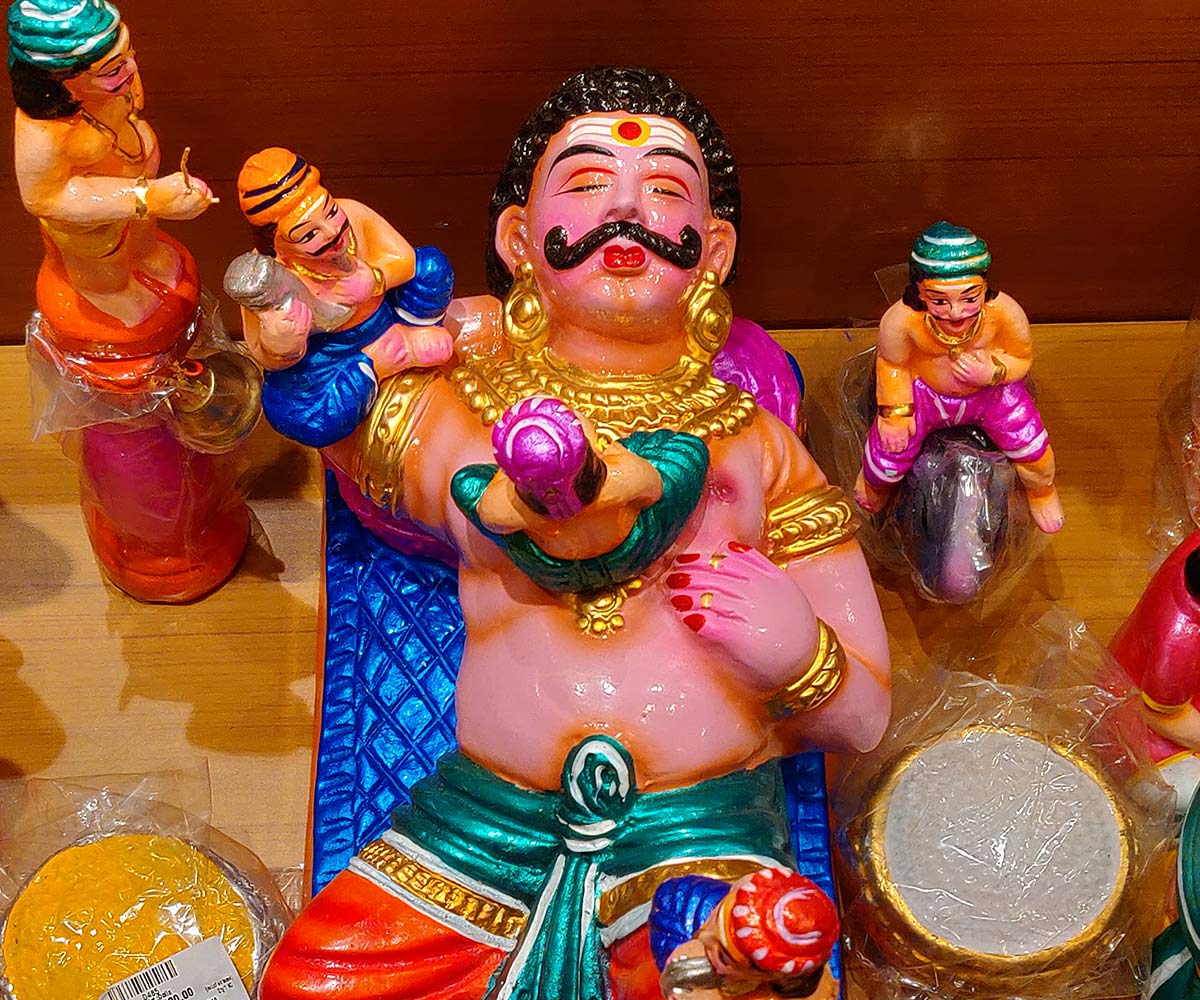 Varanasi and Mirzapur in the northern state of Uttar Pradesh are famous for wooden toys too. Handmade and crafted without joints, this GI accorded craft is said to be practised by the craftsmen belonging to Kunder Kharadi Samaj.  
The toys are brightly coloured and are made from wood available locally which is processed by heating before being cut and crafted.  The dolls are handmade or shaped using a lathe machine.  They are then painted in vibrant hues for a beautiful glazed finish.  Fine lines are painted using a brush made from the hair of a squirrel's tail.  Common toys include intricately painted elephants, horses, chariots, and carts as well as masks that are used by the artists during Ramlila, which again is an unmissable tradition in the north, celebrated during Dussehra.
Photo: Rashmi Gopal Rao