Perched at a dizzying height in the mesmerising Himalayan valley is Himachal's forbidden land, Kinnaur. A treasure trove for nature and adventure seekers, Kinnaur Valley is one of the beautiful districts of Himachal Pradesh. From witnessing the verdant Sangla Valley that is home to aromatic apricot and apple orchards to watching the snow-laden peaks of Mount Kinnaur Kailash, Lord Shiva's divine abode, Kinnaur is mother nature's picture-perfect portrait. Nestled on an ancient trade route between India and Tibet, the valley of Kinnaur is encircled by majestic ranges of Dhauladhar, Himalaya and Zanskar. Interestingly, the valley is also a route for the gushing rivers of Sutlej, Spiti and Bapsa that chisel the terraneous trails and nurture Kinnaur's lush greenery.
Steeped in conserved culture and timeless beauty, Kinnaur Valley is one of the most picturesque locations in the region.
Geographical Topography
Where is Kinnaur?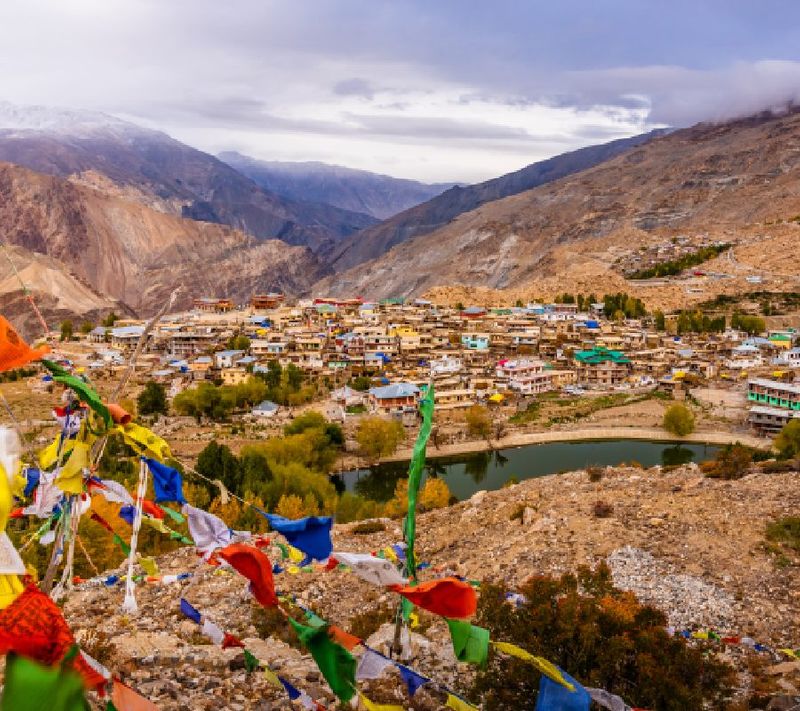 One of the smaller and lesser known districts of Himachal Pradesh, Kinnaur shares its eastern borders with Tibet and the Zanskar range. With a total geographical area of 6,401 sq km, Kinnaur Valley is a hilly mountain area with altitudes that range from about 1,500 m to 6,500 m above sea level. Running along the Indo-Tibet border, the place is known for its panoramic views of the Kinnaur Kailash Mountain and the pious Sutlej river that rises from the slopes of Kailash and flows through the valley.
Climate
Perched at an elevation, Kinnaur Valley experiences a moderately temperate climate. Winters stretch from October to May and summers from June to September. The lower area of Sutlej and Bapsa Valley witness monsoon rainfall while the upper regions of the valley fall under the arid region.
To enjoy a whiff of fresh mountain air, head to Kinnaur during the pleasant months of June for a relaxing weekend amidst the clouds. Kinnaur Valley during December and January is one of Coldest Places Of India.
Nature and Wildlife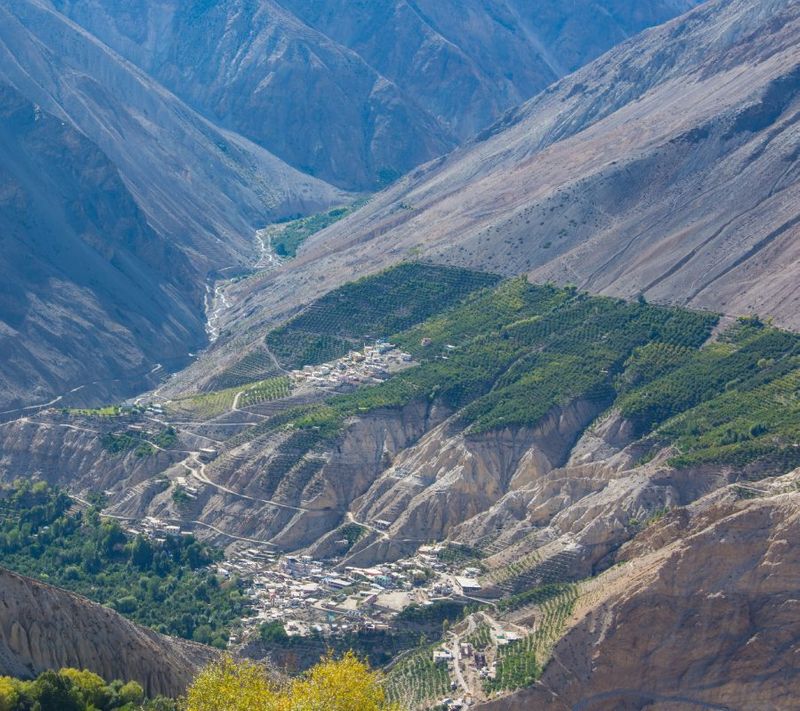 The high altitudes of this Himalayan Valley house mammals like the Himalayan brown bear, black bear, musk deer, sheep and tahr. Birds like the western tragopan, koklass pheasant, monal and black francolin migrate to the region.
In the higher altitude region, vegetation is very scarce. In the mid-levels that range from 3,000 m to 5,000 m, species of flora like juniper, firs, cypress, rhododendron and pines are found. In the lower levels, trees that require a temperate climate like the maple, apple, apricot and oak are commonly found thriving wonderfully.
Kinnaur Valley Seasonal Changes  
Here's what to expect each month in the valley:
January-February
The months mark the advent of winter and heavy snowfall is expected. The valley is closed for tourist travel and so are the routes of Chitkul and Sangla. Lack of electricity and extreme weather conditions make it a huge risk to travel to the valley during these cold months.
March-April
It is a beautiful time to witness the beauty of the valley as snow melts and spring flowers begin to bloom. Some snow-covered peaks of the Kinnaur region still retain their exquisite white cover and lend a pleasantly cool breeze to the valley. March and April are considered off-season because snow melts can sometimes cause landslides on the steep hills.
May-June, Mid-July
These two and a half months of peak season are the best time to visit the vibrant valley. Embark on adventure trips from Manali to Spiti, relax in Kinnaur and enjoy a refreshing break from the scorching city heat. Use the Guide to Spiti to enjoy the valley like locals do.
Monsoon may come early so it is best to check the weather when making plans to visit the valley in the latter half of June.
August
Avoid planning a holiday to the Kinnaur Valley during the monsoon season. There are chances of landslides and it gets very dangerous.
September-October-November
For three months, the valley of Kinnaur once again opens its doors to tourists who frequent its blooming trails as autumn sets in. The fragrant air and vibrant greenery make it the best time to enjoy a road trip to the valley. It is also one of the best destinations In India for Adventure Junkies. As winter begins to set in, nights are chilly and it is best to carry light woollens.
Reaching Kinnaur
How to Reach Kinnaur  
By Road: You can hire a local taxi from Shimla to Kinnaur.
By Air: The nearest airport for Kinnaur Valley is in Shimla.
By Rail: Kinnaur Valley does not have a railway station. You will have to reach Shimla and then travel by a narrow-gauge rail that connects Kalka to Shimla.
Permits for Visiting Kinnaur
Indian nationals do not need any permit to enter the Kinnaur Valley.
Eating in Kinnaur Valley
There are plenty of local dhabas en route to Kinnaur that are famous and serve delicious hot Indian food. The Last Indian Dhaba in Chitkul is highly recommended.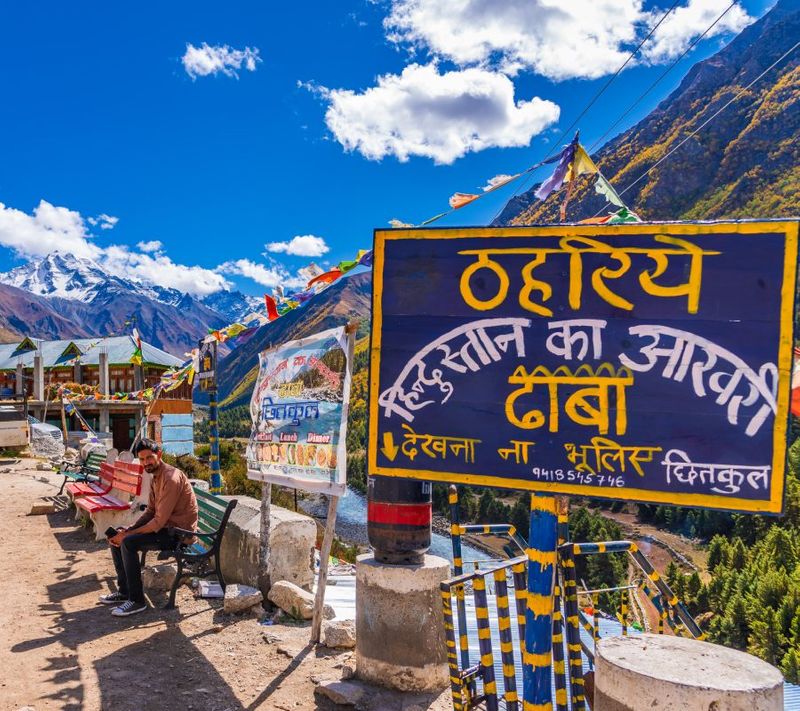 Medical Assistance  
Carry your first aid kit with medicines after consulting your local physician. In case of an emergency, you should have the number of the district hospital in Reckong Peo. The biggest hospital in the valley is in Baspa, though the Sangla village has a local unit to handle small emergencies.
Places to Visit in Kinnaur
Kalpa: Surrounded by serene temples and monasteries, Kalpa is located in the Sutlej river valley and is known for its beautiful apple orchards. Walk around the area as you watch the mighty Kinnaur Kailash range stand tall as a picturesque background for the valley.
Sarahan: A scenic forest setting that will awaken the explorer in you, at Sarahan you can enjoy relaxing nature trails through the valley.
Reckong Peo: Lined with towering pine trees and deodars, Reckong is also the headquarters of the Kinnaur district. You can witness the beautiful Kailash Parvat and Shivalinga rock from here.
Kamru Fort: Located 2-3 km from the Sangla village is an ancient 1,000-year-old Kamru Fort. One of the oldest forts in Himachal Pradesh, this one is a must-visit in the area.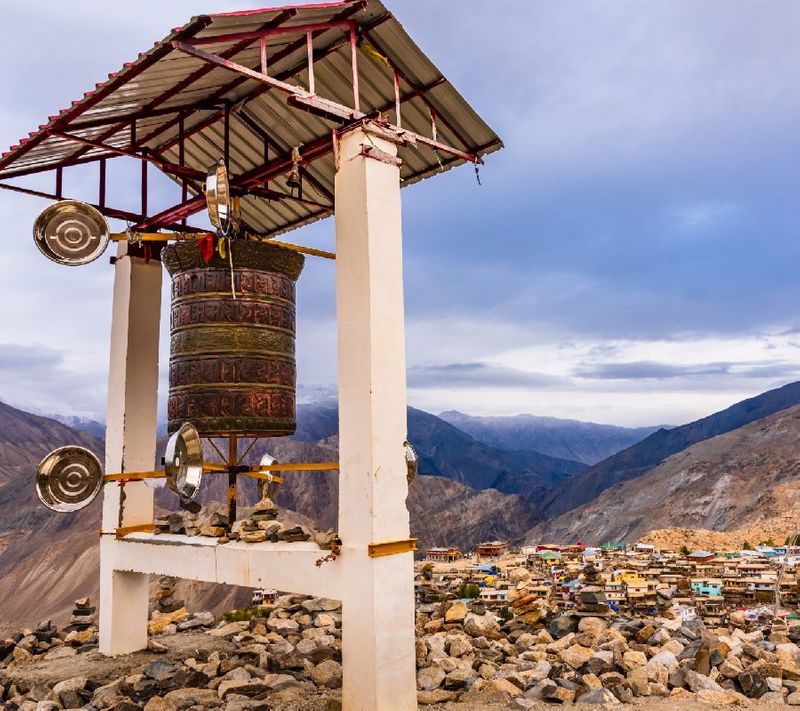 FAQs  
1. Why is Kinnaur famous?
The valley is famous for its resplendent apple orchards, scenic natural beauty and warm Kinnaur culture.
2. What is the best time to visit Kinnaur?
Visit Kinnaur from April to June to enjoy the valley's scenic setting and pleasant weather.
3. Is Kinnaur near Manali?
Manali to Kinnaur via Jalori Pass is a journey of around 300 km that will take you 12 to 15 hours by road.
4. What is the famous food of Kinnaur?
Food in Kinnaur is largely inspired by its Tibetan population. When in the valley, you can enjoy a hot bowl of Thukpa with vegetables or meat and noodles.
5. What should I buy in Kinnaur?
Despite being a small district, Kinnaur has a very rich and diverse culture. You can buy handmade woollens, shawls, caps and mufflers. 
---
Photo: Shutterstock