Sandwiched between Europe and Asia, Azerbaijan has inevitably been buffeted by winds from both sides. Its central location also thrust it into the middle of the Silk Road. All of this has meant that the country has been a melting pot of cultural influences that have amalgamated seamlessly into a rich cultural heritage that has endured over several centuries. Framed by the Caspian Sea in the East, Azerbaijan is endowed with stunning natural beauty which effortlessly forms a perfect backdrop for this heritage.
For a first-timer, there's much in Azerbaijan that will fascinate you. From the ancient city centre of Baku to Gobustan's mysterious natural formations, from gorgeously made carpets to delicate stained glass work, from haunting music to delectable dishes—the country is a fount of living traditions that are both unique and bewitching. Here are things that will provide insight into the country for first-time visitors.
Baku's ancient city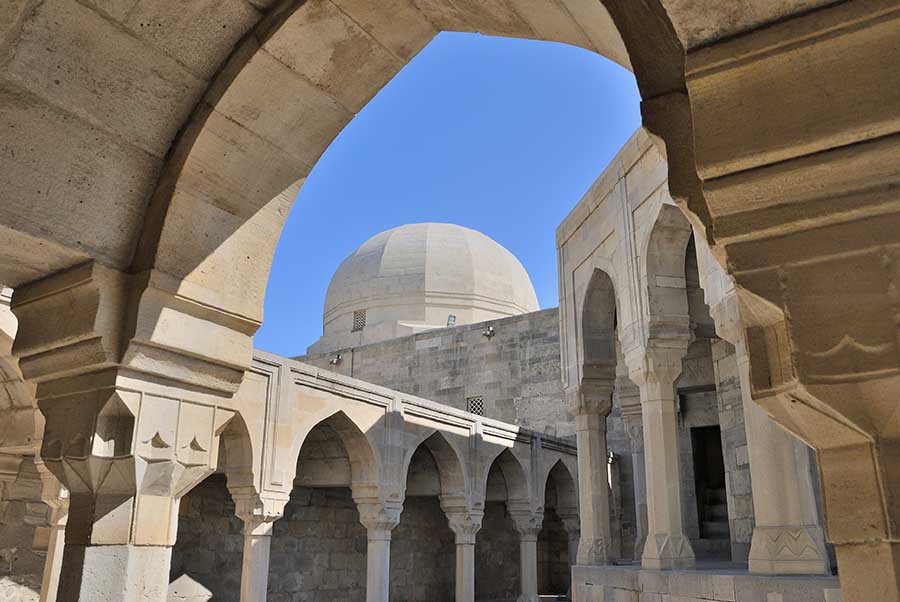 Azerbaijan's capital, Baku, sits on the banks of the Caspian Sea and is the gateway to the country in more ways than one. It is a comfortable mix of old and new Asian and European influences with an undercurrent of Russian thrown in. Predictably, there are many interesting things to experience but it is only logical to start with Baku's UNESCO-listed Iceri Seher or Old City. An intriguing maze, there are ancient ruins from medieval times, the circular Caravanserai—a tavern from the middle ages with stone walls that now has boutiques, the 12th century circular stone Maiden Tower surrounded by myths and legends, and the 15th-century Shirvanshah palace which comprises sandstone structures such as ceremonial gates, palace, mausoleums, bathhouses, and mosques among other structures. Quite apart from these highlights, the old city has something interesting around every corner such as taverns and guest houses, and ruins of ancient buildings such as that of St Bartholomew church. The winding cobbled streets are a pleasure to wander around and if the going gets tiring, there are plenty of cafes and eateries tucked away amidst the ancient relics. 
Exploring Gobustan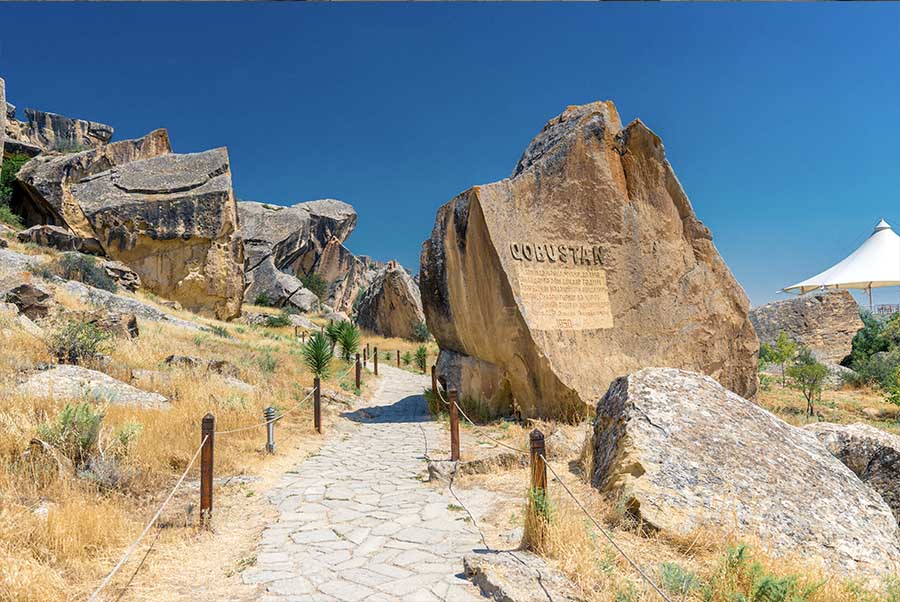 Less than an hour south of Baku, the landscape is a rugged, windswept desert filled with endless flat, brushland broken by mounds and hillocks. It might sound bleak, but Gobustan has an untouched fierce beauty that is endearing. Amidst this rather flat landscape is a massive rocky outcrop; some of the promontories rise several metres and are treacherous. Several of the rock faces are replete with astonishing prehistoric drawings of human figures, animals, fishes, and much more. There's something to catch the eye around every turn and bend. A UNESCO world heritage site, Gobustan has over 4000 such drawings that are estimated to go back several millennia with subsequent dwellers adding and drawing over the previous ones. It is easy to wander around here for hours. Nearby is something even more surreal and fascinating. Mud volcanoes in the region bubble from craters and overflow, carrying mineral-rich mud. Those in search of a bit of activity can smear it and take a dip at a water body nearby.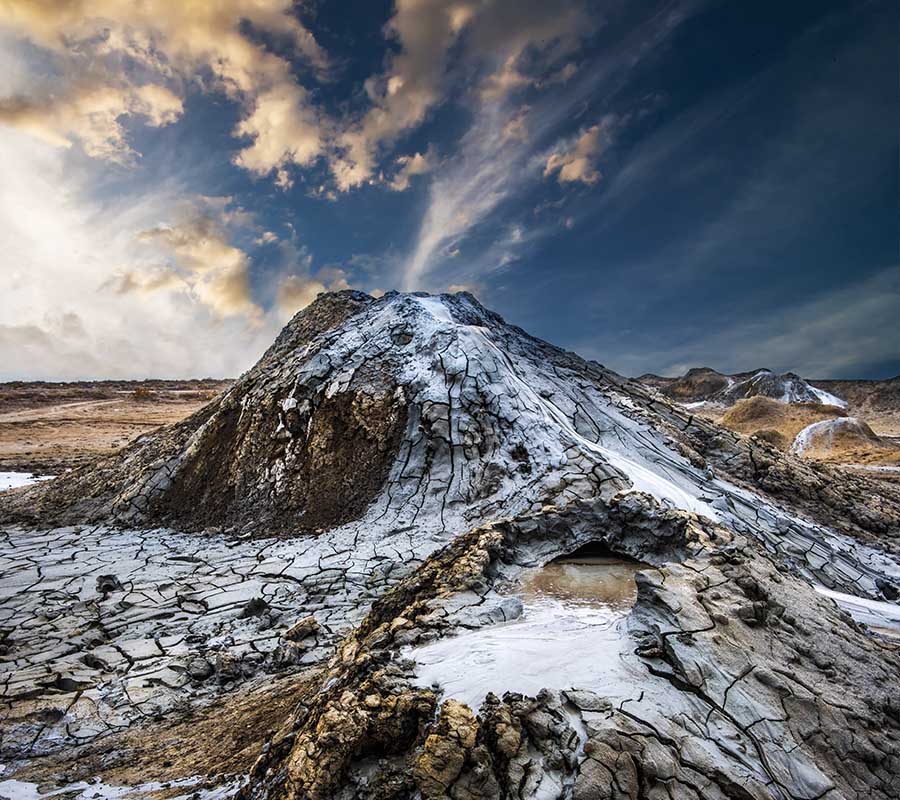 Sheki 
About 300 kms west of Baku and located in the picturesque Greater Caucasus mountains, Sheki is a beautiful city and the country's cultural hub on the ancient Silk Road. It is a city full of character with 18th-century buildings, including a palace and a tavern, and surrounded by quaint villages such as Kish, home to ethnic Caucasian Albanian people, and a ruined church going back to the second century BC.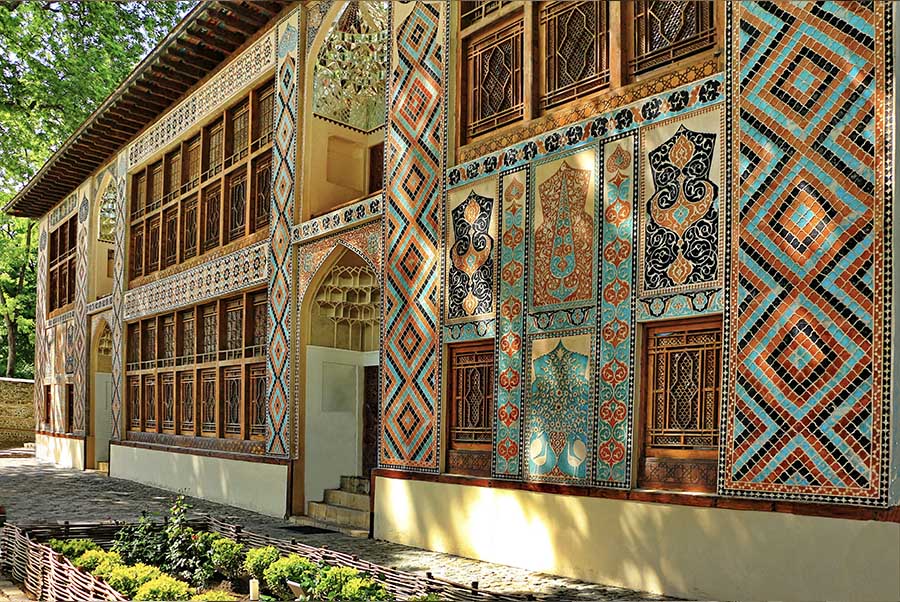 Apart from having a long tradition of making silk scarves, Sheki has several indigenous craft traditions such as shebeke (intricate wooden latticework that is inserted with thin coloured glass pieces) and embroidery and the making of the instrument which is an integral part of mugam, the Azerbaijani music form.
Azerbaijani cuisine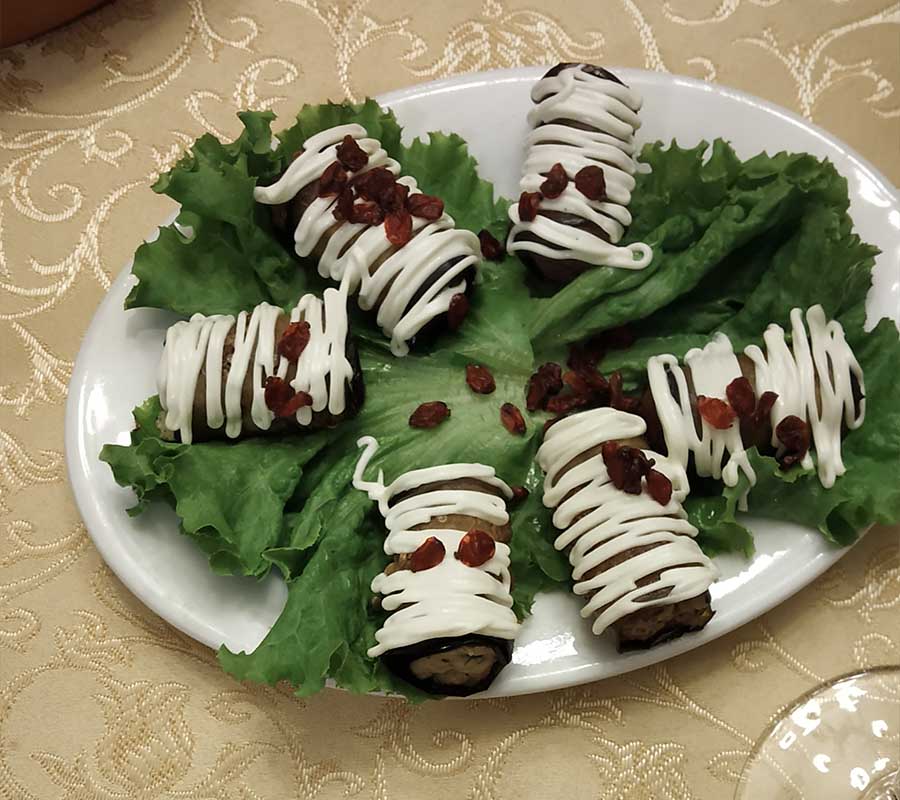 Azerbaijan's position in the middle of the ancient Silk Route has meant that its cuisine is a glorious mix of influences spanning from China in the East to the Mediterranean in the West with Indian, Iranian, Middle Eastern, and Turkish thrown into the cauldron. Though meat is the mainstay, the meal begins inevitably with a platter of fresh vegetables and herbs accompanied by dips such as mangal (like babaganoush). From here it can go several different ways. Juicy kebabs, sometimes served on a wide shallow wok called Saj on a flame with a selection of vegetables, dolmas (any kind of stuffed vegetable; there are over 50 varieties), soups such as dovga (made with runny yogurt), or the elaborate piti (rich and clear lamb soup with mashed tender lamb). There are also whole ribs and a variety of grilled and fried fish. These are usually accompanied by saffron rice or pilaf, called plov, which can also be stuffed into wafer-thin filo pastry along with dried fruits and lamb morsels and baked into a delectable dish called shahi plov. Or soft fluffy bread baked in a tandir (local version of tandoor). Sweets tend towards pastries and layered sweets like pakhlava (baklava), but a meal always ends with dark tea sipped over jellied fruit jams.  
AlsoRead3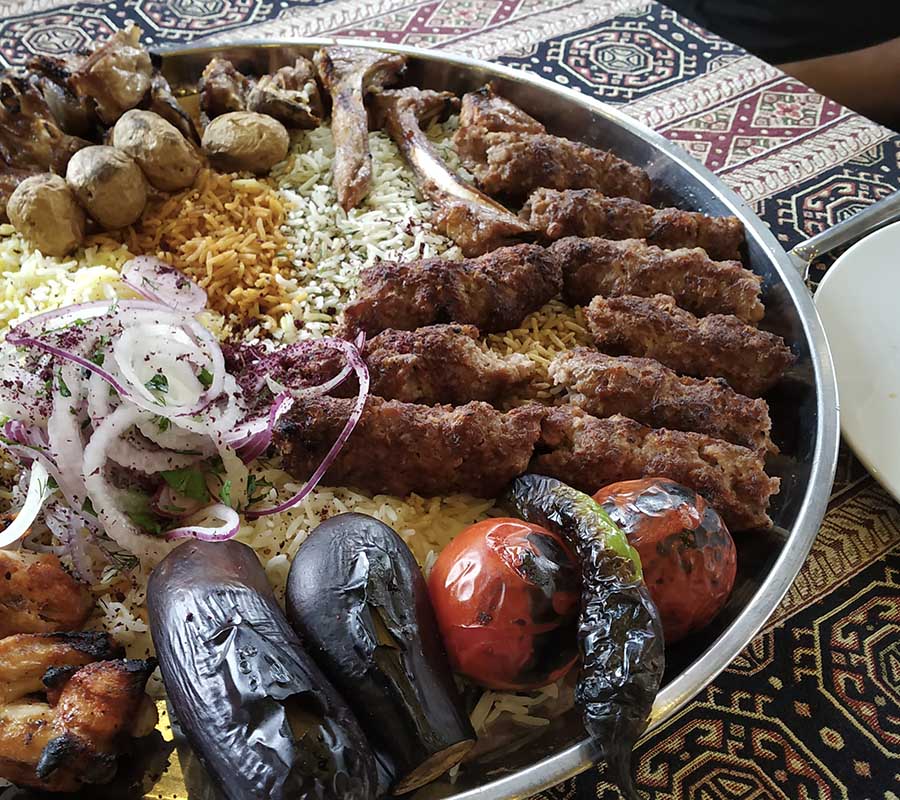 How to reach: There are no direct flights to Baku, but Middle Eastern carriers like Emirates and Air Arabia offer one-stop flights. 
Where to stay: In Baku, Promenade Hotel has stunning views of the city and the sea, while Art Club is close to the old city. In Sheki, Marxal Resort and Spa offers great food and a luxurious spa. 
Getting around: Ride-share and taxis are the easiest way to get around, though hiring a taxi service might be more convenient to make the best use of the short time in the country. 
What to buy: Silk scarves, musical instruments, ceramics, caviar, soaked fruits, jam, and pakhlava.  
Photo: Shutterstock