It's the last leg of our trip in Turkey and we're in the buzzing city of Istanbul—a destination that has been on my list for the longest time. With its Ottoman-era mosques, ancient bazaars, distinct neighbourhoods, and an old-meets-new philosophy, it's easy to see why Istanbul captivates from the get-go. And while I'm eager to see the city's many sights and sounds, one of the things I'm most looking forward to trying is a food walking tour. Food is central to Istanbul's culture, where civilisations (from Greeks, Romans, Byzantines and the Ottomans) have merged over centuries—resulting in a rich culinary tapestry that is staggering, to say the least.
After much research, we've zeroed in on a culinary tour by Taste of Istanbul, which takes you to both the European and Asian sides of the city through its many backstreets, and offers a first-hand look (and taste) at just what makes the city tick. Over the next five to six hours, I discovered Istanbul with a new lens—from friendly locals and unique architecture to under-the-radar food joints that are otherwise hard to stumble across.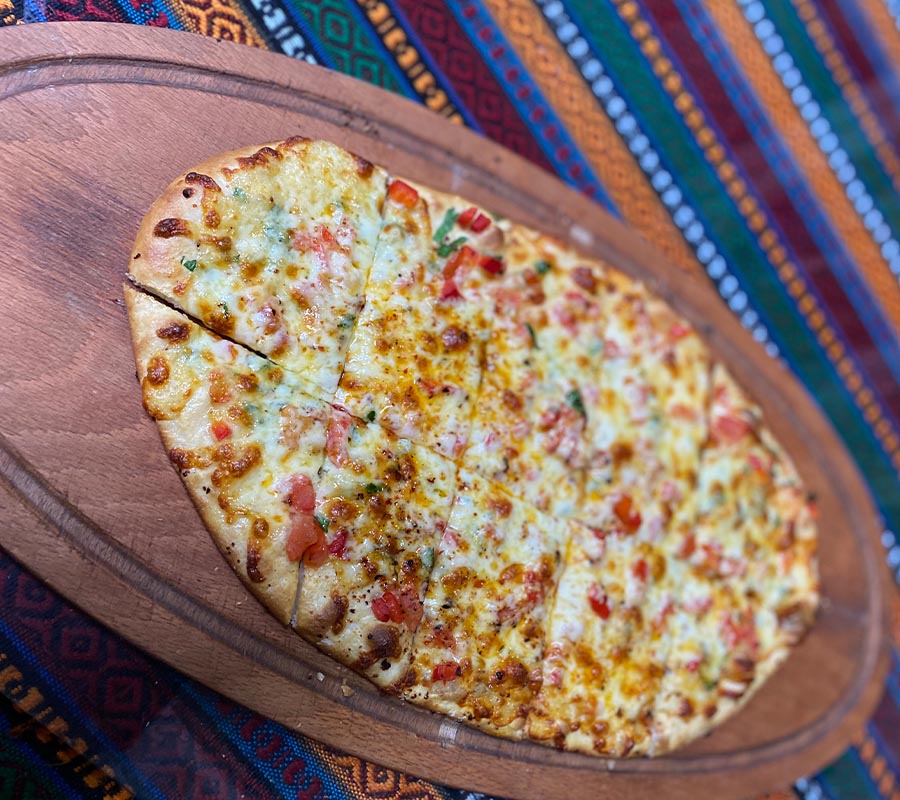 We meet our guide Didem outside the Spice Bazaar in the old part of the city, armed with our umbrellas as the weather threatens to play spoilsport, forecasting rain. Making our way through the cacophony of shops and winding streets, we head to our first stop for breakfast towards Kuveloğlu Han, a historic building dating back to 1888, housing a bakery that's family-run and has lasted generations.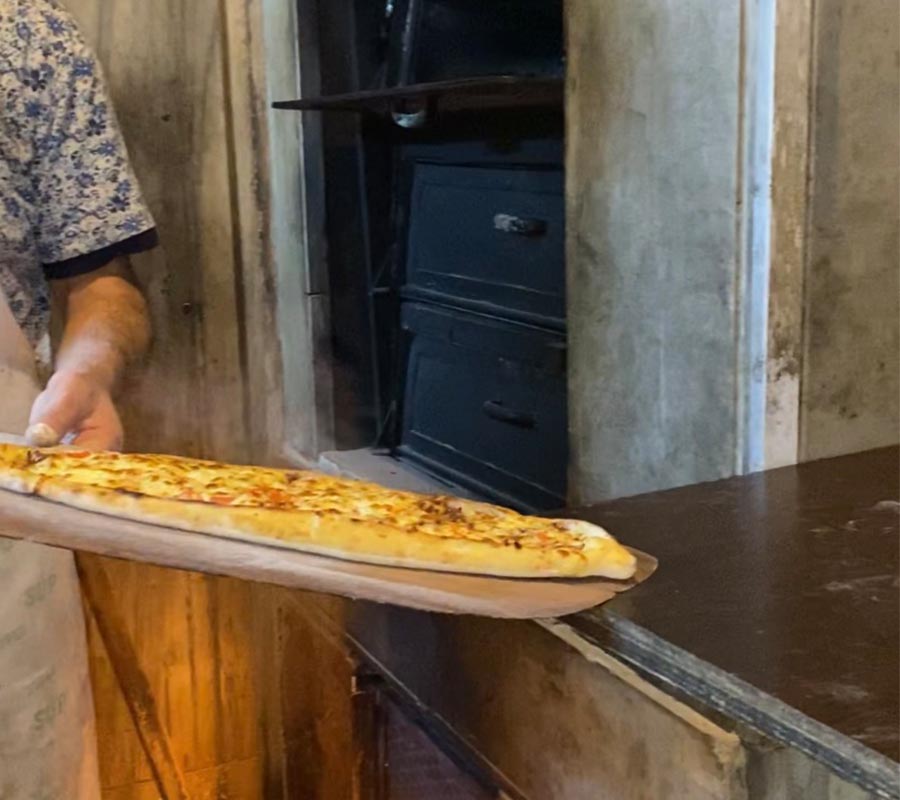 Known as Tarihi Pide Firini, this bakery churns out nearly 300-400 fresh pitas and pides (also known as Turkish pizzas) by the hour in a traditional Ottoman-era oven using sawdust. Ahmet Alagöz, a third-generation baker who has learned the tricks of the trade from his grandfather, has been working here for 36 years and his son Mehmet now apprentices with him. Covered in sawdust and meticulously rolling out and baking pitas that will later make their way to shop owners and local vendors in the area, they promise us a pide we'll remember all the way back to India. And they deliver. We devour the pide in seconds—it's fluffy, delicately spiced, and topped with a medley of vegetables. Savouring cups of Turkish tea we make our way to our next stop.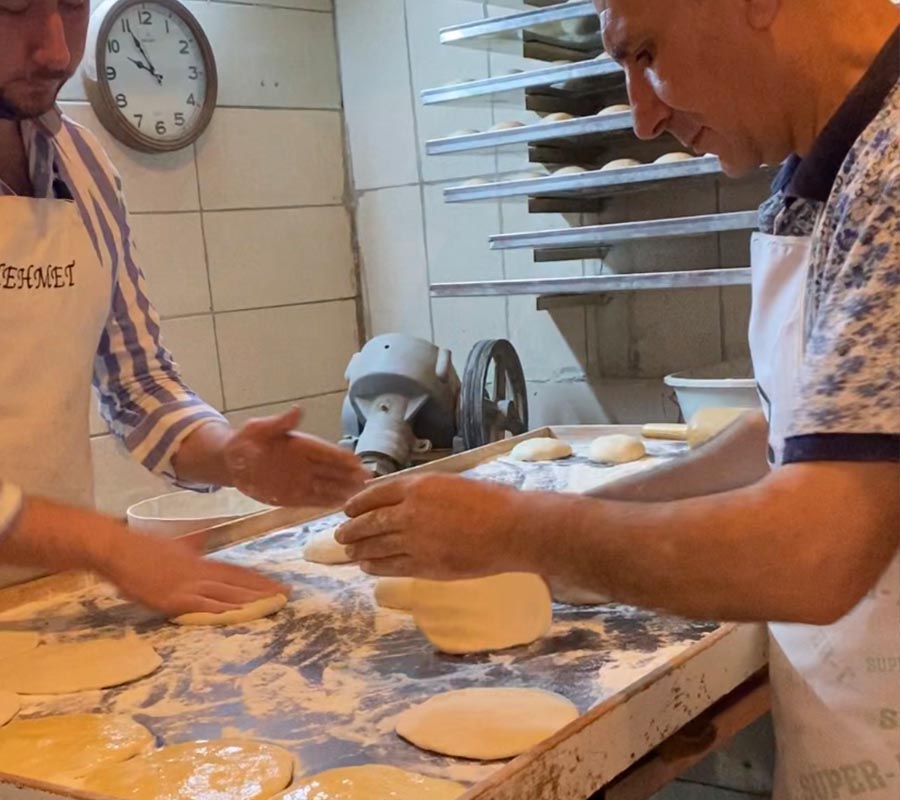 We head back towards the spice bazaar, passing by one of the oldest Turkish coffee sellers in Istanbul. Mehmet Efendi Coffee Roasters has been around since 1871, and there's always a queue lined up outside whenever you go. Make sure you pick up some of their ground Turkish coffee to take back home.
Of coffee, spices, and aromas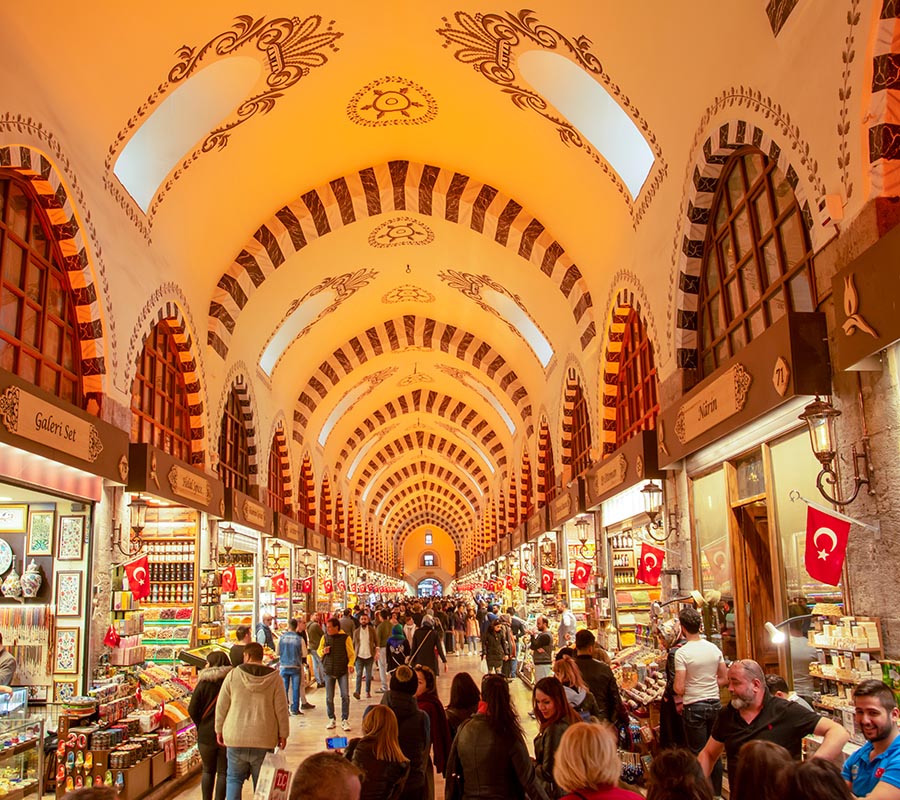 The Egyptian spice bazaar is equal parts colourful and chaotic, with shopkeepers showcasing mounds of aromatic spices and cheesemongers displaying fresh products. We make a quick pit-stop at a cheese and charcuterie store in the heart of the bazaar, sampling a variety of sharp, aged cheeses and fresh ones as well. Cheese is big in Turkey, and you have a mind-boggling variety to choose from—be it stringy, aged, or fresh cheeses.
It's time to go pick up some lokum or traditional Turkish delight from a 250-year-old candy store, a short distance away from the bazaar. Stepping in, I feel like I've gone back in time, with glass cases and jars filled to the brim with an assortment of candy and sweets. Ali Muhiddin Haci Bekir opened in 1777; it is one of the oldest candy stores in the city and offers far superior Turkish delight than the commercial varieties you find all over, as I would soon discover. They were also the first to make lokum for the royal palace that later found its way onto the tables of foreign diplomats.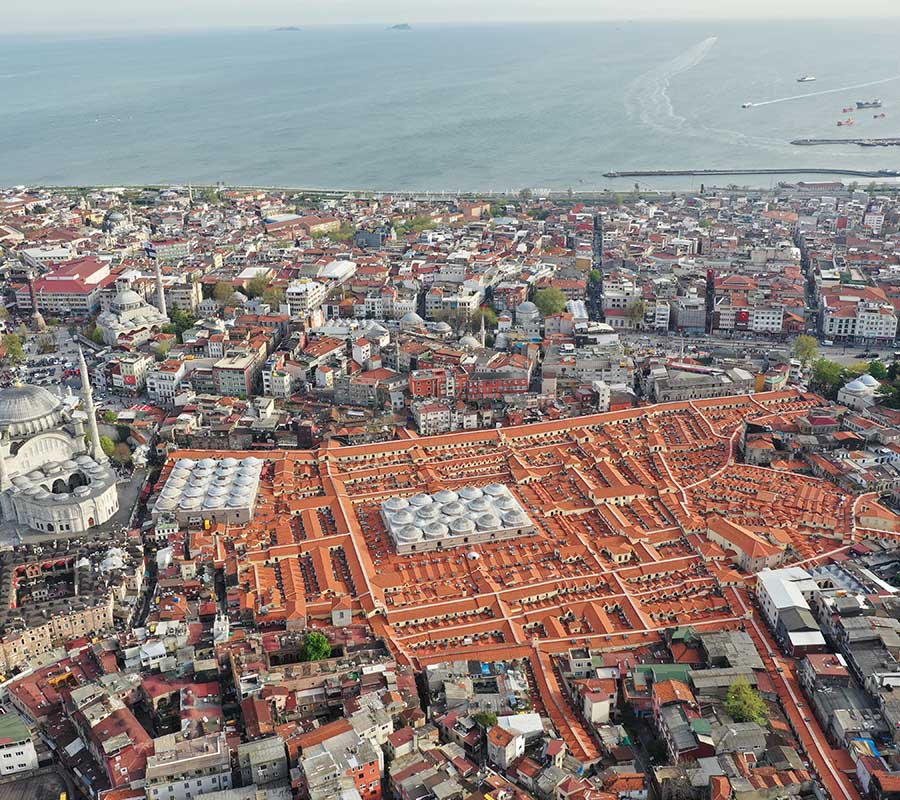 We pick up some traditional lokum to have with our coffee in the Grand Bazaar—another icon of Istanbul. This covered bazaar dates back to the 15th century and houses nearly 4000 shops.
The unassuming and tiny coffee kiosk has low stools and carved wooden tables that you can sit around, and has been in the Grand Bazaar for over 100 years. Ethem Tezçakar Kahveci dates back to 1909. Bekir Tezçakar is now the fifth-generation owner running the business. We order cups of traditional Turkish coffee, which they continue to make with old-school apparatus. We're told by our guide that, unlike tea, coffee is savoured more leisurely, usually over a conversation, and in our case, the traditional Turkish delight that we picked up earlier. My recommendation would be to grab a spot here and just watch the happenings in the bazaar as you savour your brew.  
Of kebabs and baklavas
Shopping for a few souvenirs, we make our way outside to the back lanes of the Grand Bazaar, where doner kebab stores line the street. Lunch is a quick meal of doner kebab stuffed in a fluffy pita, paired with some sour cherry juice—a popular drink with the locals, I'm told. People usually flock to Dönerci Şahin Usta for its beef doner. After a cheap and satisfying street food meal, and it's on to dessert now. A short distance away, is a popular baklava store with trays of this delicious sweet flown in fresh daily from Gaziantep (a city famous for its pistachios and baklava). You can't leave without sampling a variety of these at Çarşı Baklava. I would also recommend going to Karaköy Güllüoğlu if you have the time for great-tasting baklava.
To work off the calories, we make the steep climb towards Süleymaniye Mosque, sitting atop one of Istanbul's seven hills. The mosque itself is a work of beauty, with gardens, a mausoleum and courtyards—each a stunning example of Ottoman-era architecture. I personally recommend this over the Hagia Sophia mosque or Blue mosque, simply because it's less crowded and truly lets you appreciate the beauty of the place.
Crossing the Bosphorus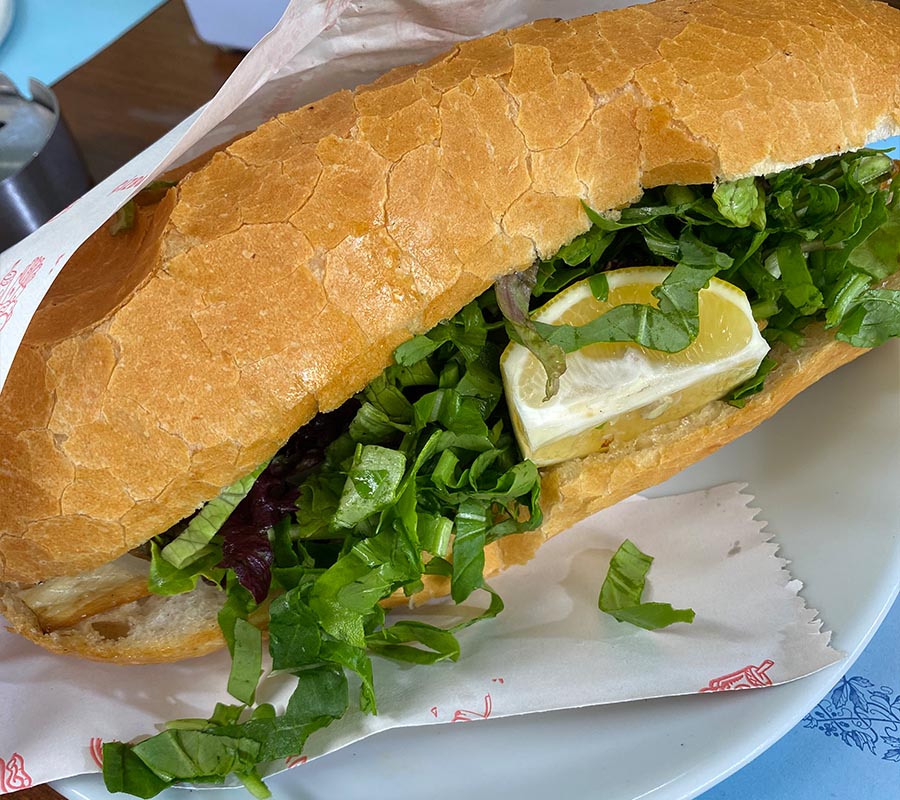 And if you thought that was a lot of food, think again! We're off to the Asian side of Istanbul, taking the ferry to cross over to Kadiköy, a buzzing and hip neighbourhood that's filled with restaurants, local shops, and markets.
The best way to describe Kadiköy is that it's a riot of colours. Feast your senses on everything from fresh fish laid out on ice, shops selling vats of golden-hued honey, jars of pickles lining shelves, along with platters of olives, local florists proudly displaying fresh flowers, and several fruits, nuts and vegetable vendors which locals flock to. We grab a seat at a fish shop (you'll find several of these) in the famous Kadiköy Balik Pazari, ordering a simple mackerel fish sandwich with a squeeze of lime made right in front of you. It's a sensorial experience as you watch the crush of people enjoying a meal outdoors.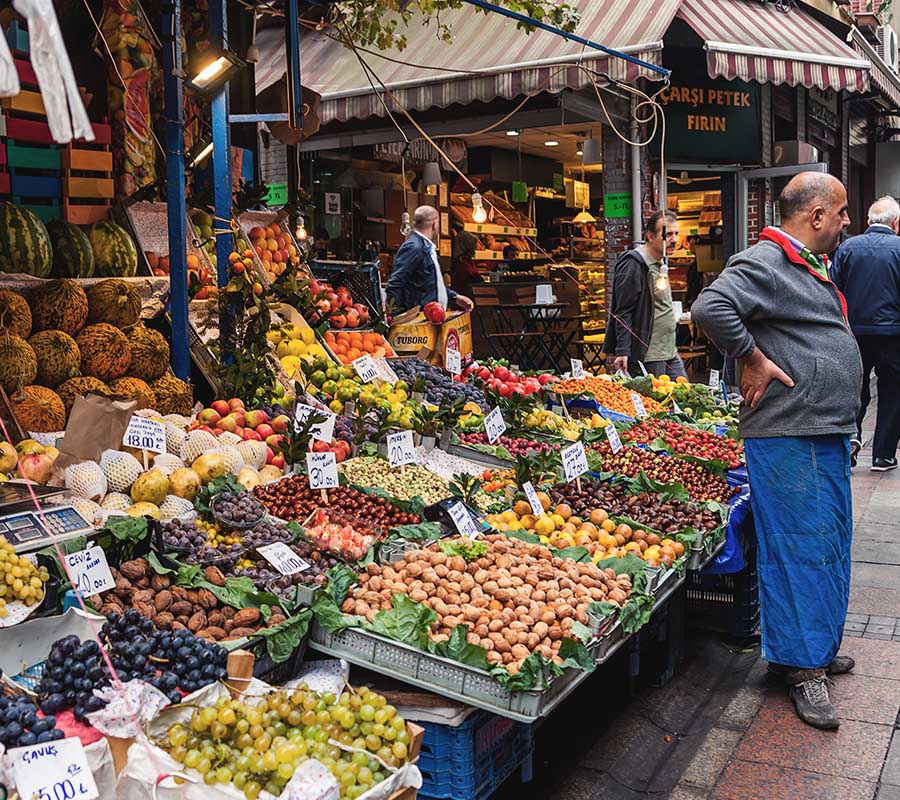 We're yet to sample mussels at a local vendor but protest, citing that we're too full to eat anymore. Instead, we walk around the colourful market and eventually make our way towards our final stop—Çiya Sofrası. This popular restaurant was started by chef Musa Dağdeviren (featured on Netflix's Chef's Table), showcasing traditional and forgotten Anatolian fare and recipes from across the country. Sofrasi, which roughly translates as 'dining table', lets you pick and choose from an array of dishes and a daily-changing menu—think eggplant casserole, kofte, stuffed dried vegetables, etc.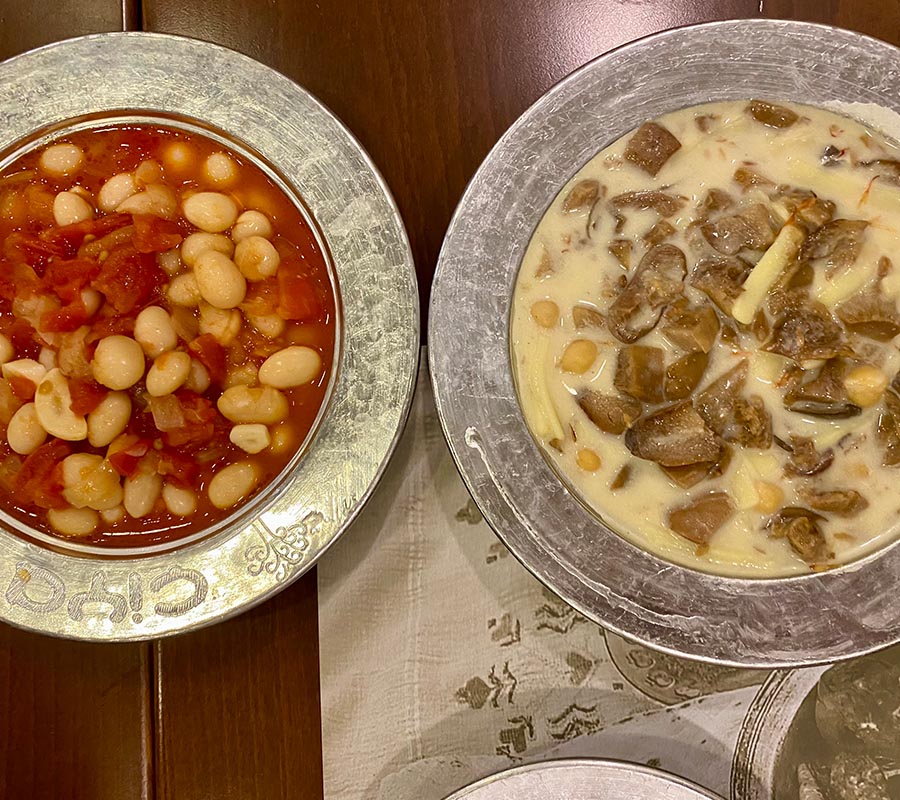 As we wrap up our tour, I'm amazed at just how much we've managed to pack in within a short span of time. We've seen the city up, close, and personal, avoided typical tourist traps and gained a new perspective on the city's rich culture and culinary history. So, if you're in Istanbul for just a few days and want to get a glimpse of what it's truly about, book yourself a food walking tour that combines the best of cuisine, culture, and experiences and helps make the most of your visit if you're short on time. 
Photo: Shutterstock and Arzoo Dina