Located in the commercial centre of South Delhi in Laxmi Bai Nagar, Dilli Haat is run by the Delhi Tourism and Transportation Department. It is an open-air market where the culture and crafts of all the states come together in one place. The craftsmen of different states get a chance to present their artistry and sell it at reasonable prices to people. There is a food court where you can enjoy the delicacies of each state while being entertained by dance and singing programmes by the artists. 
The events are curated by the artists of different states , bringing in their culture for you to enjoy while scouring the shops for statement pieces to add to your home decor or closet. From clothes, shoes, furniture to wall hangings, there is a little something for everybody here. 
You can visit the market from 10.30am-10pm on all days and the entry fee is just Rs 30 for adults, Rs 20 for kids and Rs 150 for foreigners.
1. Experience a hub of vibrant cultural activities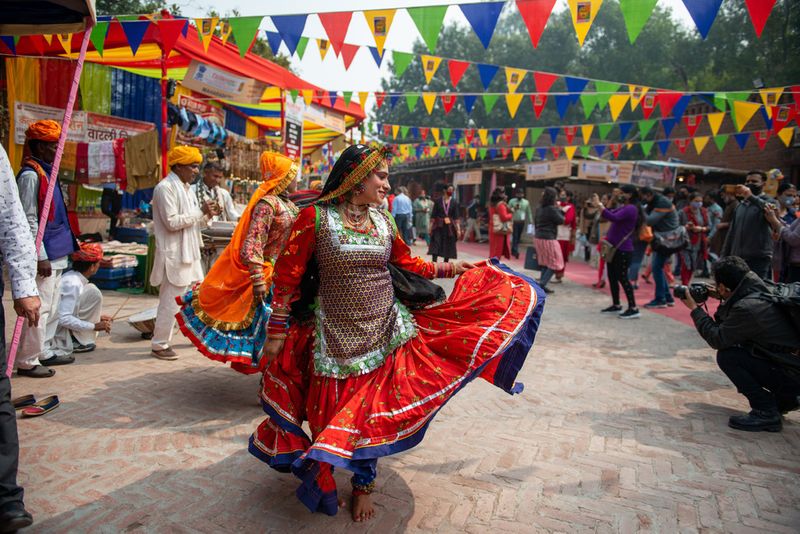 Dilli Haat market is not only to treat the shopaholic in you, it is also designed in a way that you will be entertained in every aspect. The haat organises and displays cultural activities such as flash mobs where people dance, present a drama or sing with various instruments. A nukkad natak or flash mobs mostly convey a social message which will make you think long after it is over.
2. Shop for handcrafted items made by artisans from across India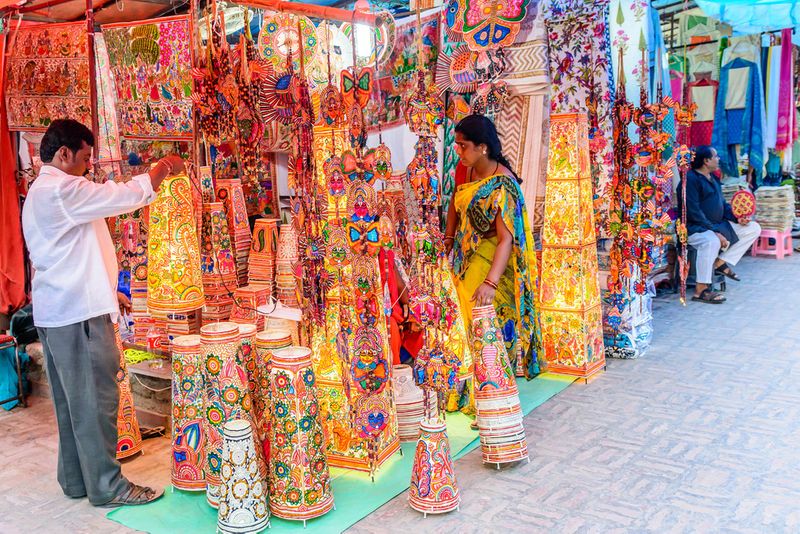 Artisans and sellers from all over India come to set shop in Delhi haat market. They bring in their specialties that you can only buy if you are in that State. From colourful clothes, jute bags, shoes to cane chairs, lampshade, clay and porcelain crockery, jewellery, painting, sculptures, lanterns, antiques, organic foods, essential oils and the list goes on. You will find everything you are looking for and much more on your shopping day out. There are so many options to everything that you might get confused.
3. Explore and appreciate diversity through various kiosks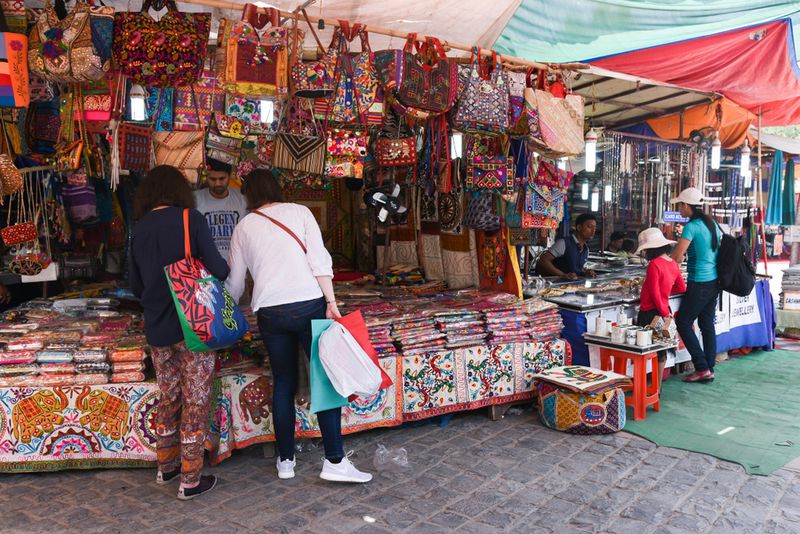 Once you enter the haat market, you will feel overwhelmed by all the different cultures gathered under one roof. If you walk by the stalls, you will be able to understand the distinct look and feels of all the stalls. Not one stall is similar to the other and they all sell a special handicraft element of their State. For example, a stall from Kashmir would be selling Pashmina shawls, Nagrai chappals and juttis from Rajasthan, lanterns and jhumars from Gujarat and jute bags from Bengal. You will find a unique thing to buy in every stall.
4. Get the one-of-a-kind rustic village-like vibe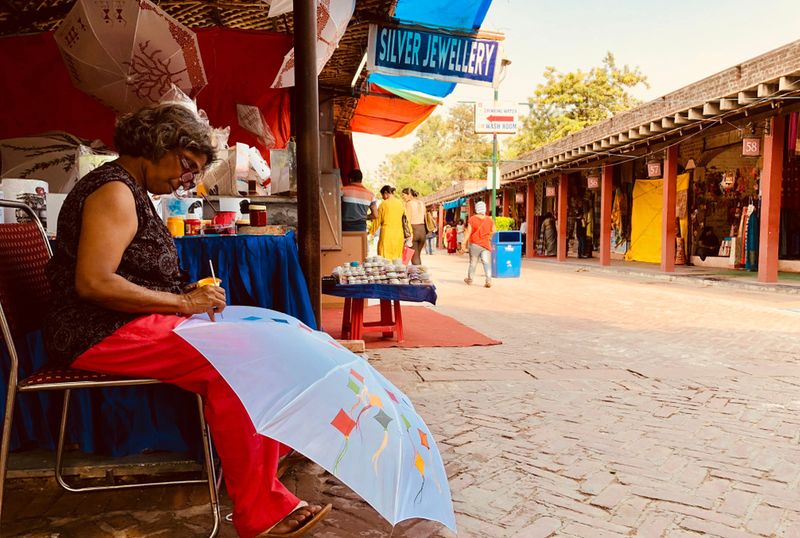 The Dilli Haat INA is set on a six-acre land that is covered in red stone and bricks. You will see an architectural resemblance to the bazaars of Jaipur and it is very common to the houses you see in North India. The shops are styled like small cottages with stone roofs. The entire area gives a rustic village vibe and is sure to mesmerise you with the oozing culture.
5. Sample local delicacies from different parts of the country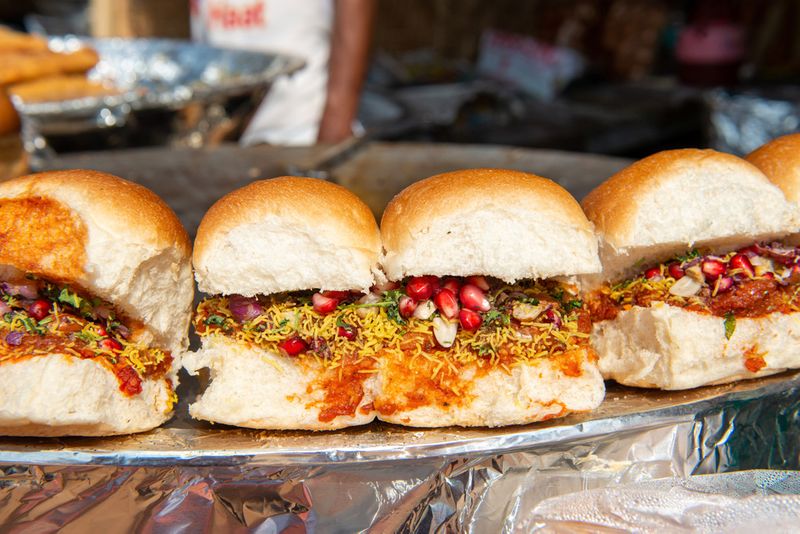 Set in a cosy, outdoor environment, see all the parts of the country coming together in Dilli Haat market with flavours and delicacies. We would recommend you to try a delicacy or cuisine that you have never tried rather than sticking to your favourites only. Try out thukpa from Nagaland, daal baati churma from Rajasthan or thekua from Bihar and many more delicious foods that you have never heard of.
6. Experience what feels like 'a mela' all year round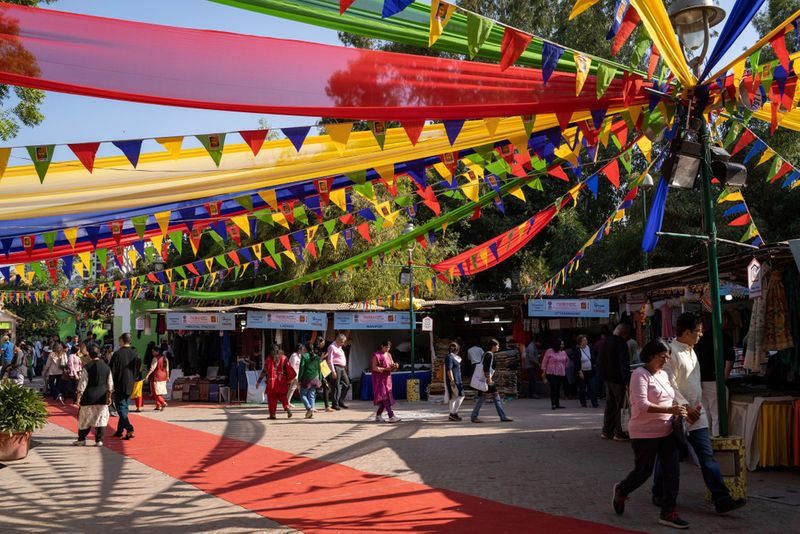 Do you remember feeling excited for the mela that used to come near your place only during the winter months? Well, the Dilli Haat market is here to make you happy with all its specialties all year round. Now, you don't have to wait but enjoy every other weekend in Dilli haat, amidst all the treats that it has to offer.
7. For a colourful date with your BAE or squad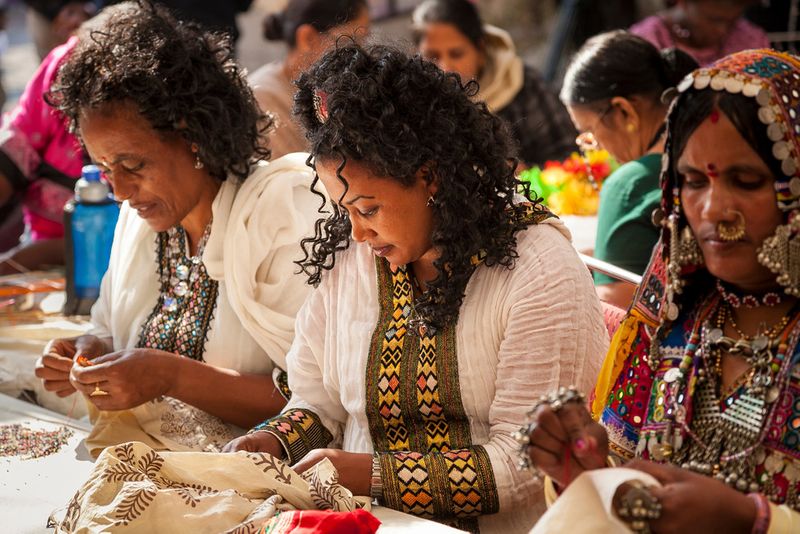 If you are looking for an unusual yet a heartwarming place to hangout with your buddy squad or a date location with your partner, Dilli Haat market would be idle. It has all kinds of activities that you can enjoy together, like mehendi, braiding, enjoying a flash mob or a play. You can see and buy from the shops and end the day by gorging on some mouth-watering food. You can also organise a photographer's retreat as this place is a paradise for the perfect frames.
If you are looking for an idea for a day out over the weekend, head over to Dilli Haat INA for a wholesome experience of shopping, eating and having a gala time!
---
Photo: Shutterstock