Mukteshwar is a charming hill town, situated in the Nainital district. It is 2,286 metres above sea level and provides a calm haven from the bustle of city life. The town is named after the well-known Mukteshwar Temple, which is a popular tourist destination that is dedicated to Lord Shiva.
Mukteshwar has beautiful weather all year round, making it a popular vacation spot for people who enjoy the outdoors and exploring new places. March through June and September through November are the best months to visit Mukteshwar because of the mild and pleasant weather. The town suffers significant snowfall during the winter, which can make exploring the area challenging.
Through road and rail, Mukteshwar is well connected to the rest of the country. Pantnagar Airport, which is 96 kilometres away from Mukteshwar, is the closest airport. You can take a bus or a taxi from the airport to go to the town. Kathgodam is the closest railway station at 68 km.
After you're done checking out the other tourist-friendly spots in Uttarakhand and after you're done with all the adventure sports there on offer, we recommend spending a few days in Mukteshwar to experience a different kind of vibe.
Mukteshwar is best visited between March and June and September and November. The weather in Mukteshwar is pleasant during these months, with temperatures ranging from 15 to 25 degrees Celsius. Mukteshwar's monsoon season, which lasts from July to August, should be avoided because the town gets intense rain, which can cause travel arrangements to fall through.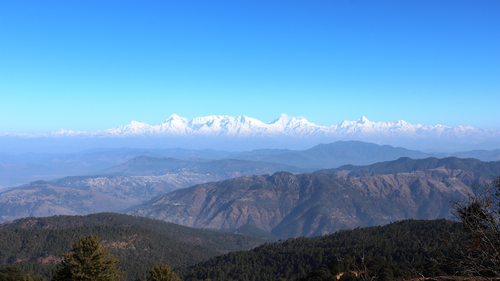 The price of a trip to Mukteshwar will vary depending on a number of variables, including the means of transportation, lodging, meals, and activities. The typical cost of a 3-day journey to Mukteshwar ranges from INR 10,000 to INR 20,000 per person. Transportation, lodging in a mid-range hotel or homestay, meals, and extras like trekking, nature walks, and sightseeing are all included at this price.
Here are the top 7 Mukteshwar attractions that you should not skip
1. Mukteshwar Temple
Mukteshwar Temple is a historic temple built in honour of Lord Shiva. The temple is perched atop a hill and provides sweeping views of the valleys and hills in the area. The temple's architecture, which combines Kalinga and Nagara design elements, is beautiful.
2. Sitla
Sitla is a picturesque and tranquil village close to Mukteshwar. The community is renowned for its lovely apple orchards, thick pine forests, and breathtaking Himalayan mountain views. A stunning church from the colonial era that was constructed in the 19th century is also located in the settlement. The church is an architectural masterpiece that merits a visit because of its exquisite timber carvings and stained glass windows.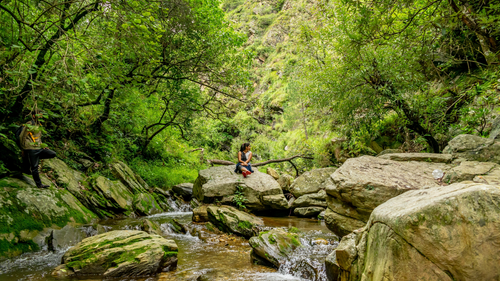 3. Bhalu Gaad Waterfall 
Bhalu Gaad Waterfall is a magnificent natural waterfall that can be found in Mukteshwar's luxuriant and green woodlands. The waterfall is thought to be a favourite site for bears in the area, hence its name, which is derived from the Hindi word for 'bear'. The waterfall generates a natural pool at the bottom as it cascades down from a height of more than 60 feet. The pool is the ideal location for a leisurely lunch with friends and family or a revitalising dip.
4. The Mukteshwar Inspection Bungalow
The Mukteshwar Inspection Bungalow is a lovely home from the colonial era that has been transformed into a heritage hotel. This home was constructed in 1904 and has housed a number of senior British officers. It has breathtaking views of the valley and the Himalayan range and is surrounded by lovely gardens. The bungalow has now been renovated and transformed into a heritage hotel that provides guests with opulent and comfortable lodging.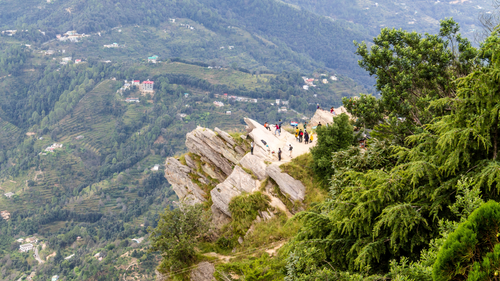 5. Chauli Ki Jali
The natural rock structure known as Chauli Ki Jali is close to Mukteshwar Temple. It is thought that only a bird can get through the tight spaces between the rocks at Chauli Ki Jali. In addition to having stunning valley vistas, the location is well-liked for adventure sports including rock climbing and rappelling.
6. Nathuakhan
In the magnificent Kumaon highlands of Uttarakhand, close to Mukteshwar, sits a little, tranquil village of Nathuakhan. It is the ideal location to get away from the bustle of the city and enjoy the tranquilly of the mountains. In addition to providing spectacular views of the surrounding hills and valleys, Nathuakhan is well known for its lovely apple orchards. The hamlet has a historic Nanda Devi temple and several beautiful walking trails for those who enjoy the outdoors. 
Pro-tip: With numerous bird species, like Himalayan griffons, vultures, and eagles, calling the village home, it's also an excellent place to go bird-watching.
7. Ramgarh
Ramgarh, a lovely hill town close to Mukteshwar, is renowned for its orchards, tranquil surroundings, and scenic beauty. It offers expansive views of the Himalayas and is located 1789 metres above sea level. The fruit orchards of Ramgarh are renowned for their apples, peaches, and apricots in particular. The town has served as an inspiration for numerous well-known literary works and is a favourite resort for writers and artists. There are many lovely hiking trails in Ramgarh, including the well-known Chaubatia Ridge walk. The community also provides a number of adventurous pursuits, including rock climbing and paragliding.
---
Photo: Shutterstock