Uttarakhand in India is believed to be a Dev Bhoomi — Land of the Gods. Steeped in mythical stories and mighty mountains, the state boasts dramatic terrain, holy peaks, meandering rivers and magnificent lakes. Some of the most popular tourist places in Uttarakhand offer a peek into India's spectacular history, where renowned Hindu epics were set.
It might seem like a second runner-up state — what with the second-highest tiger population and India's second-highest peak — but Uttarakhand wins gold in natural beauty and thrilling activities. Boasting mesmerising views of the Himalayas and ethereal natural beauty, places in Uttarakhand reflect a cultural ethos of humble living in a land steeped in sublime harmony and serene spirituality.
The places to visit in Uttarakhand offer something to every traveller who is bold enough to face the mighty Himalayas for self-reflection. Sailing through the picturesque hill stations of Mussoorie to the enthralling Jim Corbett National Park and the religious site of Hemkund Sahib, check out these stunning must-visit destinations of Uttarakhand.
8 places to visit in Uttarakhand
1. Dehradun and Mussoorie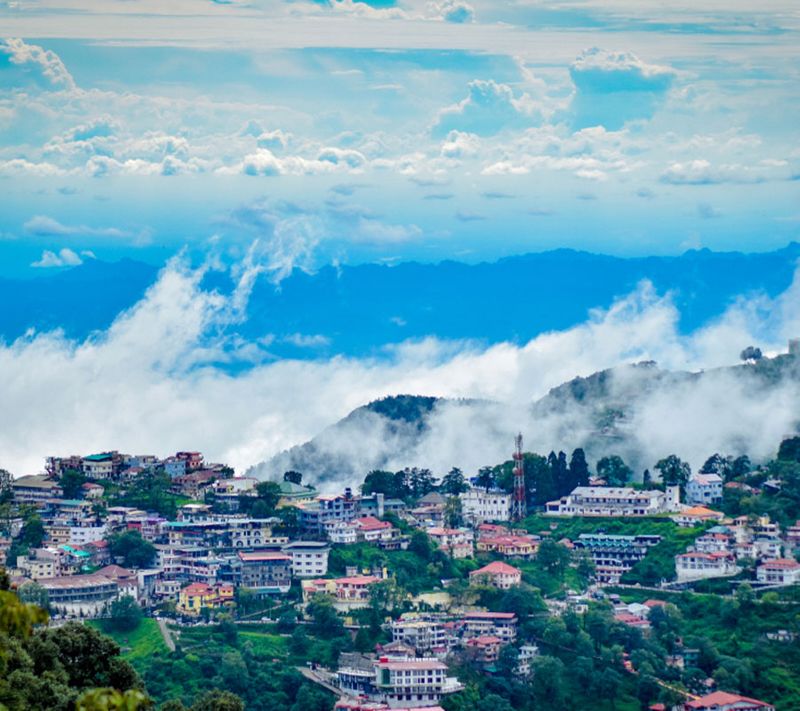 One of the best places to visit in Uttarakhand is the hill station of Mussoorie. Dehradun, the winter capital of Uttarakhand, is the gateway to the majestic Himalayan range and river Ganga that paves a rocky path uphill to the Queen of Hills — Mussoorie. A popular tourist spot that attracts thousands of tourists each year, Mussoorie is a perfect summer getaway destination to escape the sweltering city heat.
How to reach: Delhi to Dehradun via road takes about 5 hours and then Mussoorie is just an hour's drive away. Jolly Grant Airport is the nearest airport in Dehradun.
Things to do: Visit Kempty Falls, Benog Hill trek and Jwalaji Temple. 
2. Nainital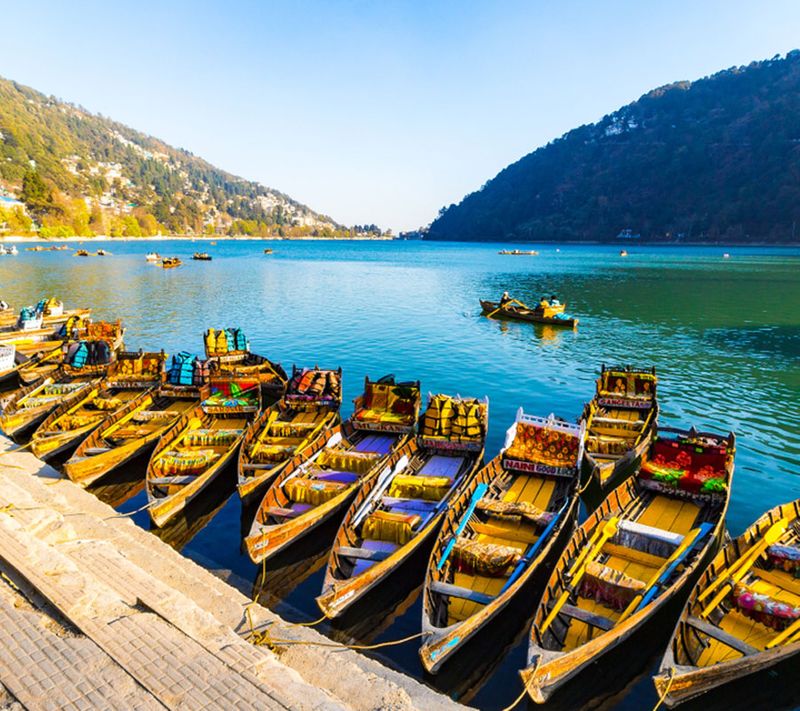 One of the more commercial Uttarakhand destinations, Nainital is a popular getaway spot for family holidays and honeymooners. Sitting pretty by the beautiful Naini Lake, the valley is encompassed by mighty mountains with snow-capped peaks doused in a mist of clouds. It is one of the most beautiful places to visit in Uttarakhand during the monsoons.
How to reach: Nainital does not have an airport. The nearest railway station is Kathgodham, about 34 km from the city. By road, it takes about 7 hours from Delhi to Nainital.
Things to do: Visit Nainital Zoo and Naini Lake. 
3. Jim Corbett National Park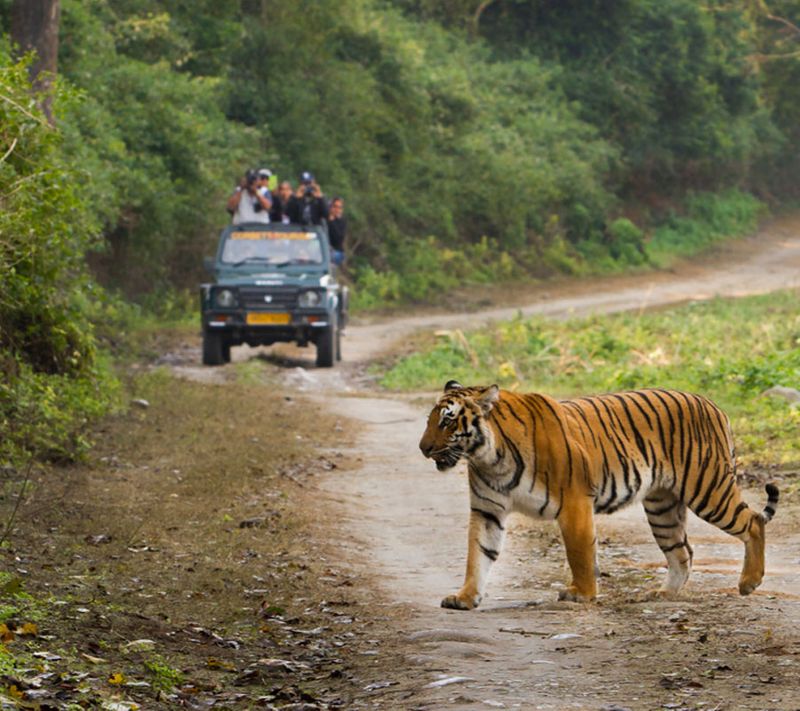 Take the adventurer in you on a bumpy ride through the dense forests of Jim Corbett National Park. Topping the list of Uttrakhand famous places, Jim Corbett is home to India's exotic large cats — the Royal Bengal Tigers — along with more than 600 species of birds and 488 different types of plants.
If you are looking to escape into the wilderness with nature in its most untouched form, indulge in safari Jim Corbett. Its hiking trails and forest safaris are unmissable experiences of a lifetime. Spend the night in Jim Corbett's modern resort and immerse yourself in an eerie silence that lingers through the forest at night. If you love watching wildlife in their habitat, you can also check out the Binsar Wildlife Sanctuary that offers an equally enriching experience.
How to reach: Ramnagar is the nearest railway station. Jolly Grant in Dehradun is the nearest airport.
Things to do: Elephant safaris, jeep safaris, nature photography and hiking.
4. Haridwar and Rishikesh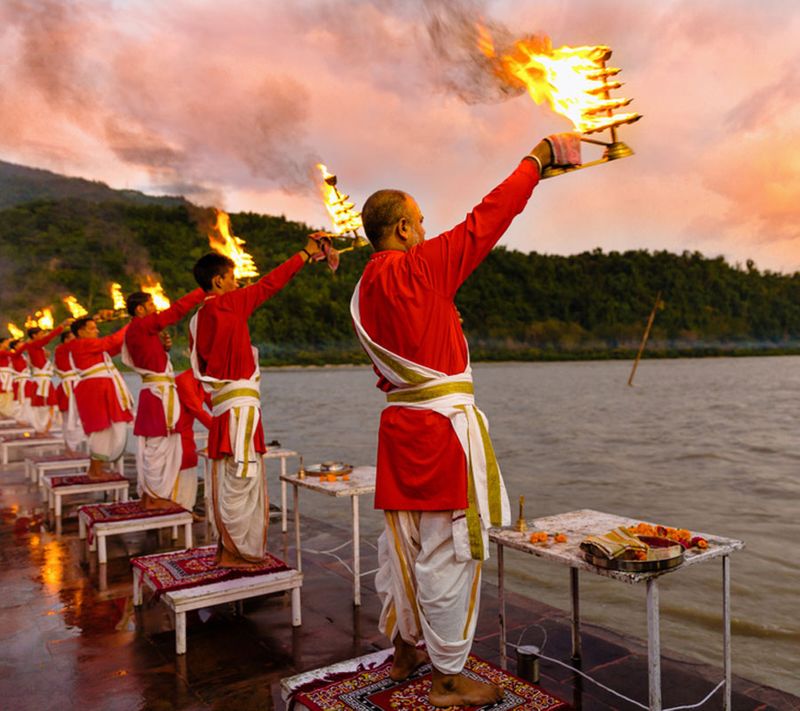 Two tourist places in Uttarakhand that attract visitors all year long are Haridwar and Rishikesh. Located 45 minutes apart, while the first is India's pilgrim capital, the latter is the adventure and yoga capital.  Start with a trip to Haridwar, where the city's spiritual aura will engulf you in a trance-like state. After that, Rishikesh will awaken your adventurous spirit as you delve into a thrilling river rafting experience in the white water rapids.
How to reach: The nearest airport is the Jolly Grant Airport in Dehradun. Trains, buses and private taxis connect Rishikesh and Haridwar.
Things to do: In Haridwar, don't miss the Ganga aarti, take a dip in the holy waters of river Ganga and meditate along the banks. In Rishikesh, indulge in water sports and try adventure activities like bungee jumping and trekking.
5. Auli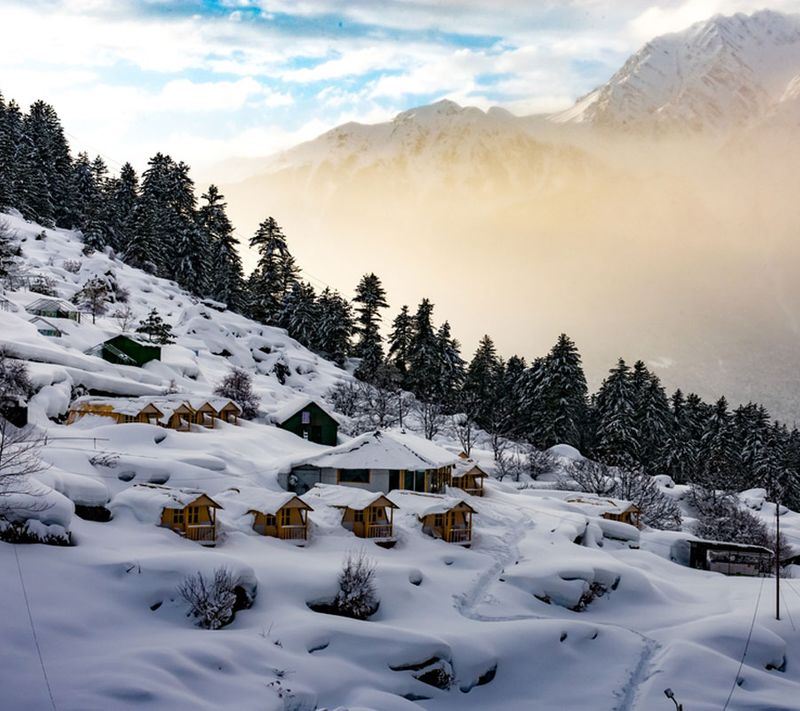 The best tourist places in Uttarakhand are the state's hidden gems and Uttarakhand has plenty of crowning jewels. Auli is one such destination that is steeped in resplendent natural beauty. Located adjacent to the religious site of Badrinath, Auli is home to snow-capped Himalayan peaks and dense deodar and oak forests. Auli, meaning meadows, comes to life from November to February as tourists frequent the hill station to indulge in skiing activities.
How to reach: The nearest airport and railway station for Auli are in Dehradun.
Things to do: Ski on snow-laden hills, trek to Gorson Bugyal and enjoy a panoramic view of the valley from the ropeway. 
6. Chopta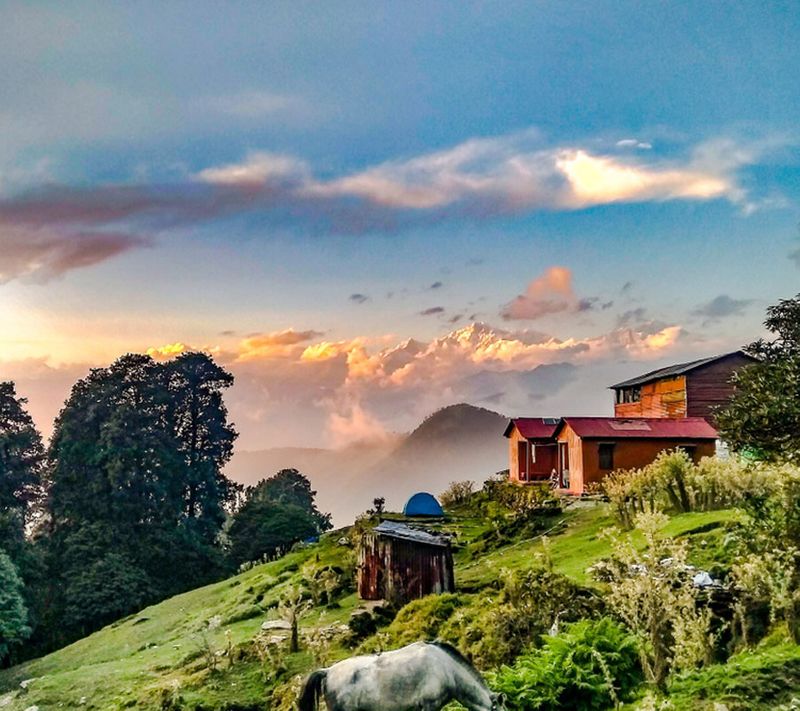 One of the less explored places to visit in Uttarakhand is Chopta. Perched at a height of around 2,600 m, this Himalayan hamlet serves as a starting point for famous treks to Chandrashila and Tungnath. From atop the valley of Chopta, you can enjoy a bird's eye view of the Himalayan peaks of Nanda Devi, Trishul and Chaukhambha. Chopta is one of the best places in Uttarakhand to undertake trekking expeditions that range from easy to difficult.
How to reach: The nearest airport is Jolly Grant in Dehradun, and the nearest railway station is in Rishikesh.
Things to do: Trekking, camping and nature photography.
7. Hemkund Sahib and Valley of Flowers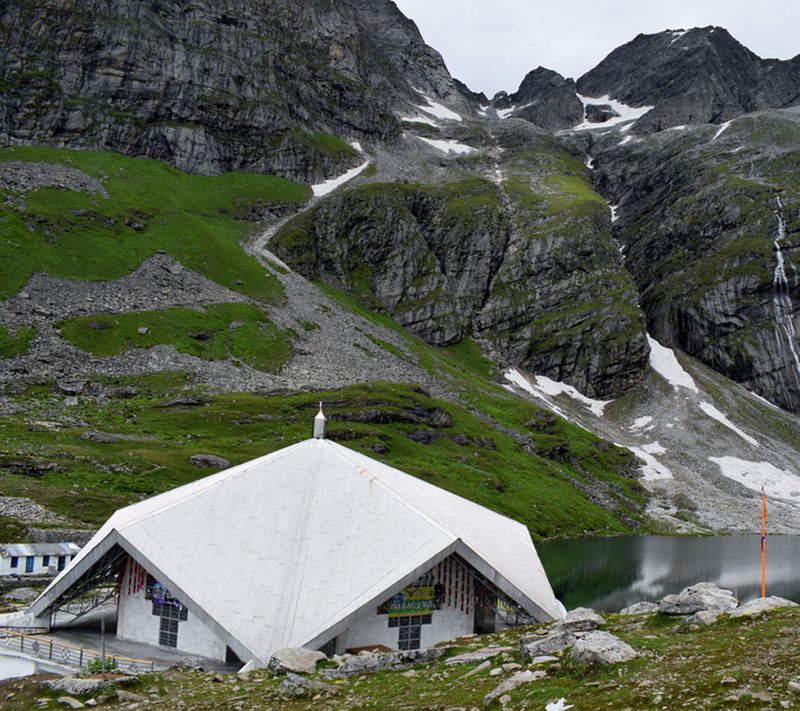 One of the most surreal places to visit in Uttarakhand is the Valley of Flowers. Part of Nanda Devi and the Valley of Flowers National Park, the destination is bestowed with rare Himalayan flora, meadows of endemic alpine blooms — Saussurea obvallata, that is also the state flower of Uttarakhand. A popular trek from Hemkund Sahib, a holy place for the Sikh community, to the Valley of Flowers commences from Rishikesh. It is an experience that cannot be contained in words. It's approximately a 6-km-long trek that takes a total of 7 hours inclusive of sightseeing. It is a must-add to your things to do at Uttarakhand destinations.  
How to reach: Jolly Grant in Dehradun is the nearest airport to Hemkund Sahib. The nearest railway station is in Rishikesh.
Things to do: Visit the Valley of Flowers and offer prayers at the Hemkund shrine.
8. Dhanaulti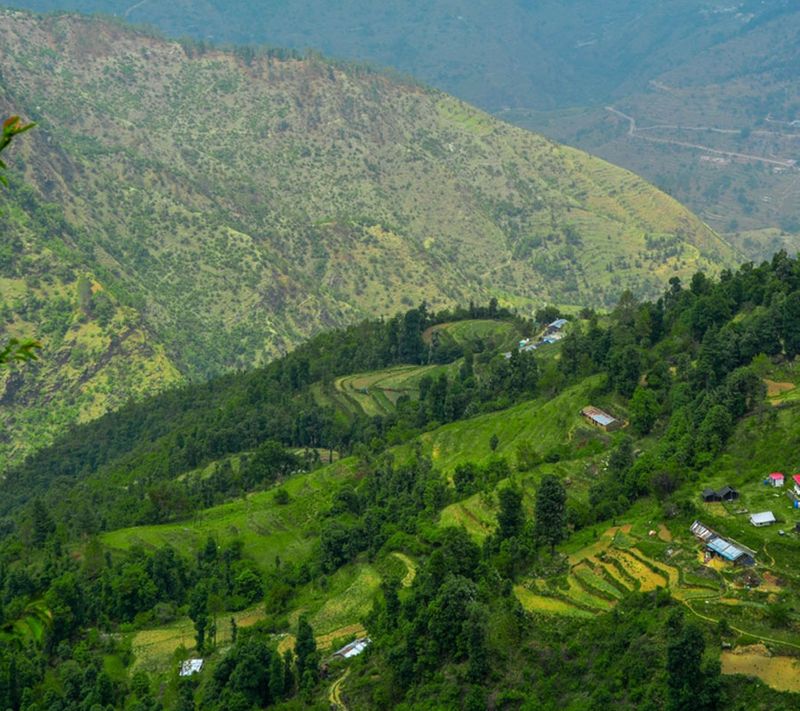 Nuzzled in the lofty Himalayan peak is the picturesque hill station of Dhanaulti. Just 60 km from Mussoorie, Dhanaulti is lined with tranquil vistas and magical views of the snow-capped Himalayas. Unlike other commercial hill stations, Dhanaulti might not have fancy restaurants, but it does have untouched natural beauty that envelopes the town. Towering oak trees, velvety rhododendrons and dense deodar forests make Dhanaulti mysteriously mesmerising.
How to reach: Just 60 km from Mussoorie, you can take a shared or private taxi to Dhanaulti.
Things to do: Watch the sunrise and sunset, camping, nature trails through dense pine and deodar forests. 
Northern India's shining gem, tourist places in Uttarakhand, have emerged as popular spots for vacation getaways. Plan your next holiday to these 8 must-visit places in Uttarakhand for an immersive experience in the lap of mother nature. Stay in the best hotels of Uttarakhand, enjoy local delicacies and soak in the stunning views of the Himalayan peaks. 
---
Photo: Shutterstock