A mini India in itself, Delhi is everyone's favourite. With so many tourist attractions, Delhi is a melting pot of cultures, heritage, and history. No matter what kind of traveller you are, Delhi will delight you. Witness how history shaped the city with so many historical monuments like The India Gate, experience the arts and culture at the wide variety of museums, and shop at the numerous markets selling everything you can possibly imagine. 
Delhi also is quite traveller-friendly with a number of options when it comes to transit. You can easily get a metro card at any of the stations, and with a metro system as expansive as Delhi's, there's a station everywhere, no matter your destination. You can also take a cab or an auto, and if you're unclear of what all you want to visit, we suggest trying the Hop On-Hop Off bus, which comes with a predecided itinerary, and makes exploring Delhi's monuments a breeze. 
When in the capital city, here are 7 places that you must visit in Delhi
1. Red Fort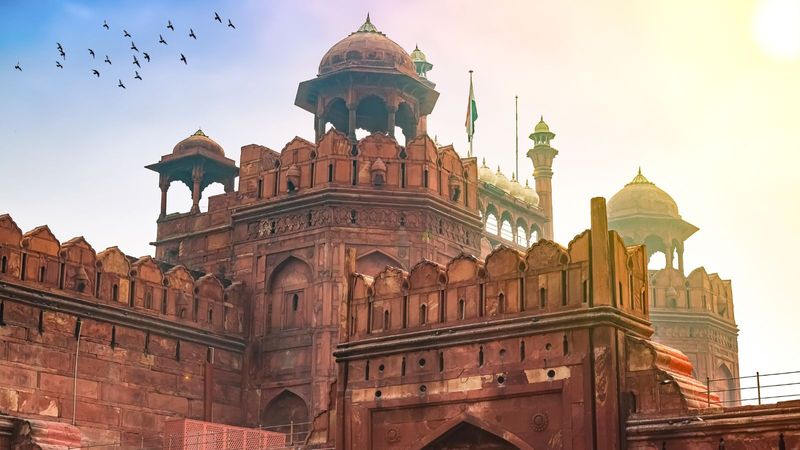 Located in the old Delhi region, the Red Fort is a historical fortification. It was built by Shah Jahan in 1639 when the capital moved from Agra to Delhi. This massive work of architecture, which served as the Mughal rulers' primary home, gets its name from its impenetrable walls made of red sandstone. On Independence Day, the Indian Prime Minister hoists the country's flag here each year. The Red Fort, one of India's most well-known landmarks and a top tourist destination in Delhi, is rich in history and legacy. In 2007, it was designated as a UNESCO World Heritage Site.
Where: Netaji Subhash Marg, Lal Qila, Chandni Chowk, New Delhi, Delhi, 110006
2. Agrasen ki baoli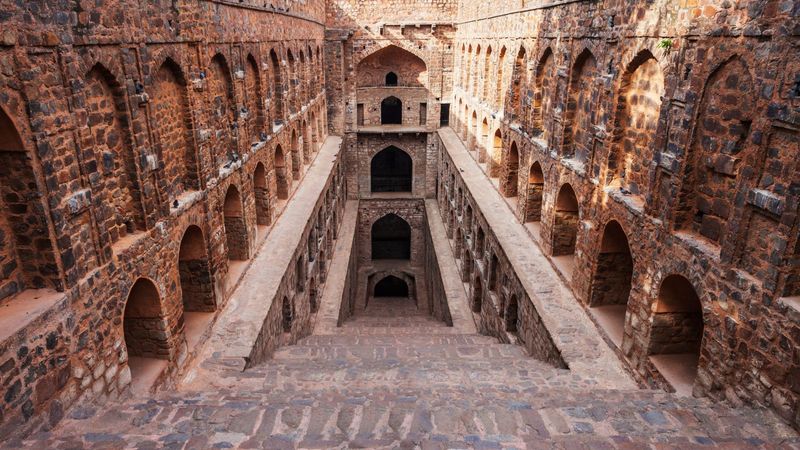 Agrasen ki baoli, sometimes referred to as 'baoli' or 'vav' depending on the local dialect, is a stepwell. Around 600 CE, thousands of these intricate water-harvesting buildings appeared all over India; but, with the invention of water pumps and pipes, they were abandoned. Steps were dug down next to deep shafts so that year-round access to the significantly shifting groundwater was possible. However, Agrasen ki baoli is regarded as one of the most haunted locations in the city. A spooky mood can be ensured by the deep shadows, dark water, and echo of flapping birds.
Where: Hailey Road, KG Marg, near Diwanchand Imaging Centre, New Delhi, Delhi 110001
3. India Gate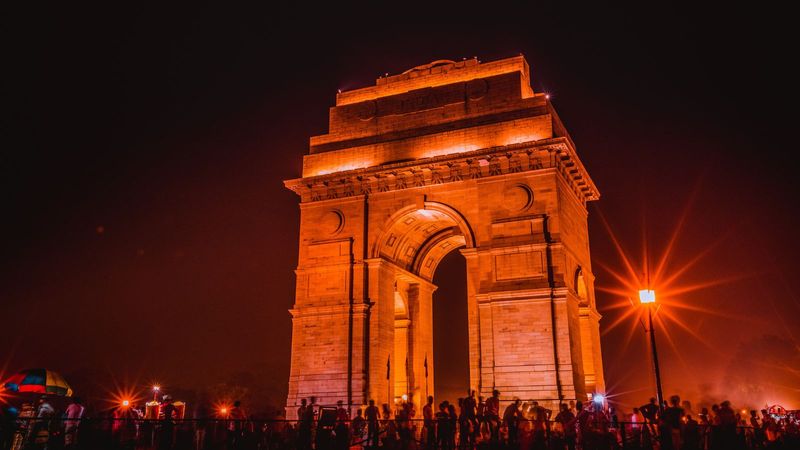 India Gate was designed by Edwin Lutyens and its foundation stone was placed in 1921 by His Royal Highness the Duke of Connaught. Ten years later, Viceroy Lord Irwin dedicated the memorial to the nation. India Gate is brightly floodlit at dusk, and the neighbouring fountains create a beautiful show of coloured lights. Huge, lush gardens encircle the impressive building, making it a well-liked location for picnics. On warm evenings, masses of people can be seen strolling around the well-lit area and on the lawns.
Where: Kartavya Path, India Gate, New Delhi, Delhi 110001
4. Qutub Minar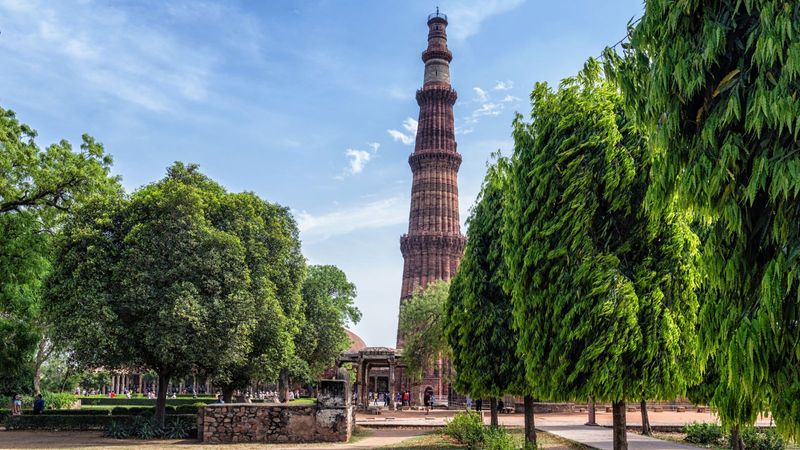 India's tallest tower is the beautiful Qutub-Minar. Its height is 72.5 meters, with a base diameter of 14.32 meters and a top diameter of roughly 2.75 meters. In order to employ the mu'azzin (crier) to call people to prayer, Qutbu'd-Din Aibak erected the foundation for Minar in AD 1199. He also raised the first story, to which his successor and son-in-law, Shamsu'd-Din Iltutmish (AD 1211-36), added three more floors. A projecting balcony encircling the minar unites all the storeys, and the first storey's stone brackets, ornamented with a striking honeycomb pattern, support the upper stories.
Where: Seth Sarai, Mehrauli, New Delhi, Delhi 110030
5. Humayun Tomb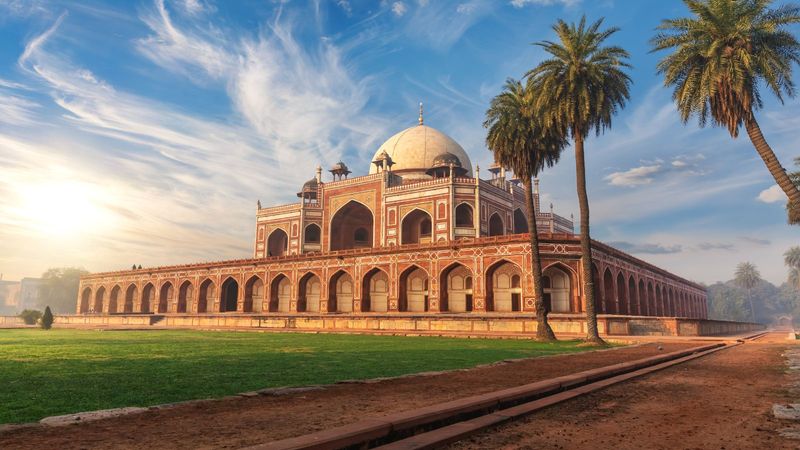 After Humayun's death in 1556, his wife Hamida Banu Begam, popularly known as Haji Begam, started building his tomb. It is said to be the earliest clear illustration of the genuine Mughal style, which was influenced by Persian design. It is commonly known that Humayun learned the fundamentals of Persian architecture when he was exiled, and while no documentation exists to support it, it is likely that he personally designed the tomb. The total cost of building the tomb was 15 lakh rupees, or 1.5 million.
Where: Hazrat Nizamuddin Aulia Dargah, Mathura Rd, Nizamuddin, Nizamuddin East, New Delhi, Delhi 110013
6. Paranthe Wali Gali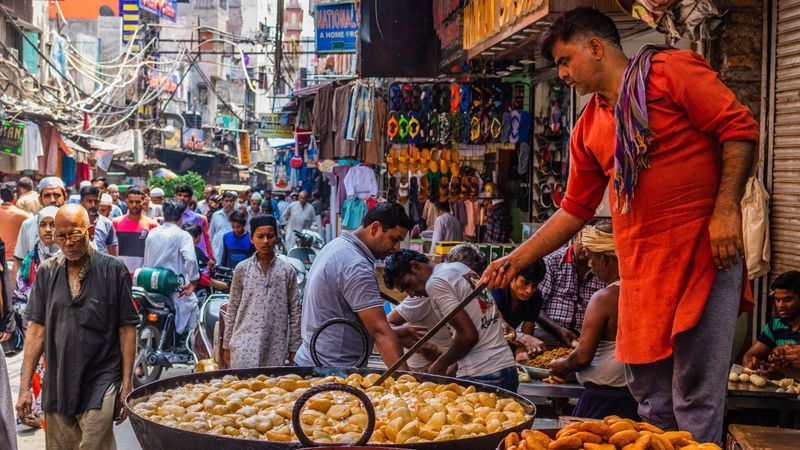 Tucked away in the winding narrow lanes of old Delhi, is Paranthe Wali Gali with stores selling 'paratha/paranthas', which are Indian breads packed with a variety of fillings. These are the well-known Paratha shops, that serve unique, extremely fatty speciality parathas, such as those filled with jaggery, khurchan (the dry, burnt sugary cream left over after milk condensation), and cashew almonds, which are a must-try even if all the parathas here are deep-fried. 
Where: Paranthe Wali Gali, Chandni Chowk, New Delhi, Delhi, 110006
7. Dilli Haat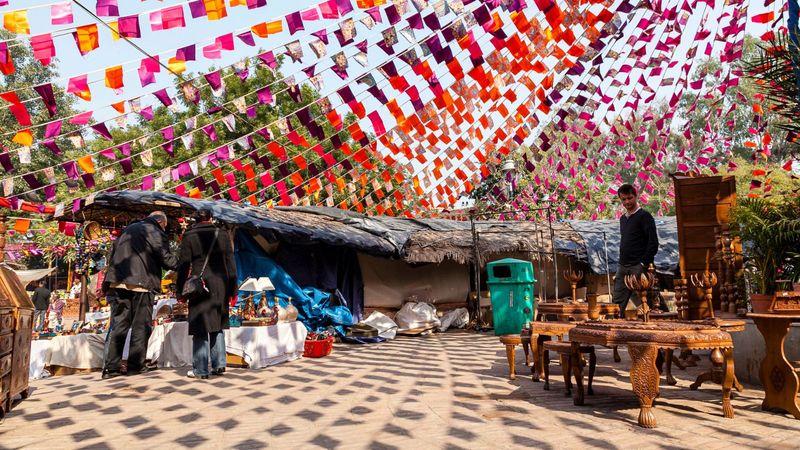 The Dilli Haat offers the atmosphere of a classic rural haat, or village market, yet with modern conveniences. A synthesis of crafts, cuisine, and cultural activities can be seen here.
The Indian culture, handicrafts, and ethnic food found at this food and craft bazaar are priceless. A distinctive market that showcases the depth of Indian culture year-round, right in the middle of the city, Delhi Haat will steal your heart. Explore the complex for a truly enjoyable experience, whether you choose to shop for unique ethnic goods, indulge in regional specialities, or spend the evenings lounging with the whole family.
Where: Multiple outlets, the most prominent being the one in INA Market, Kidwai Nagar West, New Delhi, Delhi 110023
This is by no means an exhaustive list, Delhi is vast and cannot be summarised in a single listicle. That said, you can read more about the historical monuments to visit in Delhi, and even some whacky museums in Delhi for an offbeat adventure. 
---
Photo: Shutterstock