After almost two years of struggling with countless lockdowns and the pandemic stress, we all deserve a vacation, right? While everyone might be flocking to Europe and Thailand, we feel like we all need a hat-ke vacay that's more than just sightseeing and shopping. How about a holiday that helps you take a pause, reset and find some much-needed inner peace? Look no further folks because our very own Bharat has a myriad of meditation centres, spiritual retreats and calm, soulful places that'll help you savour the pause in the best possible way. Here are six vacay places in India that you need to visit if you're seeking some inner peace: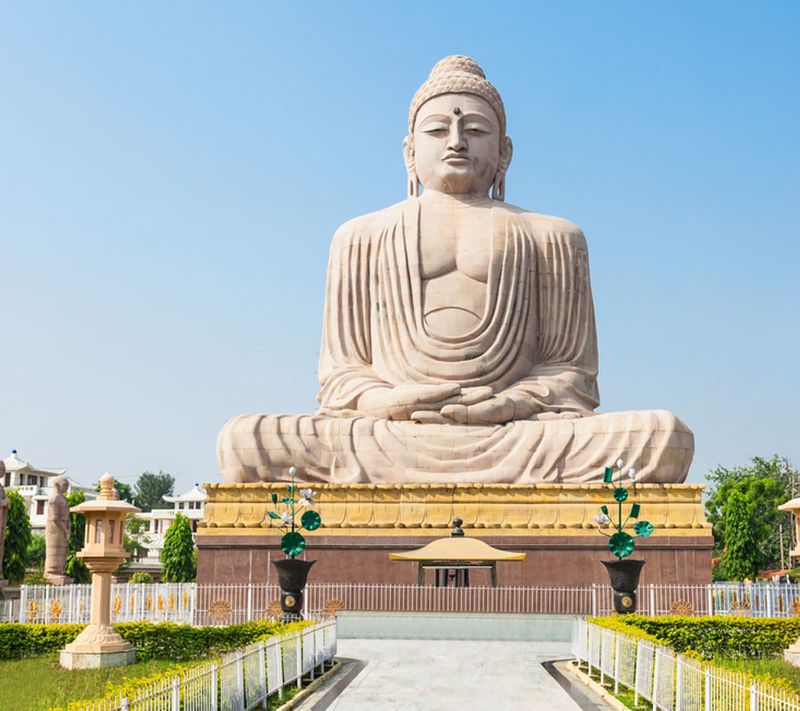 Almost 2,600 years ago, Lord Buddha attained enlightenment at the Mahabodhi Temple Complex in the holy land of Bodhgaya. Visiting the place can give you a sense of peace and calm like no other. The tall trees, the picturesque Buddha statue, the beautiful lotus ponds and just the spiritual vibe in the air will give you a sense of monastic tranquillity that you won't find elsewhere. In fact, you'll find spiritual seekers from all over the world here as it happens to be one of the most sought-after meditation centres in India.
Best time to visit: October-March
Weather: 33 degrees celsius (pleasant and windy)
How to reach: Gaya Airport is about 14 km away from the city centre and is well-connected by domestic flights from all major airports. Gaya Junction is the nearest railhead 15 km away from the city centre. Bodhgaya is also connected to many Indian cities by road.
Things to do: You can spend hours exploring the Mahabodhi Temple Complex and admiring the beauty and life journey of the great Buddha. Several Asian temples opposite the complex — Thai Monastery, Royal Bhutan Monastery and the Nippon Japanese Temple — are also worth visiting while you're there. The Great Buddha Statue is also one of the best attractions of Bodhgaya and is not to be missed. You can also spend some time at the Muchalinda Sarovar, the holy pond where Buddha withstood severe thunderstorms to continue his meditation.
2. Pushkar, Rajasthan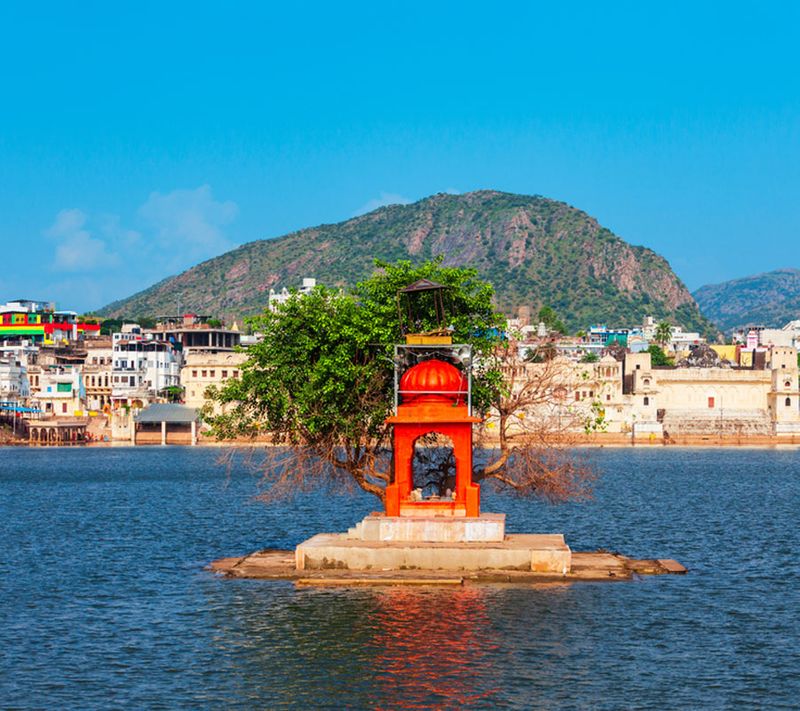 Pushkar in Rajasthan is a rare combination of holy temples and picturesque lakes, hills, forests and sand dunes. The main town is always buzzing with holy chants and aartis at the temples as the land is believed to be the holy abode of Lord Brahma, the creator of the universe. You can soak in the positive vibes of the place and find the ultimate inner calm and peace here.
Best time to visit: October-February
Weather: 3-15 degrees celsius (cold)
How to reach: The nearest airport to Pushkar is in Jaipur, which is about 140 kilometres away. The airport is well-connected to major metropolitan cities like Delhi, Mumbai and Kolkata. Once you land at the airport, you can take a cab to reach Pushkar. The journey from the airport to the city is approximately 3 hours long. Pushkar is also well-connected to several parts of the country by road. Buses, cars and cabs can take you to Pushkar from the National Highway that links the city to the rest of the country and vice-versa. Ajmer Junction is the closest railway station to reach Pushkar easily.
Things to do: You can visit the Brahma Temple here, spend time at the beautiful ghats of Pushkar, take a cable ride to the Savitri Temple and enjoy the annual Balloon Festival and Pushkar Mela. Additionally, you can go for night camps in the sand dunes and attend the evening aarti at the Varah Ghat. The cafes with the ghat view here will sweep you off your feet. Don't miss bagging a few Rajasthani handcrafted products from the Pushkar markets.
3. Varkala, Kerala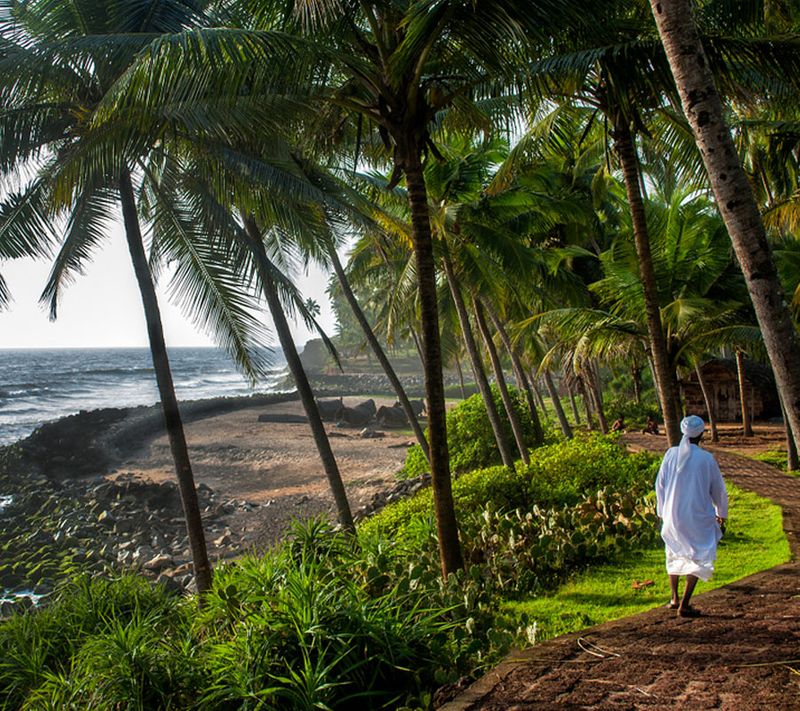 The palm-covered red cliffs of this beautiful town situated by the Arabian Sea are sure to rejuvenate your mind, body and soul. It's got a host of spiritual retreat centres and peaceful resorts to bring you closer to nature and help you reach a calm and meditative state of mind.
Best time to visit: October-February
Weather: 25-28 degrees celsius (pleasant and rainy)
How to reach: The nearest airport to Varkala is in Thiruvananthapuram, approximately 45 km away. Flights connect Thiruvananthapuram to many major Indian cities like Delhi, Mumbai, Kochi, Chennai, Bengaluru and Hyderabad. You can hire a pre-paid taxi from the airport to Varkala. Thiruvananthapuram is the major railhead close to Varkala and is well-connected to several Indian cities. If you're planning to travel by road, you can board a bus from Kochi, alight at Attingal and catch a connecting bus to Varkala.
Things to do: The serene Varkala beach, the Ayurveda retreats and yoga centres across the town are some must-visit spots for the ultimate bliss in the arms of nature. You must also not miss out on the experience of seeing the historic Kilimanoor Palace, the Varkala Lighthouse and the Varkala Culture Centre for some exotic South Indian delicacies. The Ponnumthuruthu Island is an uninhabited island just 20 km away from the town and is perfect for a romantic day out with your partner while you're holidaying in Varkala.
4. Majuli, Assam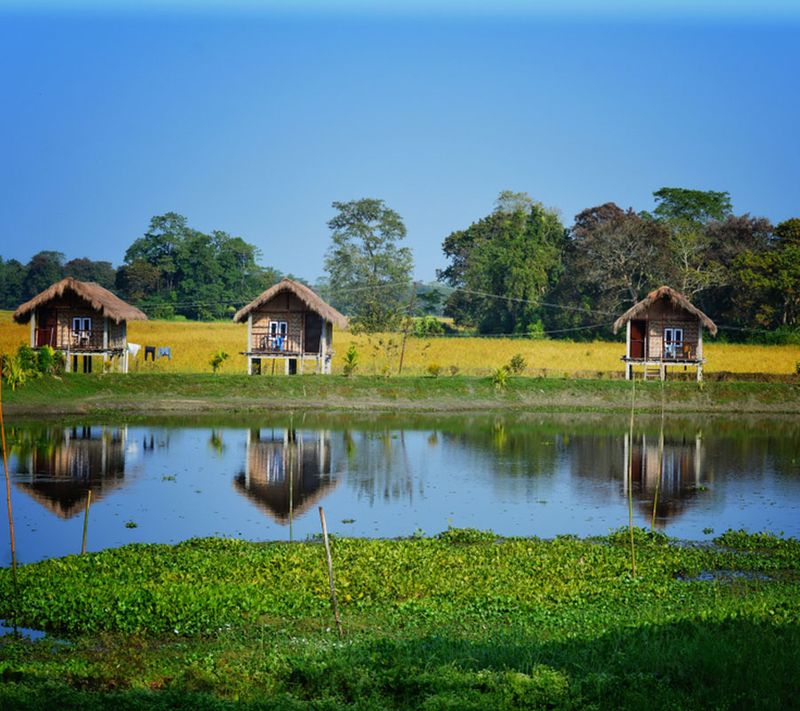 This beautiful river island located on the Brahmaputra River of Assam has been home to several tribal communities. It boasts lush green forests, paddy rice fields, handmade pottery and rich culture. It is only reachable by ferry and this is what makes it a spiritual awakening for a lifetime because literally and figuratively, there is no other way to reach this little paradise.
Best time to visit: October-February
Weather: 20 degrees celsius (mild and moderate temperature)
How to reach: Jorhat is the nearest airport to Majuli. It is connected to most of the major domestic airports in the country. Jorhat is also the nearest linked road to Majauli with ASTC buses delivering a regular and decent service. Either way, you will have to take two ferries to Majuli once you reach Jorhat. The first ride takes an hour and the second takes 10-15 minutes before you enter paradise.
Things to do: The Sri Sri Dakhinpat Satra built in 1584 is one of the best places in India for serenity seekers. From the picturesque sunsets, tribal food and beer to boat rides in the beautiful lakes — everything on this river island makes for a soulful vacay experience.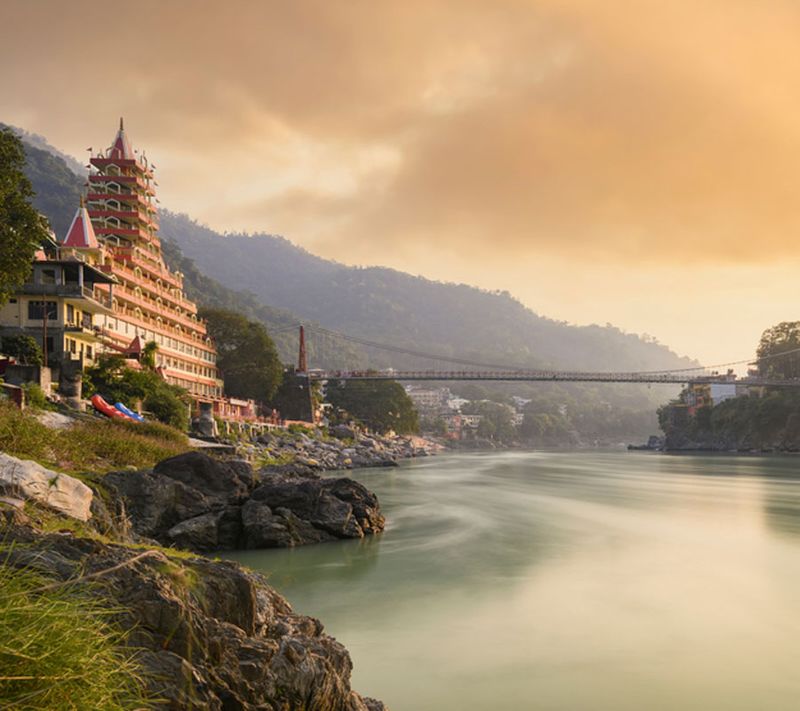 There's no better place to find inner peace than in the lap of mother nature surrounded by tall mountains, religious chants, priests and yogis. That's why Rishikesh, located in the foothills of the Himalayas, is one of the best meditation centres in the country. In fact, it is known as the yoga capital of the world and is a great place to be if you're looking to connect with your spiritual side.
Best time to visit: September-March
Weather: 20-30 degrees celsius (sunny but pleasant)
How to reach: Jolly Grant in Dehradun is the nearest airport to Rishikesh. It is around 20 km from Rishikesh and is well-connected to all the major domestic airports. Taxi, bus and cab services are available outside the airport and can be availed to reach Rishikesh. You can also take a train to Haridwar and travel to Rishikesh by road from there. Rishikesh is well-connected to all the major roads and national highways and can be easily reached from all parts of the country.
Things to do: The Ganga aarti at Triveni Ghat and the yoga centres are the real essence of the town of Rishikesh. You can also try adventure sports like paragliding, giant swing and river rafting while you're here. Don't forget to visit the historic Lakshman Jhula and the Beatles Ashram during your vacation.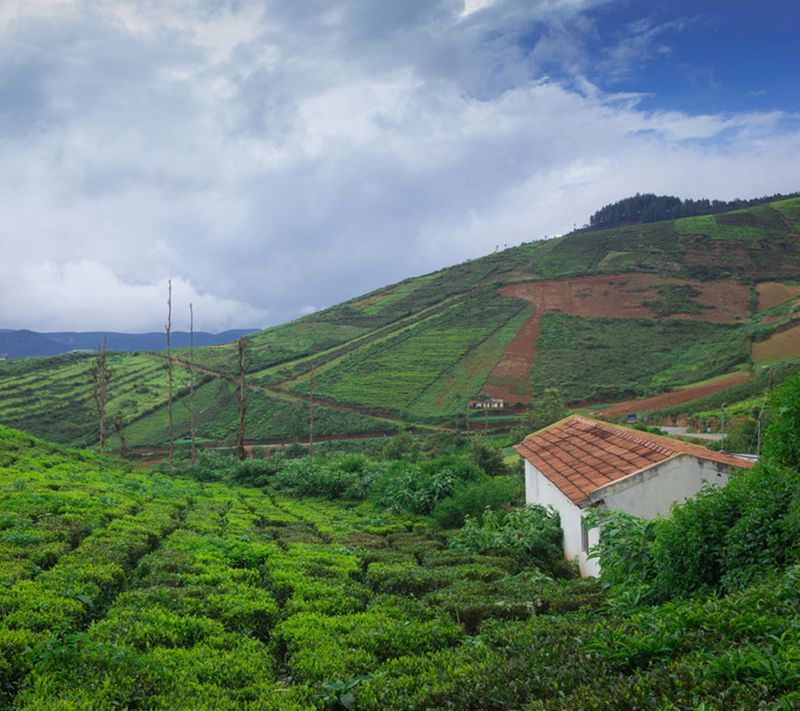 Known for its coffee plantations, steep hills, countless streams, rich flora and fauna, lush forests and breathtaking views, Coorg is a calming experience in itself. It is deemed one of the best meditation centres in India as it reconnects you with nature in its raw and purest form and helps you find peace and calm within. 
Best Time To Visit: March-June
Weather: 20-30 degrees Celsius (pleasant)
How to reach: For domestic flights, the nearest airport to Coorg is in Mysore, which is about 120 km away. The most well-connected airport near Coorg, however, is the Bangalore International Airport, albeit 286 km away. Coorg does not have a railway station of its own. However, you can take a train to the neighbouring cities of Mysore or Bangalore, both of which are well-connected to nearly all corners of India by train. Whether you come by flight or decide to take the train, the last leg of the journey to Coorg is by road — it's a spectacular journey that you will enjoy to the fullest — thanks to its stunning landscapes, verdant mountains and pleasant weather. If you are travelling from any of the nearby places such as Ooty, Bangalore, Mangalore, Mysore or Coimbatore, the road trip is enjoyable as it is not too tiring or long.
Things To Do: Bathing the elephants at the Dubare Elephant Camp is one of the best experiences in Coorg. You can also enjoy river rafting, trekking, bird watching, rappelling at the waterfall and a holy bath at Talacauvery. A visit to the Abbey Falls and the coffee plantations here is an absolute must, we say.
With these spiritual centres in the country, who needs to go abroad for a soulful vacation, right? Happy vacay, peeps!
---
Photo: Shutterstock