If its monsoon travel that gets you ticking, then these waterfalls are where you need to be right now. Counted among the highest in India, and often thronged by tourists for their scenic beauty, the soothing sound of the cascading water, and a bunch of adventure activities; these waterfalls are nothing less than a nature lover's paradise. 
1. Nohkalikai Falls, Meghalaya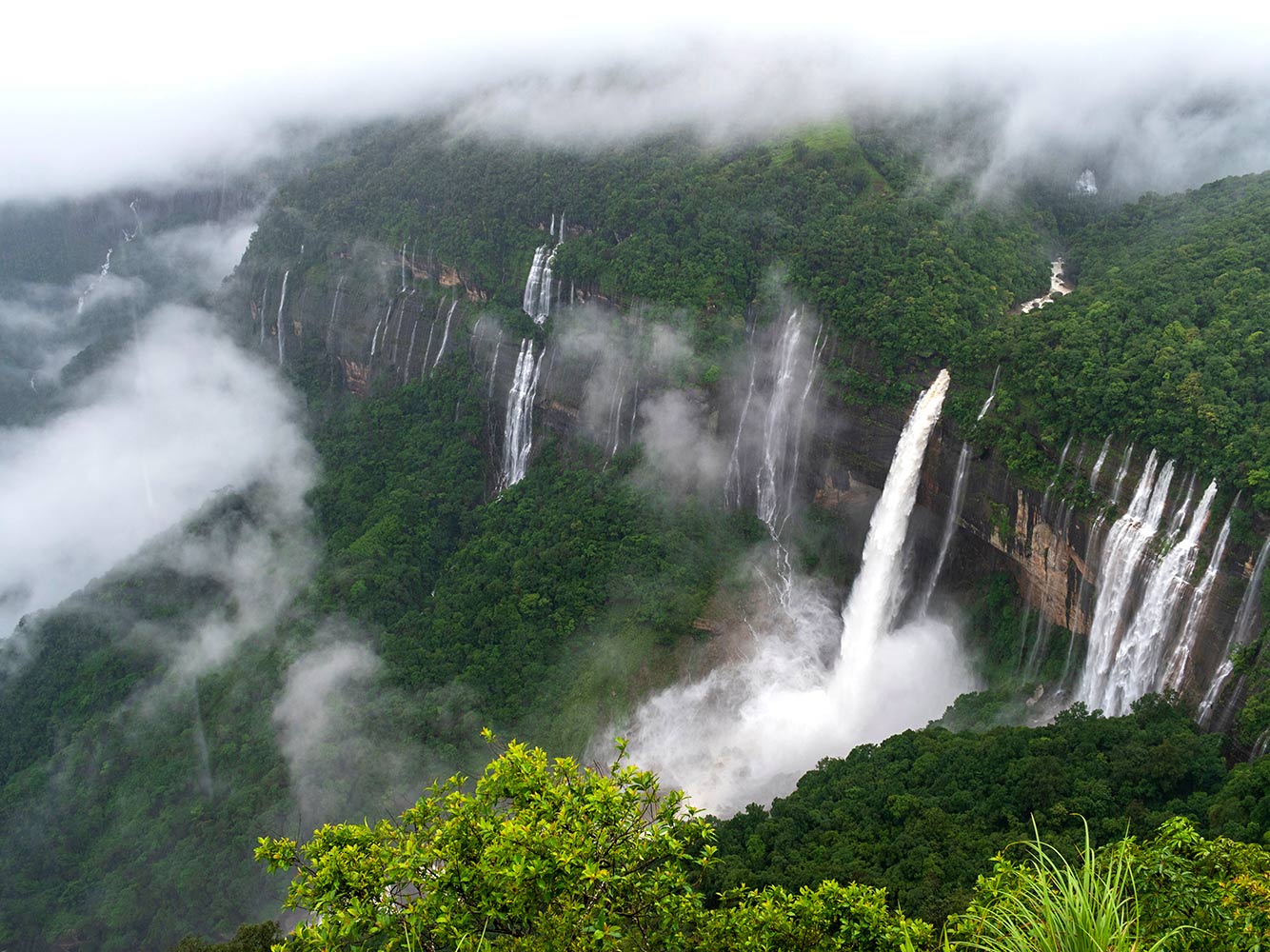 A major tourist hotspot in Cherrapunji town of Meghalaya, Nohkalikai falls allows visitors to witness water falling from a height of 1,100 feet. While in winters the fall reduces to a small stream, in summers it is abundant, and in the monsoon, it flows in its best form. Hence, making it a must visit during this time of the year. However, this scenic view comes with a gruesome backstory of a father who killed his stepdaughter, and fed her to his wife; post which the devastated mother jumped from the cliff. But, thrill seekers always find the waterfall adventurous. Trekking, swimming, camping, photography, bird watching, are some of the activities that visitors can do here.
Eat
When in Cherrapunji don't forget to try the local speciality of pork rice which is an integral part of the Khasi cuisine.
Getting there
Guwahati Railway Station is the nearest station and if you are travelling by air, Guwahati international Airport is the closest.
2. Jog Falls, Karnataka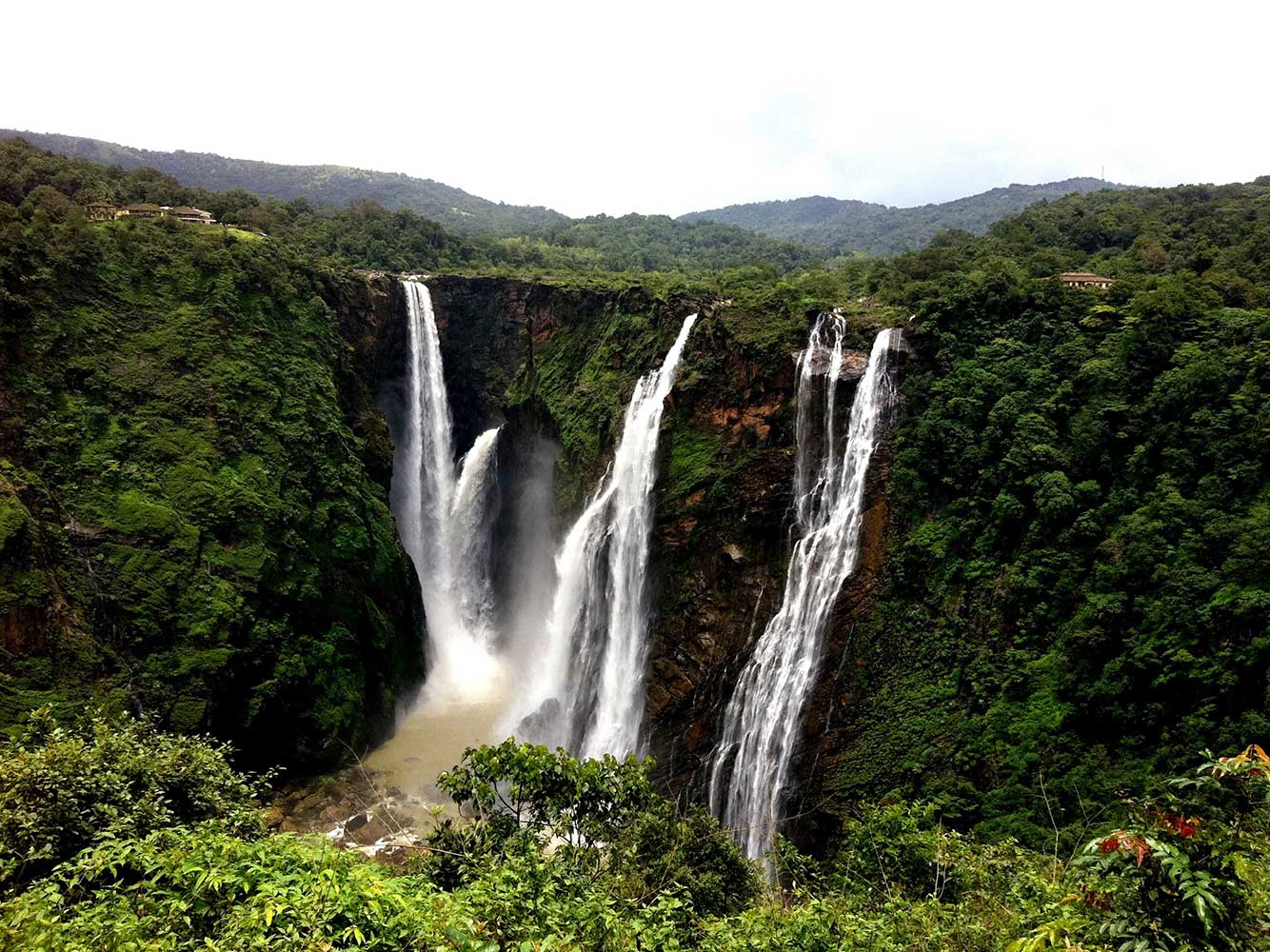 From a height of 830 feet, Jog Falls or Gersoppa Falls in Shimoga district of Karnataka, offer a breathtaking view with rainbows in the monsoon season. Situated in a dense, evergreen forest, this waterfall can be viewed either from the main entrance, or the inspection bungalow. However, for the prefect view and sound of the waterfall, hiking down 1,400 steps is the best option. Nature walks, kayaking, bird watching, camping, are some activities one can enjoy here.  
Eat
When in Shimoga make sure you try akki roti, bisi bele bhaat, and saaru. 
Getting there
While a road trip from Bengaluru is one option to reach Jog Falls, via train you can get down at Talaguppa Railway Station, and by air, Mangalore International airport is your closest option.  
3. Thalaiyar Falls, Tamil Nadu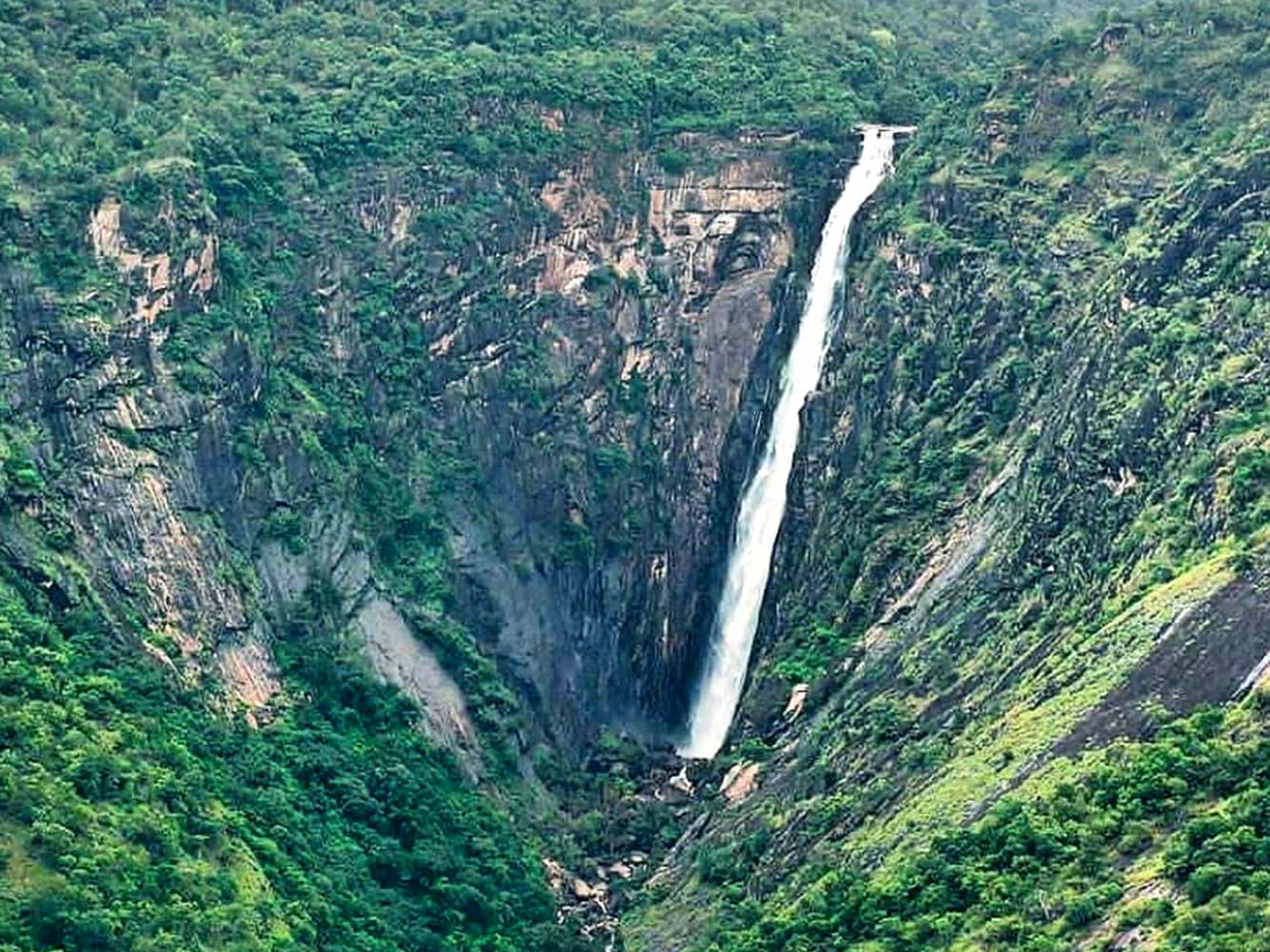 Thalaiyar waterfalls, also known as Rat Tail Falls is one of the highest waterfalls in Tamil Nadu. Located near Kodaikanal, water here gushes down from a height of 975 feet. Visible from anywhere across the valley, this waterfall if seen from a faraway distance looks like a long thin strip, resembling the tail of a rat, hence the name. It spans 13 kilometres on the Batlagundu-Kodaikanal Ghat Road, which makes it not just the highest but also the widest waterfall in the state. In fact, Dum Dum rock on the same road is considered the best spot to enjoy its beauty.
Eat
In Kodaikanal you can try some delicious Tibetan food, and tourists here even swear by its hilltop biryani.
Getting there
The nearest railway station as well as the airport, both lie in Madurai.  
4. Thoseghar Waterfall, Maharashtra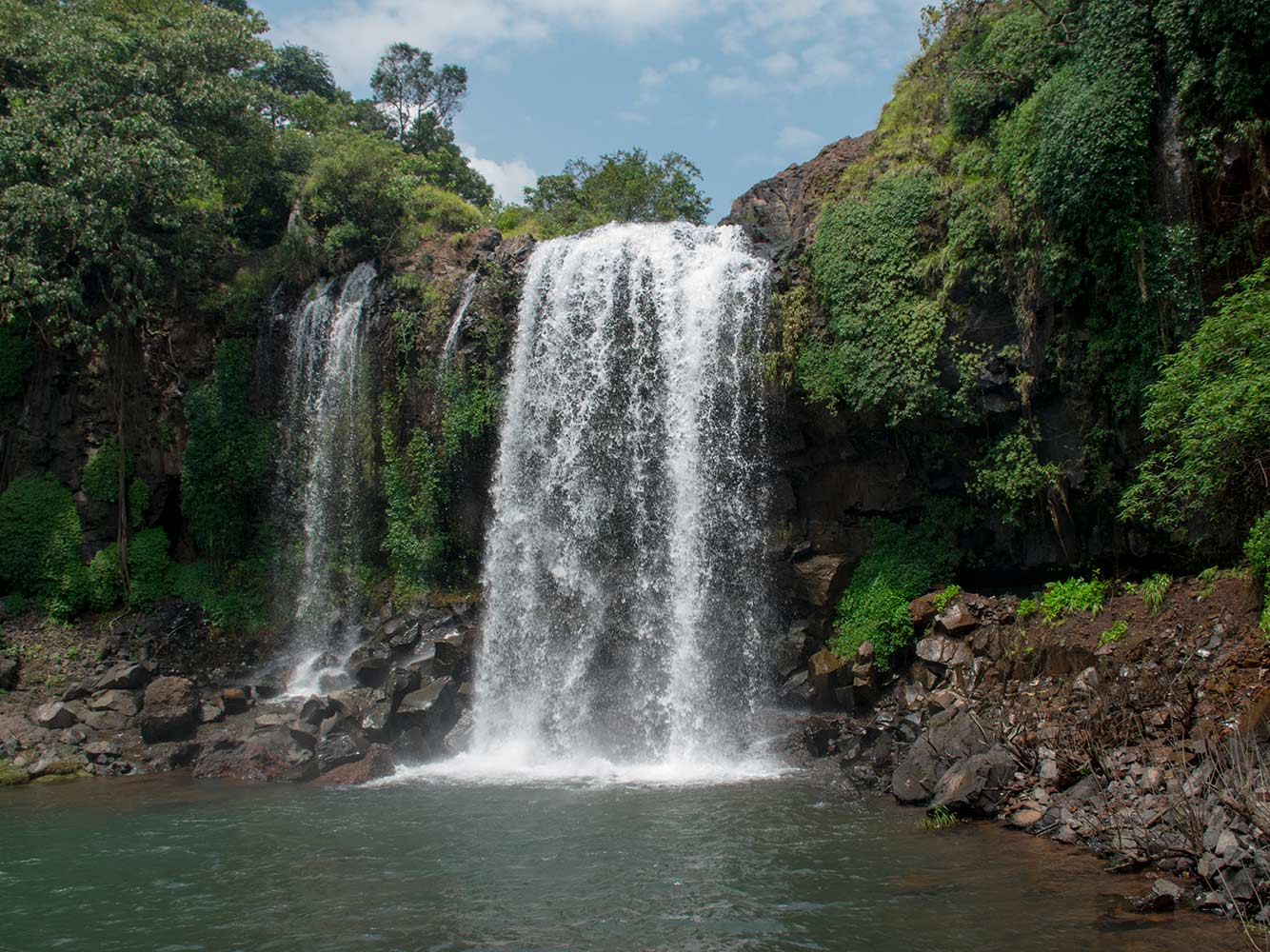 Falling from a height of 1,600 feet, this waterfall is located near Thoseghar village in Maharashtra, 27 kilometres from Satara. One of the most popular picnic spots for the residents of the nearby cities of Mumbai and Pune, this nature's gift looks its best in heavy rains. While here, you can also spot a few smaller waterfalls that are 15 to 20 metres high.  
Eat
Maharashtrian Street food such as dabeli is something that you must try here.
Getting there
Satara Railway station and Pune International Airport are the nearest to the place.  
5. Athirapally Falls, Kerala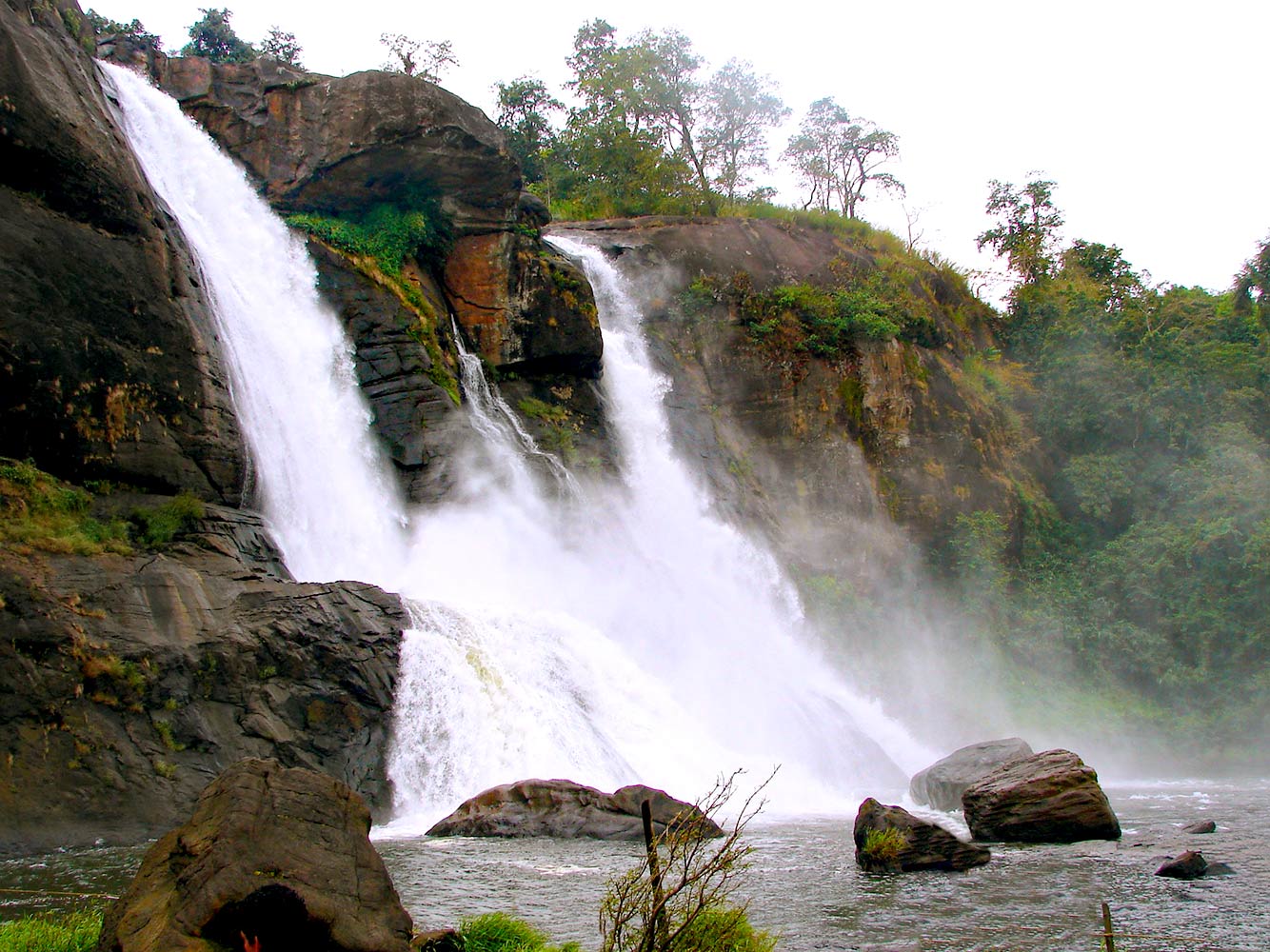 Flowing from a height of more than 80 feet, Athirapally waterfalls located near Kerala's Thrissur district is a sight to behold in the monsoon season. Located 63 kilometres from Thrissur, often called the Niagara of India, this waterfall is a part of the Chalakudy river. Surrounded by greenery, it offers the perfect spot for walks and picnics. Thanks to Sholayar forest ranges, nature lovers also get a chance to witness unique species of flora and fauna. Near the Athirapally waterfalls, also lie the Vazhchal Falls surrounded by the dense forest, hence allowing wildlife enthusiasts and bird watchers a chance to spot some endangered species.
Eat
When in Kerala, tasting local cuisine like appam, puttu, and vellayappam is a must.
Getting there
If you are travelling by train then Chalakudi Railway Station is the nearest and if travelling by air then Kochi International Airport is the closest. 
Photo: Shutterstock