Andaman and Nicobar Islands is one of the Union Territories of India. It is a cluster of over 500 islands that are lined with palm trees and surrounded by white sand beaches. This place is also known for its mangroves and tropical rainforests that surround the islands.
The Andaman beaches are special because they have some of the most beautiful coral reefs and you can also find some rare aquatic life here. You can spot sharks, dolphins and many other sea creatures, making this island a popular attraction for tourists who are looking to go diving to explore the world down under.
If you are big on water adventure sports, this place would be a paradise for you. They have deep sea diving, snorkelling, parasailing, jet skiing and other activities. The best time to visit these islands is between October to May. Monsoons are intentionally avoided as the place tends to get high tidal currents and heavy rainfall.
Most island natives live on the remote islands and these islands can't be visited by tourists. But, you must visit the place to see the pristine blue waters and smooth white sands.
We have compiled a list of some beautiful and the best beaches in Andaman that you can add to your travel list for your next vacation.
The beaches of the capital city, Port Blair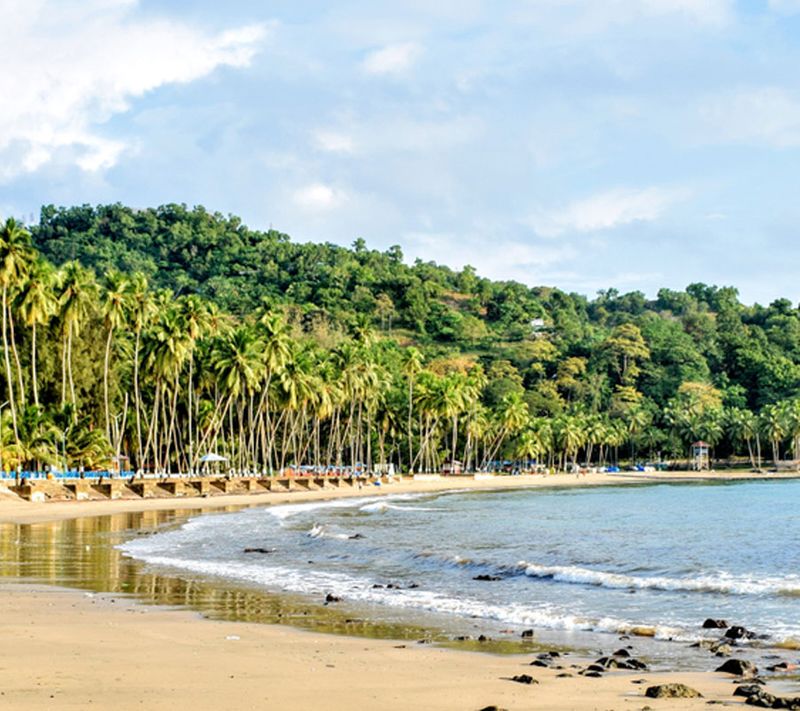 The beaches in the capital city are extremely picturesque. Beaches like Corbyn's Cove and Wandoor Beach are some of the beaches that you must visit.
1. Corbyn's Cove is lined with coconut plantations, Corbyn's Cove is a beach that is not too crowded by tourists yet. You can enjoy water sports like Seakarting which is emerging as one of the most happening water activities and attracting people to Corbyn's Cove more than before.
2. Wandoor Beach, on the other hand, is a coral beach and a famous tourist attraction for its underwater fauna and corals. It is the perfect beach for you to take nature walks and click those perfect sunset photos.
The mysteries of Havelock Island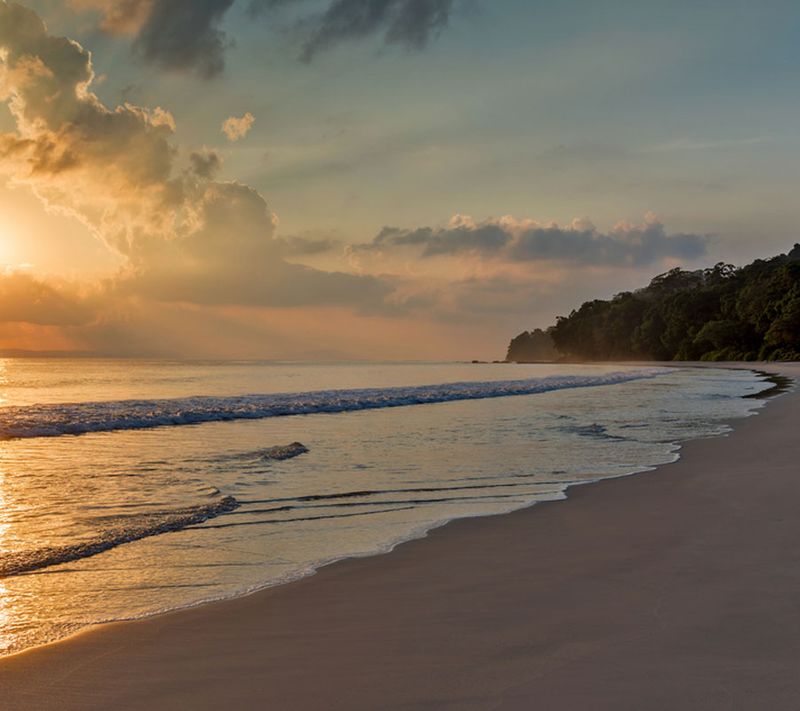 Havelock Island is one of the most famous and loved islands by tourists. What attracts the tourists most is the mysticism surrounding the island's structure.
3. Radhanagar beach on the island is the most famous and one of the best beaches in Andaman. It also won the title of 'Asia's best beach' by Time magazine in 2004. The turquoise-coloured waters, the white sand and its green vegetation make this beach unique.
4. You can also visit Elephant beach which is famous for its exotic marine fauna and exquisite coral reefs.
5. Kalapathar beach is another Andaman beach you can visit to take a stroll around the place. You can also go snorkelling and game fishing if you want to experience aquatic life.
The Charm of Neil Island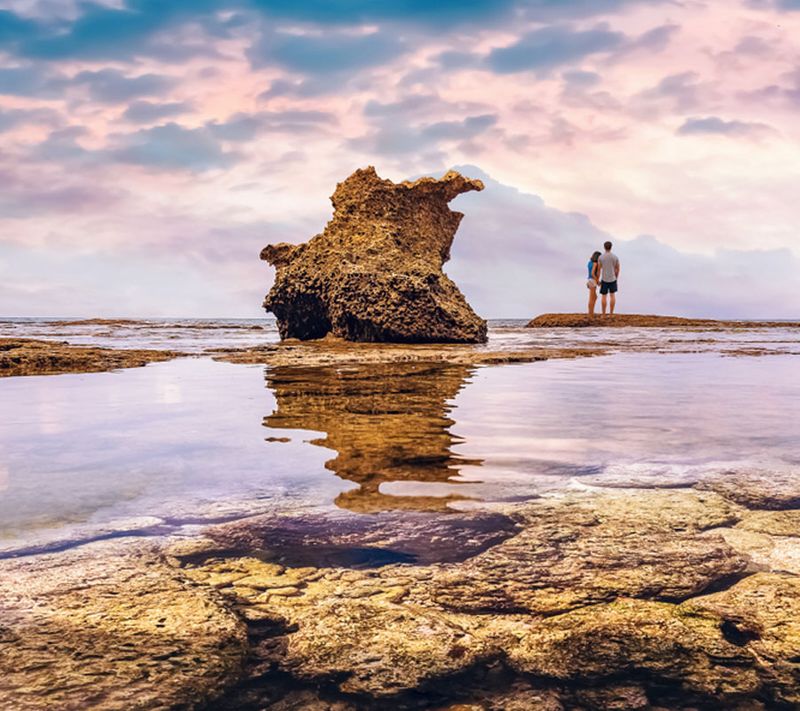 The beaches of Neil Island are loved for their white sand beaches and refreshing blue waters.
6. Sitapur Beach is an unusual one with its rocks on the white beaches and transparent blue waters situated on the tip of Neil Island. Its natural beauty attracts few tourists so if you want to spend a quiet vacation, this could be the right fit for you.
7. Laxmanpur Beach is ideal for newlyweds that want to spend some romantic time alone and take long walks on the beach. On one of these walks, you can collect some unique-looking shells and continue to beachcomb as long as you wish because the beach is full of them.
8. Bharatpur Beach is picture perfect and could go down in one of the postcards that you send to friends and family. It is a famous beach for tourists as they flock there to enjoy the serene beaches and go snorkelling to see the wildlife.
The scenic beauty of Long Island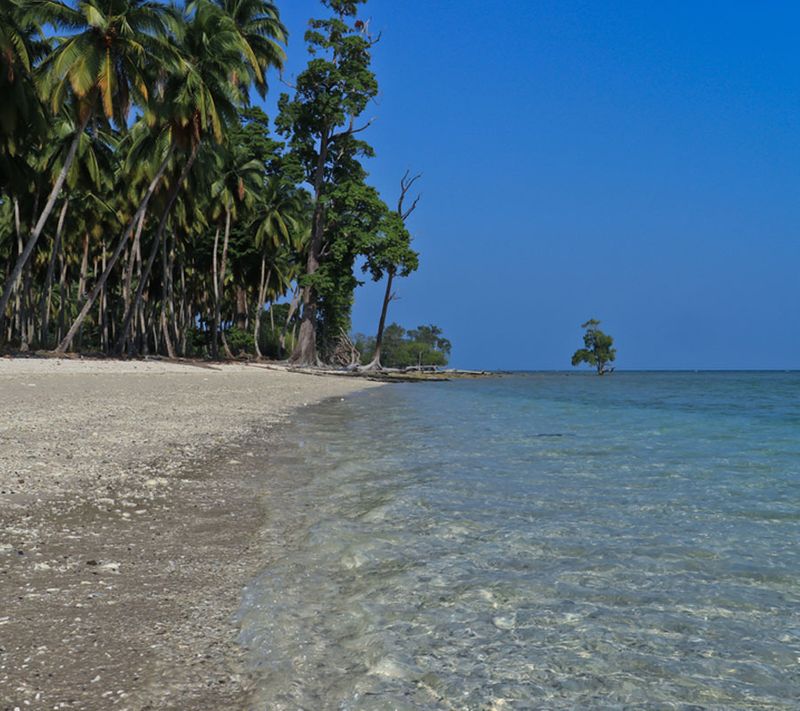 This island is one of the best in Andaman and if you are planning to visit, this is the beach you must include in your travel plans.
9. Lalaji Bay Beach is a good destination if you want to have a little adventure in small dinghies and get to an island, passing through mangrove forests. You can also visit this beach for some dolphin spotting or just bathe in the sun. Lalaji Bay beach is unforgettable and so will the experiences that you make here.
Lush greens of Rangat Island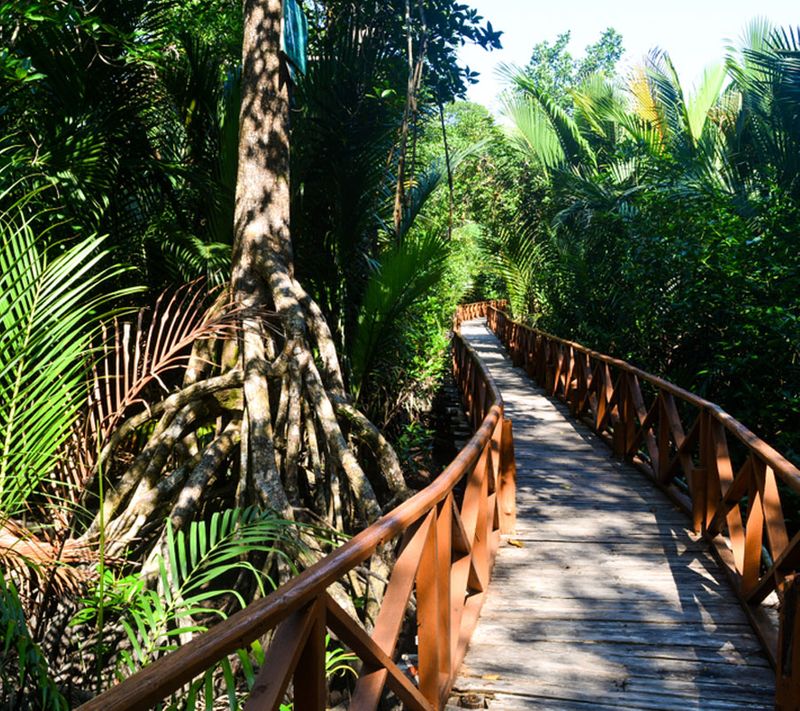 If you want to see some green coconut trees and enjoy the beach on the other side of your view, you need to visit the Rangat Island beaches.
10. Raman Bageecha Beach is located near the Rangat jetty. If you are a solo traveller, you should keep this on your list of places to stay. Its greenery and mysteriousness could add some spice to a romantic getaway if you are planning to visit with your better half.
11. Aam Kunj Beach is one of the beaches that is eco-friendly and popular because of its cool beach shacks. It is frequented by both locals and tourists. Unlike the other beaches, it has grey sands instead of white and white water instead of blue. The boulders and rocks in the water make it unsuitable for deep-water diving and snorkelling but you can always watch some turtles hang out on the beach.
The mud volcanoes at Baratang Island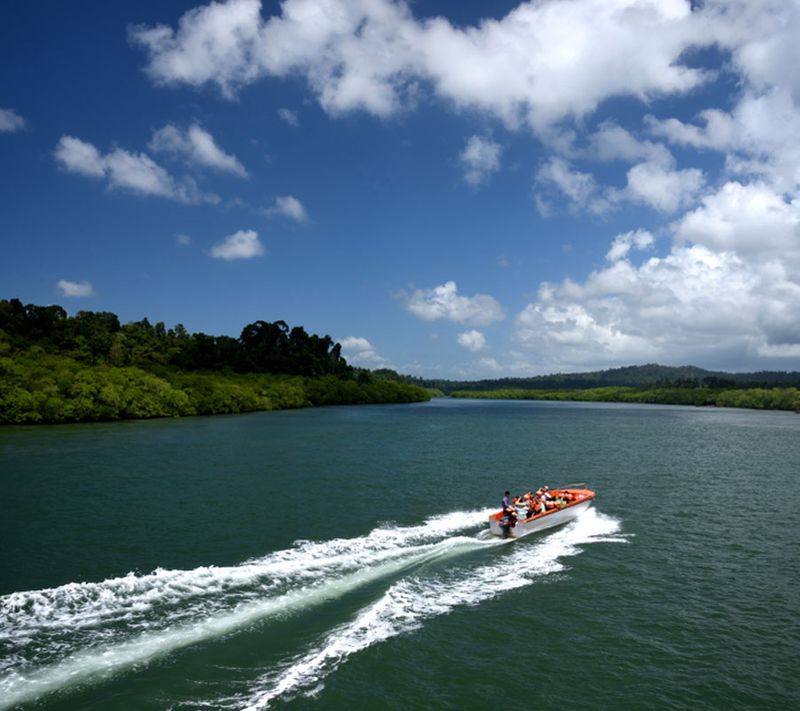 These island beaches lie in between the south and mid part of the Andamans. The island is famous for its mud volcanoes, mangrove forests and limestone caves that tourists visit and get attracted to.
12. Merk Bay Beach can be reached by a dinghy and you can enjoy the views of the island along the way. The island's beauty will leave you stunned and the calm of the beach will help you relax.
13. Have you ever heard of elephant rides on the beach? Well, Baludera Beach offers elephant rides that you will remember for a lifetime. You can also laze in the sun with a picnic basket and chill.
Solitude in Mayabunder Island
This island is one that is not inhabited by people at all. So, if you want to spend a few moments by yourself in solitude, these are the beaches you must visit.
14. You must visit Karmatang Beach to see the unusual blooming flowers and hundreds of turtles that come to this beach to lay eggs or the ones that are newborns running towards the ocean. This beach is also known as the turtle nation.
15. Avis Island Beach is known for its stunning sunset views and coral reefs. You can visit the beach for a few hours and take a long stroll along the shore or see the fish swimming in the crystal-clear water.
The picturesque beauty of Diglipur Island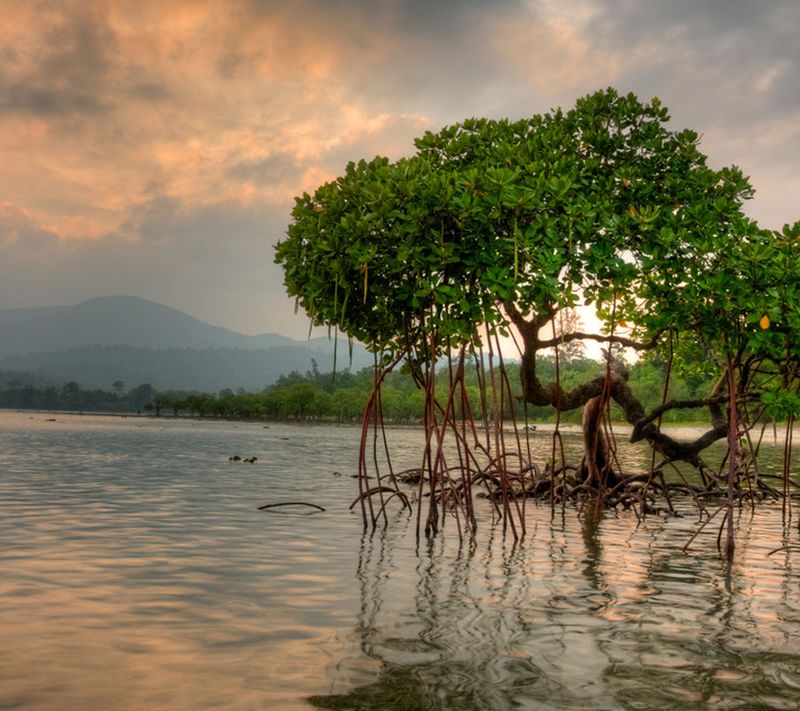 Situated in the northern part of the Andaman Islands, this island is known for its picturesque beauty and scenic views.
16. Pathi Level Beach is known for its caves like Chalis Ek Caves and Alfred Caves. It is isolated from the crowd and is perfect if you want to unwind and relax for a few hours. A nice ferry ride will get you here.
17. Kalipur Beach is an attraction for trekkers who like to hike to Saddle Peak. This beach is one the famous beaches as you can enjoy the views of the peak while enjoying the sand and waves on your feet. You can also go here if you want to enjoy some time off and do some turtle watching.
Not so Little Andaman Island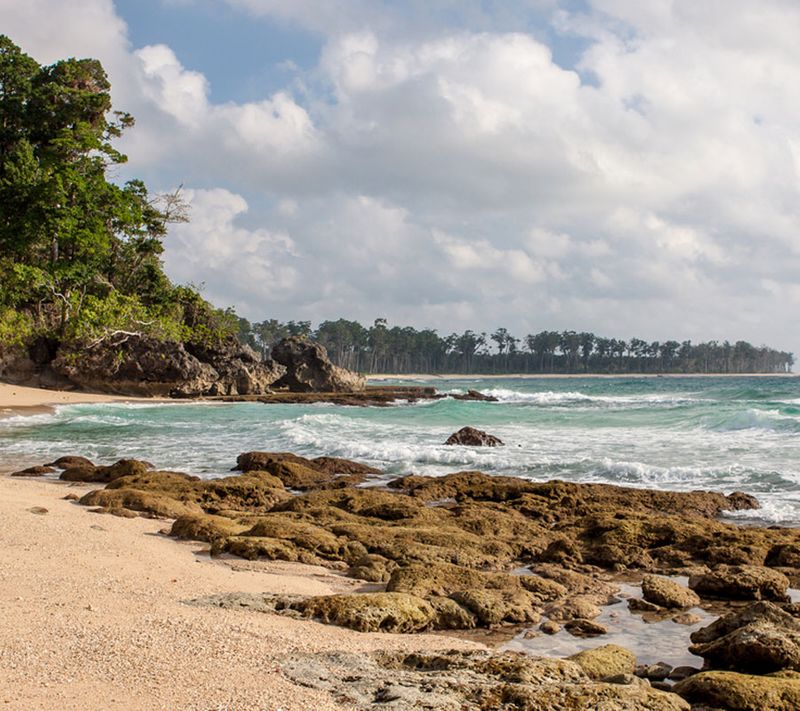 This island totally contradicts the name it has been given as it is the fourth-largest island in the Andamans. You can enjoy the amazing views from here too.
18. At Butler Bay Beach, you can either cop a squat under a tree with a nice book or take a nap or you can go swimming in the ocean if you are a seasoned swimmer. The waters here are best for surfers as it sees some of the biggest waves on the island.
The uniqueness of Ross Island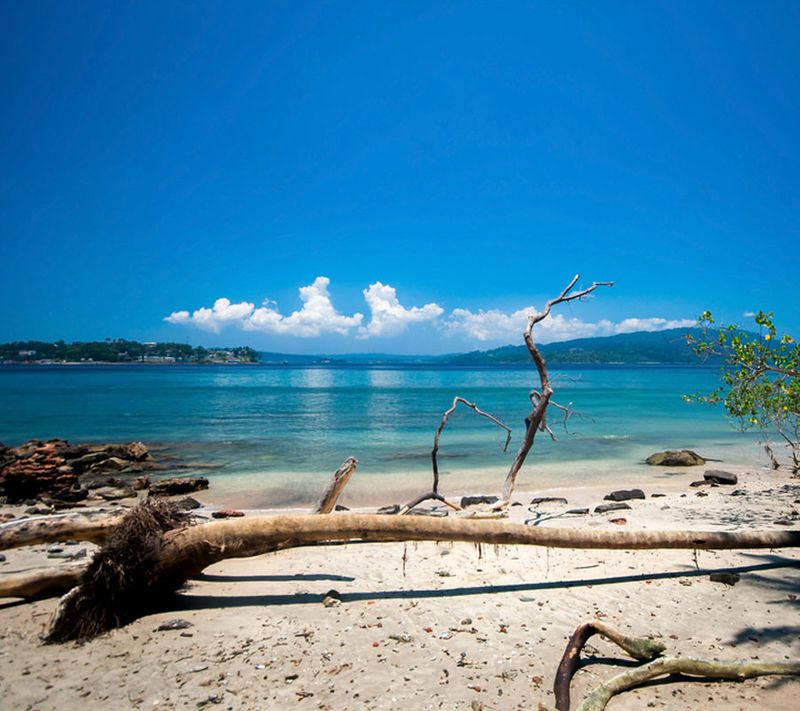 This island, which is also popularly known as the Subhash Chandra Bose Island, offers some of the most unique views.
19. We have kept the best for the last! The Sandbar Beach between Ross & Smith Island is a beach that is a strip of shore between the islands which goes underwater during high tidal waves. When the strip of beach goes underwater, the two islands separate but when the current is low and the sand strip reappears, it looks like the two islands are one. There is no doubt why this island is rated one of the best in the Andamans.
We have listed all the best Andaman beaches here. Now, all you have to do is find the best means to travel and pack your bags!
---
Photo: Shutterstock