Every time I picture my happy place, I find myself on a remote palm-fringed island, lounging on a sun deck after a dip in the sapphire waters, sipping a pineapple cocktail, and taking in the sweet-smelling, nippy air. Islands and island life rarely disappoint. Lying off the East Coast of Africa and surrounded by the Indian Ocean, Mauritius is part of the Mascarene Islands, a volcanic chain extending as far as Seychelles. While the island country is famed for its luxe, beachfront resorts, crystal-clear waters, bluest of the blue lagoons, and rich reefs—there is a lot more to explore if you intend to go beyond the obvious. 
Watersports are a particular highlight: swim with dolphins, go snorkelling, diving, kitesurfing, or paddle-boarding. From visits to botanical gardens, lush rainforests and interactions with local artists at vibrant outdoor markets to rum and wine tastings and boat trips to secluded islets—there are ample ways to become acquainted with the real Mauritius. 
There are museums and colonial plantation homes that give you a glimpse into the country's dark past that's soaked in stories of immigration, subjugation, slavery, exploitation, and indenture, and in turn, human perseverance and triumph.
What you absolutely shouldn't miss is the island's lip-smacking local food! Almost four centuries of colonisation have left the island with a rich multicultural mosaic of Indian, African, Chinese, and French heritage. This exotic fusion is reflected in the local cuisine that brings together Indian, Chinese, and Creole flavours. Enjoying a Mauritian meal in a laidback atmosphere and with Creole-style hospitality can be a special experience. 
The crux of the matter is that there is more to Mauritius than its beaches. After spending a week travelling around the country earlier this month, I bring you the must-do immersive experiences in the "pearl of the Indian Ocean".
1. Beer, beach time, and a round of golf at Ile Aux Cerfs Golf Club
Reachable only by a boat shuttle, Ile Aux Cerfs Golf Club—which lies on the east coast of Mauritius—is nestled in a picturesque and tranquil location. Designed by the famous golf champion, Bernhard Langer, the spectacular golf course has holes snaking along the undulating topography of volcanic rock outcrops, lakes and gullies, and naturally-preserved tropical flora fauna of the island.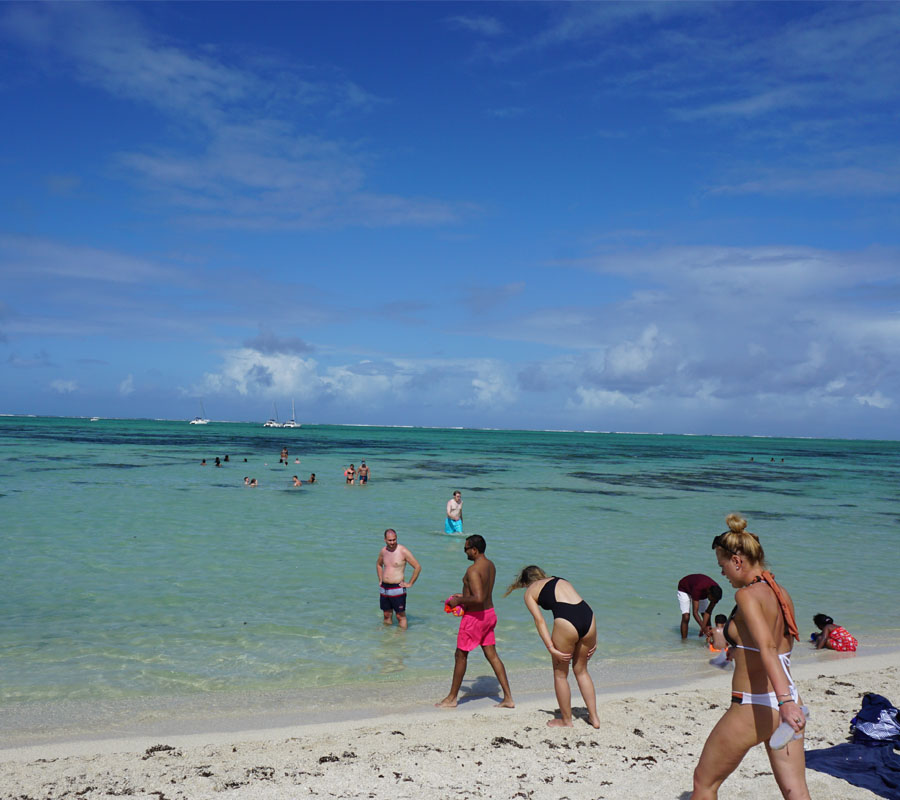 While it's a haven for golfers of all levels, you needn't be one to add the golf club to your Mauritius itinerary. You can visit the club simply to enjoy its stunning and peaceful private beaches. The white sand beaches here come with trendy sunbeds and beach parasols as well as restaurants where you can enjoy a succulent seafood lunch. Go for a swim, relax on a lounger, and read a book while enjoying the tropical views, or simply spend the day people watching.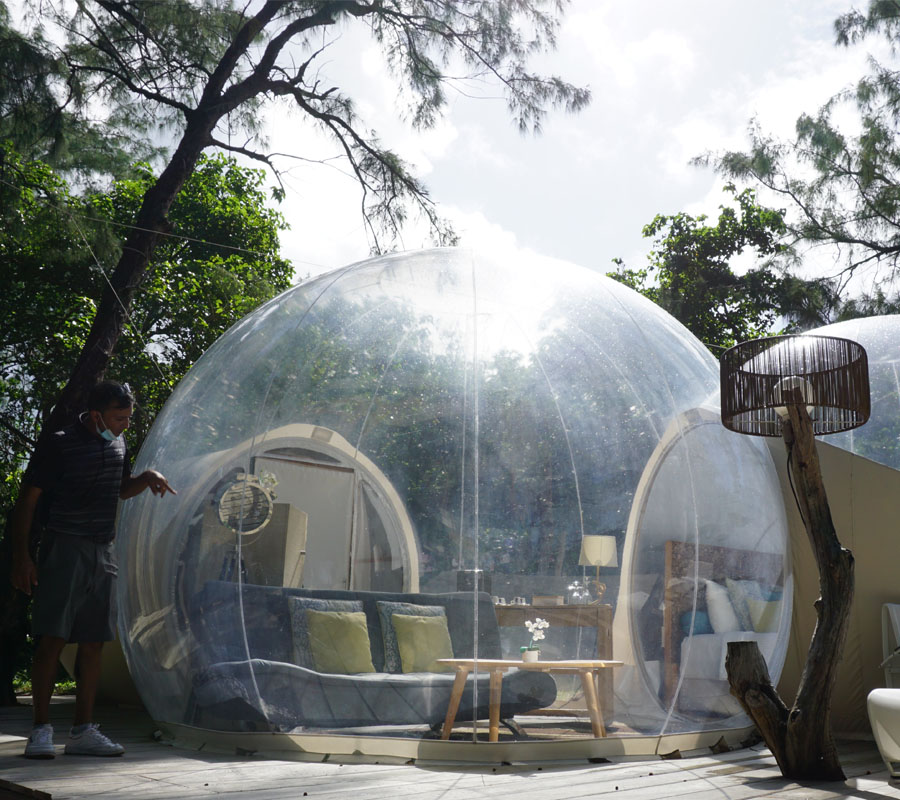 Their futuristic eco-bubble lodge with ocean views and easy beach access makes for a fantastic stay option. The half-transparent walls of the bubble allow a free view of the outside and the sky above.
2. Visit Aventure Du Sucre for a peek into the not-so-sweet past of Mauritius
Back in 1715, Mauritius was colonised by the French, who brought in Indian craftsmen as well as African slaves to work in the sugar estates producing sugar and arrack. The slaves were also a commodity exchanged between local chiefs and white slave traders for goods like pearls, fabrics, arms, and the like. However, by the time, the British arrived on the island, slavery had been abolished. Instead, they used indentured labourers from India to work on the sugar plantations.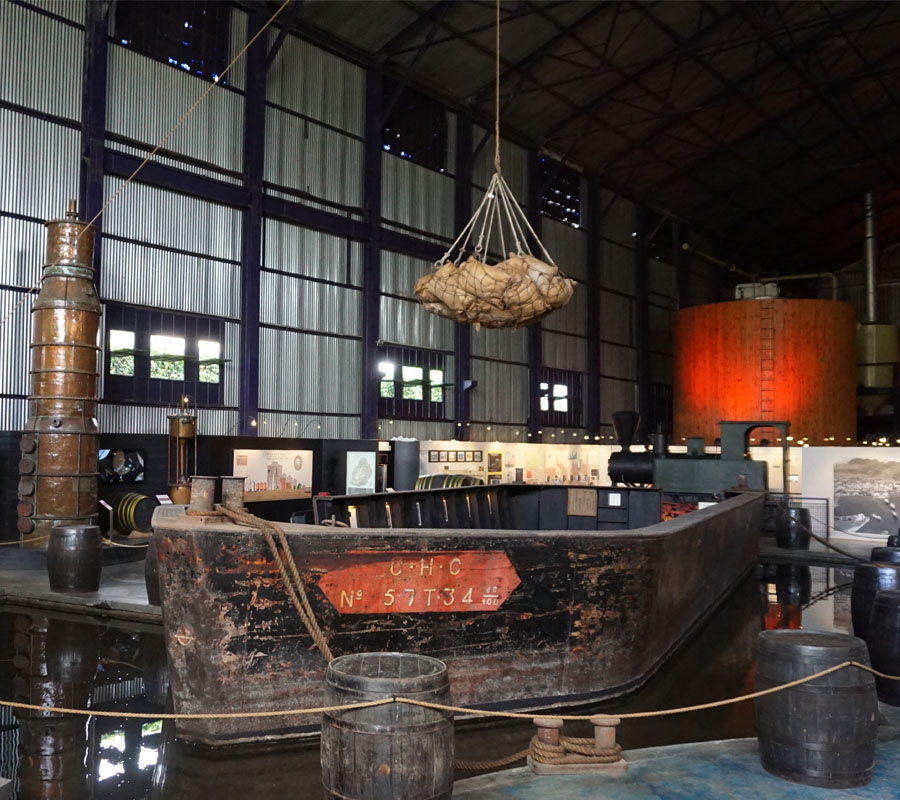 Follow the sugar trail at Aventure Du Sucre or Sugar Adventure, a museum that is housed in the former Beau Plan sugar factory in Pamplemousses and narrates the complex story of sugar, which is intertwined with the roots of the Mauritian people going back four centuries. With an authentically re-created ambience, the different stages of sugar production are exhibited and explained, from the early cultivation of the canes and the role of slavery in growing this vital crop to the creation of the finished products and their eventual exportation to Western markets. 
Tip: When at this gem of a museum, allow a couple of hours to do justice to the visit. 
3. An introduction to native Mauritian flora and fauna at Île aux Aigrettes Nature Reserve
If you thought Mauritius is just one big island with an abundance of beaches and lagoons, you're not quite right. In fact, there are several little islands and islets close to the mainland of the paradise island.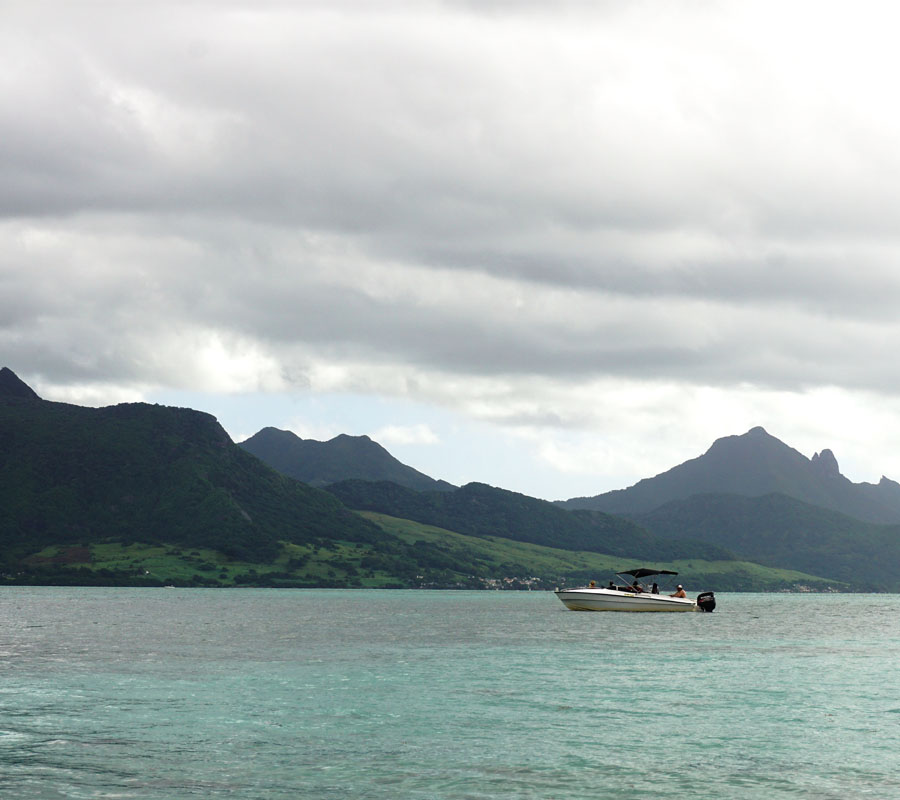 A 10-minute speedboat ride from Pointe Jerome can bring you to the Île aux Aigrettes which is off the coast of Mahebourg. An important conservation site that was declared a Nature Reserve in 1965, Île aux Aigrettes got its name from a colony of Egrets (graceful white fishing birds with long legs). On this tiny coral island, you're likely to spot trees and plants that grow nowhere else in the world and form the last remnant of a coastal forest that once surrounded much of Mauritius. 
A guided tour of around one-and-half hours can give you a deeper insight into native Mauritian flora and fauna, some of which are close to extinction like the pink pigeon, the Mauritius Kestrel and skinks (lizards belonging to the family Scincidae). Expect to see the non-indigenous Aldabra giant tortoise, brought to Île aux Aigrettes to take over the important ecological role of the extinct Mauritian tortoises.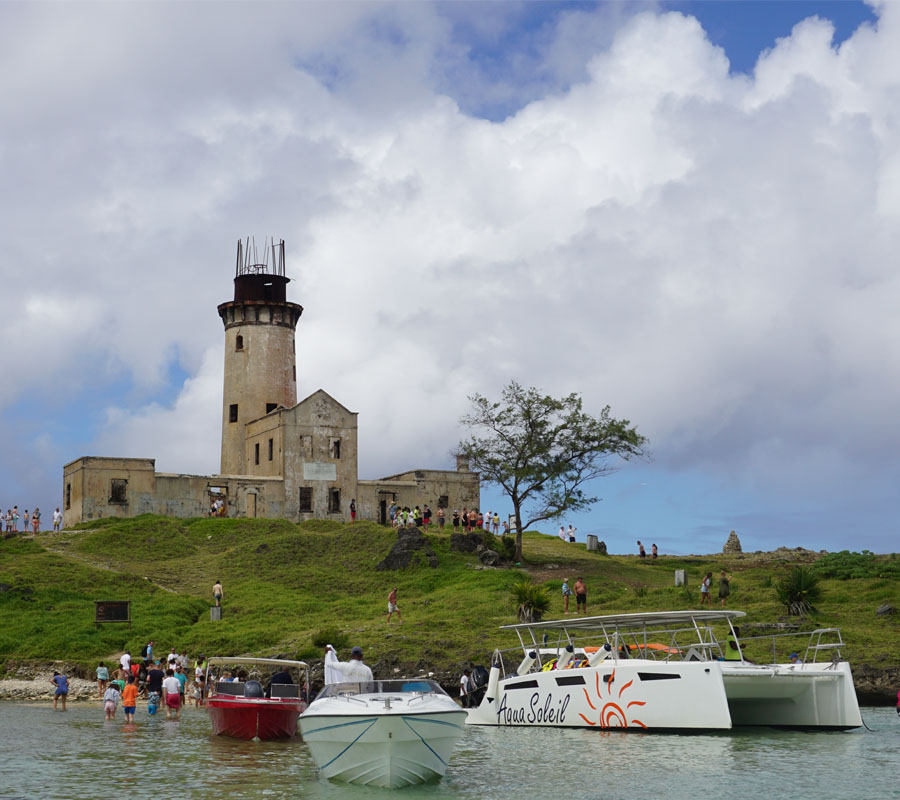 Consider a quick stop at Île au Phare, also known as Île aux Fouquets, one of the first islets to be discovered by the Dutch back in 1598 and a short boat ride from Île aux Aigrettes. A ruined lighthouse sits on the topmost point of this rocky island on the Grand Port Bay. Getting to the lighthouse could be fun as it requires you to get off the boat, walk through knee-deep waters and climb up a tiny hill only to be rewarded with breathtaking views of the landscape below. 
4. A scenic quad biking tour around La Vallée Des Couleurs Nature Park
If you're someone who loves adventure, quad biking through the lush, natural landscape at La Vallée Des Couleurs Nature Park is a must. While 'La Vallee Des Couleurs' means The Valley of Colours, it refers to the colourful geological formation in the region. Boasting 23 colours that shimmer under the sun, the unique terrain is a result of volcanic activity over millions of years. However, what truly takes your breath away are the park's five pristine waterfalls.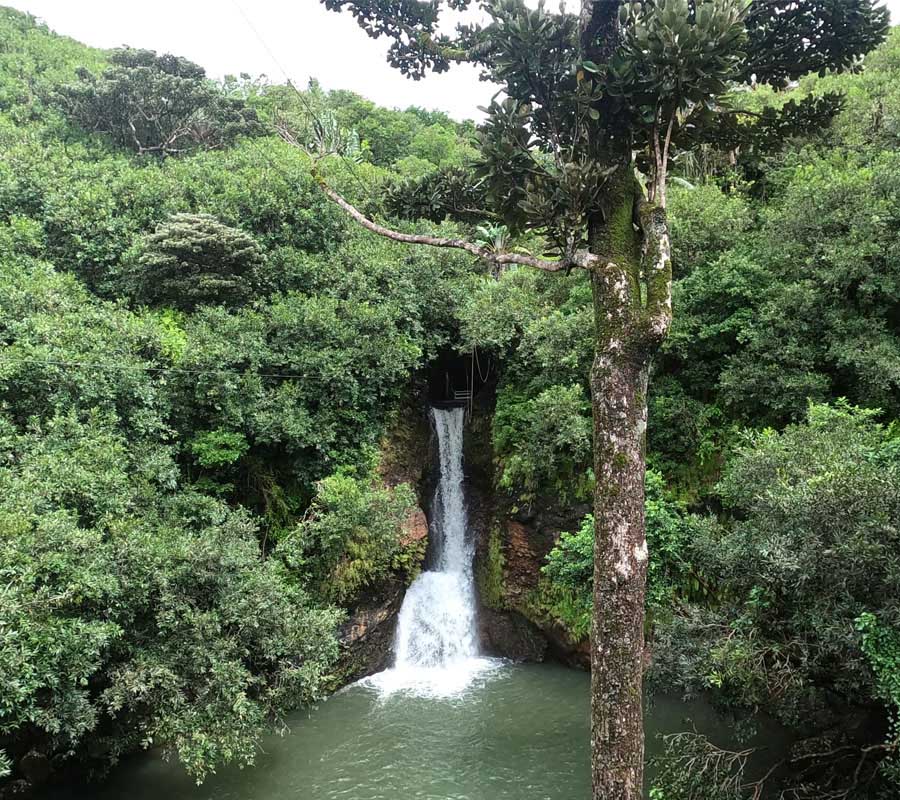 Tip: If you don't want the thrill that comes with quad biking, opt for a buggy which is suitable and safer for family rides.
5. Get a taste of local lychee wine at Takamaka Winery 
Born out of the conviction of a passionate winemaker, Alexander Oxenham, Takamaka Boutique Winery is unlike most wineries around the world. Their wine is made exclusively with luscious lychees that are more suited to Mauritius's climate than any grapes. When here, you can learn all about the challenges of making wine from lychees, the techniques involved and more. Spend a few minutes watching their documentary that describes the journey of lychees from the farms to the wine bottle. 
Sample their five different kinds of white wine. No reds come from lychee, of course. Perhaps, you could start your tasting with Aquarel, an off-dry that comes with freshness, fruitiness and notes of tropical fruits, citrus, boxwood and white flowers before moving on to Eclipse which is sweeter with rose petals, apricot, peach and muscat flavours. You could also pair your wine with a selection of delicacies from their Le Coin Café or bring back some products like jams, pastes, and honey that are made from tropical produce grown in the winery's orchards. 
6. Sample fine local rum and flavoured liqueur amidst tranquil surroundings at La Rhumerie de Chamarel 
Considering Mauritius has a long history of rum production, a visit to a rum distillery is a must. The exotic island is home to a number of rum producers who have mastered the art of distilling and ageing the rums, but La Rhumerie de Chamarel is one of the rare distilleries still actively cultivating its own sugarcane. Moreover, the sugarcane grown here is harvested by hand, without ever burning the crops.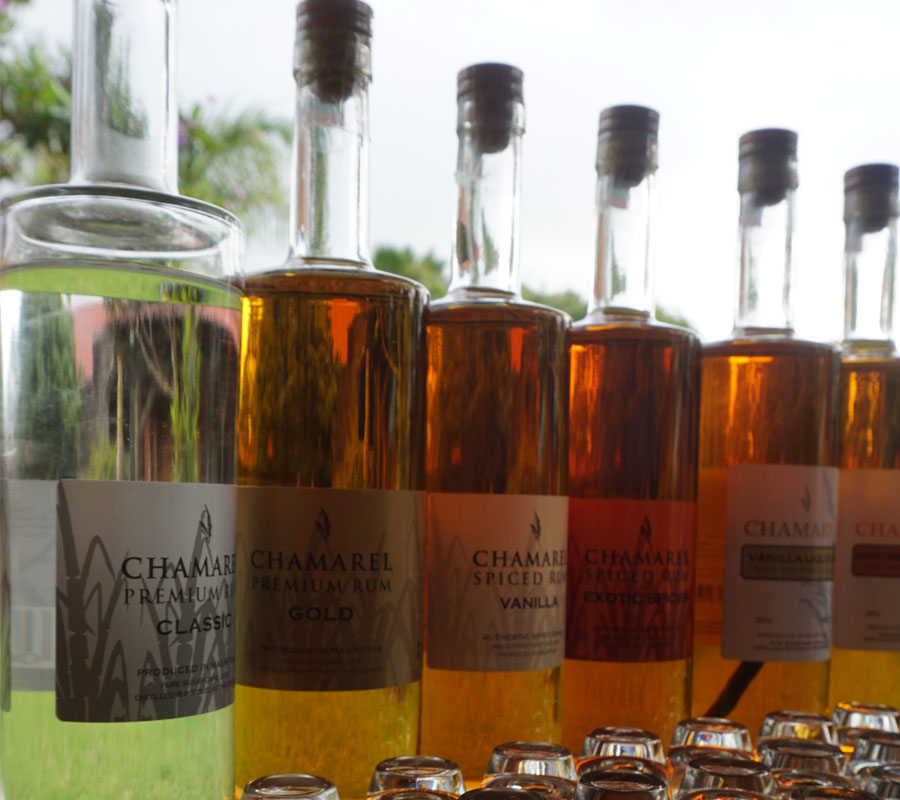 Set in a charming building designed by Mauritian architect Maurice Giraud, the distillery blends harmoniously with the spectacular surroundings of rolling valleys. Rhumerie de Chamarel offers guided tours that give you a detailed look into the rum-making process. The tasting session is your chance to try the selection of the Agricole rums (rum made from freshly-pressed sugarcane juice rather than molasses) as well as liqueurs in flavours like vanilla, coffee, mandarin, and coconut. 
7. Watch local artists at work at Le Caudan Waterfront
While Le Caudan Waterfront might seem a bit touristy, it is a place where you can meet local artists and admire their work. Local talent is often on display at L'Allée des Artistes (The Artists Corner), a pedestrian promenade. While casually strolling around Blue Penny Museum, you're likely to encounter Philip Edwin Marie working diligently on wood in his open-air workshop. Talk to PEM about his passion for wood carving and he will show you how he breathes life and shape into old pieces of wood from guava, mango, eucalyptus, and tecoma trees.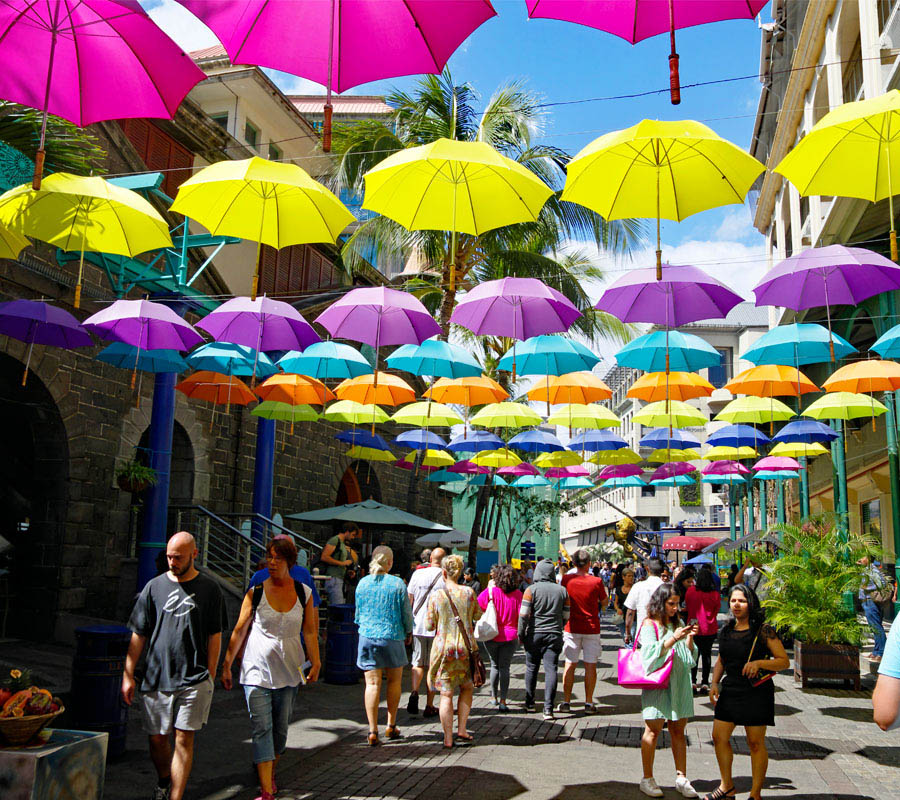 Built on a site rich in history, Le Caudan Waterfront offers a spectacular view over the Port Louis harbour. You can easily spend half a day here. Take a walk along the harbour, browse through a collection of ancient stamps and maps at Blue Penny Museum, watch a film, enjoy a meal with a view, try your luck at the casino or indulge in shopping. 
8. Learn a lesson in colonial architecture at La Demeure de Saint Antoine
Enter La Demeure de Saint Antoine and you'll feel like time has stood still since the 19th century. A jewel of Mauritian architecture, the magnificent building has belonged to the same Mauritian family since 1830. The room interiors, with family pictures and antique furniture including canopy beds and regal chairs, have remained intact over the years and the garden boasts century-old trees and a certain country charm. With adjoining rooms and a colonnaded veranda all around the house, it is unique in its proportions and a rare example of the colonial style of architecture.
The dining room, presently restaurant La Salle à Manger, is separated from the central building and connected by a paved and shaded passageway according to Mauritian tradition. Consider enjoying an authentic and refined meal in a setting steeped in history and savoir-vivre. Pretty porcelain and silverware add to the charm. For lunch, just stop by the Demeure; however, for dinner, you require a reservation.
MUST-DO: A LOCAL MAURITIAN FEAST IN THE COMPANY OF LOCALS 
When settlers from various parts of the world came to Mauritius, they brought with them dishes from their home cultures and adapted them to local ingredients. This makes Mauritian cooking a rare blend of three great world cuisines: Indian, Chinese, and French. Moreover, one cannot ignore the warm and courteous Creole hospitality.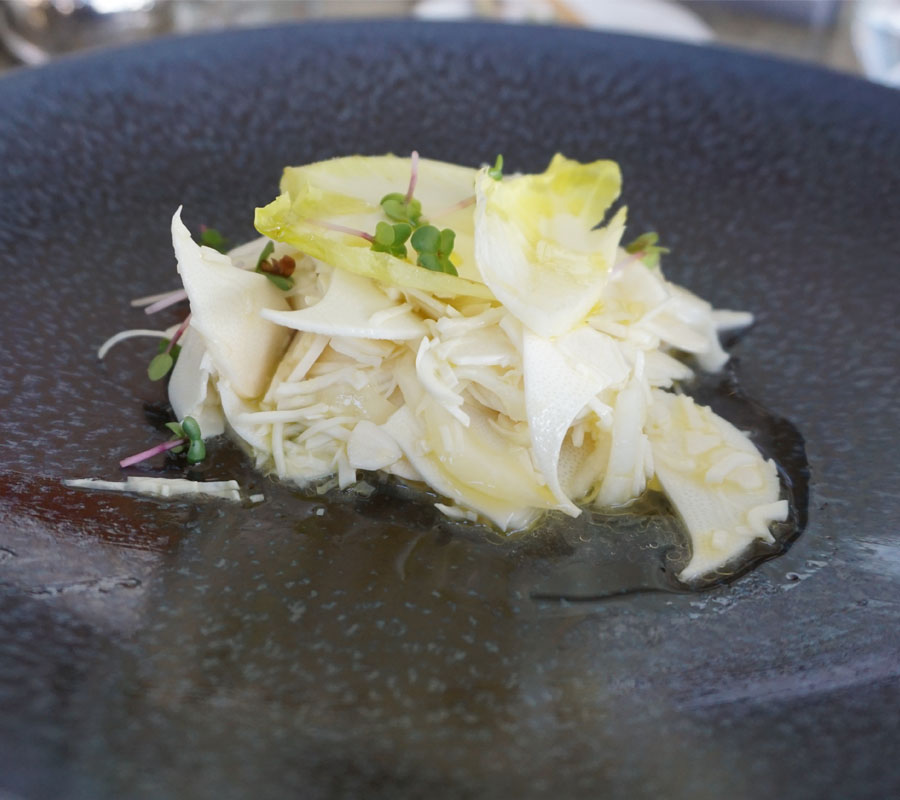 Think dholl puri (flatbread stuffed with lightly-spiced yellow split peas), bhaijas (bhajiyas or fritters), Gato piments (tiny balls of fried chilli goodness), salted fish briani (fish biryani), fish vindaye (fried fish combined with mustard seeds, garlic, turmeric, chilli and onions, pickled in vinegar to give it a distinctive taste and flavour), chayote (similar to pumpkin squash), boulet (Mauritian version of dim sums or dumplings), faratas (parathas) and various kinds of Creole curries. Drinks like alouda (falooda), delo tamarin (tamarind juice), herbal teas and exotic teas in flavours such as vanilla, moringa, coconut, and caramel as well as local beers like Phoenix and Flying Dodo are a must-try.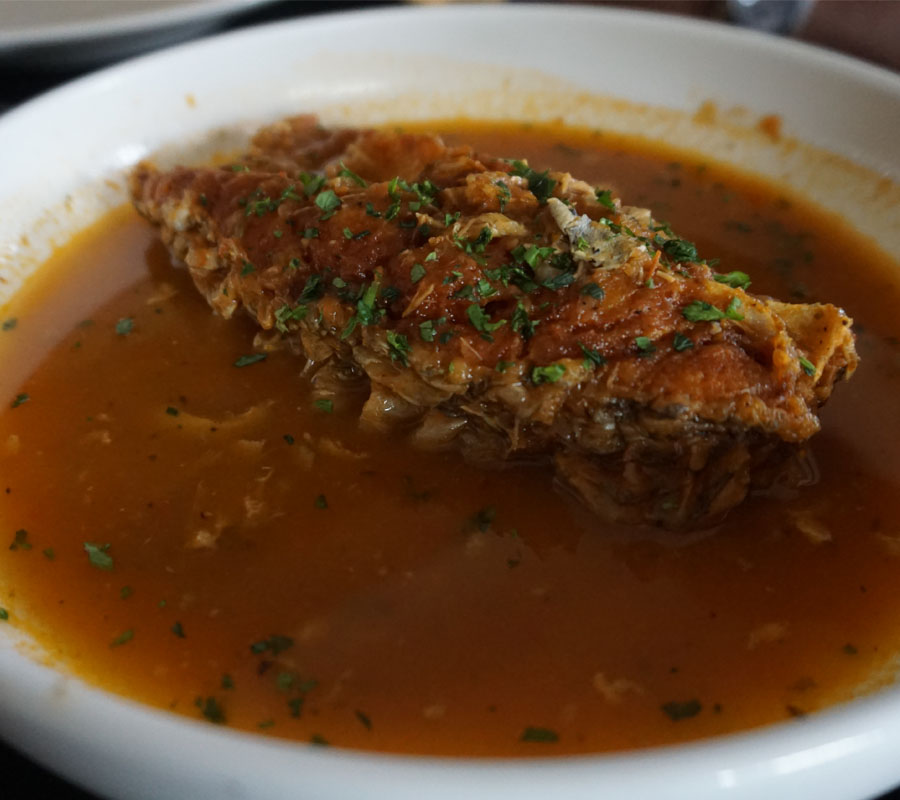 There are several small restaurants and eateries where you can enjoy authentic Mauritian cuisine. Karay Mario, owned by a 60-plus retired hotelier serves different varieties of fried gazaks including those made from breadfruit and tarot root. They place a lot of emphasis on the authenticity of the recipes and the freshness of the ingredients. Hence, they don't have a fixed menu and instead roll out a fresh list of specials every day. Their Mauritian-style octopus is finger-licking good!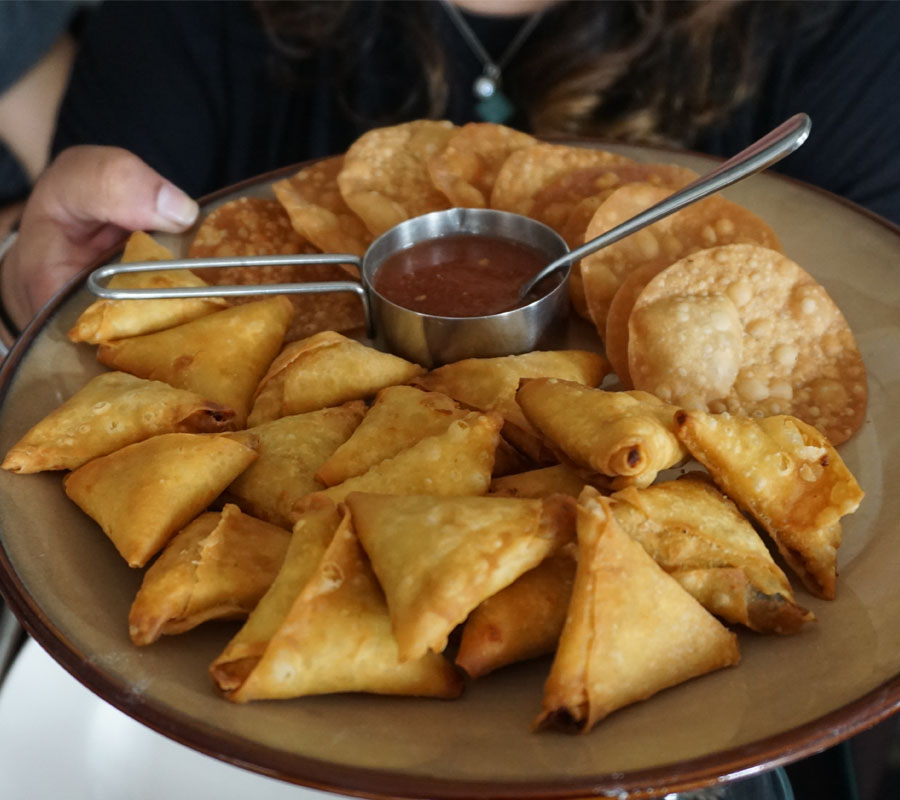 Located on the foothills of the beautiful Le Morne Brabant mountain, Wapalapam is another must-visit. Former Snowboard World Champion, now restaurateur Rok Flander and his wife Gabriella transformed an old bank into a shabby-chic restaurant that dishes out the best of Indian Ocean cuisine. Try their palm heart salad, octopus salad, local lobster, fish curry, and fried tofu, among other delicacies. They have a range of house wines too. 
If you are lucky enough to be invited for a meal by a local family, gracefully accept the invitation. It could be one of your most memorable experiences in the island country. Also, there is no better way of relishing and understanding local culture and cuisine than cooking and dining with the locals. 
The affable Bhujuns make wonderful hosts. Ved Bhujun's family originally hails from Rajasthan. His forefathers settled in Mauritius almost 200 years ago. If you'd like to know more about Mauritius's Indian heritage, you could book a meal with them through Ravenala Attitude Hotel. A local family dinner experience could cost approx Mauritian Rs 700 per person. 
PICK YOUR BASE 
Each region in Mauritius has its own vibe, landscape, and a unique set of offerings. If you're looking for nightlife and plenty of excursions, you could put up in the north. 
1. Ravenala Attitude Hotel: On the northwestern coast in the small village of Balaclava, is a great family-friendly hotel. Its seaside rooms offer direct beach access and are perfect for immersing in the Mauritian way of life. The island's bustling capital, Port Louis is an easy day trip from here.   
2. Anantara Iko Mauritius Resort & Villas: The rustic south, with its sleepy fishing villages, is a striking contrast. Nestled on Le Chaland Beach, this hotel makes for a good base. From here, you can embark on local excursions to tea plantations and rum distilleries or explore nearby Mahébourg.  
3. Sofitel Mauritius L'Impérial: If you wish to swim among colourful fish and coral reefs or relax on a quiet beach and watch the setting sun paint the sky, the sheltered west coast should be your pick. This hotel is a timeless retreat graced by French art de vivre and Mauritian vivacity.  
4. Friday Attitude hotel: Central and Eastern Mauritius have different flavours again. While the central region offers ample hiking trails, the east coast, with its gorgeous white-sand beaches and umpteen watersport activities, is traditionally the island's most glamorous. Nestled in the peaceful fishing village of Trou d'Eau Douce, this hotel could be your ideal stay option in the east.  
---
FACT FILE   
Covering an area of 2,040 km², Mauritius is almost the size of India's capital city Delhi 

Mauritius is a year-round destination, with a mild tropical climate 

The mixed population is roughly 68%Indo-Mauritian, 27%Creole, 3% Chinese and 2%Franco-Mauritian.

The most prominent languages in the island country are Mauritian Creole, French and English

1 Mauritian Rupee equals 1.78 Indian Rupee

Indians can get a Mauritius visa upon arrival at the Sir Seewoosagur Ramgoolam International Airport

A COVID-19 insurance health cover is mandatory for travelling to Mauritius

Currently, mask-wearing is still mandatory in public areas

Fully-vaccinated Indians can travel to Mauritius with a PCR test report. Mauritian hotels are likely to conduct a rapid antigen test upon arrival.  
Photo: Shutterstock and Shikha D