Long before Bengaluru came to be known as India's Silicon City, it was the cultural, educational, and artistic hub of Southern India. Home to some of the most premium educational and research institutions, public and private enterprises, and many, many parks and lakes—Bengaluru was a traveller's delight. While most of Bangalore's old glory now lies hidden behind glitzy malls and condominiums, it is not hard to look beyond them to find the real Bangalore. Here's a glimpse at some of the best things to do in Bengaluru.
1. Lalbagh
Lalbagh Botanical Garden is Bengaluru's oldest and most popular landmark, and yet it is missed out by most travellers. Spread across 240-acres, in the heart of Bengaluru, it houses the country's largest collection of tropical and sub-tropical plants, including trees that are several centuries old. A large lake, another Bengaluru trademark, a topiary, and an art nouveau glass house modelled after London's Crystal Palace make this place a nature lover's paradise. The beautiful watchtower, built by Kempegoeda, atop a 3000-million-year-old rocky outcrop, remains the epicentre of the picturesque garden.
2. Brigade Road
Brigade Road is the beating heart of Bengaluru. Adjoining the famous MG Road, close to the cultural and heritage centres, and easily accessible by the metro—it is also where new and old Bangalore meet. The city's original High Street is the best place to catch the quintessential Bangalore evening stroll and a beer. You can also meander into Church Street, one of the by-lanes, and spend hours at Blossoms Book Store or stop by at its many shops to pick up souvenirs.
3. Bangalore Palace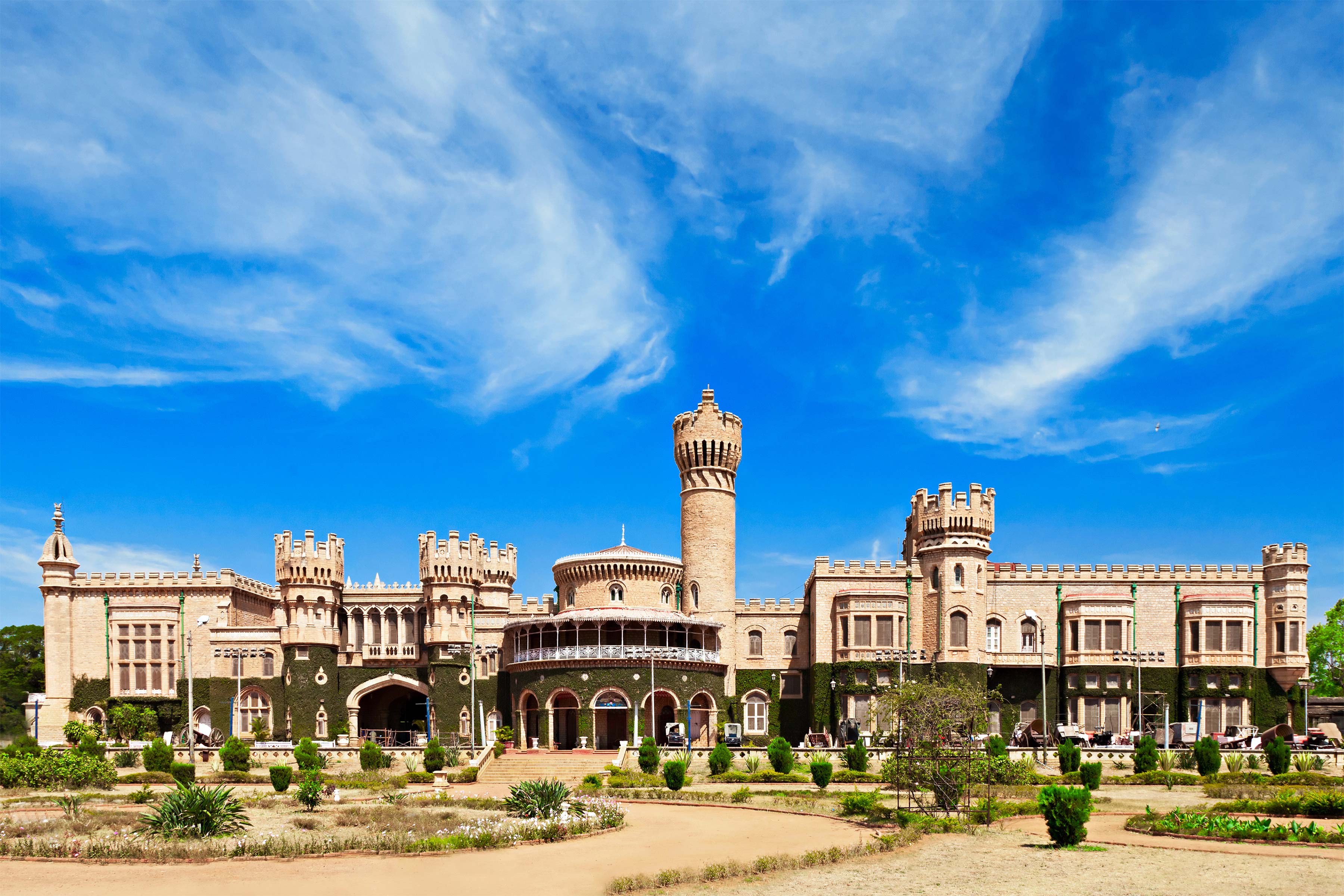 Modelled after Windsor Castle, Bangalore Palace is an architectural masterpiece that transports you to the English countryside. The external facade of the palace is adorned with turreted parapets, battlements, fortified towers, arches, a large open courtyard, and has been the backdrop to many Bollywood chartbusters. The interiors—done up with centuries-old tiled flooring, vintage photographs, exquisite chandeliers, and priceless paintings—are a treasure trove of trivia and stories.
4. Cubbon Park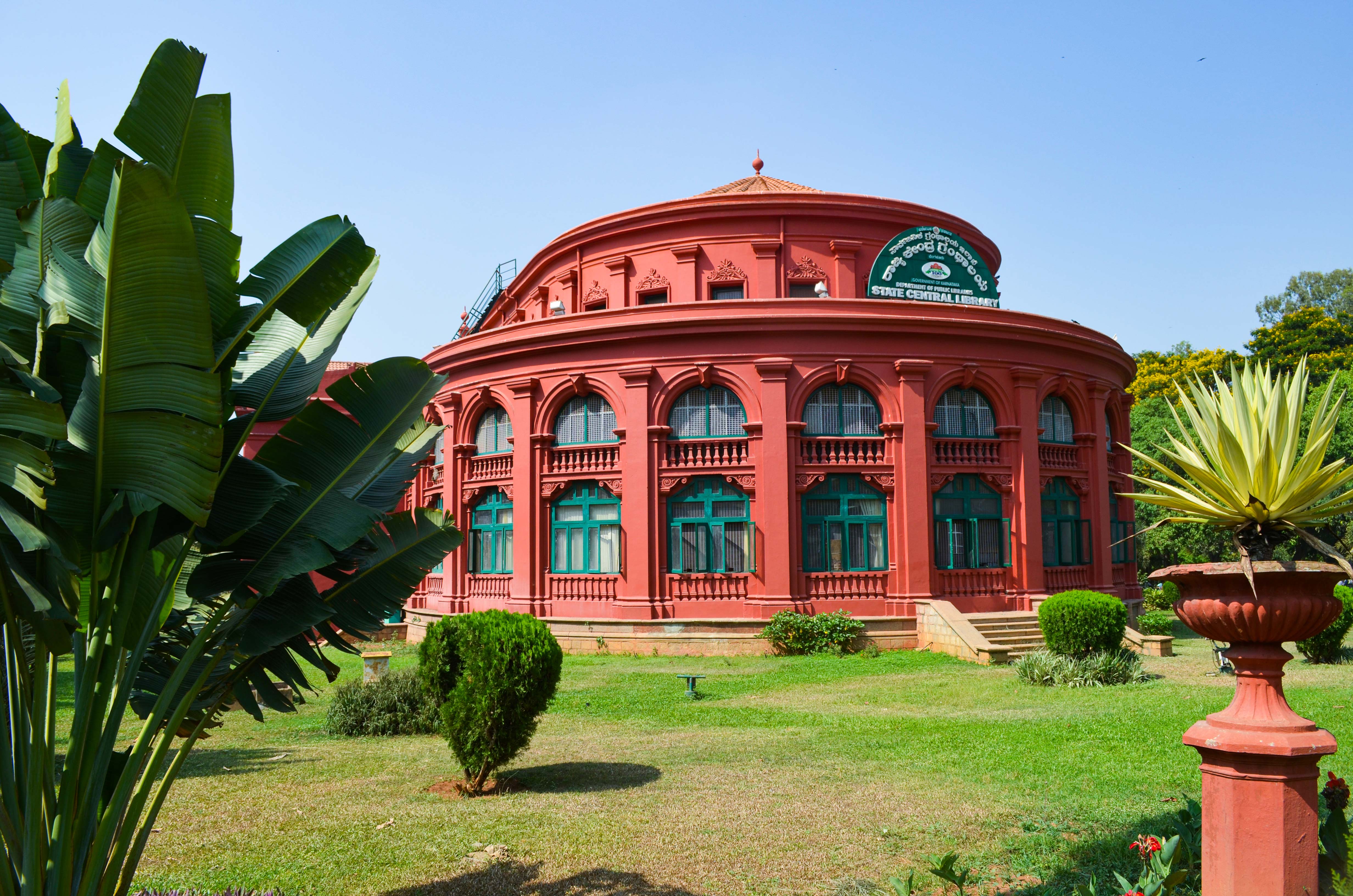 Bangalore's favourite morning walk site, picnic spot, yogshala, fitness centre, and everything else in between, Cubbon park is a living, breathing monument. Spread across 300-acres, it is home to the State Library, inside the Sheshadri Iyer Memorial Hall, which is a striking Gothic building. The Government Aquarium, also a large Gothic structure, stands inside the park. It is the second-largest in the country and houses a variety of ornamental as well as exotic fishes. You can spend the whole day walking, cycling, lazing, and just being in this oasis of peace and calm.
5. Ranga Shankara
Ranga Shankara is one of Bangalore's most well-known theatres. Located in the chic, upmarket neighbourhood of J.P. Nagar, in a beautiful building, it is run by the Sanket Trust. The auditorium was set up in 2004 as a tribute to Shankar Nag, a renowned Kannada actor, by his wife Arundathi Nag. Today it acts as a cultural centre and hosts many workshops and theatrical shows. The canteen inside is known for its authentic Kannada tiffin and is as popular as the theatre itself.
6. National Gallery of Modern Art
The National Gallery of Modern Art in Bangalore's favourite art gallery. Set up inside a 100-year-old mansion that once belonged to the crown prince of the state of Mysore, the gallery houses around 500 exhibits spread across two floors. The exhibits are classified into broad categories like time period, art schools, and artists. Original works of most prominent Indian artists like Raja Ravi Verma, Jamini Roy, Amrita Shergil, Rabindra Nath Tagore, and many new-age artists are on display here.
7. Vidhana Soudha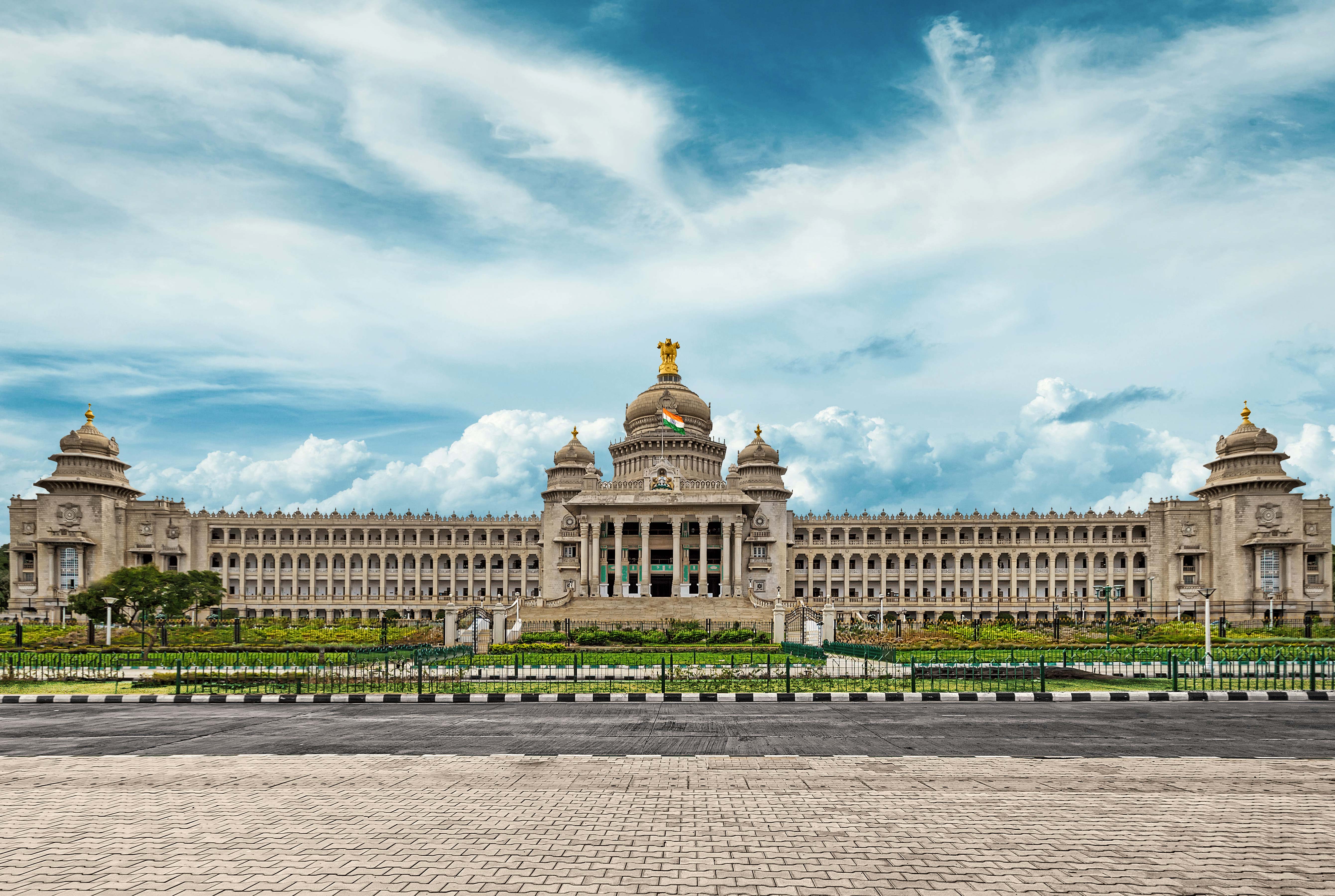 Bangalore's most striking building, the Vidhana Soudha, spread across a majestic boulevard looks more like a majestic palace than a legislative assembly. Made entirely with local granite, the building comprises long corridors, mighty columns, large domes, and towers and borrows from traditional architecture from the Chalukya, Hoysala, and Vijaynagar styles that were prevalent in the region. On public holidays and Sundays, the building is lit with thousands of light bulbs and looks resplendent.
8. Tipu Palace and Fort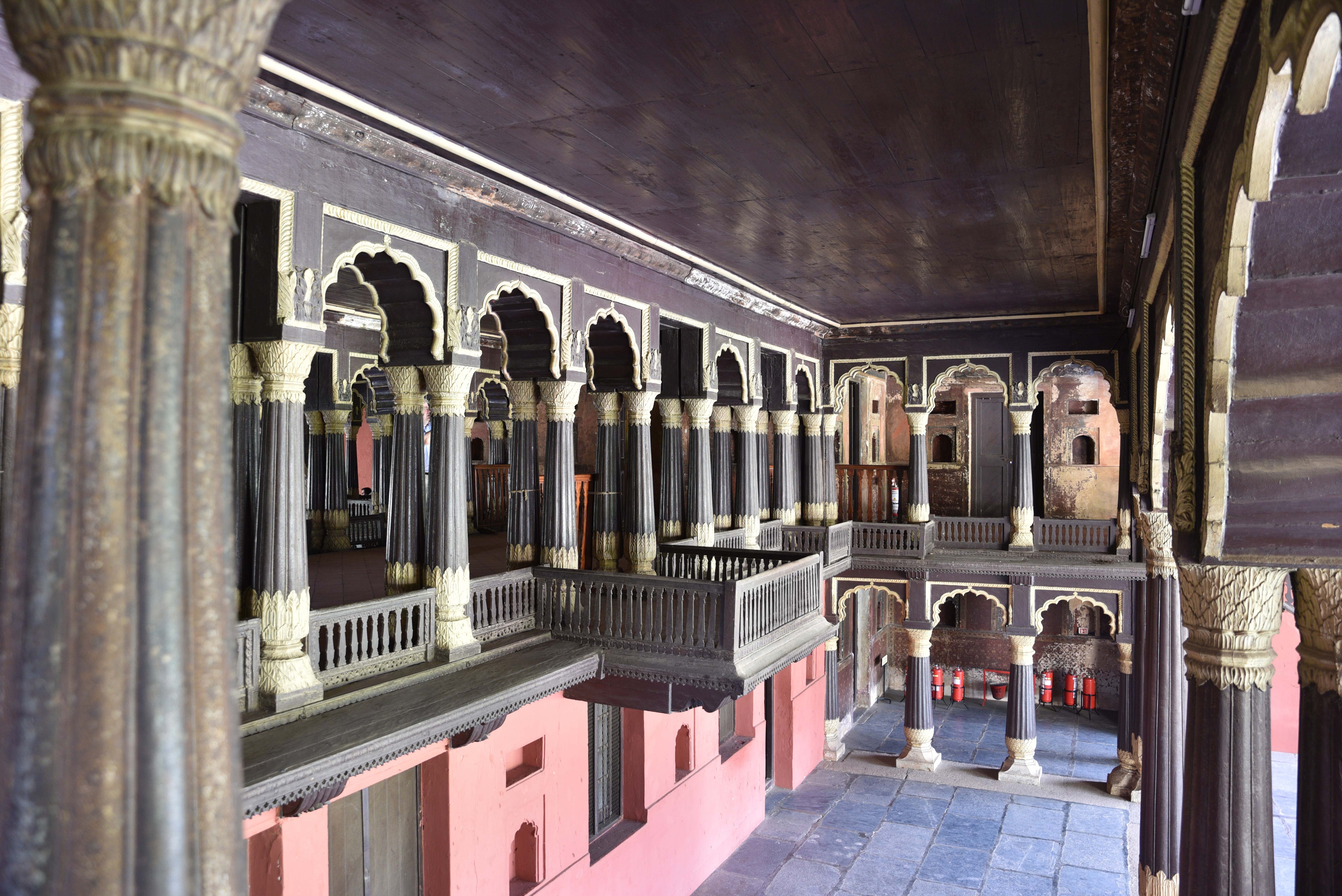 This intricate and ornate palace served as Tipu Sultan's summer palace about 200 years ago. Today, it is a quint tourist attraction in the middle of the city. Built in 1791, the two-storey palace boasts impressive architecture, magnificent wooded structures, ornate fluted pillars, gilded cusped arches and balconies, and houses a museum that showcases artefacts from the Hyder Ali-Tipu Sultan regime. The fort-palace is open to visitors from 8.30 AM till 5.30 PM everyday.
9. Town Hall, Raj Bhavan, Mayo Hall
The old town centre of Bangalore is also the most beautiful part of the city. It boasts of large shady trees, wide avenues, old colonial-style buildings, stately office complexes, and monumental institutions like Town Hall, Mayo Hall, Planetarium, Raj Bhawan, and the GPO. While the area is bustling with traffic, office goers, and locals during the week, a long walk on a quiet Sunday morning is the perfect way to witness the grandeur of the garden city.
10. Sankey Tank
This attraction was constructed in 1882 to meet the water supply demands of the city of Bangalore. The tank was also known as Gandhadhakotikere, since the Government Sandalwood Depot used to be located near the lake back in the day. Today, it is a quiet oasis in the middle of residential neighbourhoods. A boat club, managed by KSTDC, is the prime attraction of the place; migratory birds that arrive every winter and stay until spring is another reason to visit. 
Photo: Shutterstock