Picking your dream wedding outfit is often a big decision but making sure you choose the right accessories to do justice to your bridal outfit, is also not an easy task. Whether you are the bride or a part of the bridal squad, if there's one accessory that you MUST pay attention to — it is your shoes for each ceremony. Believe it or not, the pair you choose can make or break your look! But also remember NOT to compromise on comfort in any way — because you do not want to end up with sore feet or blisters and rashes.
From strappy sandals to platforms, sneakers to dressy kolhapuris, embroidered juttis to sliders — there's an entire world of footwear waiting for you. All you need to know is how to switch between pairs on different days, and just have fun!
And who better than India's top four designers — Aprajita Toor — founder of Label Aprajita Toor, Laksheeta Govil — Founder and CEO, Fizzy Goblet, Gopi Vaid — co-founder of the label Gopi Vaid (who has partnered with footwear brand Crimzon), and Anushree Reddy —founder of the label Anushree Reddy (who has collaborated with Pastels and Pop), to share all the deets?
Laksheeta Govil, Fizzy Goblet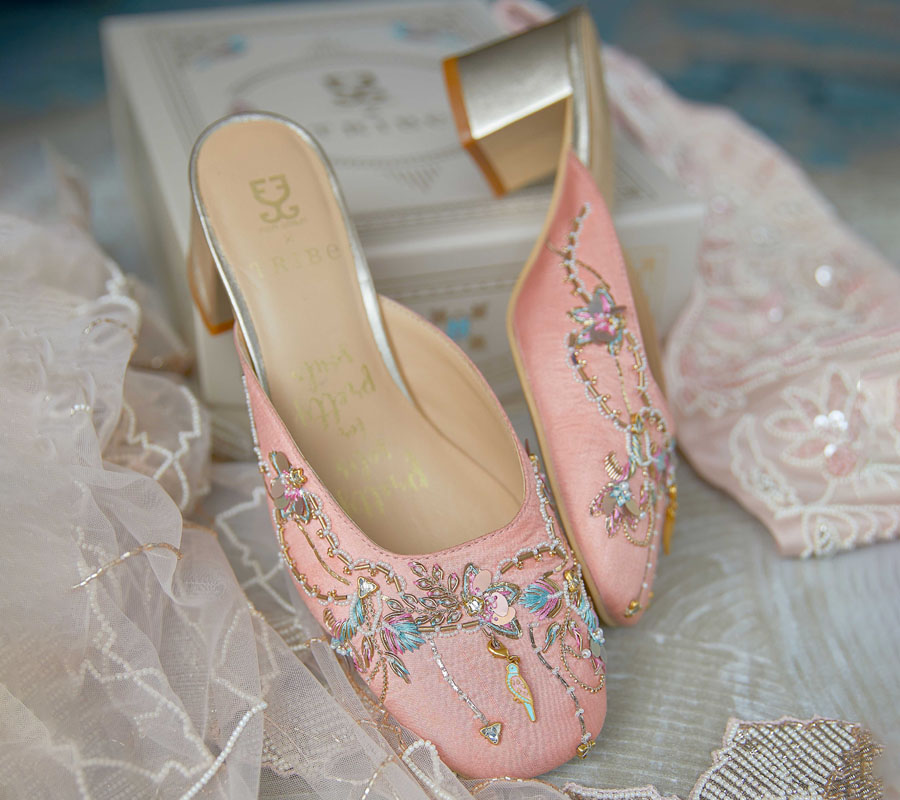 If you are looking for footwear that's contemporary, unique and comfortable, Fizzy Goblet has to be a part of your list, this wedding season. From designer juttis and mojaris to sneakers and loafers, these beauties have been adorned by the likes of Alia Bhatt, Sara Ali Khan, Tara Sutaria, Rakul Preet Singh, and Karisma Kapoor, and more! 
Don't know how to style these pairs? Let Laksheeta tell you all: "Anything traditional like lehengas and shararas can be effortlessly teamed up with a pair of ornate juttis. One can opt for these even in heels to give a statement look and invest in a piece that can be paired with a wide variety of outfits. A pair of intricately embroidered flats with embellishments also works as an impeccable addition to complete your traditional look."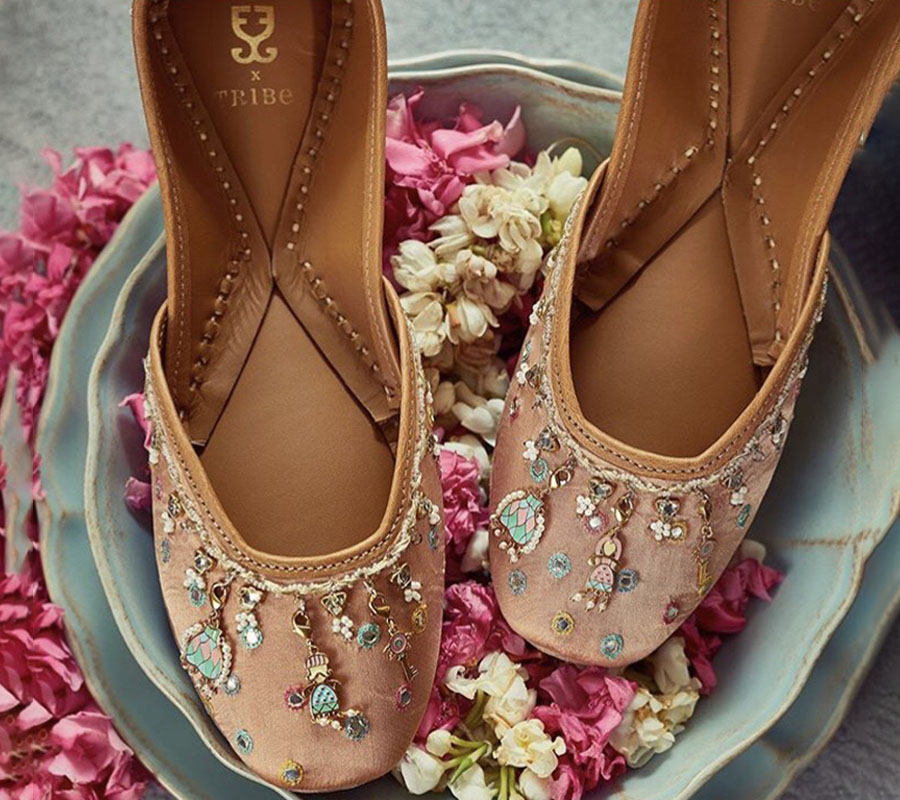 Here are Laksheeta's top tips for brides and bridesmaids:
Style a pair of embroidered juttis in vivid shades with any bridal look.
Introduce a quirky element to sarees with juttis or go for a pastel set and pair it up with bright lehengas. 

A bride could also opt for designs in floral, mirror work or beads to create an exquisite look with a stand-out element. 

Sequinned

juttis in muted tones of silver and gold is a great trend because they are an exceptional match for a variety of outfits. 

Block heels in subtle shades of peach or dazzling tones of silver are a perfect match for bridesmaids to amp up their traditional outfits. 

A pair of classic mules are an elegant yet comfortable option for wedding festivities for bridesmaids and can be teamed up with any outfit, be it a sharara or a saree. 
The honeymoon shoe guide
"One can also choose to go for vibrant shades of juttis or mules with embellishments, and pair them up with coordinate sets or even flowy dresses to create a statement look, during the honeymoon.  Motifs such as florals and butterflies are an impeccable choice to be paired with maxi dresses and add an eccentric touch to the overall look. Sliders also work really well with pants and jumpsuits, and can give a chic edge to your style," shares Laksheeta.
2. Aprajita Toor, Label Aprajita Toor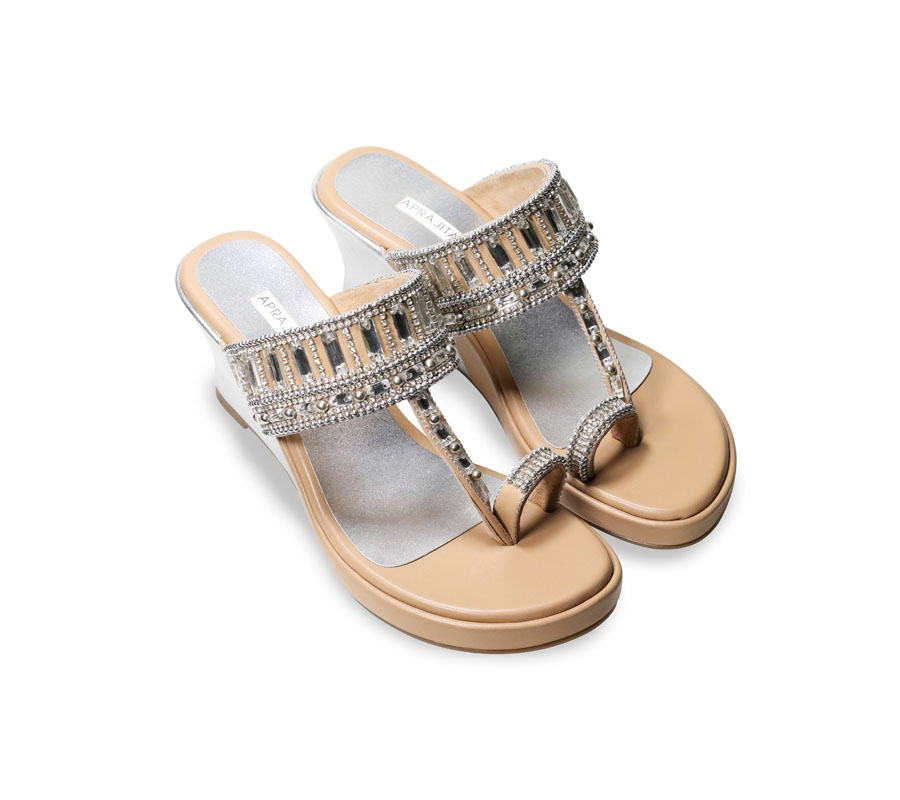 If kolhapuris are on your mind, go for this label that has added a contemporary twist to these beauties. The addition of vibrant colours and new-age design elements make their offerings a must-have during the wedding season (or otherwise).
From traditional padukas to gladiator juttis, pencil heels, and oxfords, they have a range of styles to choose from. No wonder, that the footwear brand has been worn by the who's who of B-town, including Katrina Kaif, sisters Sonam and Rhea Kapoor, Alia Bhatt, Vidya Balan, Janhvi Kapoor, Kajol and Kriti Sanon.
"Comfort is the foremost factor that must be borne in mind while picking your shoes. A smart way to survive a wedding is knowing when to alternate between towering stilettos, block heels and flats. I think embellished flats in pop colours or dressy slides, classic metallic wedges, stilettos (skip them in case of a garden wedding) or chunky block heels are perfect for this wedding season," says Aprajita.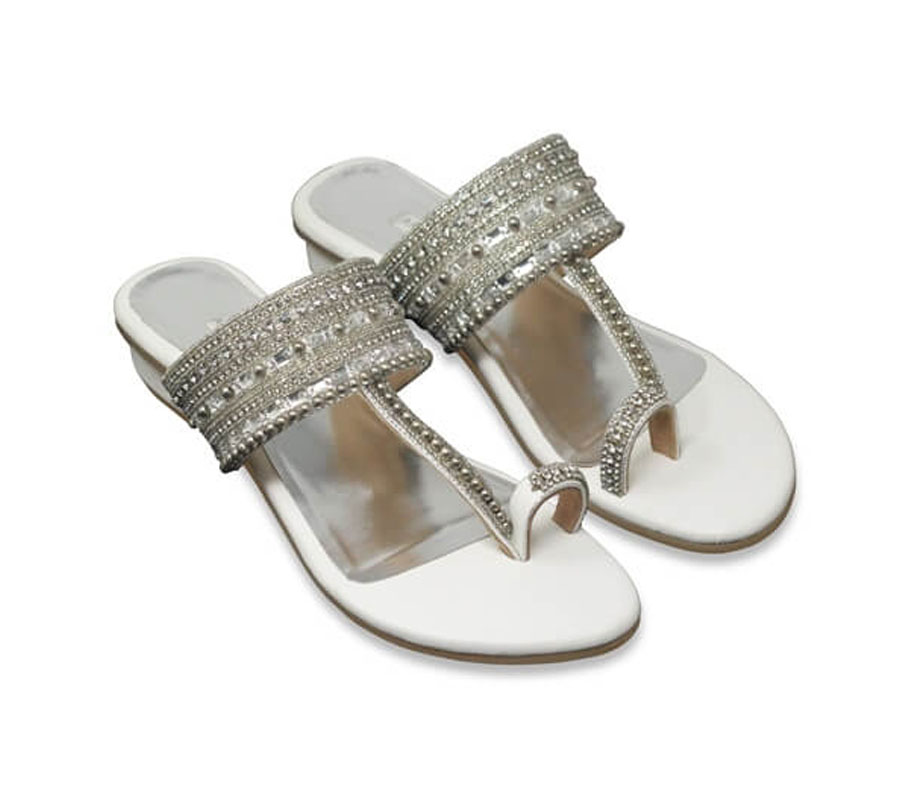 Here are Aprajita's top tips for brides and bridesmaids:
A pair of shoes each in gold and silver is a must-have in your wardrobe.

Pick a comfortable pair of embellished or dressy flats for events like mehendi or haldi ceremony.

Give your feet the luxury of comfort and style with a pair of metallic wedges that have multiple uses, and can be styled with different outfits.

Stilettos are ideal for a cocktail party or reception and can be teamed up with 




cocktail dresses or contemporary wear. 

Choose chunky block heels to dance the night away. 

Dazzling embellishments, shimmer and shine must top the list when picking heels or flats.

Mismatch is the keyword for bridesmaids this season. Experiment with embellished flats or pop colour slides. If you want to add height, make sure to go for a comfortable pair of heels, say a pair of chunky block heels that are not restrictive and versatile to match any outfit.
The honeymoon shoe guide
"Honeymoons are all about relaxation with your partner. Whether you are a planner or the one who leaves things to the last minute, here are a few tips on packing the right footwear. Use a pair of flats with minimal embellishment, a pair of sneakers, and chunky heels to keep the glamour quotient alive for those night outs," says Aprajita. 
3. Gopi Vaid, Crimzon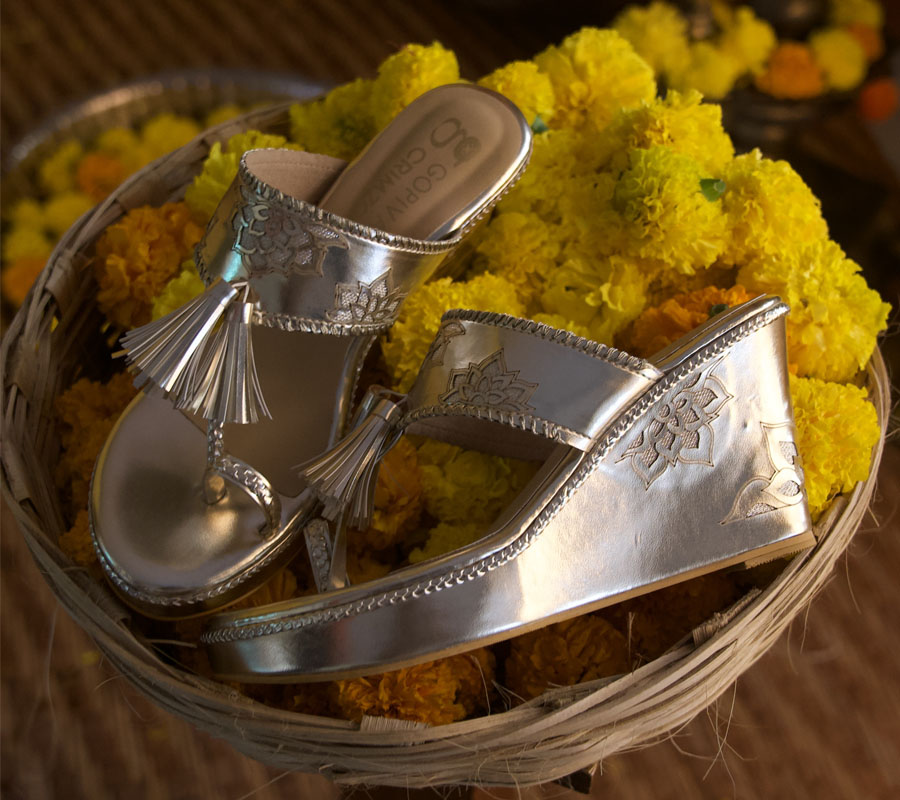 The handcrafted pairs from Crimzon have always left us awestruck, and their recent collaboration with designer Gopi Vaid takes it to the next level. Gold and silver dominate the colour palette, making it the perfect choice for the wedding season. 
"I think a combination of gold and silver is what's needed during this season. Wedges and platform wedges are the most comfortable, since they give you the height, gait, and walk that you would like. I personally like Kolhapuri designs because they go well with Indian wear. We have added tassels as a fun element to it," shares Gopi. 
Here are Gopi's top tips for brides and bridesmaids: 
Kolhapuris are big this wedding season, as they are comfortable to wear the entire day. 

Block heels and wedges work really well for garden functions. A whole lot of embroidery is done around the wedge, so they look pretty even from behind.

For bridesmaids, mules which are flats in gold and silver look great, and can be worn with our brocade pants. 

Wedges are super for shararas and block heels for lehengas.
4. Anushree Reddy X Pastels and Pop
Pastels and Pop's new collection Carnival of Colors in collaboration with designer Anushree Reddy, is all about colors and pastel shades like champagne gold, blush, and blue with bright pops of embroidery and delightful embellishments on red and orange juttis. There are also options in delicate floral embellishments, beaded patterns and pearl embroidery. These are then sprinkled with sequins, beads and lace for juttis that are all kinds of pretty. 
"I think juttis are a wedding season staple —whether you tuck them under your lehengas or flaunt them with cropped shararas, the right juttis can really elevate your look. A striking pair of embellished juttis are super stylish, comfortable enough to wear for a couple of hours at a stretch, and no doubt trendy," says Akanksha Chabbra, founder — Pastels and Pop. 
Here are Akanksha's top tips for brides and bridesmaids:
Opt for pretty pastels and go easy on your feet this wedding season. 

From studded to zardozi embroideries, handcrafted to thread motifs, beaded patterns to subtle pearl embroidery, there is a plethora of jutti options available at Pastels and Pop. 
Pair lehengas, which are usually in the pastel shades of pinks, reds and oranges with color-on-color juttis, so that they seamlessly go with the outfit. 
Wear juttis with a crop top lehenga that stops at the ankles. Make sure that you match or create a contrast between the colors of the juttis with your outfit perfectly. 

One can pair it with sharara, giving it a tremendous desi touch.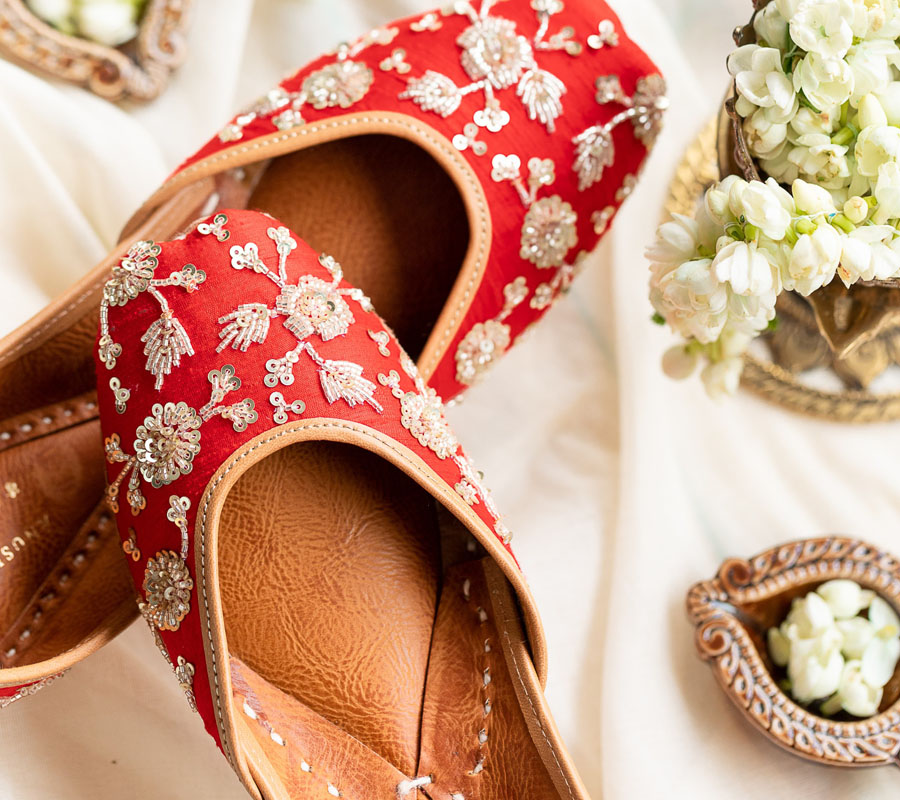 "Brides in 2022 are approaching wedding shopping differently than brides in the past. Instead of looking for a full glam look, brides are looking for reinvented classic pieces with versatility. They are also becoming more conscious of their carbon footprint and want investment pieces that are high quality so they can be worn for multiple occasions. Recently, we've seen that Covid-19 has led to a surge in non-traditional wedding locations from living rooms to front porches and backyards. All these places beg for a more casual shoe choice," says Anushree.
Here are some of Anushree's top tips for brides and bridesmaids:
The bridal shoe trend is leaning toward a more sleek and timeless style. 

Brides and bridesmaids are increasingly looking for a more unique wedding shoe and are moving away from the classic white or ivory-coloured bridal pump. Many brides are opting for the mesh material bridal footwear to step out of their comfort zone. 

In 2019 and 2020, the colour rose gold was spotted at various weddings, but in 2021 we saw the colour taking the trend to the next level. The colour can also be worn after the wedding with any outfit for multiple festive occasions. 
The honeymoon shoe guide
"Juttis look great with a pair of trousers and a white crisp shirt or you can also pair them with your monochrome dresses or resort wear. My personal favourite is wearing a white chikan kurta with a pair of pants or white pyjamas, oxidized silver jewelry and juttis. You can wear juttis with your denims or shorts. I am in juttis even on a beach vacation, because they just add so much colour to your look. We have options for vegan flip flops as well that one can pair for such occasions," shares Akanksha.
Photo: Featured Designers and Brands