In a male-dominated culture, you navigate by taking advantage of society itself. There will be many men who sincerely believe in successful women. You can work with them in the form of your husband, business partner, or the individuals you work with. Dealing with such men while being a feminist has a further compounding impact since you are working with men who believe in women. That's what Veena Ashiya, CEO (chief energy officer) and founder of the Bengaluru-based brand Monrow Shoes, has to say about being a woman entrepreneur in the fashion and retail industry. "I see this as an opportunity to change people's perceptions. I want my brand to become an incubator for the most ambitious women ever," she explain.
Inspiring indeed, but that's not all Ashiya aspires to do. The brand is also focused on being cruelty-free and its products are all vegan, which makes her not only a successful entrepreneur but also a responsible one.
In an interview with Zee Zest on International Women's Day, Ashiya talks about her journey as an entrepreneur. Excerpts:
1. What led you to found Monrow Shoes? Was it disappointment with the corporate world, inspiration to do your own thing or was it something else entirely?
I come from a family of entrepreneurs, I have had the honour of working with some of the great minds and iconic fashion brands such as Tommy Hilfiger and Versace before founding Monrow. Tommy Hilfiger was my first job, I worked as an assistant buyer till early 2009 and worked at Versace, New York, right after as a marketing assistant for about a year. At Versace, as part of the marketing team I learnt about brand image and how in a luxury industry, the brand image is most important. I also learnt about what's exciting and what sells. And this learning laid the base for my future. my passion for fashion and long cherished dream of having a fashion brand of my own.
2. Tell us about Monrow and your vision for it when you first began?
At Monrow Shoes we believe magic happens when we're comfortable. Monrow is devoted to making that magic happen through fashion. We make shoes that travel along with you on your journey. It's an ode to all those women who are the first ones to hustle their way up & the last ones to leave the dance floor. This boldly comfortable dream that I had is now a reality thanks to the combined energies of our entire team. 
3. Monrow is also cruelty-free…
Monrow is a brand that supports ethical fashion with its range of shoes that is free of animal testing. Utilising vegan and cruelty-free items as well as using products that don't test on animals helps lower carbon footprint and the brand grasps this concept exceptionally well. All the Monrow footwear are crafted with vegan leather (PU material) and in the upcoming materials such as bamboo and banana fabric and breathable flyknit material. With the addition of fashion trends and modern materials, it is more suitable for the millennials and the GenZ of today.
4. When it comes to the footwear and accessories market, where do you think India stands today vis-a-vis five years ago?
In India, the footwear industry is estimated to be more than USD 10 billion, and women's footwear accounts for 41 per cent of it. The category has been growing at 16 per cent year on year. This means that this industry has been doubling every give years. India is the second largest global producer of footwear after China, accounting for 13 per cent of global footwear production of 16 billion pairs. India produces 2065 million pairs of different categories of footwear. India exports about 115 million pairs. Thus, nearly 95 per cent of its production goes to meet its own domestic demand. The industry has witnessed exponential growth in the last give years which can be attributed to social Media and evolving sense of fashion.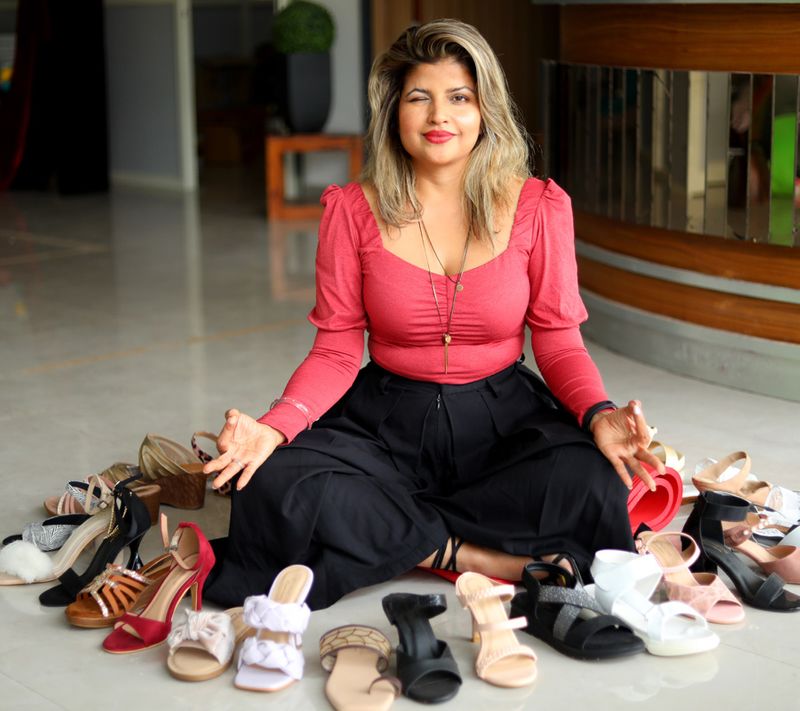 5. Why do Indians crave foreign brands so much and not look at homegrown labels when it comes to shoes/bags/perfumes? What are we not doing right because in fashion, Indian designers are coveted. Makeup brands too are slowly making their mark.
Earlier, the European nations were considered to be trendsetters, followed by other western countries like the USA and then the trends would be followed by the Indian fashion industry. Today, social media trends have made it possible for all brands to gardener global visibility.  Social media has in a way democratised the way in which people come to know trends.World has become a global village, where anyone can follow anyone and have access to  worldwide fashion in just a span of few minutes. Make In India and various other govt schemes have promoted homegrown brands and startups. Millennials and specially Gen Z are more focused towards product quality and price rather than the brand tag. They want the product to be worth the price and are well aware of the industry today.
I don't think there is something we are not doing right, the other nations just have a head start. Today, nearly 90 per cent of India's export of footwear goes to European Countries and the USA. Future growth of Indian footwear in India will continue to be market driven. European countries and the US are major consumers of Indian footwear. 
6. How important is it for the retail industry to be conscious of its carbon footprint?
The fashion industry accounts for about 8-10 per cent of global carbon emissions, and nearly 20 per cent of wastewater. In fact, the fashion industry consumes more energy than both aviation and shipping combined. We aim to build a brand that is not only comfortable for the customers but also for the environment.
7. Are there any women industrialists/designers/entrepreneurs who've inspired you over the ages? 
My mother and Coco Chanel, I believe, are the two most strong women I admire.
---
Photo: Featured brand