There are only two kinds of people. Those who wait for months, planning (and pairing!) their saree with cute jewellery and quirky blouses. And others, who wake up, only a few days before the festivities begin, scrambling for a good saree, either online or, deep inside the rabbit hole that is an Indian mother's wardrobe. After painstakingly zeroing in one that drapes well, compliments the bod, and proves to be decently manageable, you have the whole conundrum of the blouse. You get the drift. However, the real commonality between both these types of people (and admittedly, us) is the shared love for sarees.  
Saree, not Sorry  
In our shared journey of reclaiming the saree and understanding what #sareenotsorry means, we speak to writer, model, influencer, saree hoarder and author of The Heart Asks Pleasure First Karuna Ezara Parikh. "The saree is evergreen. To me, it is the most graceful of outfits," she tells us, adding that the emotion underpinning our love for sarees, stems from our familiarity with tradition.  
"When I was a teenager, my mother not only taught me how to wear a saree in about 60 seconds, but also, how to – no matter how drunk I am at the end of a sangeet – take it off in folds, so that the garment never touches the floor. I suspect she learnt this from her mother. Like a saree itself, the knowledge or rather, wisdom surrounding it, is handed down to the generations," Ezara expresses.  
What Ezara means is that the joy of wearing a saree is hinged not only upon the final "look," but rooted more in the little stories that wove that saree into being. Much like the sarees you find inside your mother's wardrobe or, your grandma's rusted buxa metal trunk. And if you think about it, that's precisely what we are now calling "pre-loved" and "pre-owned" garments – a concept rooted deeply in sustainable and slow fashion. Ezara – who defines her personal style as "comfortable and conscientious" shares her personal homegrown favourites and why sustainable fashion is expensive.    
Talking textiles 
"Whenever I talk about sustainable fashion, the most common remark is - 'but it's so expensive'. I always remind people at this point that India is the original sustainable fashion hub. From khadi to jute, bamboo, biodegradable fabrics, like pure cotton – we have it all. The saree is a symbol of sustainable fashion and a handicraft icon in itself."  Picking a saree from a sustainable brand itself, might not be the most difficult bit. It is, in fact, identifying which brands truly are sustainable. "I try and do my research. Anything that comes across as too fancy, I investigate more. If they're spending so much on advertising and a shiny website or glamorous photo shoots, what are they paying their workers, for example? That's not to say the two things can't co-exist, but it's important to ask these questions," Ezara suggests.  
This might help explain why so many young and conscientious fashionistas are reclaiming the saree. Be it flow arts pro, Eshna Kutty, who rocked the saree with sneakers in a hula-hooping video that went viral in September, 2020; Lady Gaga donning a Tarun Tahiliani saree back in 2013; or the sudden-but-sure fame behind sisters, Sujata and Taniya Biswas' saree brand, Suta Bombay, that has managed to grow into a business with revenue worth 5.5 crore (as of 2019)!  
Pick and choose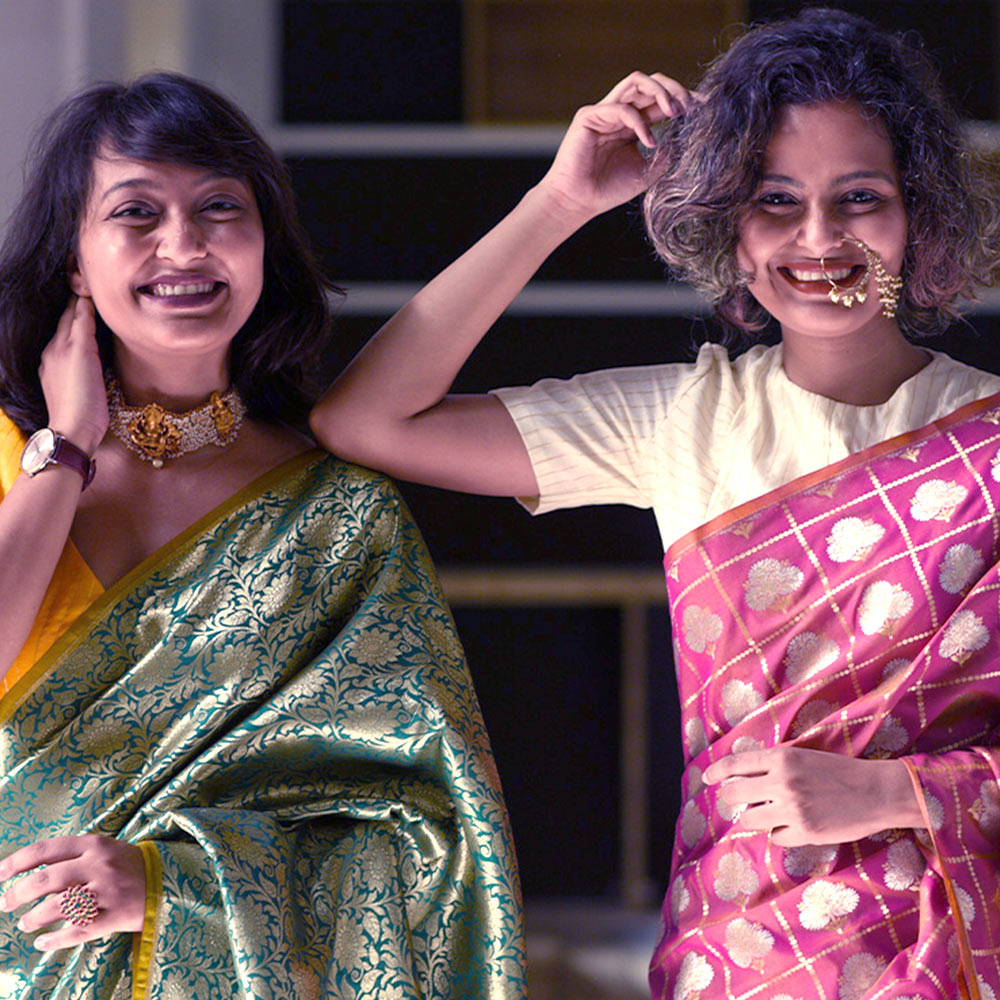 Now to help build your saree wardrobe, here are a few homegrown Indian saree brands – both big and small – curated with the help of Ezara, for you to pick from, so that you can indulge in a little bit of #sareelove.  
Suta Bombay  
Founded in 2016 by the Biswas sisters, Suta Bombay has quickly grown to become a crowd favourite, offering traditional and contemporary sarees in varieties. While the brand does offer traditional sarees, sourced from remote parts of India and a clan of about 50 weavers, recently, the brand also ventured into screen-printed sarees for their new collection.  
Shop on: https://suta.in/ 
Silk Kothi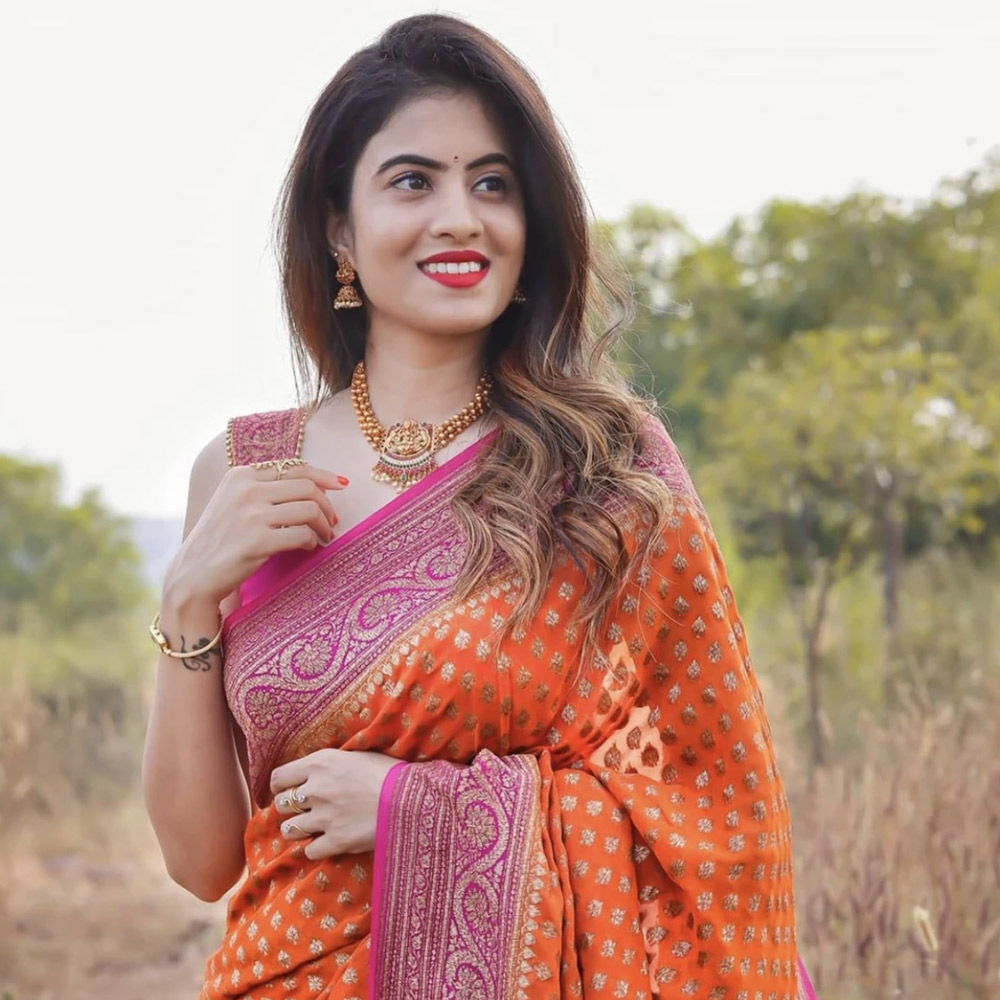 Recommending it heavily for benarasi sarees, ostensibly one of India's most cherished weaves, Ezara touts Silk Kothi – a sustainable saree brand with a legacy of five decades and a network of about 5,000 weavers – as a brand that prices their sarees fairly. "In the last few years, I've seen a huge rise of interest in benarasis. This trend doesn't seem to be going away for now, and why should it? Benarasis are classics!" she says.  
Shop on: https://silkkothi.com/ 
Margazhi Designs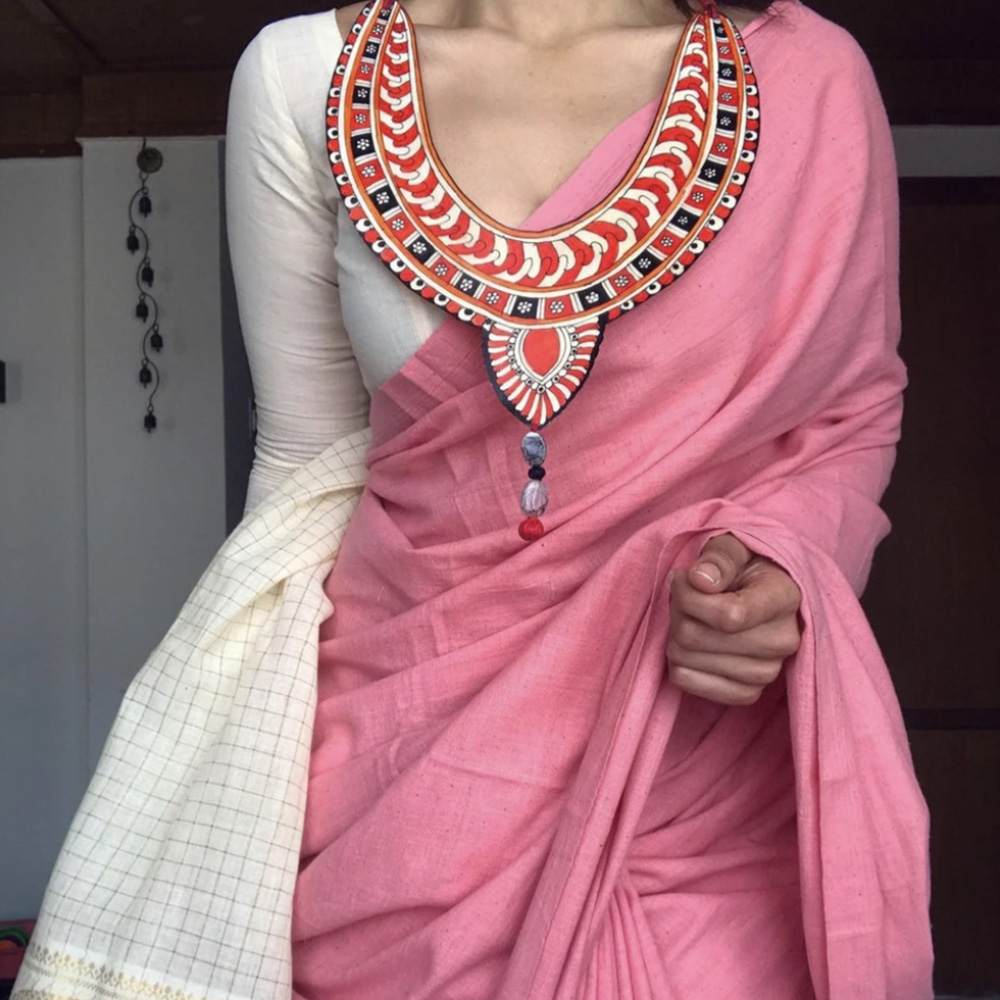 In 2014 Madhulika Kapilavayi's now famous sustainable saree brand, Margazhi Designs, was merely an activity driven by social media. Today, it has grown to become a sought-after one-stop shop for all saree lovers with a wide range of beauties to pick from. With an impeccable eye for design and colours, Kapilavayi has managed to bring under her brand's fold a versatile mix of sarees – ranging from muslin silks and tussars to the wildly famous patchwork pieces – by focusing solely on weaves, and roping in weavers from the length and breadth of the country. 
Shop on: https://margazhidesigns.com/ 
Pitaari by Pramila Dugar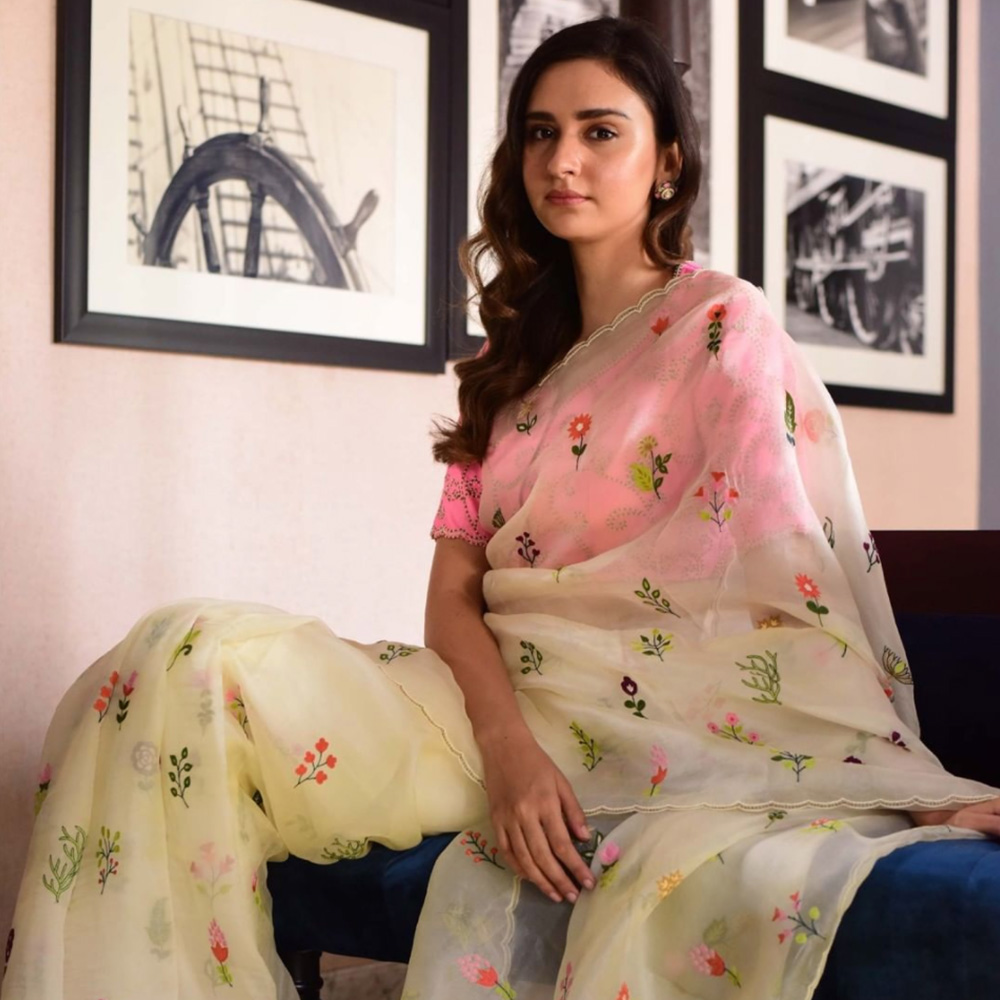 Based out of Kolkata, designer Pramila Dugar's little-known saree brand, Pitaari, specialises in exquisite classical and ethnic pieces, all sourced sustainably. Ezara swears by their organza sarees because she believes Dugar manages to "meld eastern and western sensibilities seamlessly," adding that she has observed a resurgence of interest in organza and hand-painted sarees.  
Shop on: @pitaaribypramiladugar on Instagram  
Coloroso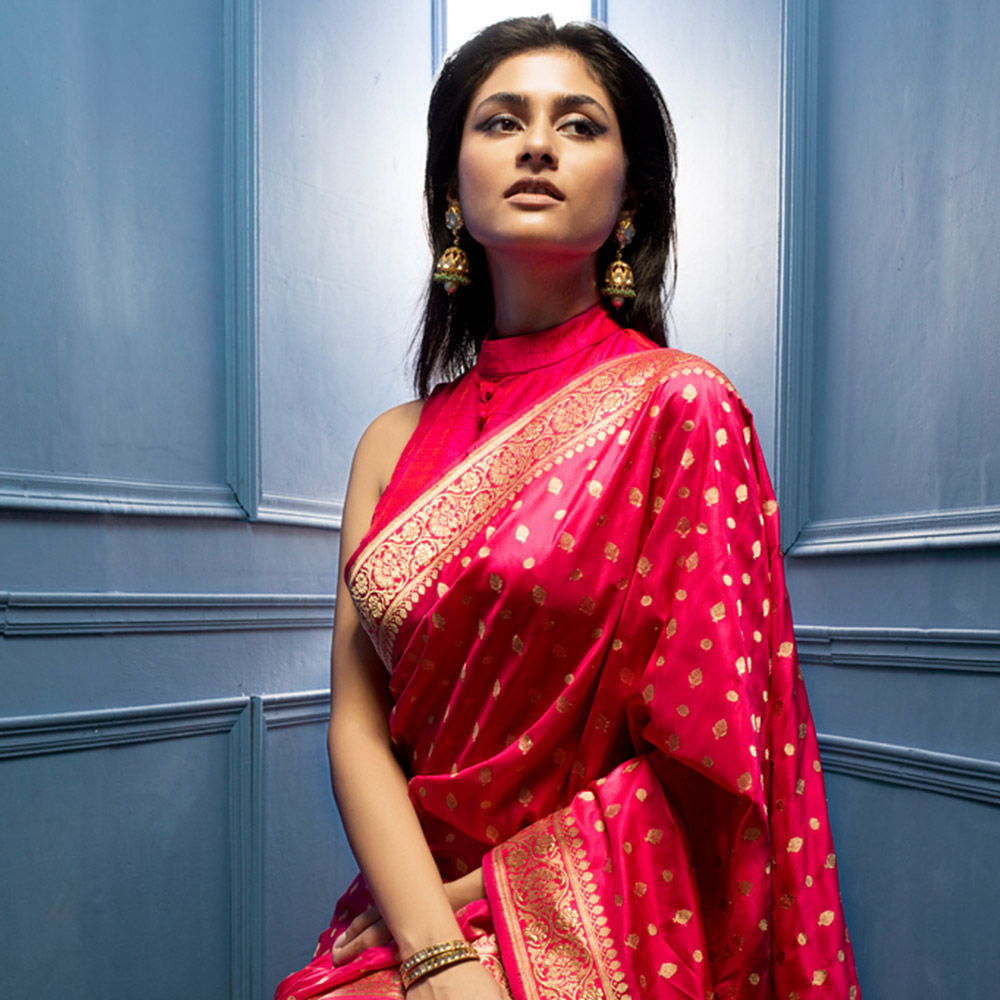 "For the classics, I've found Coloroso to be unparalleled," confirms Ezara about the Kolkata-based brand started by its creative head Joydeep Roy, who quit his corporate job to set up the saree store, that has on offer truly exquisite benarasi, chanderi, linen and raw silk pieces. Sourced from weavers Roy interacted with during his travels before the formal inception of the brand, Coloroso's sarees come with the promise of 100 per cent handmade beauties.  
Shop on: http://colorosoweaves.in/ 
Aprudha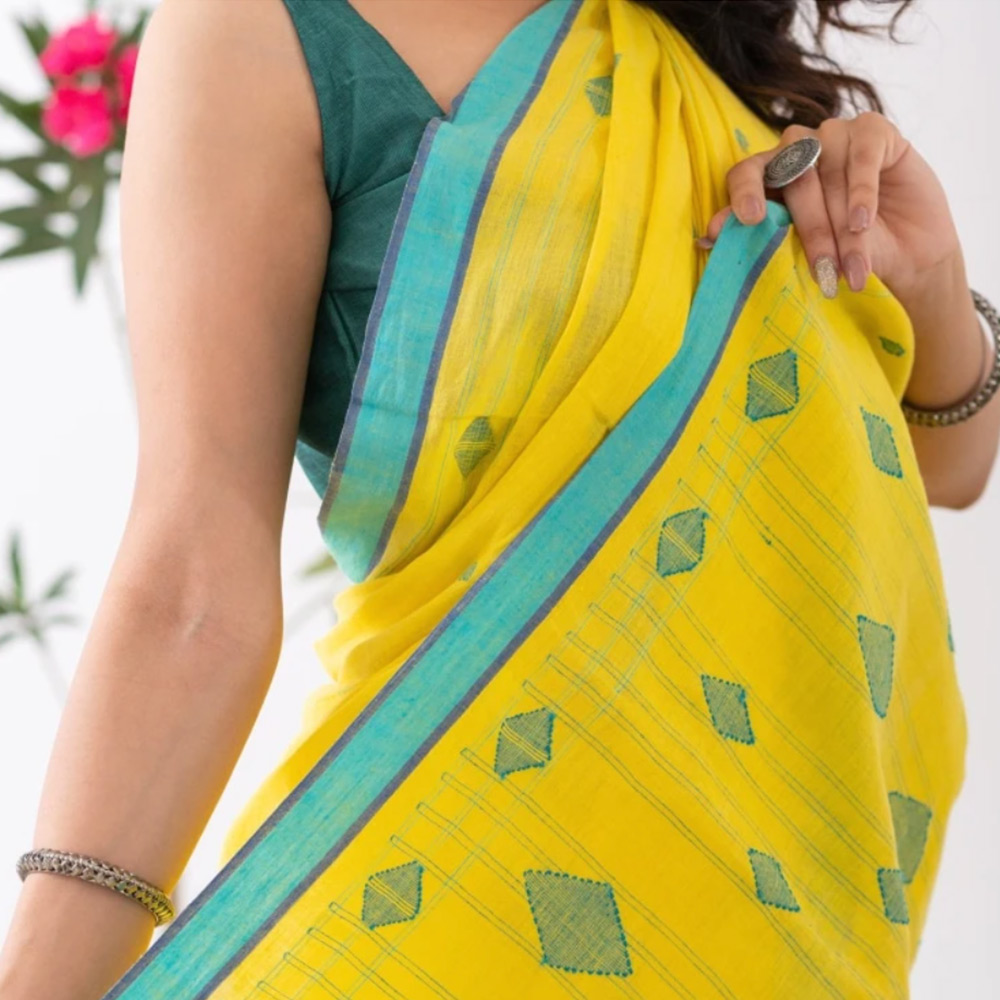 Based out of Pune, Aprudha comprises a small community of Indian women that work together to bring to saree lovers, pieces ranging from benarasis, jamdanis, sambalpuris, silks and also, indo-western blouses, tops, kurtis, dupattas and dresses. Representing the country's rich heritage of textile, this sustainable saree brand doubles up as a one-stop shop for dreamy six-yard pieces, priced intelligently.  
Shop on: https://aprudha.com/ 
Karagiri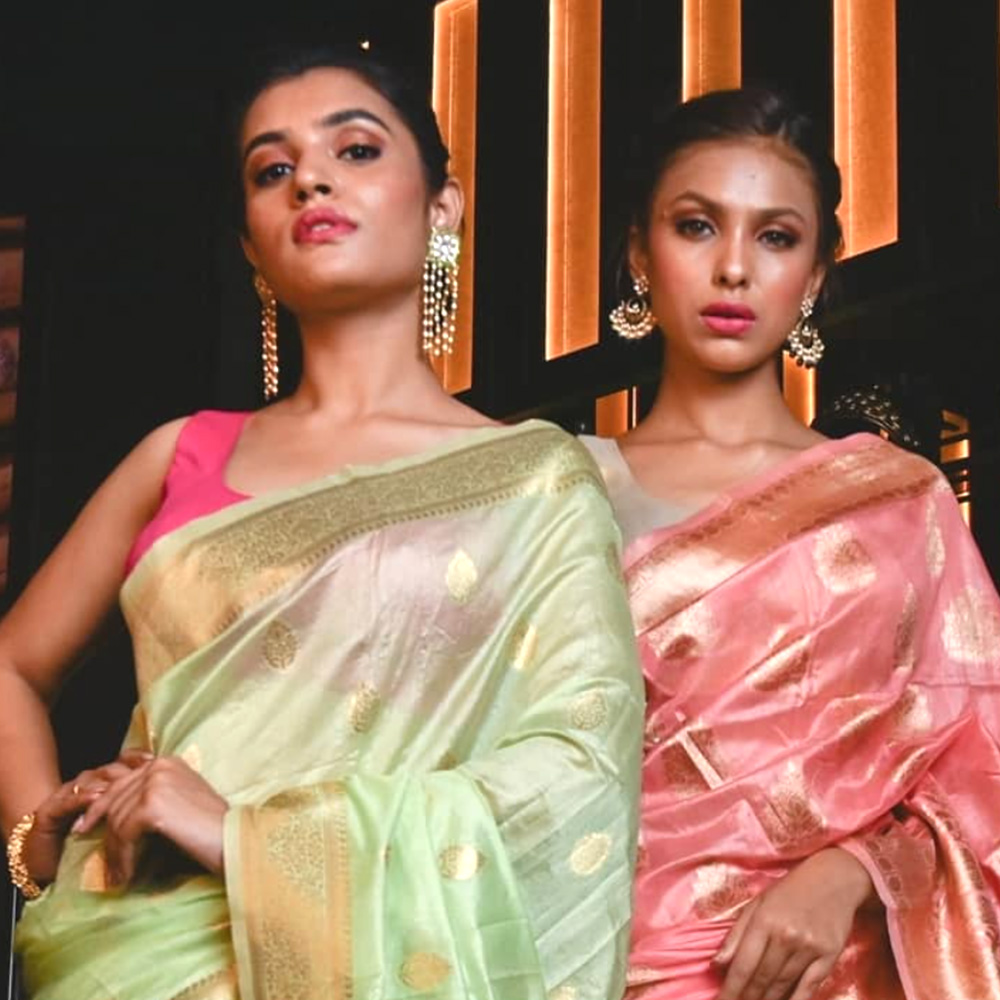 In July and at a time when most businesses were scrambling to keep their head above water due to the Coronavirus pandemic, founders of Pune-based start-up, Karagiri, which specialises in handloom sarees sourced from over 800 weaving families in the country, recorded a revenue of Rs 3.20 crore. Started in 2017 by husband-wife duo, Dr Amol and Pallavi Mohadikar Patwari, Karagiri has grown to become a company that protects its artisans, while simultaneously providing a wide range of sarees in kosa silk, benarasi, kanjivaram and handwoven ikat. 
Shop on: https://www.karagiri.com/ 
---
STYLE TIP: 
Add a little bit of pizzazz and that millennial touch by pairing your saree with bold crop tops. Keep things comfy by slipping into sneakers (it's a whole vibe!). Or, as Ezara suggests, throw in a belt over that saree, because that's just practical.
---
Photo: Karuna Ezara Parikh and Featured Brands