She styles the who's who of Bollywood – from Karisma Kapoor to Janhvi Kapoor and Bipasha Basu – and creates looks that are downright #fashiongoals. She uses her keen eye for trends to help brides and grooms-to-be with wardrobe management, personal shopping, and styling tips to make their special day, extra special. So, when it came to her own wedding, award-winning celebrity fashion stylist Esha Amiin wasn't going to let the pandemic put a dampener on her plans. 
Amiin and her fiancé (now husband) Siddharth Pradhan were to tie the knot at a beach wedding in May 2020, but the couple had to take some difficult decisions due to the lockdown. They locked another date in July and opted for a 50-person indoor gathering instead. The other family and friends celebrated Amiin and Pradhan's union via video conferencing. 
In an interview with Zee Zest, the celebrity stylist shares her experience of planning a wedding amid the pandemic and her learnings from it all. Below are the edited excerpts.    
1. You had to postpone your wedding by two months. What were the original plans like and what did you settle for?  
It was supposed to be a beach wedding but since it took place in July, which is monsoon, we had to go for an indoor wedding at a five-star hotel in Mumbai. Nevertheless, it was as good as what was initially planned. 
2. How did you start the planning for your special day and what did your list of priorities include?  
The planning for our May wedding started in March but then the lockdown happened, so we put the entire plan on hold until we could see some positive way of going ahead. Our priority was hotels permitting weddings to happen with 50 people and how safely we could execute it as we were amongst the first few to be getting married in a hotel in Mumbai in the midst of a pandemic. 
3. For someone who's planning a wedding in the pandemic, what do you suggest they keep in mind? 
It is important to keep the safety and hygiene of the venue in mind because all your guests' safety is your responsibility.
Just because you're allowed 50 people, you don't have to fill it up with those many. Limit yourself to only the most important family and friends, who really need to be there.
Make use of Zoom and other such virtual applications for the rest to join online. Think of all the fun an intimate wedding can be.
During my wedding, the challenge wasn't just the pandemic but also the monsoons. Flowers were not available and we had a floral theme in mind, so we had to work with artificial ones. There was no way that flowers from Kolkata could reach Mumbai and no big flower markets were operating at that time.
Also, people were hesitant about eating outside during that strict lockdown, so food was another element to focus on – preparation, serving, etc.
4. How did you shortlist vendors for photography, décor and more?  
Being a stylist and having a wedding styling company made it easy for me to shortlist vendors related to this occasion. I have photographer friends who I contacted, my priority was to lock the venue and then décor. My clothes, photography and videography followed. I moved in this order and my choice was based on talent. I had two different teams of photographers – one was working on my pre-wedding shoot and the other handled the wedding solo for both videography and photography.  
Décor was based on who we vibed with and who gave us what we were looking for at the best price, of course. The budget of your décor remains the same even if you have just 35-40 guests or more. It's one of the most important and most expensive elements of planning your wedding, so it still has to be equally impactful. I love flowers, so we had an entire white floral backdrop on my mandap and peach drapes with pastel flowers on the mandap as well as my floral chadar. The entire ballroom had glass doors and it was in the middle of a garden, so it gave a feel of being indoors yet no one felt claustrophobic like in a ballroom with no windows. 
5. Food is often the highlight at Indian weddings. Could you please tell us how you went about planning this element?
Our wedding menu consisted of our favourites and what our family and close friends would enjoy. We had a buffet setup. One of the best solutions that we came up with was to have F&B service without any human contact. There were no waiters moving around with appetisers and mocktails. We had a mocktail installation with a variety of those placed at the counter, people had to help themselves.
For appetisers, we had small portions of them on another counter. And as for the buffet, we had huge glass shields at every counter, with an opening from where the server could serve food without the guests having to touch the serving spoon. Even the cutlery was sanitised, packed and sealed, including a glass of water. Only the guests could open it. This was one of the solutions ITC hotels, our venue, came up with, since we were the first couple to get married amid the lockdown there.
We didn't have alcohol at our wedding because it wasn't available back then. We did pop champagne and have a cake cutting ceremony but didn't have a bar setup.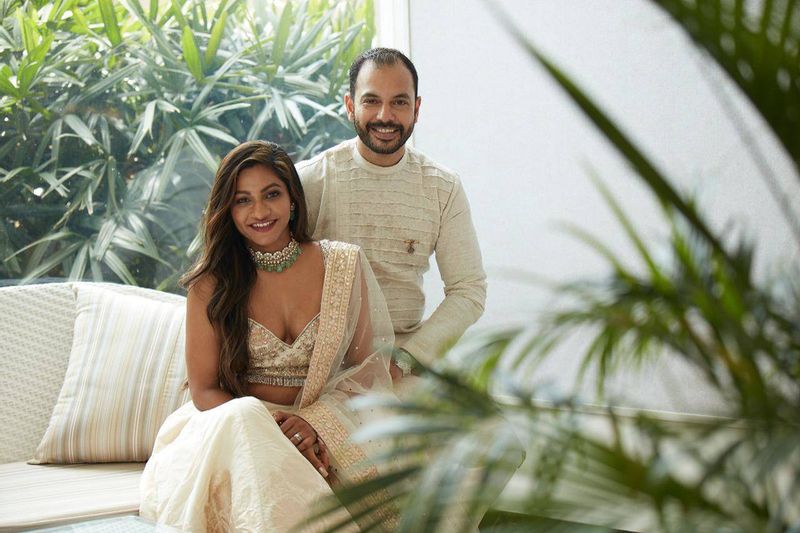 6. How many guests did you invite to your wedding and how did you ensure social distancing was maintained?
When planning a wedding with a limited number of attendees, don't forget to include the crew (photographers, coordinators, and waiters) in the count. We had 35 guests and 10 crew members and we ensured that the seats were arranged three feet away from each other. We had taken two ballrooms, one for the pheras with theatre-style seating and the other was just for food. At the latter, we had round tables that were meant for eight to 10 people, but we had only four guests sitting at each.
7. Lastly, how did you go about planning entertainment for this joyous occasion? 
We had two tutari players – it's a very Maharashtrian thing – for welcoming us, the bride and the groom. There was also a dhol player for some light entertainment post the pheras and, of course, some banquet music around. So, it was limited.  
8. Do you have any other words of wisdom for couples getting married in the pandemic?  
Don't be disappointed that it's an intimate wedding. It can be equally fun and you could have every celebration with the closest people there in person and the rest joining you virtually.   
---
Photo: Facebook/Israni Photography and Esha Amin