For the desi turmeric latte guzzling and makhana snacking #VSCO girl, the perfect wedding comes with shades of green. Not the seven sins variety, but an environmentally-friendly wedding that seals the biggest day of your life with love for Mother earth too.  
The big fat Indian wedding is a dream for every Indian girl who has grown up on a steady diet of blingy Bollywood rom-com. But the hottest trend, right now, is to have an eco-friendly wedding, which despite being extravagant is also mindful.  
Compostable confetti, seed paper cards, potted plants and vintage Cadillacs, we have rounded up expert advice on how to plan an eco-friendly wedding in an era of over-consumption and wastefulness. Try one or all of these small changes to make a big impact on your wedding day. 
1. Going green with food 
From carefully choosing eco-friendly cutlery to reducing food wastage at your wedding buffet, , a green wedding is one where you are conscious of food consumption, while minimising waste. 
Look for wedding caterers who focus on local, sustainable, and seasonal cuisine. Chef Sidney Dcunha, Executive Chef, Conrad Pune says, "From using fresh organic produce from local farms in Pune to eco-friendly bamboo or coconut cutlery, we have stopped using plastic in all forms and are moving to paper as a substitute." That said, using porcelain and other reusable crockery continues to be an evergreen and ever-so-elegant option for an eco-friendly wedding. Another suggestion he gives is to associate with NGO's and orphanages where the untouched excess food can be donated. 
2. Dig out family heirlooms 
If Kareena Kapoor Khan could wear her mother-in-law, Sharmila Tagore Pataudi's heirloom sharara on her wedding, so can you. Upcycle your silken threads or heirloom pieces to give them a new lease of life!  
Rather than splashing out big bucks on designer wear that you will wear once in your lifetime, repurpose some of the exquisite couture owned by your parents or grandparents. The same applies to jewellery; nothing better than precious vintage  baubles which are passed down from one generation to another to add a touch of timeless elegance to your wedding trousseau.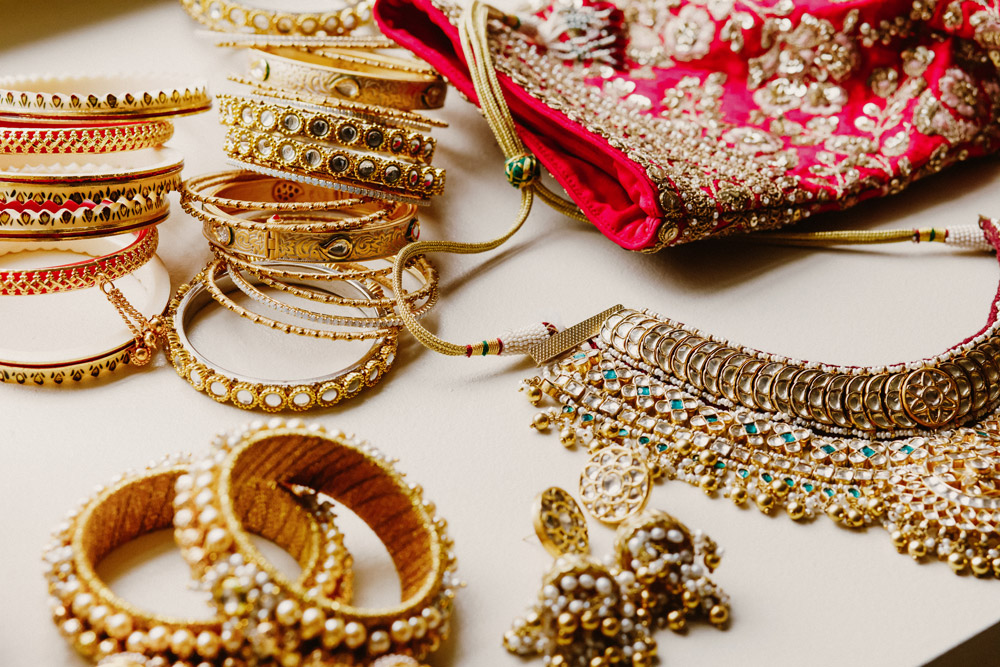 If you've rummaged through your mother's closets and found nothing suitable to wear for your wedding or reception, Chaithanya Ganesha, CEO and Director of Bangalore-based eco-friendly wedding planner Panigrahana, suggests that you can rent clothes and jewellery from several new-age fashion rental websites or pick separates to mix and match with what's in your closet.  
From being budget-friendly to saving you the hassle of hunting for the perfect outfit, companies such as Stage3, The Stylease, Rent It Bae and Flyrobe offer several options and packages to choose your designer togs for D-Day. What more? They also offer curated looks from bespoke designer wear along with trails and alterations to make your selection process smooth.  
If you want to buy something new, then try and find local brands which are eco-friendly, naturally dyed, handmade, and that support artisan communities, says Nilma Dileepan of Bangalore-based green wedding and event Design Company, With Love, Nilma. 
3. An E-vite or seed paper invitation
In the digital age, a beautifully designed e-vite followed by a personal phone call or visit are socially acceptable when it comes to wedding invitations. But if you do want to send out invites the traditional way, then choose recycled paper or seed paper which can be later be replanted by wetting the green wedding invitations and throwing them in the soil. Also make sure to use only vegetable dyes for printing.  
4. An animal-free wedding 
The groom comes astride a horse and for pomp and show, a couple of elephants amble on in the background for a baarat is a commonplace sight. But like royalty, these are anachronisms in modern day times. Rather than continuing these outdated practices, Ganesha recommends you to hire a vintage car or a fancy bike, all decked up with bells and whistles, and rev up to the mandap in style. 
5. 4 R's of wedding décor 
When it comes to décor, Dileepan suggests picking elegant set-ups rather than blingy throwaways. Bring in the 'grammable chalkboard and cutesy mason jars, which can be reused. She recommends to reuse drapes, lighting, wooden décor and furniture, rather than build new iron thrones.  
Reduce the use of flowers, which should be locally sourced. Rather than using cut flowers for bouquets or garlands, you can use flower pots at the venue, especially as centerpieces on tables. She also recommends donating flowers to NGOs or organisations that use them to make holi colours or agarbattis. Check out companies like Phool and Green Wave.  
Recycling is a must post the wedding: the flowers and wasted food can be composted or given to a bio-gas plant.  
And finally, refuse anything that is not eco-friendly, after all it is your wedding and you can choose what you want!  
6. Location, location, location 
Rather than running helter-skelter from one venue in the city to another, a single venue will not only reduce your carbon footprint, but also enable you to save on expenses for the décor. Work with the location itself; if its outdoors, try and fit tables under the shade.  
Choose great weather for your eco-friendly wedding, thus you can enjoy the outdoors and reduce your carbon footprint, without the air-conditioning or heating in full blast.  
You'll score a big win if you host a function during the day, scoring big on the natural light for photographs and reducing the gas-guzzling generators.  
7. Get rid of plastic 
Those pesky plastic bottles have created mountains of waste in our cities and are threatening to choke our oceans. Choose glass bottles instead and keep steel or glass tumblers to cut down on your plastic-footprint.  
8. The party favours 
You're grateful for your bestie in California for having swung half way around the world to be a part of your wedding. So, how can you not gift her a wedding favour? For the travelling crew, a potted plant and seeds will not be practical, so think of something edible, such as mithai from a local halwai or recycled stationery.  
A growing number of brides also choose to donate to their favourite charity instead of giving away favours. An elegantly tacked up sign board announcing the same will be much appreciated. 
9. Go easy on the photo albums 
Yes, we know you want this day to be well documented. But there is no need for fifteen albums of each of your wedding functions and 1000s of printed images in this wired world. One wedding album for the couple is sufficient, and you can enjoy all your pictures saved on the cloud, they're just a swipe away. 
A small simple wedding by the beach. Or a quiet ceremony in the temple. Your big day should be exactly as you dreamed, and there is nothing more than being surrounded by your loved ones for this occasion. But you can choose how big or small you want it to be. And how gentle you want to be with the Mother Nature which gives so much to you, including infinite love.  
Photo: Shutterstock