Designers Arpita Mehta and Kunal Rawal's wedding was one of the most celebrated weddings this year. After being together for more than a decade, the duo got married in an intimate wedding ceremony in Mumbai this August. From Mehta's bridal entry that went viral to the classic cream and gold colour palette, there's a lot that modern brides can take inspiration from. In an exclusive tête-à-tête with Zee Zest, the designer got candid about her special wedding moments, bridal styling and trends that will be huge in 2023. Read on…
1. Your bridal entry went viral. What binds you to that song?
This entry and the song were unplanned. Literally, on my way down to the mandap, I told them to play 'Tere Bina' from the movie Guru. It was the first movie that Kunal and I watched together, and it was the first time we actually started connecting. We are big AR Rahman fans and whenever I listen to this song, it reminds me of that time. So, it's a very special song, it connects us together. I was meant to enter in a very poised manner, but then I saw Kunal already dancing on the mandap and looking at him dancing even my walk changed. It was a very impromptu moment. In fact, my favourite memory from my wedding is my entry and when Kunal carried me, I wasn't expecting it.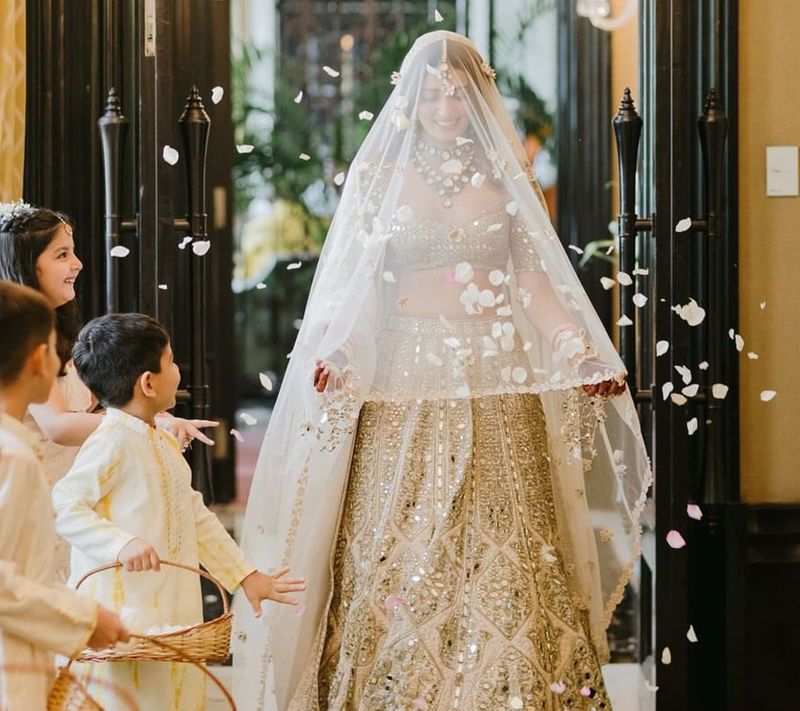 2. Tell us about the theme of your wedding. How long did it take to execute?
The cream and gold theme is something we both are extremely fond of. The wedding planning and execution took 25 days, and I was not at all a bridezilla! I was pretty chill, making clothes is the easiest part for me. For the wedding party, the theme was black and white. The mehendi was very intimate with just about 30 people in my hotel suite, and it had no theme.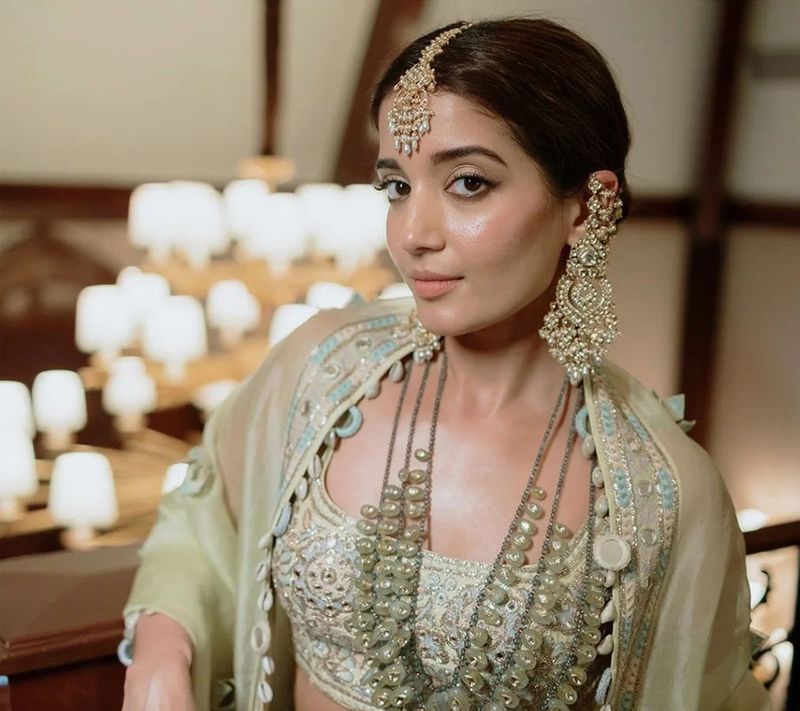 3. How did you personalise your wedding trousseau?
I had no wedding trousseau. I don't believe in the idea of a wedding trousseau. I believe in buying or making things as and when you need them because trends, style and your personal taste keep changing. In terms of clothing, they were all mine. Jewellery is something I am very fond of and I keep collecting. On my wedding day, I wore big polkis, over smaller polkis. For mehendi, I wore Russian emeralds from Krsala, and for the party I opted for customised big polkis and rubis.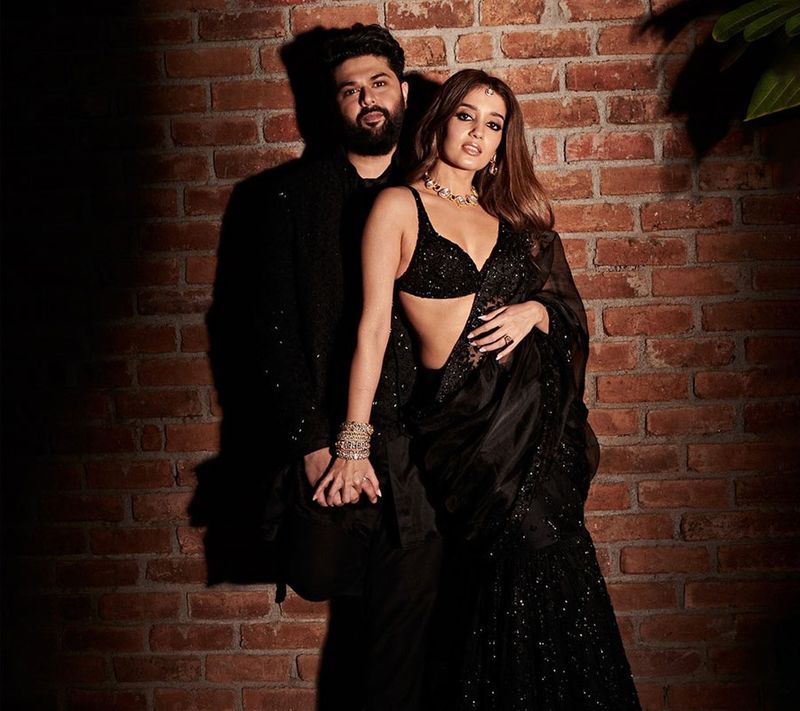 4. How did you style your wedding look?
My lehenga was not like a typical bridal red, gold or pink. It's what suits my personality. Even when it comes to hair and makeup, open hair looks nicer on me than a tied-up bun. In terms of my body type, if I am going excessive on my outfit, and I go tiny on my hair like a bun, visually it's not flattering. I have clearly styled myself as per what suits my personality. Also, I barely had any pins on me. I don't like it when my movement is restricted. Even for my wedding party look, I had no pin on my saree, it was a zip up. I wanted it easy, if it falls, it falls. Even for my mehendi, even though it was a beautiful heavy organza dupatta, I had no pins. Only on my wedding day, I had one pin on my shoulder for my dupatta and one on the head. That's why I felt so weightless and had a blast.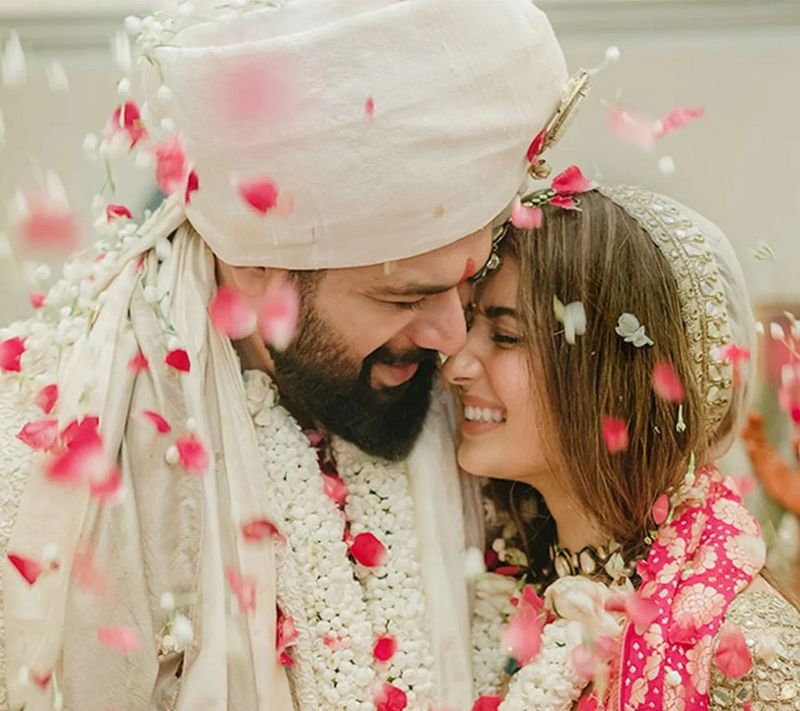 5. What are your tips to enjoy your own wedding?
The reason I enjoyed my own wedding is that we kept it small and intimate, surrounded by people we love and are comfortable with. Every single person over there was someone we are extremely fond of and their energy was at the same level as ours. We have been a little ruthless about keeping our guest list small and tight. A tip for future brides — at least during your pheras, always be surrounded by people who love you and who you love, because that will definitely make a lot of difference.
6. How did you personalise your wedding wardrobe?
On my dupatta, I engraved our initials AMKR and the date, and did it in French knots which is a signature Kunal Rawal embroidery. So, while everything was mirror work and threadwork, the only thing which was in French knots which signified his style, and my style was our initials.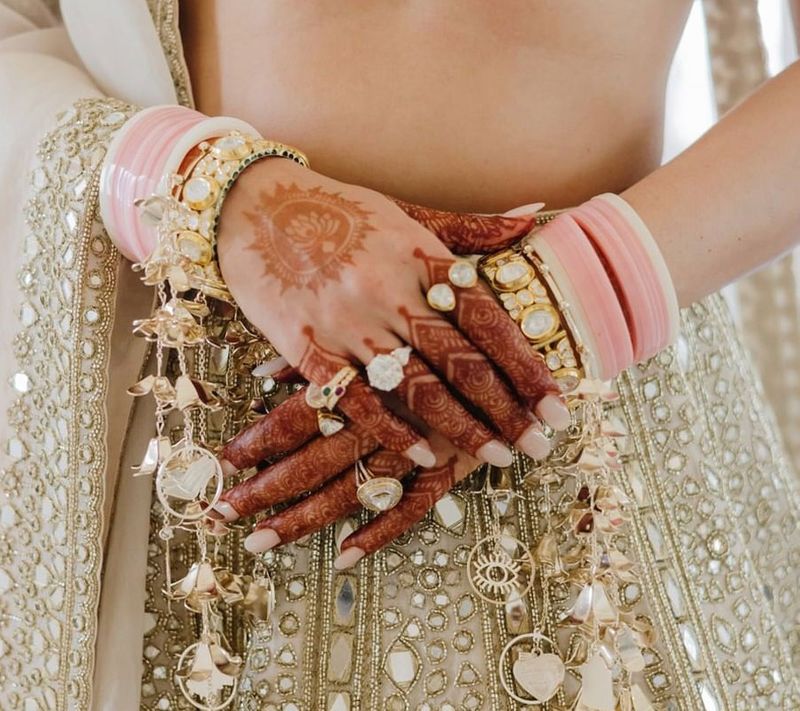 7. Did you raid anything from your mother's trousseau?
I actually wore my masi's ring on the wedding day. She's no more, and was my most favourite aunt. Of all the rings I was wearing, one was hers because I wanted to have something of hers on me.
8. Your lehenga had 18,700 mirrors sewn on it. Tell us the story behind it.
I started sampling my lehenga in February. Since day one, I was very clear I wanted a lot of mirrors and wanted to be extremely authentic to what we have been doing right from the beginning in terms of designing. So, incorporating that in cream and gold and obviously in a more 2022 manner, we added resham to keep it subtle and break the monotony, so it doesn't look overwhelming.
9. How will you repurpose your wedding outfit?
I have already made anarkalis with my dupattas. So keeping that in mind, my outfit is already ready on a hanger for the next time I need to wear something off-white and gold. For my blouse, I have already made a saree.
10. Are we trying to incorporate the white wedding? Why are brides now moving away from red and embracing white and ivory lehengas and sarees?
I wore a red saree for one of the celebrations that followed right after the wedding. I think everyone is doing what they are comfortable with, rather than going by the norms. For me, I could wear a red lehenga but the reason I wore a cream lehenga was not to ditch tradition. I was yet very traditional in spite of wearing cream and gold. Back in the day, it was considered more traditional where brides were expected to wear red, but now it's more about what appeals to you. The softer hues, the cream and pastels have been the flavour of the season. This year we have catered to so many more cream and gold brides. Last year, we catered to so many dust-pink and red brides. Every year has its flavour.
11. What will be the colour palette for the next season?
Cream and gold — it's a very flattering colour palette and it works on every skin tone. Red does get a little restricted, it may not look good on everyone. But this colour palette looks ethereal and it's easy to amp up your look.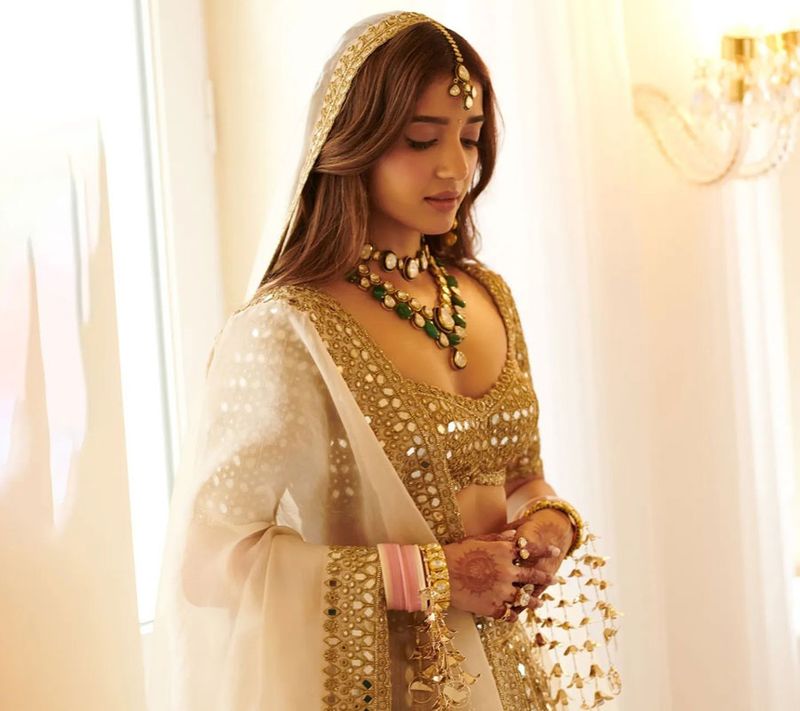 12. Wearing hair down has replaced floral hair buns. Tell us more about this bridal hair trend.
As a trend, wearing your hair down is soft glam. A tied-up bun is a little more traditional. You can't imagine someone wearing their hair down with a red lehenga, it's too overwhelming. Aesthetically, it's too many bold choices in one look and that's when it looks off. So, when your outfit is a little understated, you can play around with your hair.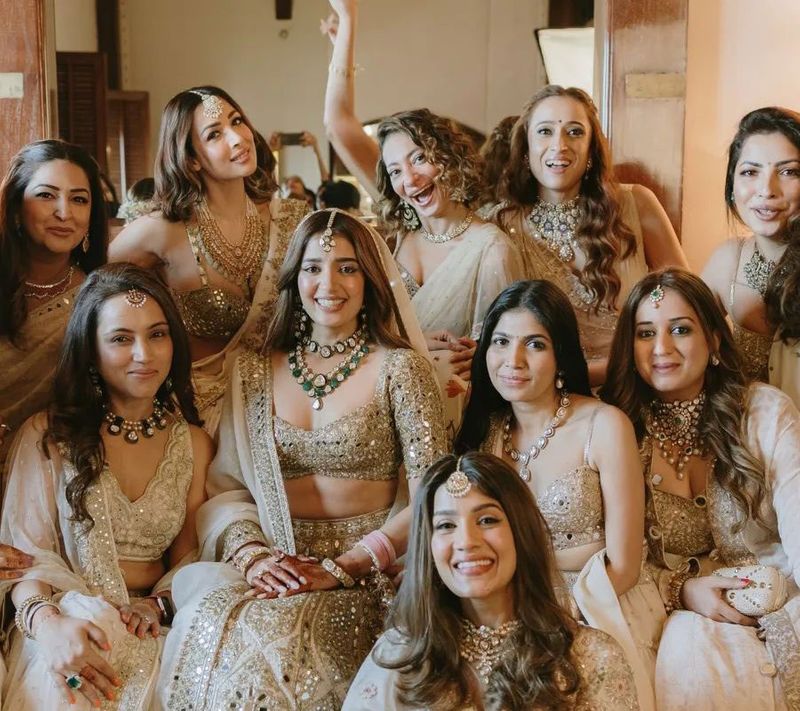 13. What are the pros and cons of choosing an intimate wedding over a big fat wedding?
When you are doing a small wedding, you have to be cutthroat about your guest list. Automatically, you are upsetting a lot of people — not only friends but also family, and your own parents. No parent is ever happy with the concept of an intimate wedding because they all come from a generation where weddings have been big and opulent. From Hum Saath Saath Hain weddings to downsizing, something like this makes them unhappy. The pro is all heart — it's the wedding of your dreams because, at the end of the day, you remember every second of it. There's nothing that I would want to change about my wedding and that's what makes it more special and memorable.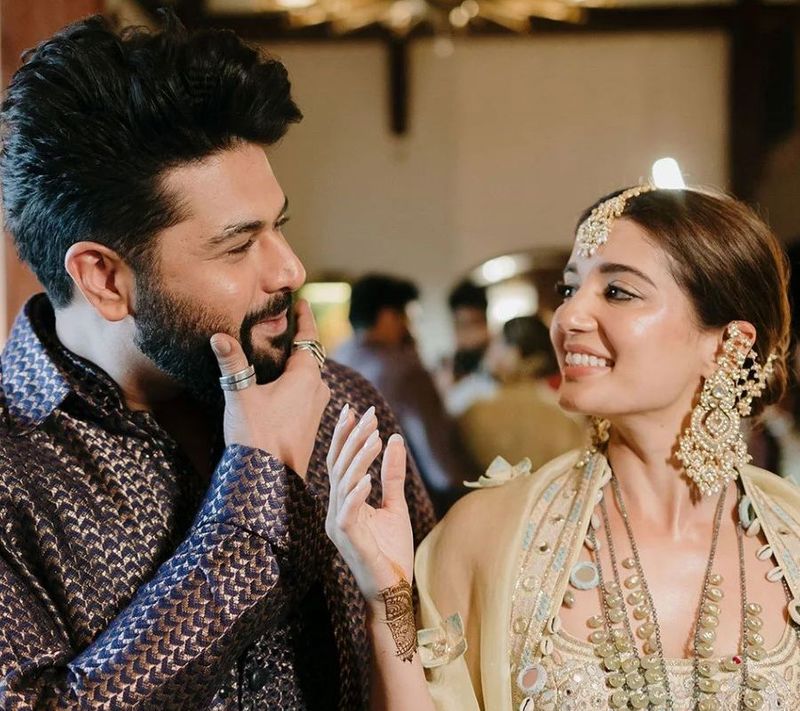 14. Your take on modern-day brides embracing the no-makeup look.
For my wedding, I won't say there was no makeup, I would say it was soft glam. If you have that kind of skin and features that you can pull it off, that is the look I would always recommend to any bride. You are actually enhancing your features even more by doing soft glam. You don't want to look like a different person or someone else. Instagram filters are enough, we don't need that extra makeup.
15. What are the wedding trends for 2023?
A wedding entry is something every bride is going to pay more attention to. It's such a cute, important part of the wedding celebrations. When you enter, the way you look at your groom, the cute little moments are everything. In terms of colour palette, cream and gold is something which is here to stay. It's been executed so well that it has made a mark, it's become a classic and you can never go wrong with it. Other trending palettes are dust pink or rose gold, they are stunning and extremely flattering on all skin types.
16. What are the essentials for a timeless wedding wardrobe?
Go for classics, think of what your mom and grandmoms also wore. My mom forced me to buy a silk kanjeevaram saree, the only clothing I bought which was not a part of my brand. A gold mirror work jacket or a classic stitched saree in red or just a metallic gold saree is a must. Jewellery is extremely classic and it's very essential to have a traditional set and a modern polki set is something you will keep on wearing again and again. From my wedding jewellery, I have already worn it during Diwali, I am planning to wear it for a few more weddings and I can imagine wearing most of it all.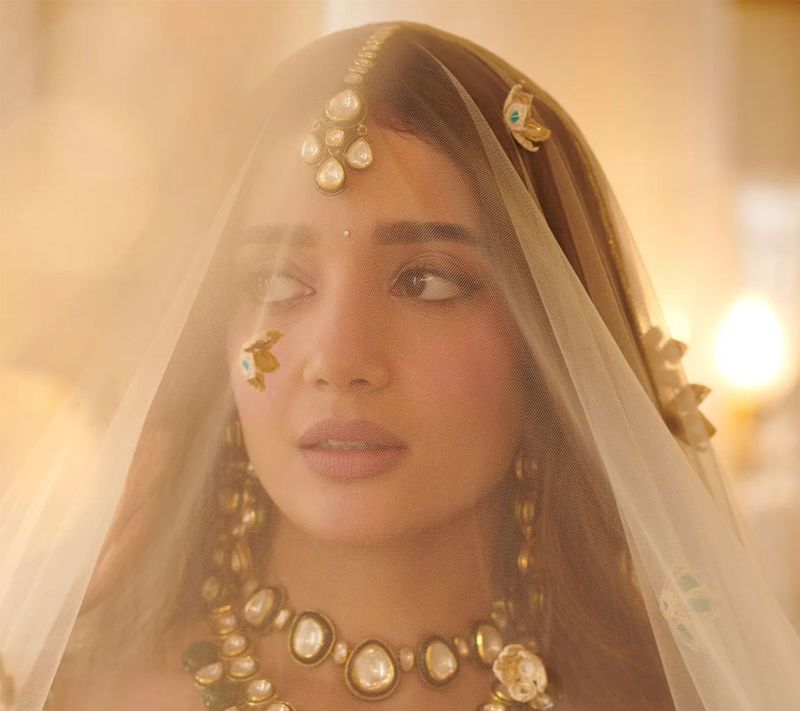 17. What are some of your bridal styling tips?
It's important to create a balance between your garments, jewellery and makeup. Proportions are extremely important. If you are going excessive on your jewellery, go slightly simplified on your outfit, hair and makeup. If you are going bold with your hair and makeup, go softer on your jewellery. And if your outfit is heavy, go softer on makeup and jewellery. Avoid OTT makeup! 
 
---
Photo: Instagram/Arpita Mehta