After being cooped up at home for months and missing out on big celebrations, we are now slowly bouncing back to normalcy. The wedding boom is back and we are loving it already! It is safe to say that weddings have reclaimed their former glory of colourful extravagance. This time around, everyone is seeking a heightened experience, but with a thoughtful approach. While most of the world is opting for minimalistic looks, Indian brides are going all out experimenting with their bright bridal looks. That's why now is the time to revisit a few of the rising trends in bridal fashion. If you are looking for fashion inspiration for your big day, then from trending wedding dresses to innovative hairstyles—we have got you covered.
Dramatic sleeves and trails
A little bit of drama doesn't hurt anyone, right? A sweeping trail lehenga, no matter how long, has to be your ultimate choice if you want a grand look. Take the much talked about wedding of B-town couple Farhan Akhtar and Shibani Dandekar, for example. Shibani indeed passed the queen-like vibe check in her red mermaid wedding dress. Talking of drama, as you might already know, Victorian blouses from yesteryear are trending again. Yes, the voluminous sleeves are back and we're totally rooting for them.
White and off-white wedding lehengas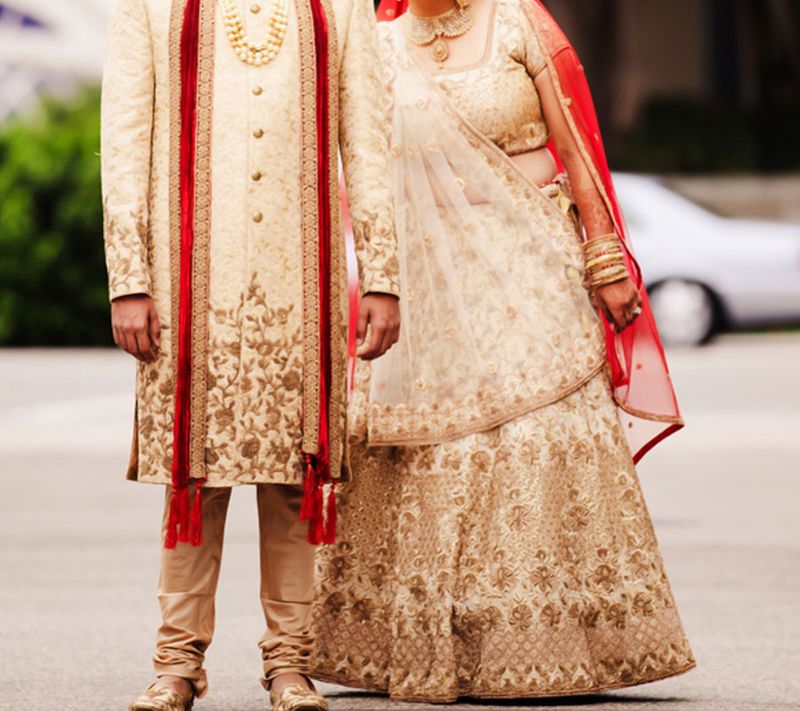 This might come as a little shock as we are only familiar with white and off-white wedding gowns so far. Red, which stands for auspiciousness in Indian traditions, has always been the go-to colour as far as Indian bridal lehengas were concerned. Although white lehengas may be unconventional, more brides prefer them due to their aesthetics and elegance.
Vibrant multi-hued lehengas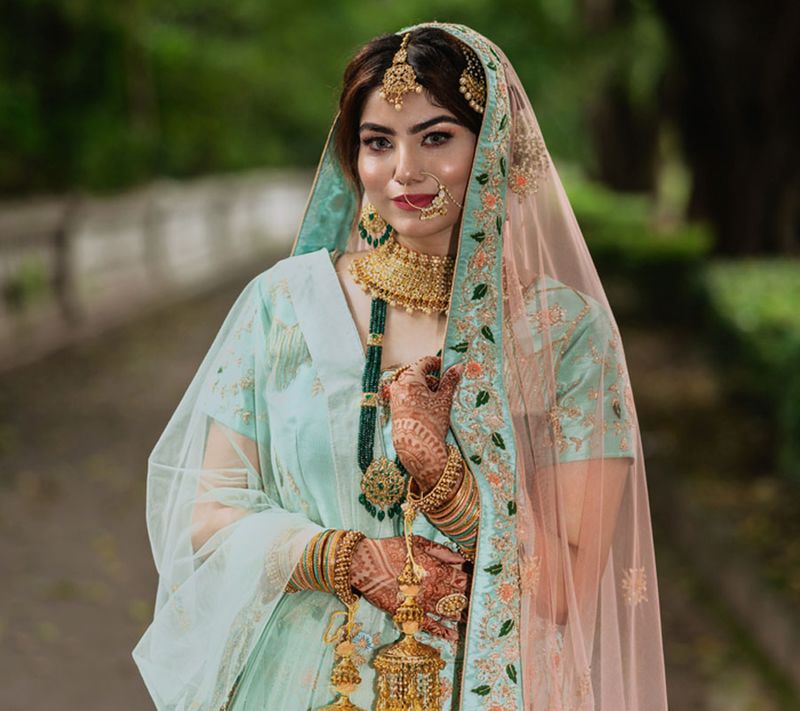 Bridal lehengas just keep changing and we are not complaining. Just now, we were talking about brides breaking the traditions by opting for white lehengas. If that wasn't enough, multi-hued lehengas have taken over the wedding wardrobes of our fashionista brides. If you can't decide on a particular colour, go for a colour riot! Gone are the days of monochromatic red and pink lehengas as vibrant ones with off-beat colours, including turquoise blue and yellow, have made their way into the list of trending outfits for weddings.
Technicolour lehengas
This one is especially for all the 90s kids out there! Technicolour is nostalgic and we love the way it has made its way into the category of trending dresses for women for weddings. Apart from giving a quirky vibe, this retro trend—when embodied in lehengas—has also proven to look like a million bucks.
Coloured wedding gowns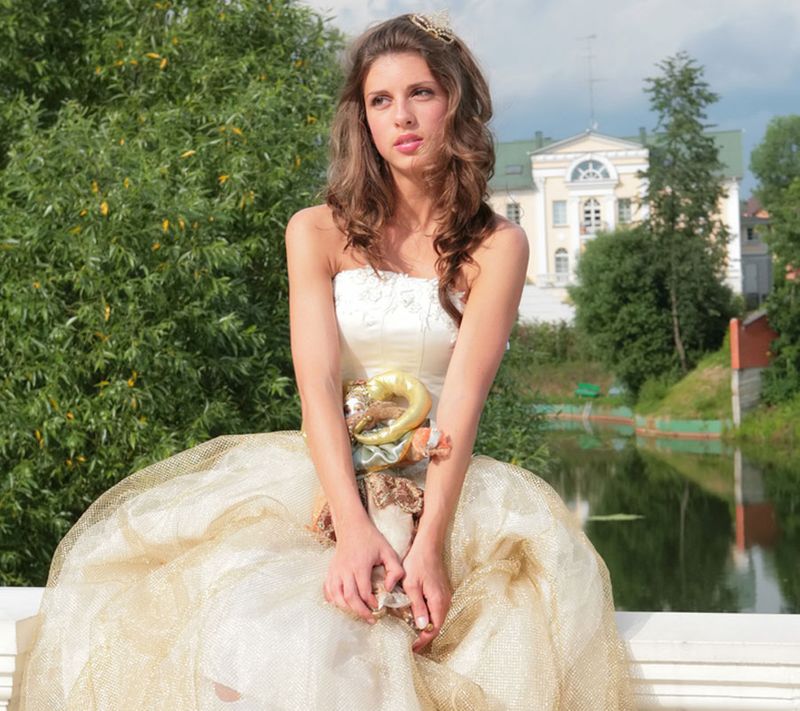 When it comes to wedding gowns, white has always been a constant. But the latest gown designs for weddings say otherwise. We know that black gowns were also trending outfits for weddings once. Brides now choose to add a pop of colour to their wedding gowns, and even incorporate floral prints in their gowns these days.
The Pantone colour
Very Peri is the Pantone colour for 2022. Sure enough, we are going to witness a surge in brides opting to dress in lehengas of this beautiful pastel hue for their weddings. In fact, we have already seen glimpses of it as Anushka Ranjan opted for a wedding ensemble in a similar shade.
Small-sized nose rings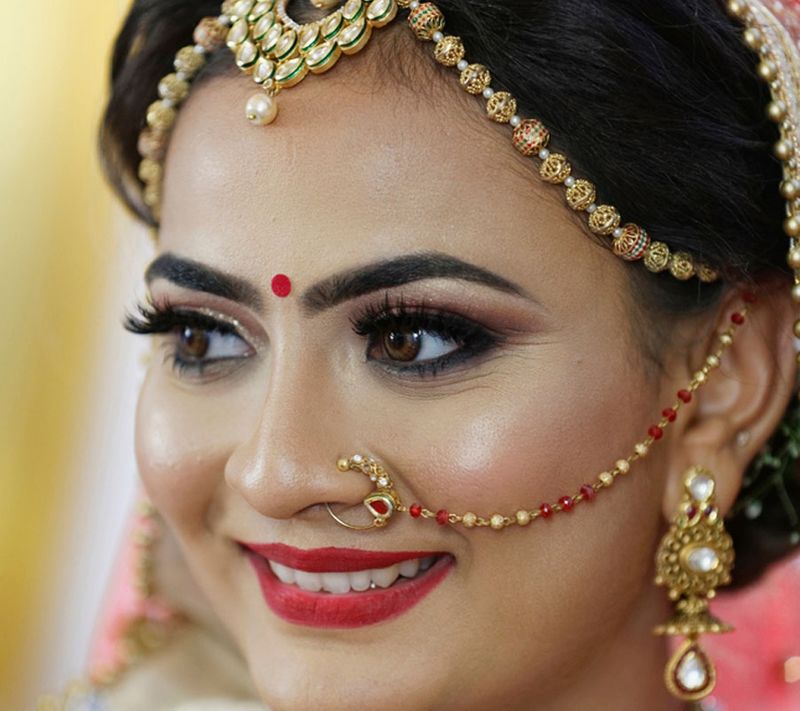 Indian brides have had a maximalist approach towards their wedding jewellery. They not only invest in their lehengas, but also in the legacy they create with their overall look. That said, oversized nath rings might not be everyone's cup of tea. A lot of brides choose small and comfortable nose rings in place of heavy naths to save themselves from the discomfort.  
Funky hair accessories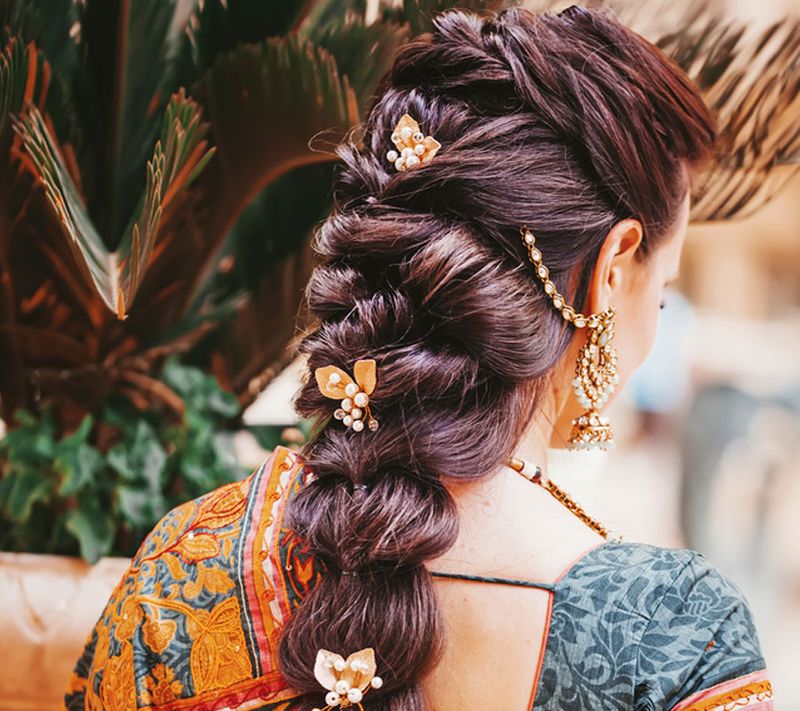 A gota-string hairdo is another thing that is trending on the internet these days. Incorporating the string into your hair bun, braid, or even open hairstyles can give a fun vibe. Also, it helps you to stand out in the crowd. The popularity of bridal hair buns is slowly fading away as brides now love embellished braids, especially when they have long hair.
Comfy and stylish footwear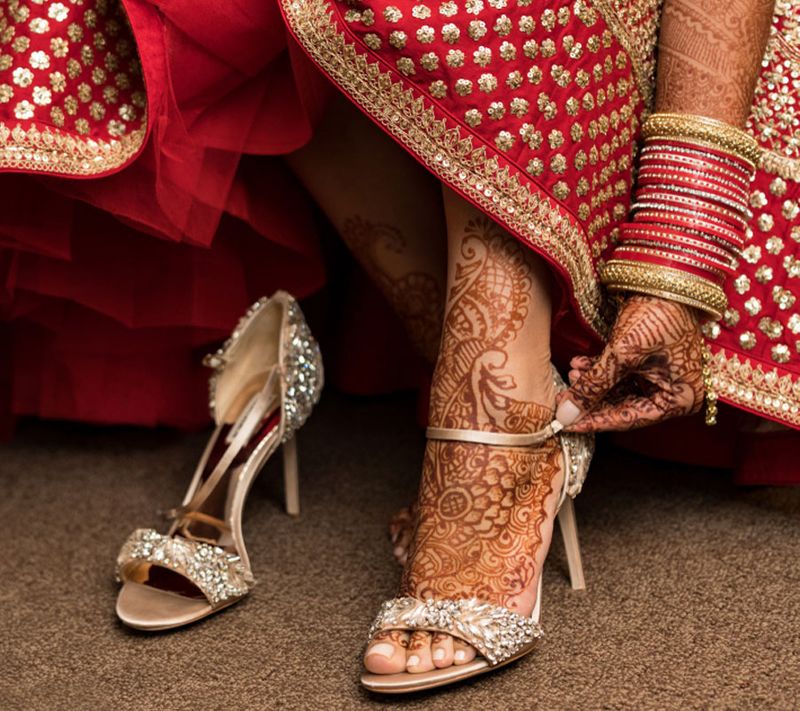 Brides these days choose their comfort over everything else. How about being stylish without compromising your comfort? Yes,we're here for it! Many brands have come up with beautiful flats and heels keeping these factors in mind. Some brides even prefer sneakers over sandals. Whatever your choice is, you can dance your heart out at your wedding in your comfy footwear.
Apart from these trends, we've also witnessed brides going for alternatives to classic lehengas and gowns including bridal suits and mini dresses. They choose to add a touch of personal style to their outfits. As a part of rediscovering traditions, modern brides are focused on mixing past trends with modern aesthetics. 
---
Photo: Shutterstock