JJ Valaya, known as the 'Czar of Indian Couture', had his first tryst with fashion over three decades ago, and ever since, he has been a favourite amongst Indian and international celebs alike. One of India's leading fashion pioneers and the founder of one of the most respected luxury fashion and lifestyle houses, House of Valaya, his creations have been worn by top-of-the-line celebrities like Kareena Kapoor, Hrithik Roshan, Cate Blanchett, and Joseph Fiennes. 
Valaya is also a founding member of the Board of Governors of the Fashion Design Council of India (FDCI), and the first official brand ambassador for global crystal giant, Swarovski. His latest collection 'Rumeli' that was showcased at the FDCI X Lakme Fashion Week 2021 featured magnificent lehengas, cholis and dupattas with lavish embroidery. Men's wear included ornate cummerbunds over sherwanis and elegant kurtas with a hint of discreet placement embroidery. 
We caught up with Valaya to know more about 'Rumeli', and trends for brides and grooms to step out in style in the winter wedding season.
Edited excerpts: 
1. What is the motivation behind your latest collection titled Rumeli?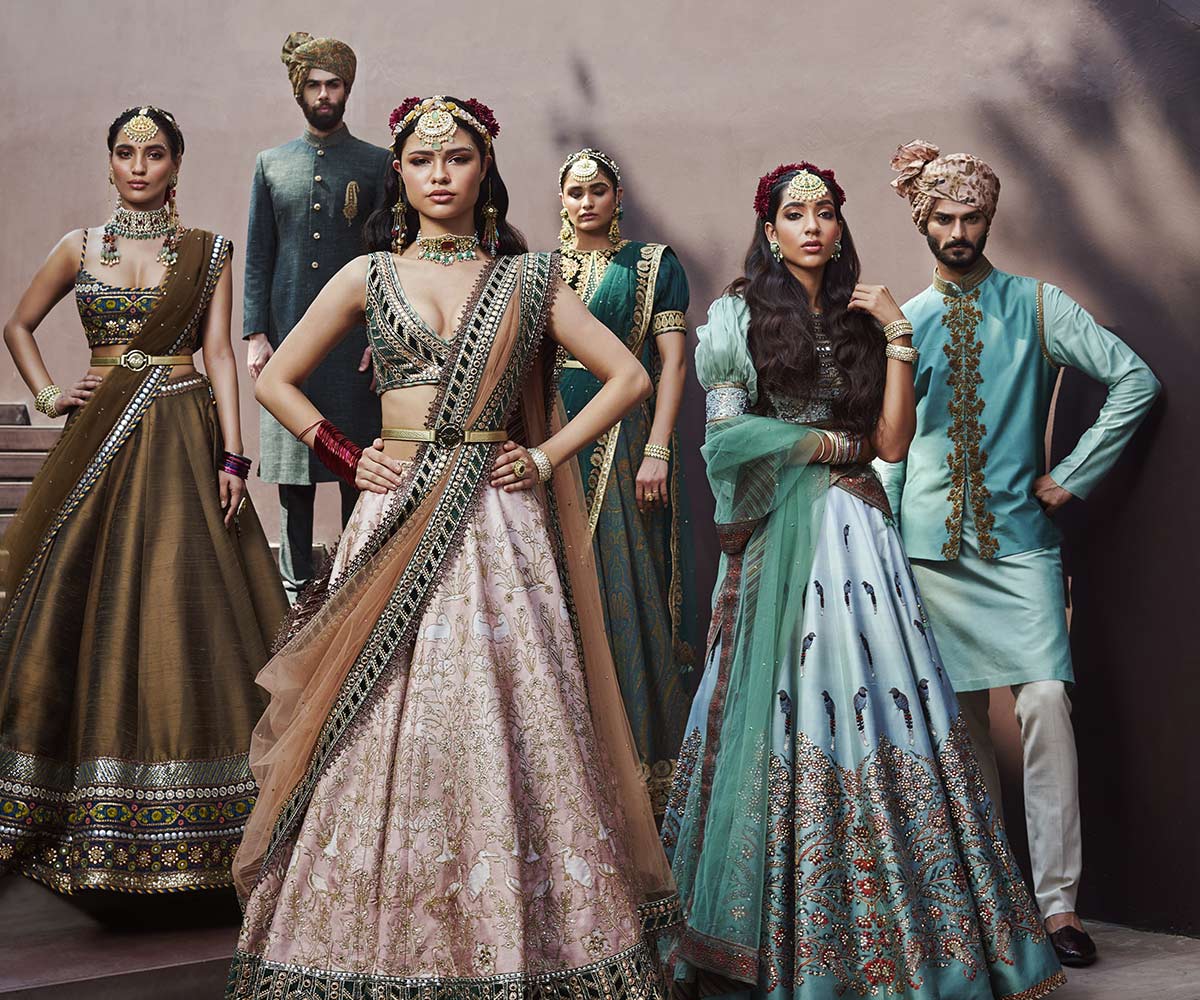 We are continuing our journey as the royal nomad. Last year, we were celebrating the Ottoman empire, which continues this year as we follow the trajectory of the Ottoman empire and in an area, which is present-day Balkan. At that point, it was known as Rumeli (which constitutes all the countries in the Balkan region). That remains the inspiration. 
2. The collection sees a lot of unconventional colours like teal, navy, jade, sun yellow, and more. Do you think we are moving past the traditional palette?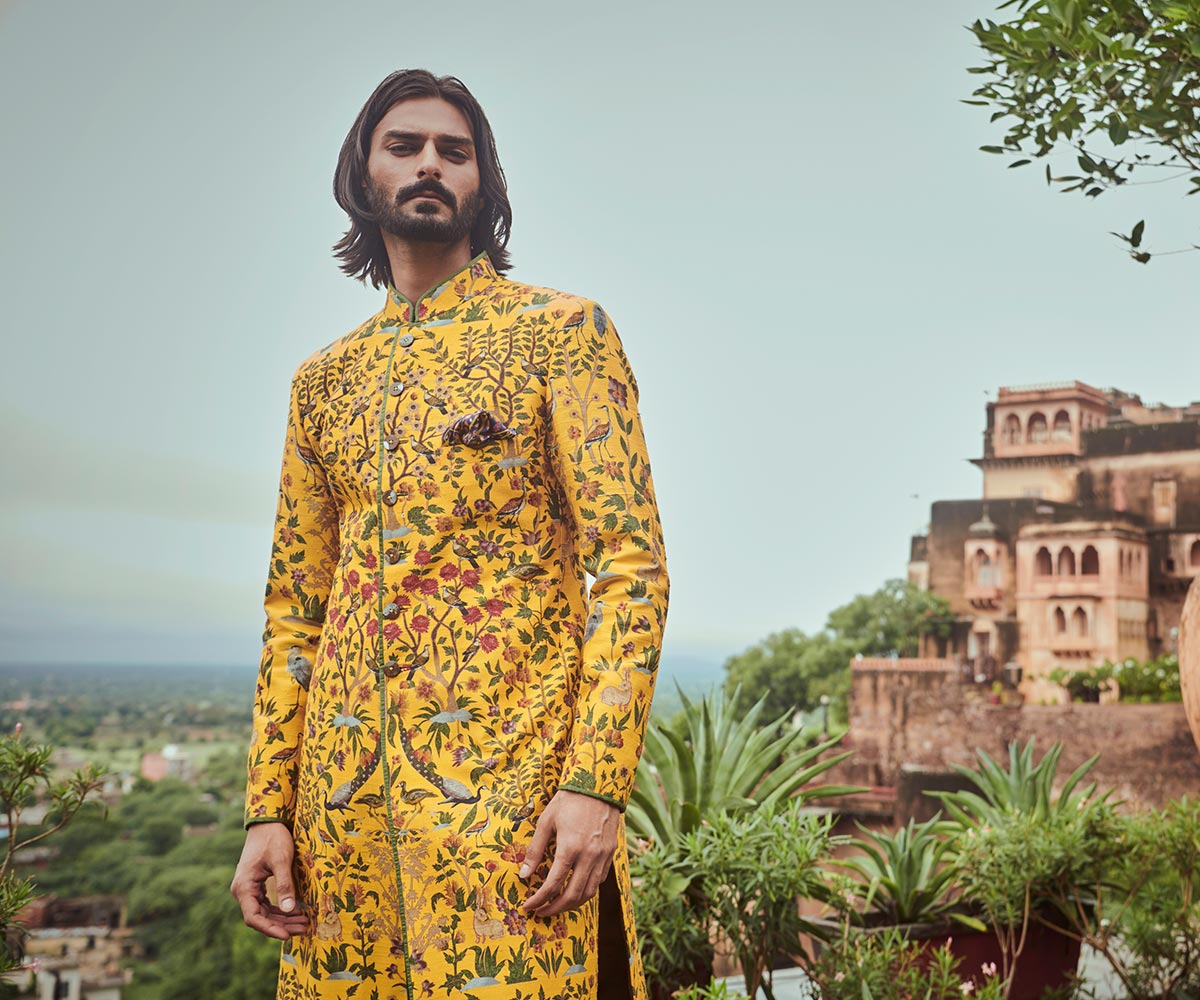 Yes, we use a lot of unconventional and conventional colours— various shades of reds, scarlets, vermillion, a lot of neutrals including metallics, and ivory and blacks. We have our own palette; a new shade we call NuGray, which is a combination of grey and nude. It uses the traditional palette and surrounds it with a newer sort of energy using unconventional colours, and yet sticks to the norms of the brand DNA, which is the modern classicist. 
3. Do you think ivory is the new red when it comes to bridal lehengas today?
No, ivory is not the new red. Ivory is definitely a new favourite because it offers a perfect canvas to create something wonderful. Today's generation relates a lot to this colour, as well as black. These are some of the trends in modern wedding fashion that young brides are seeking. 
4. Is lavish embroidery making a comeback when it comes to bridal wear?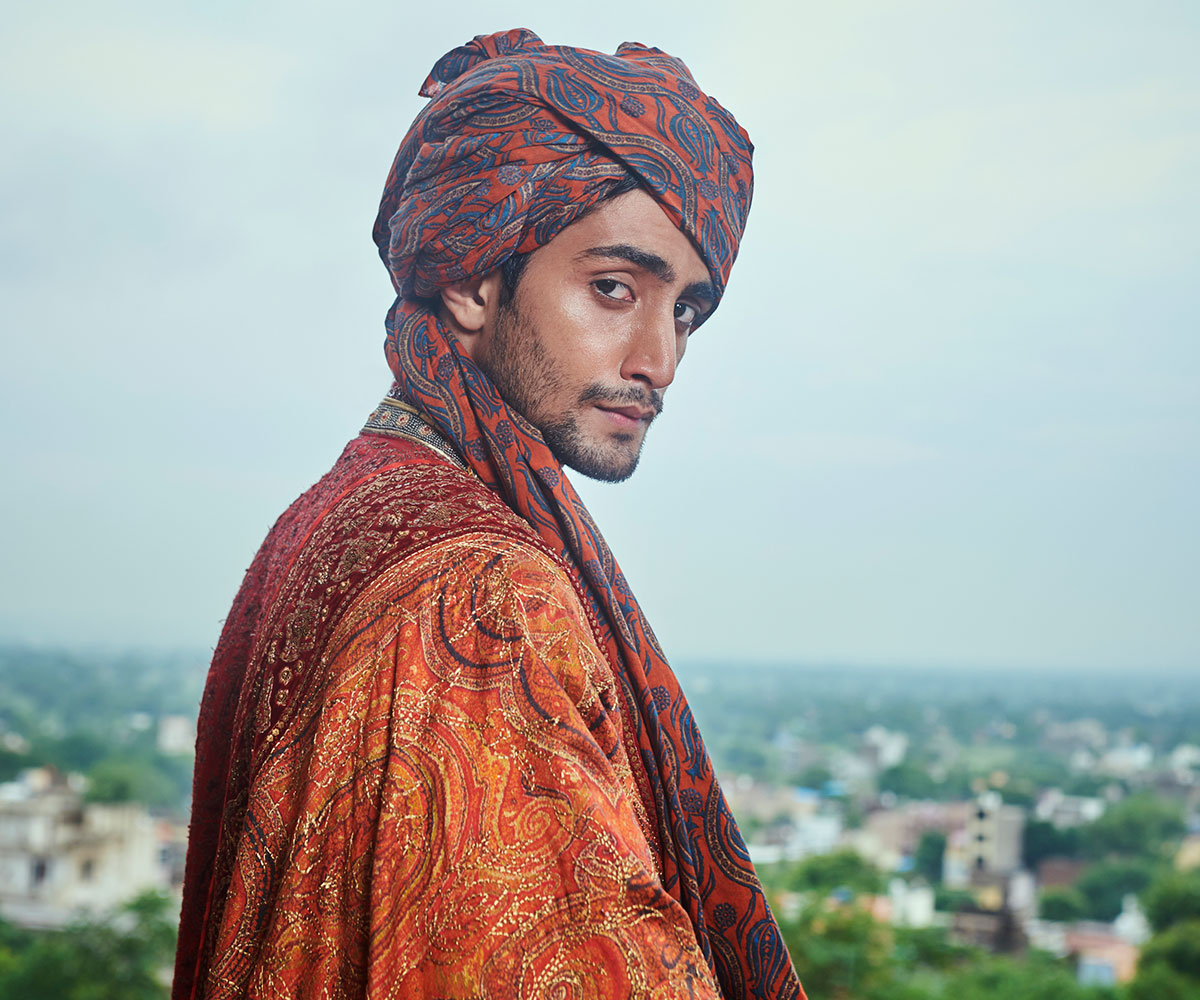 Lavish embroidery never went away. Nearly three decades into the business, I have only seen brides and grooms wanting something spectacular, beautiful, special, and detailed on one of the most important days of their lives. It is also the single day when you can relive the glorious era of the past, where you can behave, and feel like a royal. 
5. What are the top bridal wear trends for women we should look out for?
I am not a big believer in trends. When you do couture, it needs to be timeless, special, and this belief is validated when we see our old customers and JJ Valaya brides and grooms from 25-30 years back coming with their children to repurpose and upcycle their heirloom outfits. When something stands the test of time and is of top quality, and can be worn across generations, that is the key purpose and service of couture. That doesn't mean it isn't important to be trendy and be in sync with the present. At JJ Valaya, we do incorporate trends, but we never let them overshadow the timelessness of our clothes. 
6

. What are the top bridal wear trends for men we should look out for?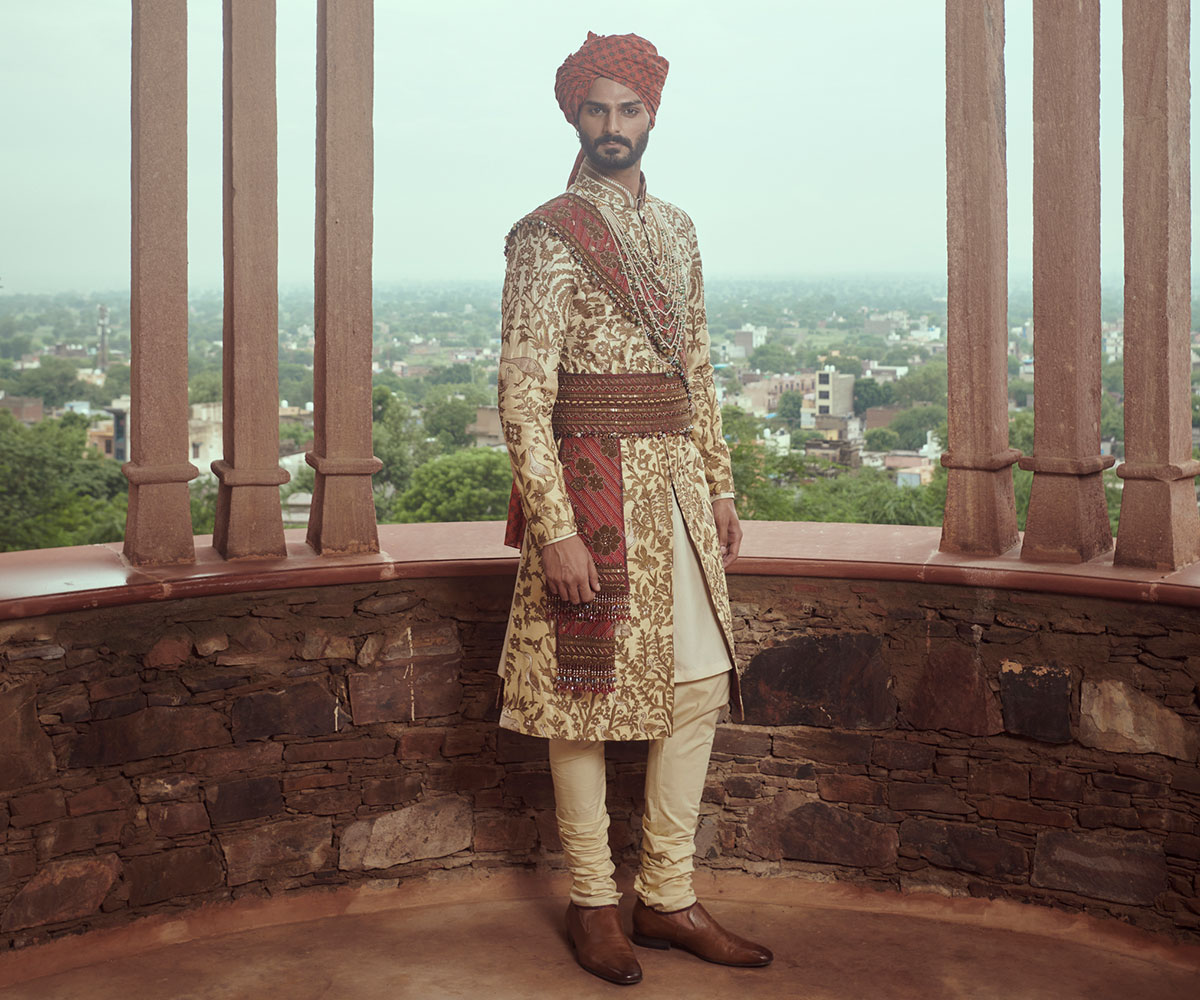 I have seen a big change in men's fashion. When I started my career, they were all into suits; three-piece suits to be precise. Today, everyone wants a sherwani or a derivative to make a striking impression and match the new age brides. 
7. How can one wear white and ivory for Indian weddings? Can you share some tips to style it with jewellery and accessories?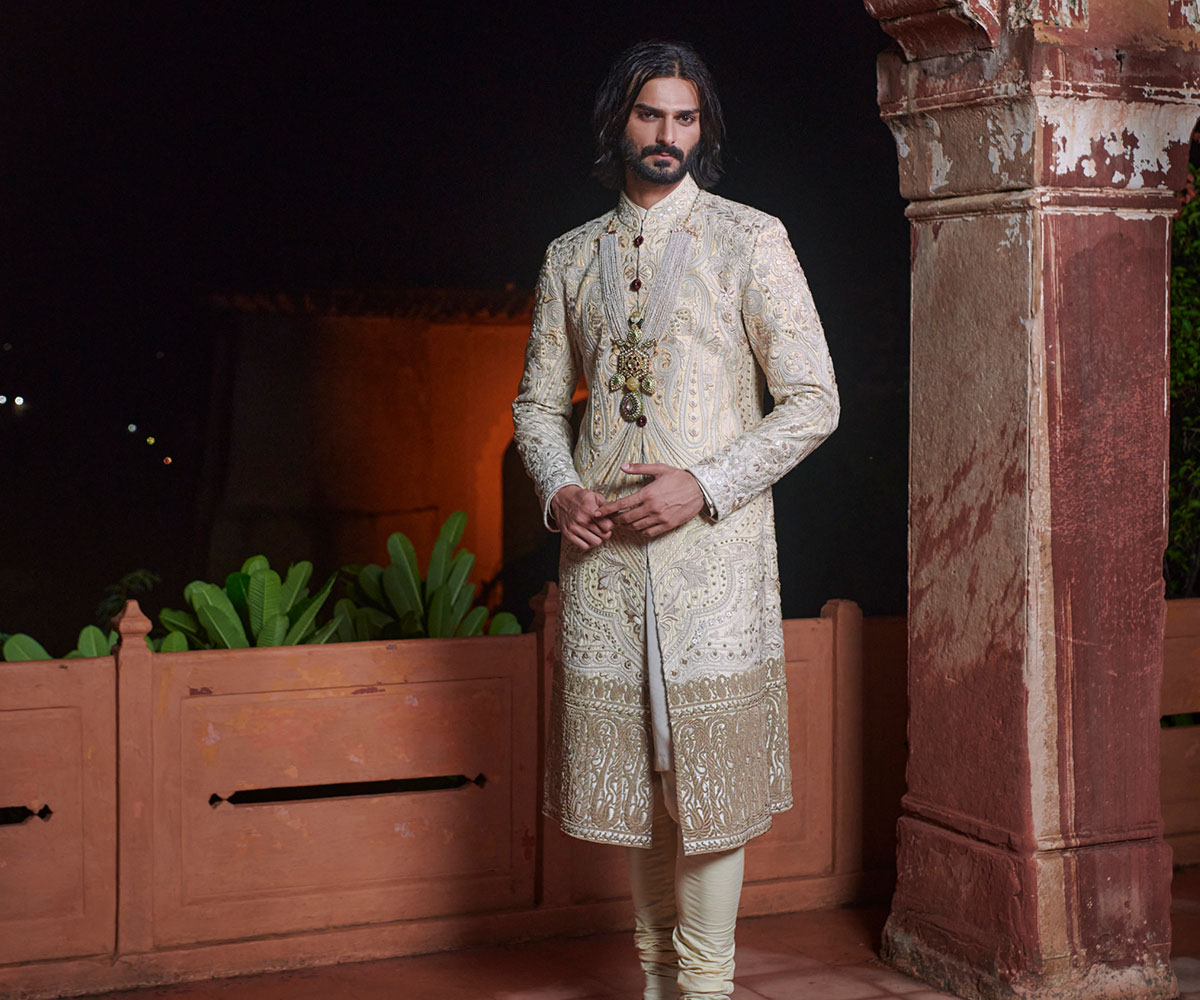 There's a beautiful warmth and sophistication in wearing the white/ivory palette. It also gives you the perfect platform to experiment with tones of other colours. If you are looking at wearing ivory at a wedding, remember you have options that are multi-hued in nature. You can wear it with colourful jewellery or you can go for antique silver. You can also wear belts in natural leather, embroidered, or jewelled belts. Or you can keep the look simple and do one dramatic piece of jewellery on the forehead. 
8. Do you think bold prints are making their way into bridal collections? 
Yes, prints are big. The good part is that when prints and embroideries come together, it creates even stronger magic. We are indeed proud of doing this season after season.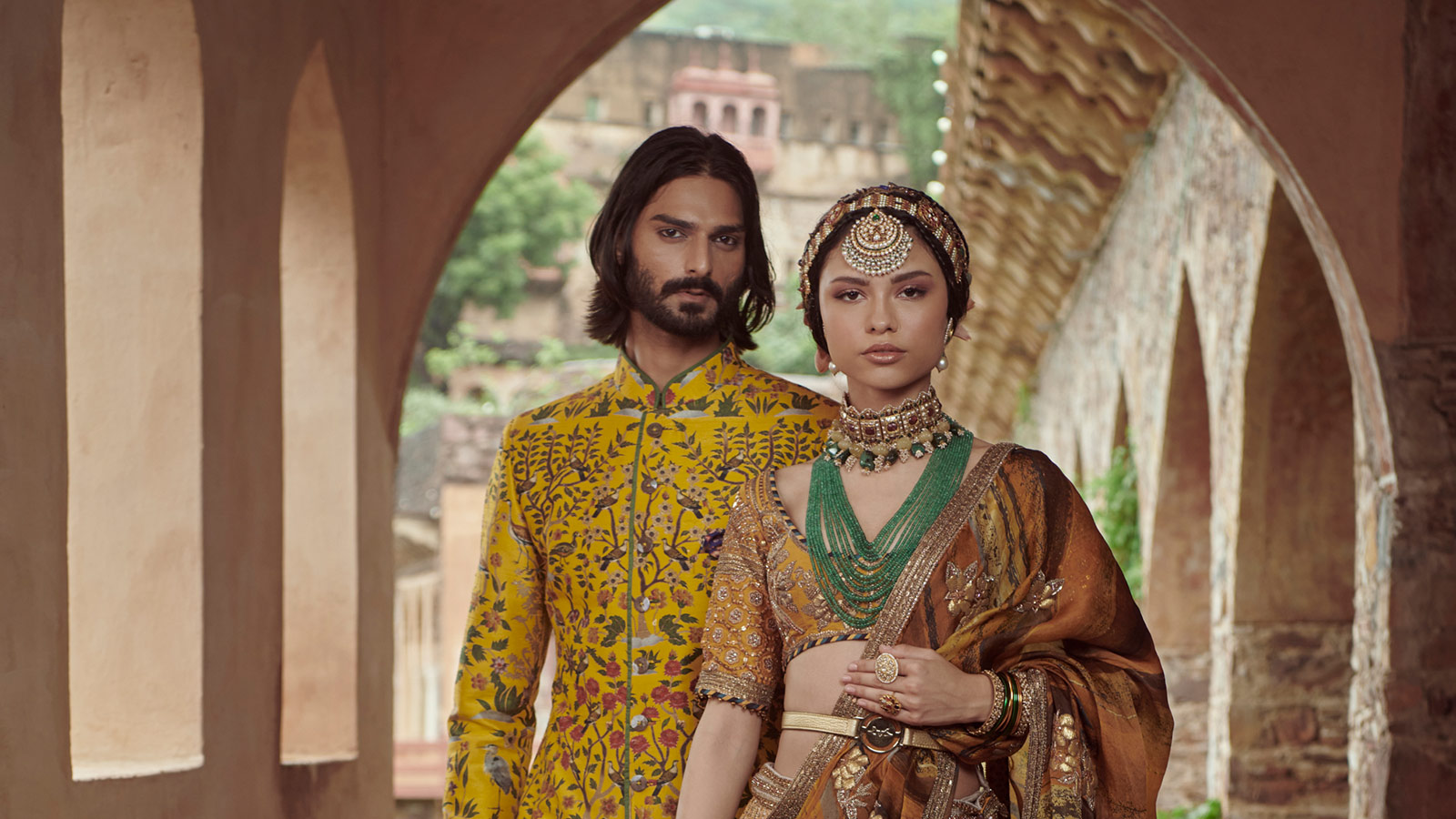 9. What are some of the textiles that are apt for the wedding season? 
Textiles have to be rich and luxurious because you are creating couture. I recommend the richest of silks, the most beautiful velvets, the most beautiful sheer fabrics, and organza metallics. I believe one should stick to only the richer fabrics for weddings. 
Photo: FDCI X Lakmé Fashion Week