Cargo pants fashion can be chic if you style them right. You've seen it in plenty of movies where actors pull out a glamorous look in plain old cargos. However, styling them is tricky. If you don't pick the right colours and combinations, your outfit might not make the style statement you want it to. But like everything else, styling cargo has its own set of easy tricks and tips. If you can hack this one, you will never want to go back to wearing just jeans ever again. Here is everything you need to know about cargo pants.
What are cargo pants?
Cargo pants for men are loose-fitting pants in cotton. They are characterised by their external pockets - usually at knee level. These pockets are often big enough to accommodate multiple things and have a flap that closes with buttons, zips or velcro. Ideally, excessive pockets are the hallmark of good cargo pants. This makes them stylish, comfortable and functional for everyday wear. Moreover, they are often found in camouflage shades such as khaki, olive green or light brown. Their colours aren't chosen at random but have a very specific link to their origins in the military.
A quick history of cargo pants
Cargo pant outfits for men go way back to World War II. Being on the battlefield demands quick reflexes and complete agility. Not just your body, but your clothes have to support flexible movement too. That's when the British soldiers realised how cargo pants outfit for men could help. They were versatile and convenient. Over time, this trend of wearing cargo pants  in battles picked up, and they started being mass manufactured in not just Britain but America too. America sent these pants to France as well, since the country was an ally. Once they reached Europe, there was no stopping cargo pants from taking over the world. Who doesn't want functional comfort? Today, there are different types of cargo pants - both for men and women - that can be worn for different occasions.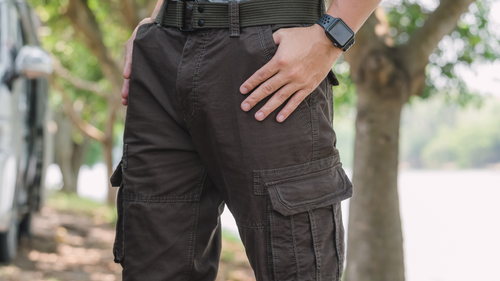 Types of cargo pants
On the face of it, there are at least 6 different types of cargo pant outfits for men. You will find EMT cargos, tactical cargos, hiking cargos, slim-fit cargos, cargo jogger pants and denim cargo pants styles. Ideally, the best fashion choices would be the last three. Pick cargo pants that align with your body type. After all, they are meant to enhance your look. At the same time, denim cargo doesn't look very stylish in general. Consider cotton cargo pant fashion, or corduroys, to make a chic outfit.
When to wear cargo pants?
Now, you must remember that they are meant to be worn for casual events or semi-formal work outings. You can wear it to the zoo, the beach, or the golf club. Don't wear cargos to work unless your workplace allows extremely casual outfits such as t-shirts and jeans. The right cargo pants combination can make or break your look. Look up what t-shirts go well with cargo pants and pair them accordingly for each casual situation.
Top wear for cargo pants
Not all top wear will look good on your cargo pants. You need to be careful with what you choose to wear. If you want to pull off a classy casual look, these are the tops you should opt for with your cargo pants. If you don't know what shirts go with cargo pants, these are our favourite cargo pants combinations.
Polo T-shirts
The best top wear for cargo pants is a polo t-shirt. Try to pair polos in fresh colours such as white, blue, yellow or pink with cargo pants in dark shades. Polo t-shirts have a semi-formal look to them, but make sure to not tuck it in and pick a nice fancy pair of sneakers to go with it.
Plain T-shirts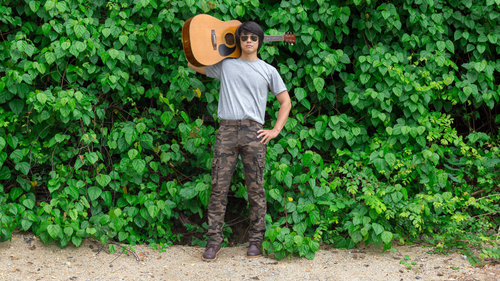 T-shirts in solid colours can look as great on cargo pants. Don't pick printed t-shirts because that will make you look like a broke college kid. What's more, a comfortable t-shirt and cargo pants make for the perfect Sunday outfit. Since cargo pants are comparatively baggy, pick a tight-fitting t-shirt to go with them.
White sneakers
Since cargo pants are all about casual comfort, sneakers cannot go wrong. A good pair of white sneakers can also contrast the duller colour tones of cargo pants. Plus, they are comfortable and cannot go wrong when it comes to style.
Boots
Boots are another great way to amp up your cargo pants. You can either go for desert boots or military boots. Desert boots are really stylish but you need to pick the right colours and make sure they are clean. Military boots bring in a theme of their own. You can go for the entire military look with camouflaged cargo pants. Pick a crispy white t-shirt and solid-coloured black military boots to go with it.
What not to wear with cargo pants
The thing about cargo pants is that they can make you look too casual if you don't style them right. You want to look chic, not broke. So it is important that you pick the right accessories, footwear and tops to go with them.  Moreover, they are meant to be casual. You cannot make them fit into formal occasions. Since you know what to wear with cargo pants, here are things that you cannot wear with cargo pants.
Suit jackets, tuxedos and ties
No matter how fancy your cargo pants are, they will throw off your look in a suit jacket, tuxedo or necktie. You can speak to your tailor and try to get a more casual coat designed. However, this can also be paired with slimmer cargo pants in darker shades. But it is best to keep cargo in your casual wear set and not mess around with mixing and matching.
Shirts
While you can pull off a light white shirt, your formal dress shirts are a big no. Cargo pants will completely overwhelm the power of a good dress shirt and make you seem like you are trying too hard. If you want to dress to impress, stick to simple basics and try not to go overboard.
Your style says a lot about you. Hence, it is important to pick the best outfits that make a statement. Take some inspiration from the best style moments of 2022 and steal the spotlight for your fashion choices. If you want to know how to style cargo pants for women, here are some Bollywood actresses who show how to style cargo pants.
---
Photo: Shutterstock